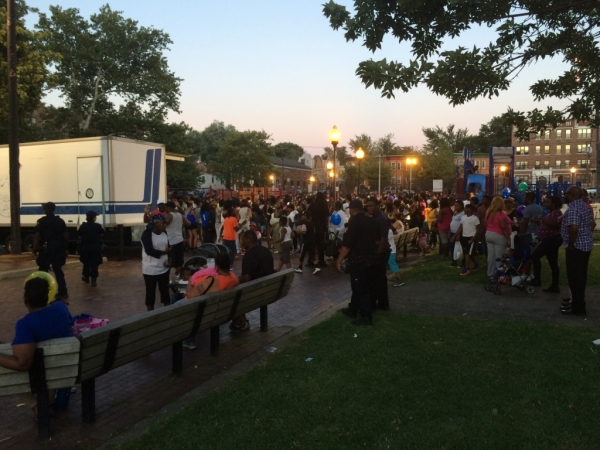 The National Night Out was spanned throughout four parks in Jersey City: Arlington Park, Audobon Park, Hamilton Park, and Pershing Field Park. Yuvraj and I took to the streets and went to the parks that we're closest to us, he visited Audubon Park and I strolled to Hamilton Park. The night was full of fun and exciting family-friendly activities and we can't wait for next years!
---
National Night Out: Audubon Park
In honor of this year's National Night Out, Audubon Park was once again transformed into a vibrant community space, filled with food, music from local DJ Midnite, balloons, and even bouncy houses. To complement the festivities, city officials were also stationed to help inform residents of services and ways to become more active in their communities. This combination of fun and educational resources was to help local Ward A residents, like myself, rediscover an often dismissed community asset.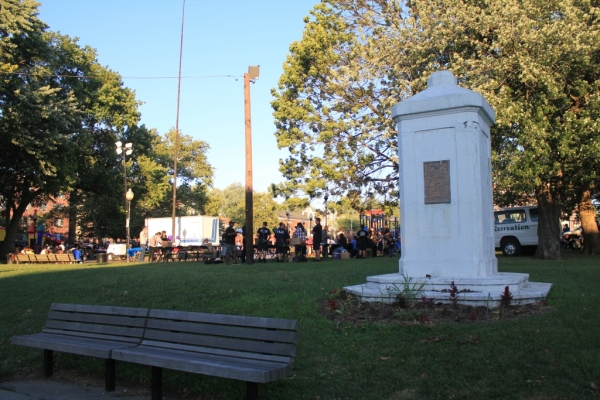 I started off at the city's Department of Health & Human Services table, where I learned about all of the health services available to city residents. I later worked my way over to the Resident Response Center table, where I had the pleasure of speaking with Noemi Solero, who handles a wide array of resident concerns. I also managed to speak with Patrick and Carolina, who are both from Americorps Vista. Both Patrick and Carolina aim to mobilize and empower residents in order to facilitate neighborhood revitalization.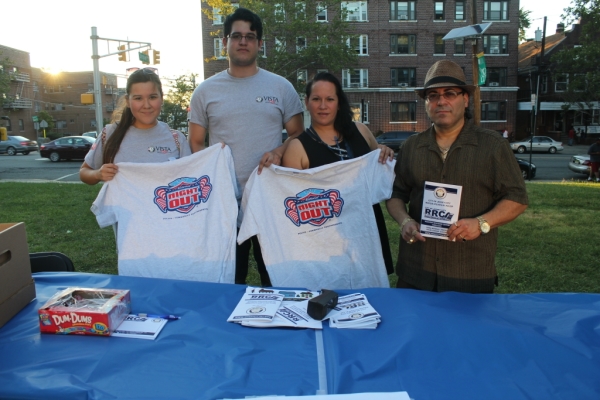 Jersey City native and president of the Friends of Liberty State Park, Sam Pesin, also made an appearance at the event.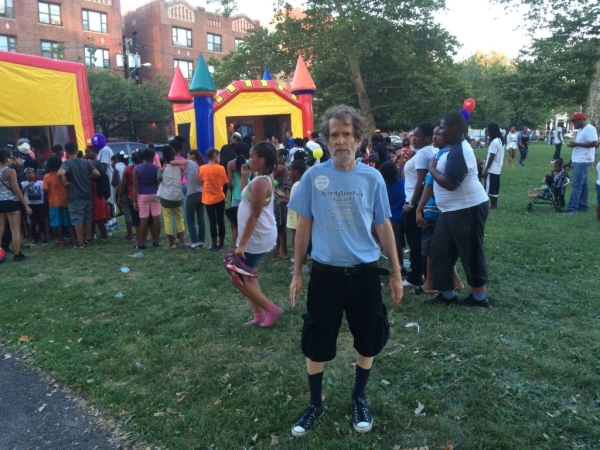 Mr. Pesin aims to stop the potential privatization of the park by the state government and the event was a perfect opportunity to raise awareness of an imminent threat to a local treasure.
Perhaps one of the biggest highlights of the event was when Mayor Fulop made an appearance to present certificates to Jersey City PAL Explorers, which are teens who completed a police training program. There was a strong sense of community and pride at the ceremony, evident by many cheering parents and supporters. According to the mayor, Audubon Park had, by far, the biggest and most energized crowd out of all of the parks hosting National Night Out events. With music, great weather, and family-friendly activities, there was really no good reason to not to be in Audubon Park.
I ended my visit to the event by speaking to the super friendly firefighters from Engine 13. I even got to try on a firefighter helmet! How cool is that?!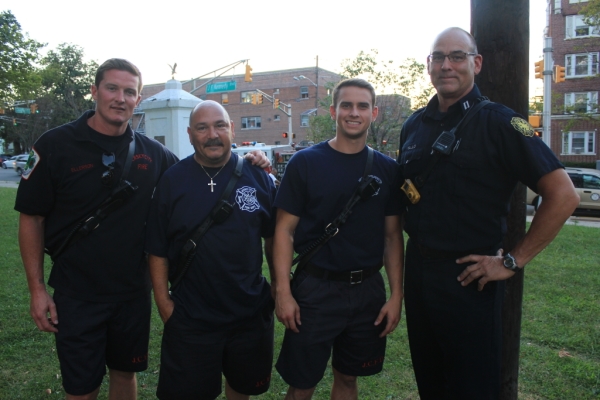 -Yuvraj
---
National Night Out: Hamilton Park
Mayor Steven Fulop partnered with the Jersey City Police Department, the Jersey City Police Foundation, various police organizations, and Target for this year's National Night Out, America's Night Out Against Crime and it was spectacular.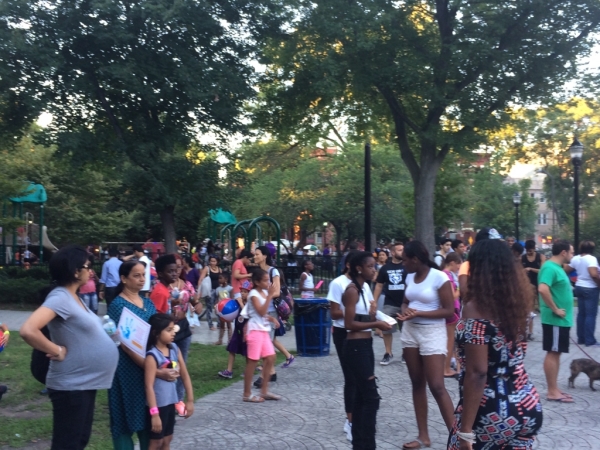 I decided to drag my dad down to Hamilton Park to see what all the hub-bub was about, give him a little feel for what I do when I cover events!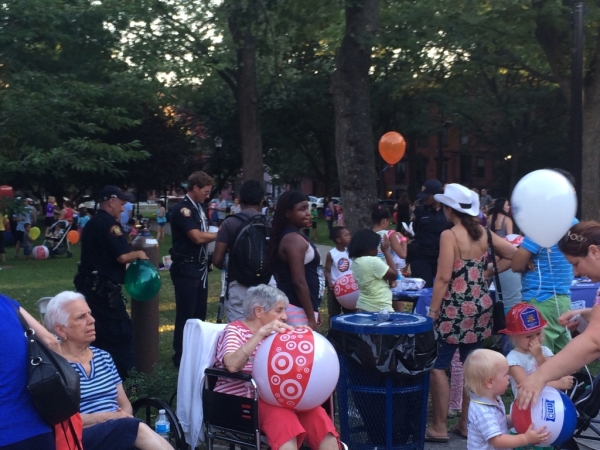 Friends and families gathered at Hamilton Park to enjoy what was probably the biggest playdate of the month for both parents and pet owners in Jersey City. Chockfull of bouncy-houses and grill-men barbecuing hot dogs and hamburgers for their hunger guests. Police officers blew up balloons for anyone who wanted one and kids got to enjoy every bit of it.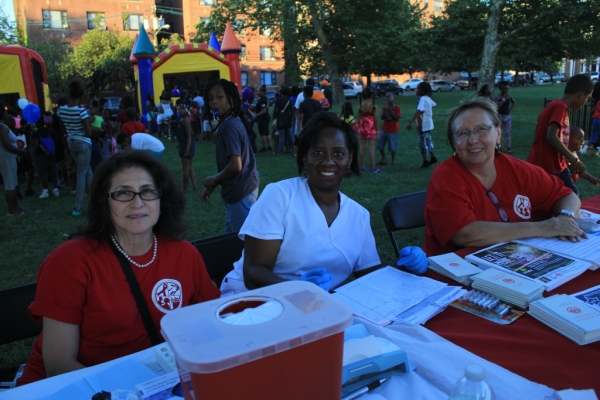 With numerous tables that spoke about what the Jersey City Police Department has to offer to families in case they find themselves in a life-threatening situation to a group that moms can join when they're looking for something great to do with the little ones.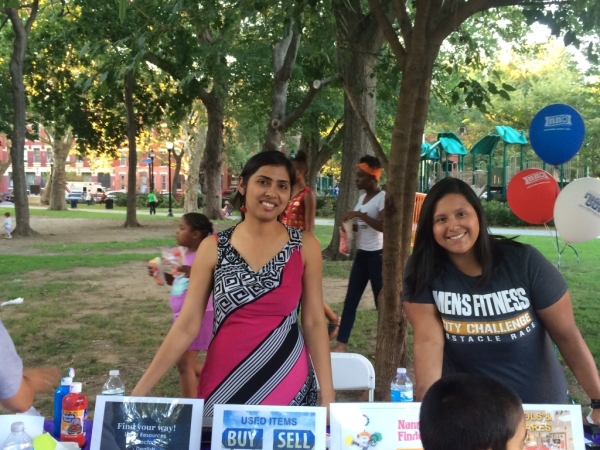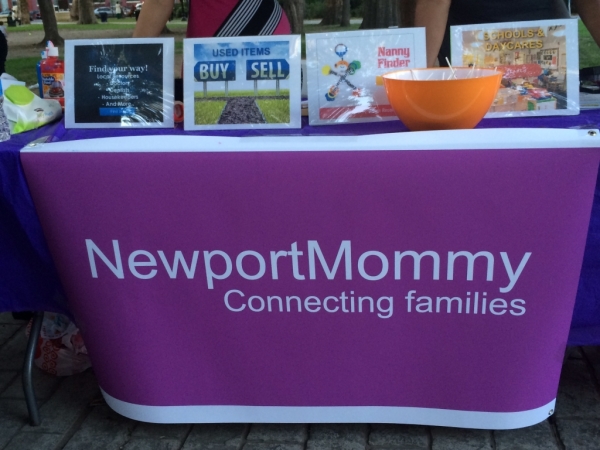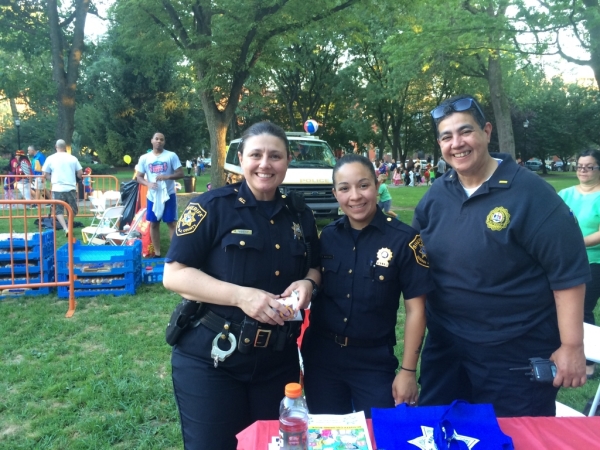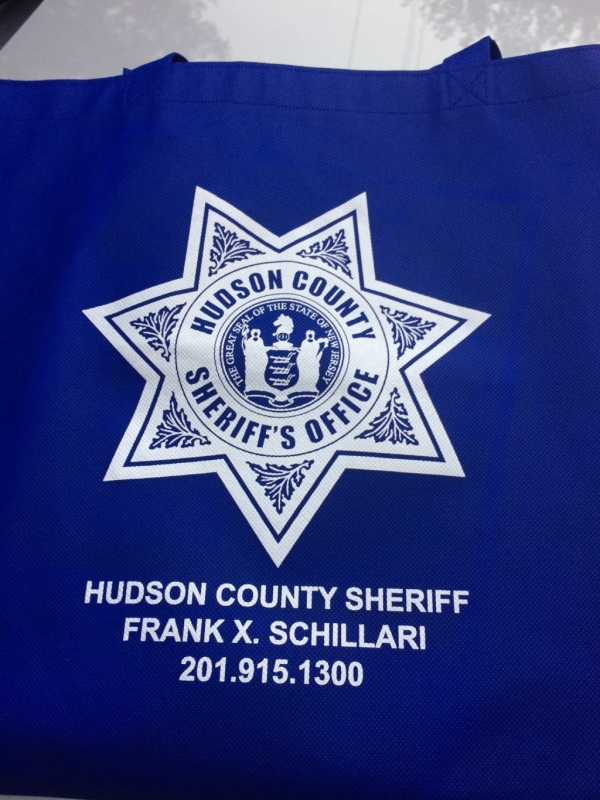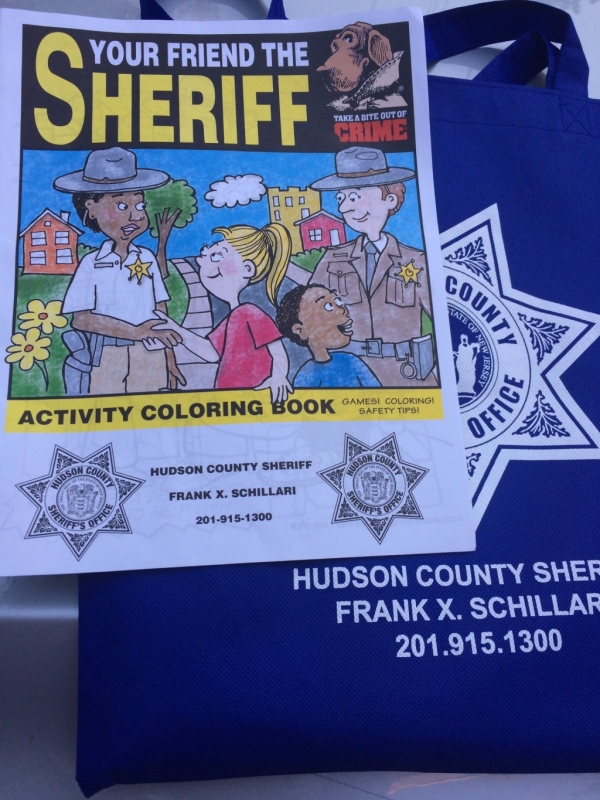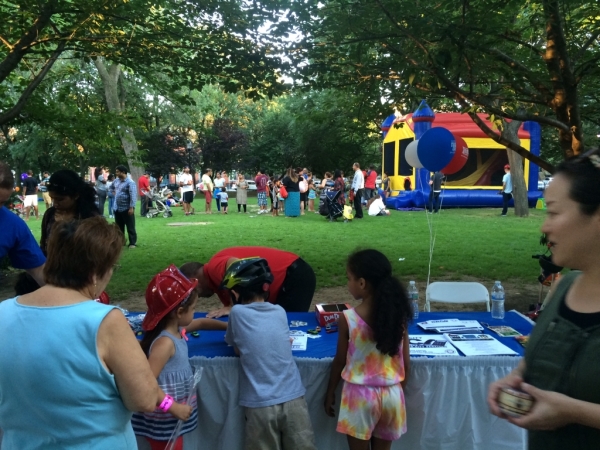 Jiva Performing Arts held interactive performances on the gazebo where children joined in and learned step-by-step dance routines to repeat with friends! There was also a DJ who played alongside an awesome singer who had a great set of vocals in a very small frame.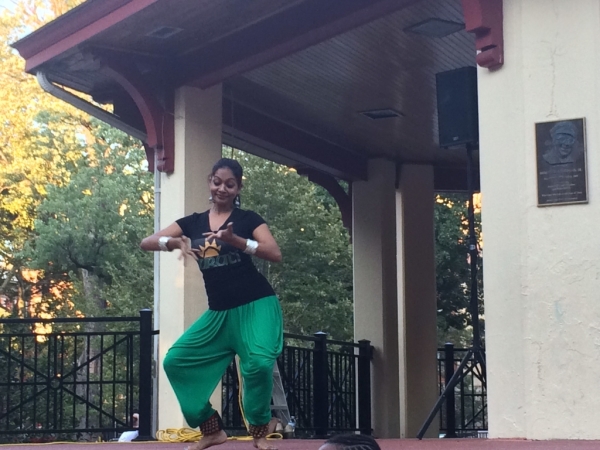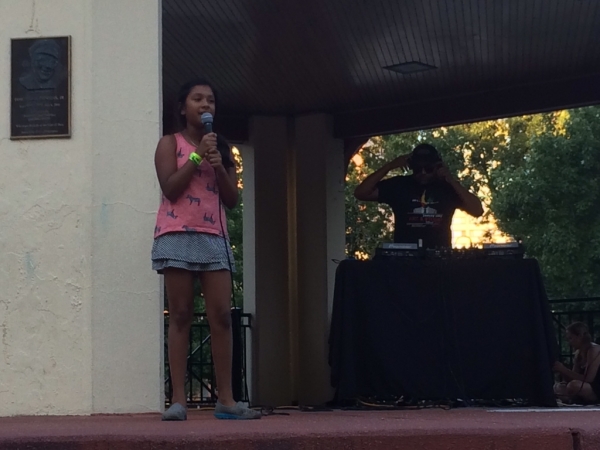 But most of all, what counted was the saturation of families that gathered from all around Downtown, Jersey City to celebrate the festivities in Hamilton Park.
-Crystal
---
Couldn't make it to Audubon Park or Hamilton Park for National Night Out? Here are some photos from the events!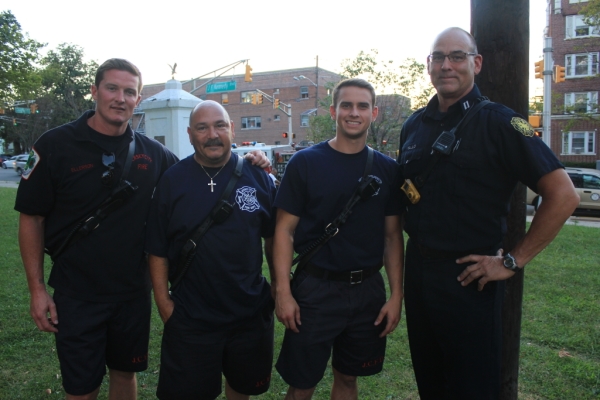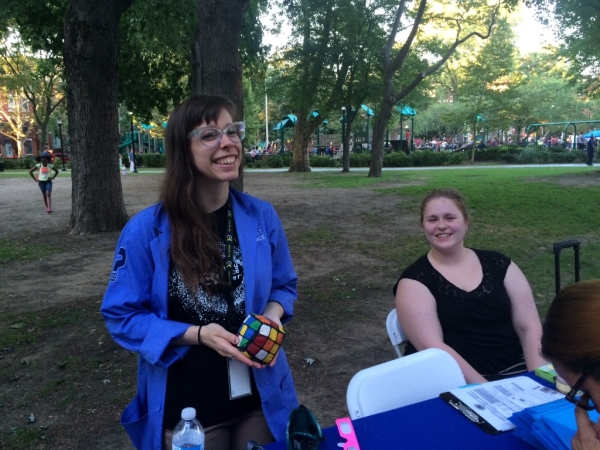 ---
Contact Info:
Sam Pesin, Friends of Liberty State Park, pesinliberty@earthlink.net / www.folsp.org
Patrick Ambrossi, Leonard Gordon Park (Mosquito Park) Conservancy, lgpconservancy@gmail.com
Resident Response Center, (201) 547-4900
Department of Health and Human Services, (201) 547-6800