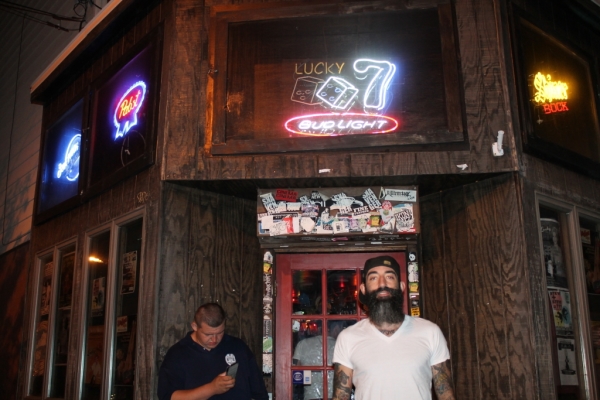 Wow, what a night (is what I said to myself after a rough wake up Saturday morning). The night before, JC's favorite dive Lucky 7's hosted a very special MotoMonday event all in the name of our friend Jesse James Madre. Jesse, a staple of the punk scene and piercer and shop manager at Jersey City Tattoos, had run into a bit of bad luck as of late with a pretty brutal skateboarding accident.
But as usual when one of our own is in trouble the scene is here to help. Put together by Jesse's longtime friend Brian Shapiro, some amazing bands played, including the triumphant return of Super Snake, and New Jersey favorites The Scandals who were in full force raising beers and inspiring sing-alongs to the packed house. Local JC businesses like Porta, Barcade, and Iris Records donated prizes for the raffles all in a gracious gesture to help our friend. Amidst the many whiskey shots and general good times, I got to pull Jesse aside for a minute and ask him a few questions.
Pat: How you doing man? How's everything going?
Jesse: Honestly, everything couldn't be going better right now—it really couldn't. I'm surrounded by a bunch of friends, a bunch of amazing talented people who are playing music that I love, you know? Things are good. I'm in a new city, which has been amazing and despite what should be shitty [pause] oooh you going to have to edit that out?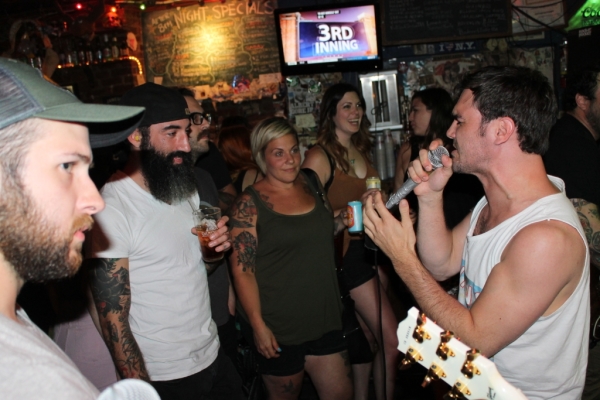 Pat: Aha it's fine.
Jesse: Alright, despite something that should be shitty [it] has turned out to be incredibly uplifting and positive. It just goes to show you that, like, the world is not a cold dead place.
Pat: Haha hell yeah.
Jesse: There are good people and I'm happy to be a part of it.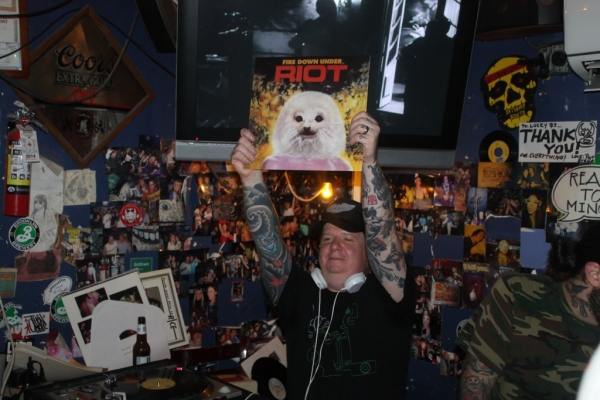 Pat: So you kind of just rolled into my next question. This event is unreal—awesome turn out, the bands are great. How does it feel man? 
Jesse: It's so overwhelming and for me to be at a loss for words is a very rare thing. I'm just really quick with the draw, but I'm so completely overwhelmed in the best way possible. The amount of outpouring from not only my great friends who are here tonight and my great friends who put this together, but even just, like, random strangers who have seen me walking my dog and they're like, "We saw this on such and such and we saw you here, hey man hope you're doing great." It's just so overwhelming—my lexicon fails in this situation. I don't know how to say thank you enough.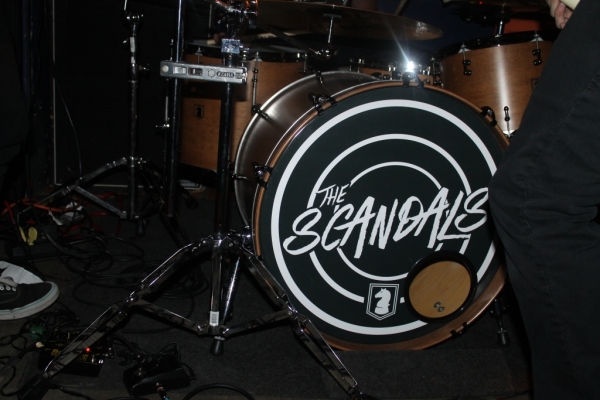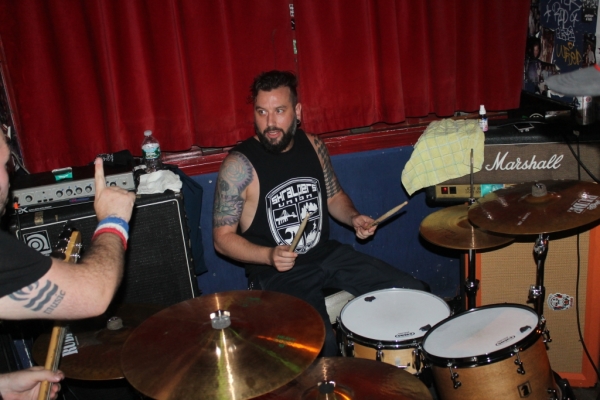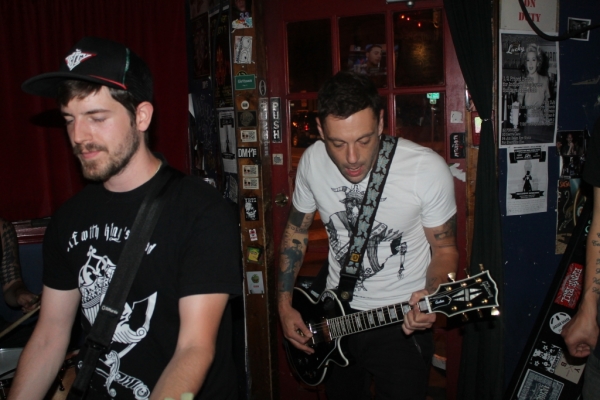 Pat: The punk scene is always willing to help a friend in need. I know you sing for Tiger Flowers. How supportive have your band members and peers been?
Jesse: My band members have been supportive of me since before this happened. They've always had my back through all the ups and down—to them the utmost love. They are the best people in the world, they're my best friends and I feel like not too many people in bands can say, "No, no, no, we're best friends". I'm very proud to say they are my brothers. I'll tell you a quick story. Before I was in Tiger Flowers, I was in another band and we were a decently big band. We did a lot of touring, but god, there was just beefing all the time and [I thought] this is what it was like to be in a band. It wasn't until we formed Tiger Flowers that all of a sudden on our second tour [I thought] oh this is what it's supposed to be like.
I think this speaks volumes for us because a lot of people from the outside will peg us as tattooed dirt bags and they probably think most of us are illiterate and everything else that goes along with it. The fact of the matter is that regardless of educational status or background, everyone involved in that community is very involved in that community and they are there to help, support, and look after one another. And [not] even to just one of their own, they do incredible things for others as well.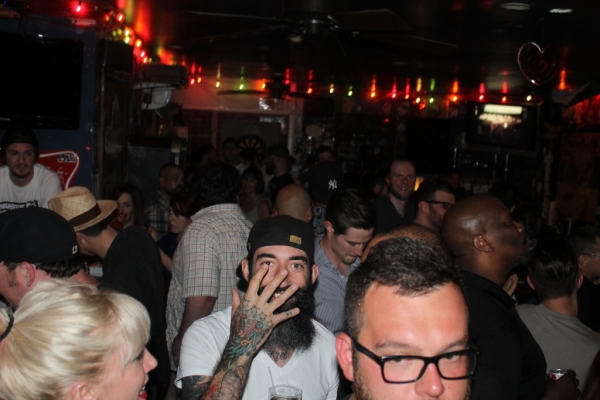 Tiger Flowers held fundraisers for different things, like, we just played a benefit for Nepal. It's such an incredible scene. I just think people who don't understand it from the outside need to understand we care and we're good people and I think that it's such a great thing to be a part of, especially because I think a lot of us got into this because we felt like maybe we weren't a part of something. To be a part of something like this, something that is so 90% positive, you're always going to have your bad apples, but for the most part I've been able to surround myself with the 90% that are just really solid apples.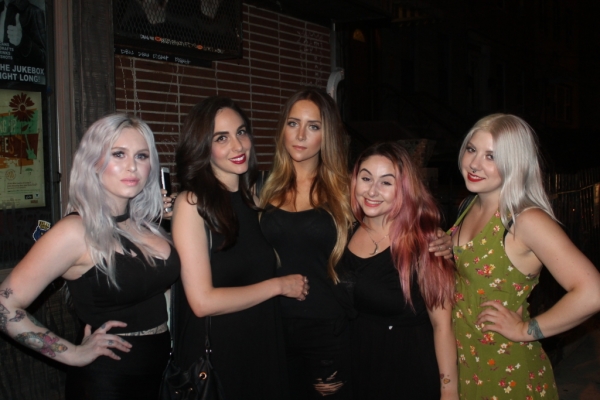 Pat: Speaking of Tiger Flowers, you guys got any plans coming up?
Jesse: We just played that benefit for Nepal. Unfortunately, that will be my last show for a little bit—the doctors have been yelling at me a lot about not playing shows. They basically don't want me to do anything, but I can't honestly do that. So we're not playing any more shows for a little bit so I'm going to get my surgery [and] heal up. We are writing a record right now and will be recording it with Kevin Antreassian who is just phenomenal. He's on tour with Dillinger Escape Plan right now and he's just a fantastic human and we're really excited to work with him.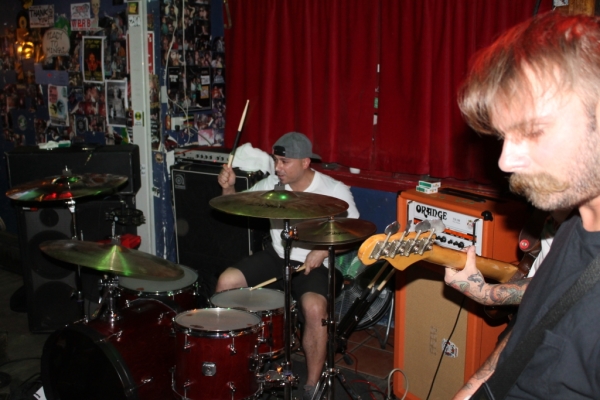 I'm really excited about this new record because I'm basically writing a character right now and I'm excited at where this character is going. I've always poured myself out onto records—and not to say I'm not doing that right now—but to be able to hide a little bit behind this character and still put forward what I want to put forward is really exciting and a little bit freeing for me. I can be almost a little bit more honest while still pretending it's just the character [pause] I guess I just gave that up now but, whatever.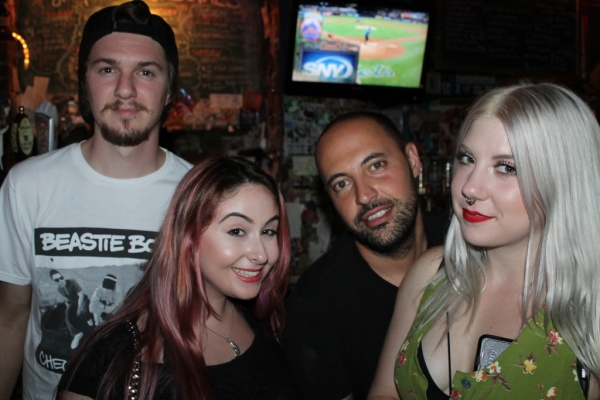 Pat: Tonight is a special MotoMonday event. What's something that drew you towards the motorcycle culture?
Jesse: Honestly, my mom did name me Jesse James so I guess I didn't have too much of a choice haha. I always wonder sometimes what if I would have been called Arthur or Benjamin or something, would I be this person? Would I be into these things? Was it a curse or was it a blessing? Haha but you know, I've always been drawn to the Old West. I love the Old West and we don't ride around on horses, but motorcycles are the closest thing we get to our horses and I love that.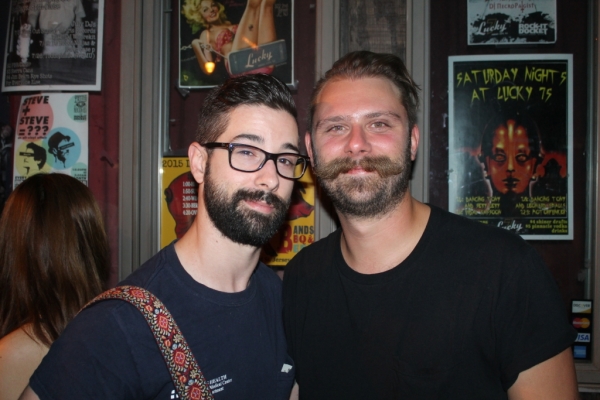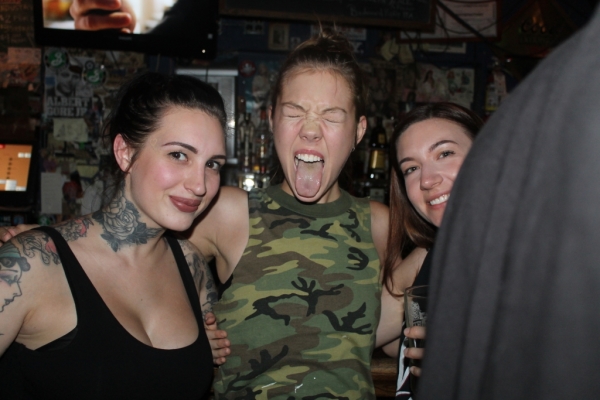 Pat: Anything else you want to say before I let you go?
Jesse: I just want to say again thank you, like, a million times over to everyone who knows me who is here and supporting, and the outpouring of people who don't even really know me or anything like that who have just been supportive whether its been a donation or even just a positive thought. It's so overwhelming. Outside where I live now, I can see the Statue of Liberty and it's funny because whenever I see that I think of this one girl who I dated for a little bit. When I first met her I helped her move into an apartment in Park Slope [Brooklyn] and that was the first time I'd actually ever seen the Statue of Liberty and I've always equated the Statue of Liberty with her when I see it.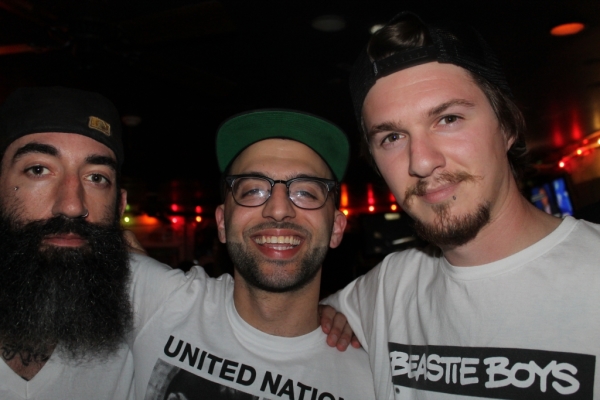 Even though I haven't talked to her in years, I think of her and in the end I was thinking, "What a great thing to be equated to, the Statue of Liberty. That's what someone holds you to in their mind". In the end of this I think about what I would like to be equated to and I just hope I don't get remembered as the person who got ran over by a van. I hope that if I get remembered at all it's that I get remembered as the dude who had such great support and friends and was able to bring so many people together for such a good thing that hopefully inspires beyond this into more good things and just being supportive and just being righteous people. I hope that's what happens at the end of all this; that people can come together for good things and I think that at this time with what's going and everything, we need that.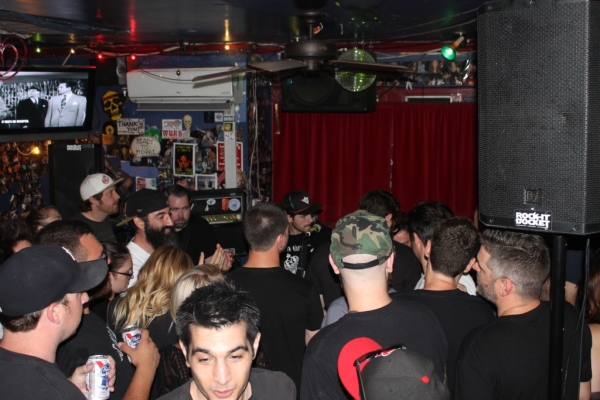 Pat: Thank you for your time I hope the recovery is quick and it was nice meeting you.
Jesse: Bring it in brother.