Save the date! Next Friday! 
For the first time ever in Jersey City, Panepinto Galleries will be taking over the penthouses showcasing the creators and makers of Jersey City and the local area.  This authentic home experience will be filled with works by local artists, boutiques and artisans from the neighborhood and nearby. Join us for this unique experience and support our community overlooking the stunning panoramic views of the Manhattan skyline from the 50th floor!
AN EVENING OF COCKTAILS & MEMENTOS 
OPENING RECEPTION: 

Fri, Feb 5, 5pm-9pm
 (sunset cocktails from the 50th floor)
 70 Christopher Columbus Drive, Jersey City, NJ 07302
The exhibition "Mementos" features the multi- faceted dimensions of love through art and objects. 70 Columbus penthouses will be transformed into elegantly furnished homes where all art, furnishings and accessories are for sale.  Get to know your neighborhood shops and a superior coterie of artists that weave together themes of love and remembrance through paintings, drawings and sculpture. "Mementos" is a selection of works inspired by this positive expression of love. Artwork curated by Michelle Doll & Lisa Lebofsky, Interior Design by Regina Mariano,  Jewelry and Fashion consulting by Jessica Van Treuren.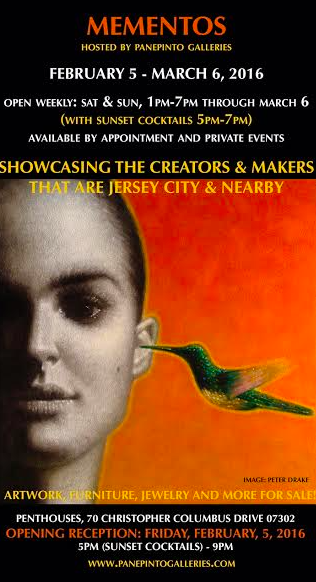 A great event to check out, come support our community!  For images, go to Instagram @panepinto_galleries and Facebook S Panepinto Galleries or visit their website 
wwwpanepintogalleries.com
.