Did you know that you can go kayaking and fishing in Jersey City?  No, I'm not referring to various spots at the waterfront.  Right in the middle of Jersey City Heights is a hidden gem. Behind those stone walls you've probably driven by between Summit and Central Avenue sits reservoir number three.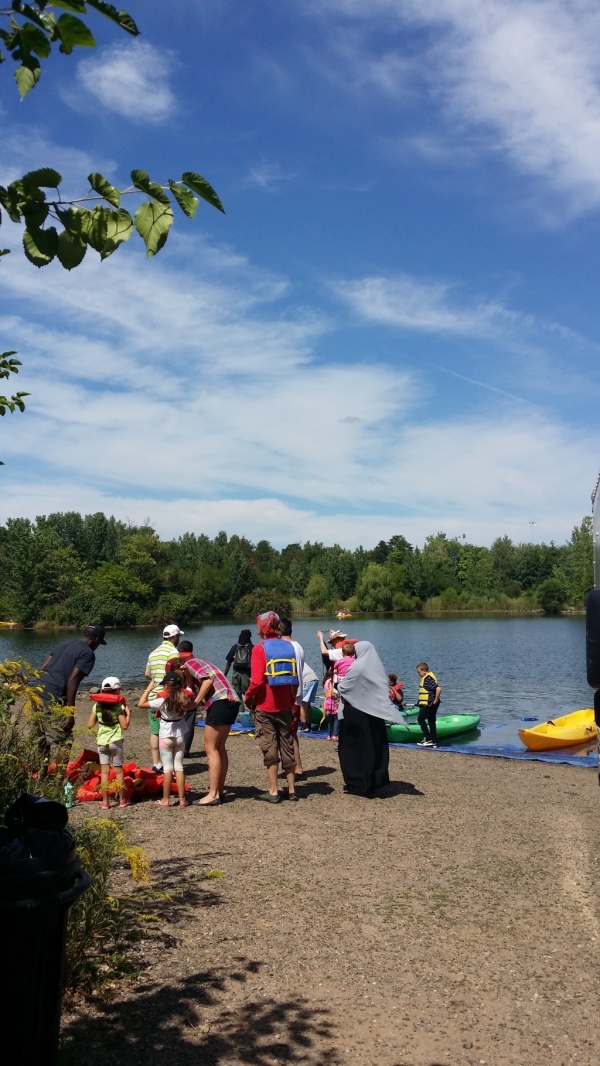 I've lived in Jersey City for almost two years now, and I had no idea this glorious, postcard park existed ten minutes away from my apartment until I saw a flyer online about a free kayaking event.  Organized by the Jersey City Reservoir Preservation Alliance, 8/22 was the last of two free kayaking Saturdays held this month.  However, as I waited in line, I did hear some volunteers hinting that they might do one more in September, so for those who missed it, you still have a chance to enjoy the serene water while getting in a fun workout.
Depending on your weight and how rapidly you're rowing, you can burn an average of 250-500 calories per hour kayaking.  This is one of those exercises that's so fun, you don't even realize how much you're working your body.  Kayaking works your back, core, arms, shoulders and chest.  I had never tried it before, but after about 15 minutes  I could definitely feel what an awesome upper body workout it is.
Not a single person got off the kayak without a huge smile on their face.  The volunteers were super nice and encouraging.  As I mentioned, I had never tried kayaking before, so I was excited but I was curious about how much balance it would take to avoid tipping over. I was relieved to find it's not wobbly at all though.  The kayaks are much wider than I expected, so if you're not a huge watersport person, no need to feel intimidated!  Try it out!
When it was my turn to get in a kayak, I was instructed by two volunteers.  Eager to get out on the open water and give this whole kayaking thing a try, I sped off, but once I got back I chatted with these two gentlemen for a few.  The first is Valentino Padillia, a Jersey City native who can see the reservoir from his home and has volunteered at the reservoir for years just because he loves it.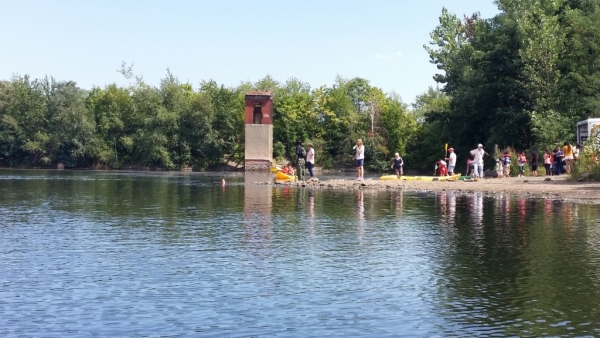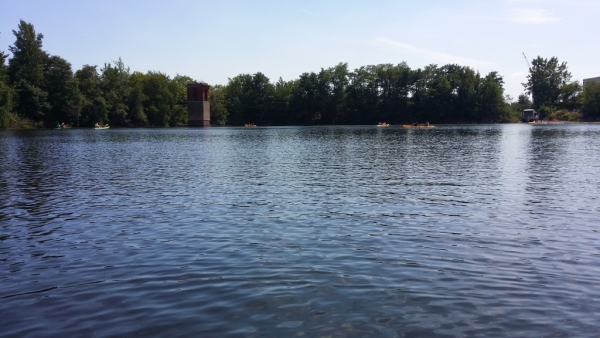 The second is Joel Naatus, a teacher at P.S. #28 and co-founder of Project Reservoir http://projectreservoir.weebly.com.  Joel explained to me that you can also fish for free at the reservoir on weekends.  (Poles and everything are provided for free by other volunteers).  He shared that the reservoir has catfish, small mouth and large mouth bass, blue gills and crappie (pronounced "croppie") fish.  Catfish in Jersey City?  Again, who knew?  He also revealed that the reservoir has some pretty deep roots dating back to the 1800s.  http://www.njcu.edu/programs/jchistory/pages/r_pages/reservoir_no_3.htm   Joel proudly pointed out that the collection of water bottles and tubes in the middle of the water is actually a nationally award-winning science project that his students created for the Lexus Eco Challenge in the Winter in an effort to keep the reservoir water clean.
So there you have it folks.  Fishing and kayaking and award-winning science projects right in your own backyard, oh my!
@jcreservoir
@projectreservoir