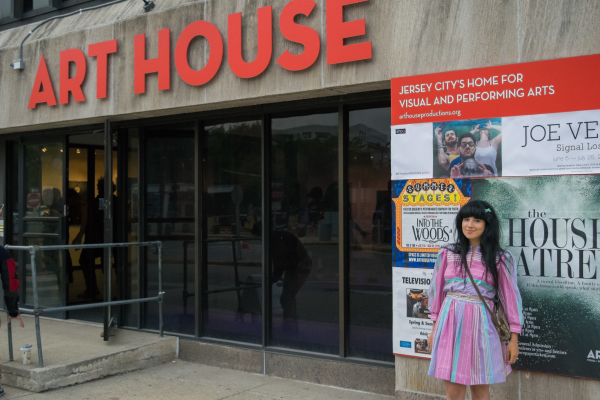 I am not exactly sure how I even have the energy to write this weekend roundup post after covering like 2,803 different events while also being a human and mom…. with that being said, I would like to apologize in advance to the spelling and grammar police for this post. It might be a little all over the place! LOLZ.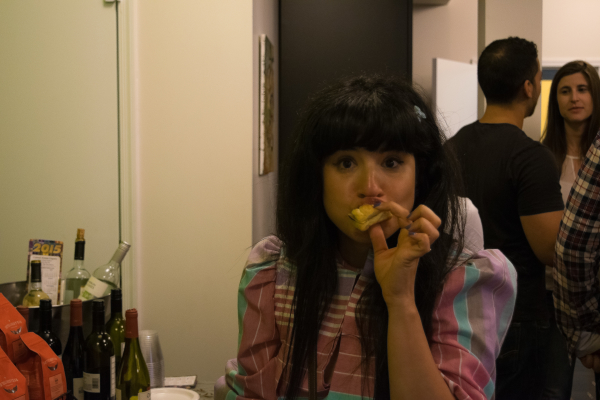 If you follow me on social media you prob saw that I WAS LITERALLY EVERYWHERE. I got a few text messages from friends asking me if I had a twin/clone/doppleganger/helicopter, helping me cover everything going on in JC. The answer is no…. well maybe Uber helped a little with the getting around aspect. If you don't want to read this, look at all the pretty photos!
Art House Productions, JC Fridays
This is the 4th JC Fridays I ever covered, I remember my first one exactly a year ago that I shot using my iPhone! This time I enlisted friend and photog Nabil @Nvbill to join me for the festivities. I was able to actually focus on the art and music in front of me, chat with people, get to more places and most importantly have a partner in crime!! We had such a blast.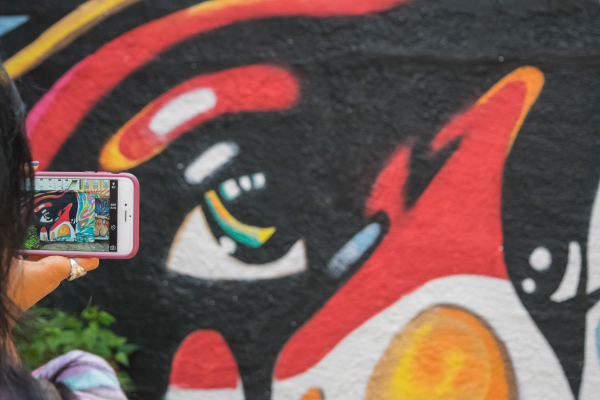 First Stop: HDSID Presents Groove on Grove & Artist Maker Market
Groove on Grove on JC Fridays is so fun, because the bands are always top notch, their are tons of food options, booze and most importantly local vendors selling their goods. Music + Booze+ Food + Shopping = ChicpeaJC. Pretty much everything that I write about in a one block radius.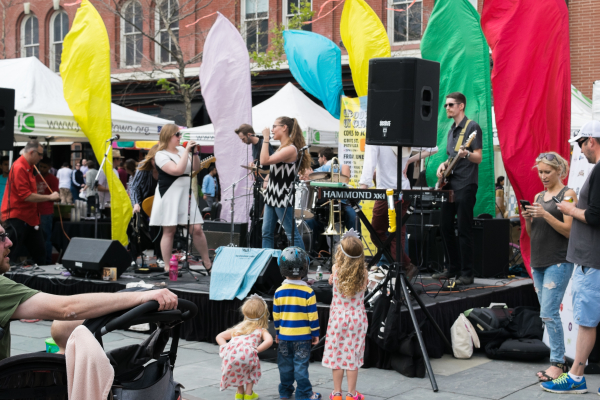 Started the night hanging out with mini-chicpea, we listened to the Penniless Loafers a local Jersey City band (they are awesome!) and then Nabil arrived and it was time for us to get to "work".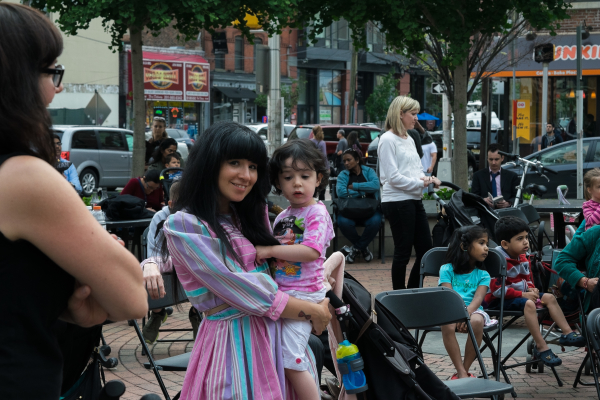 We walked around the different vendors, and of course I had to stop at the Vagabondia Vintage trailer to check out the goods and ended up getting a pair of high waisted jean shorts (a summer staple).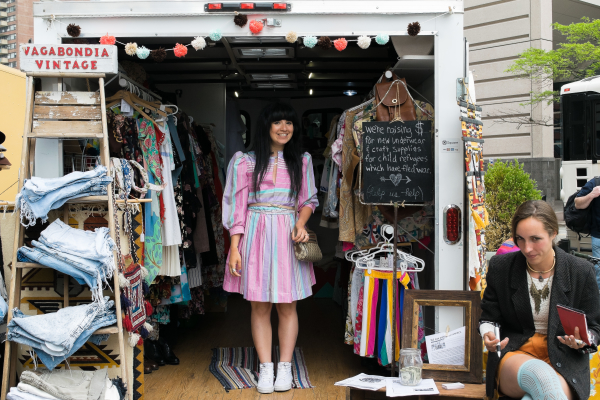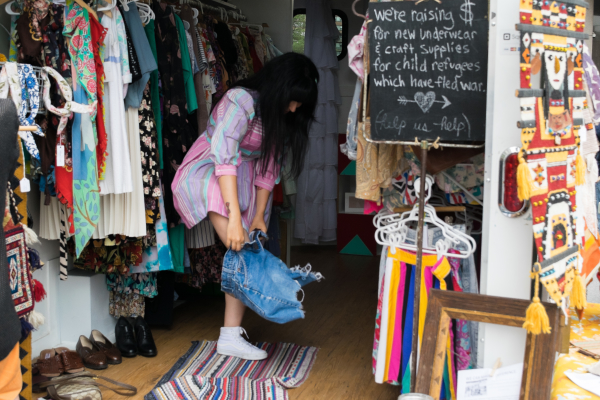 After all the shopping, we got thirsty and got some sangria from the new delicious spanish tapas restaurant Raval. Yummy.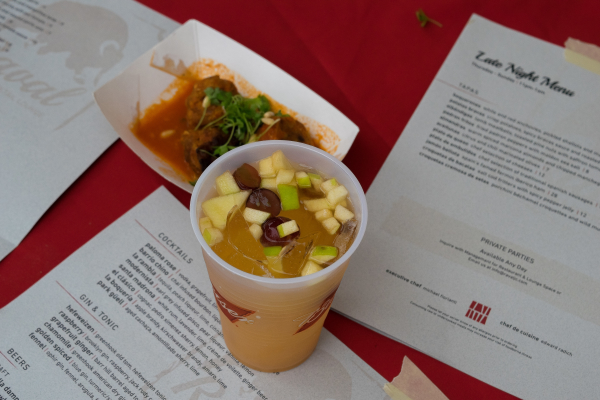 Vendors!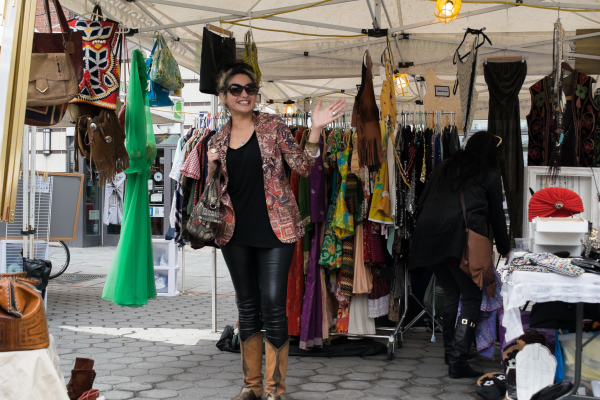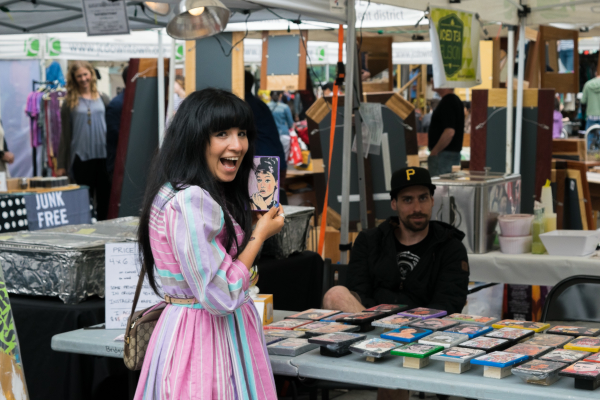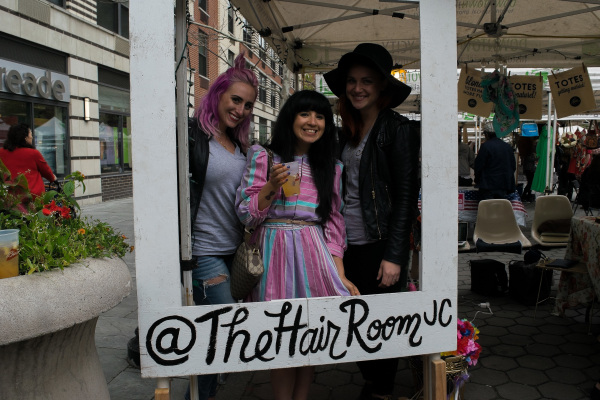 My HDSID Family, Rachel and Steven in the house. They do such an amazing job with all these events!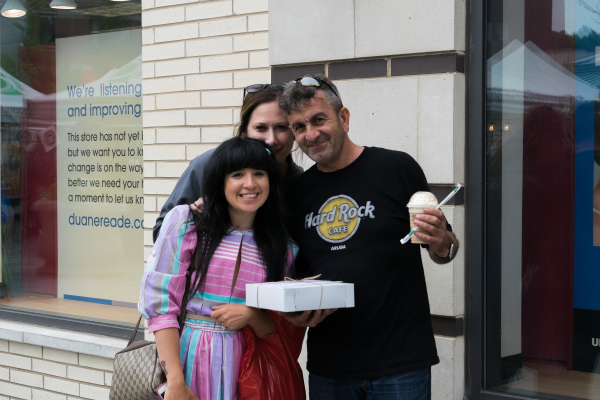 Second Stop: Very Clothes and Goods Presents Circle K, art by Norm Kirby
We had a nice buzz going on from the sangria so what better place to stop off then one of my favorite thrift shops, Very to check out Norm Kirby's colored pencil drawings and also mingle with some super stylish JC people.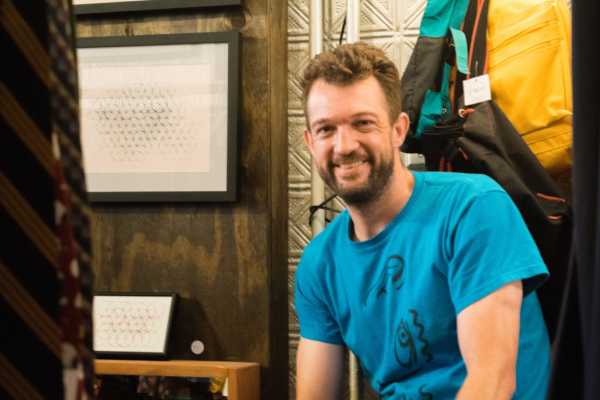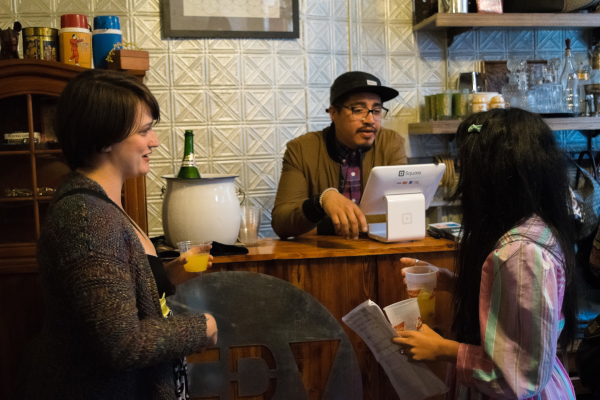 Dranks.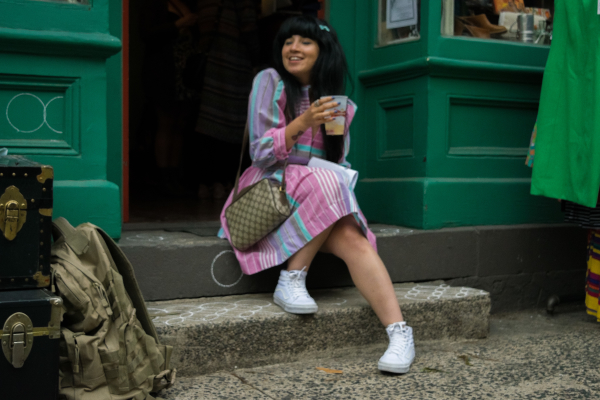 Third Stop: Cyberpunk at 58 Gallery
Two drinks in and we were ready to trip out on some cool art, we looked at the map and decided the Cyberpunk exhibit was the perfect next stop!! I was staring at this thing for like 10 minutes!!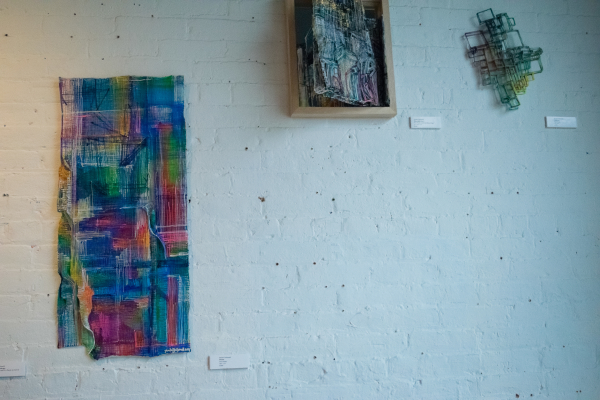 Fourth Stop: Tea NJ presents Craig DeCicco
Every JC Friday I stop off at Tea NJ because they always have cool new art, entertainment and food of course! This time they showed the work of local photographer Craig DeCicco @Macaloin. A lot of his photographs were taken in Jersey City! I loved his work.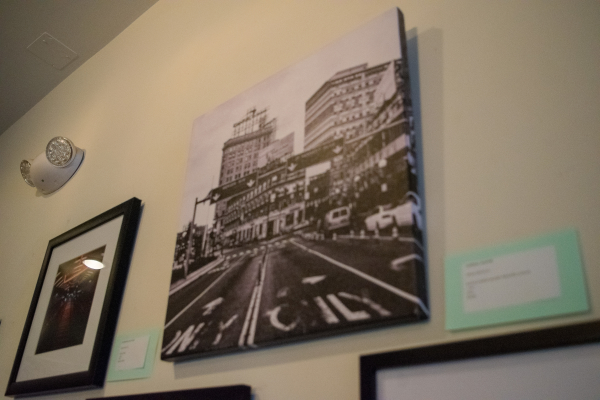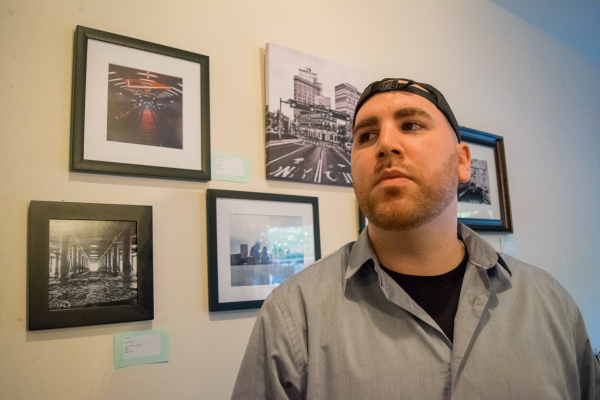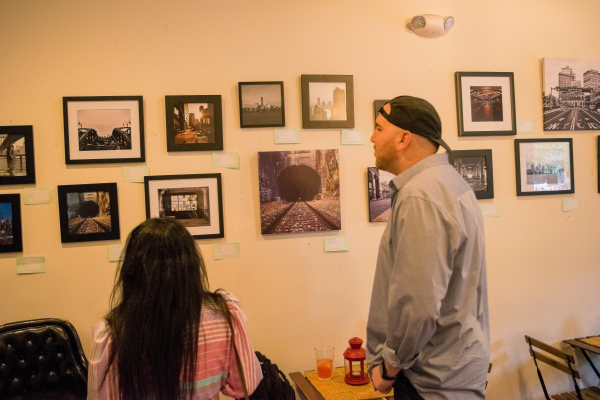 While we were checking out the art, local band Fredo was there jamming. I just love all of Tea NJ's events!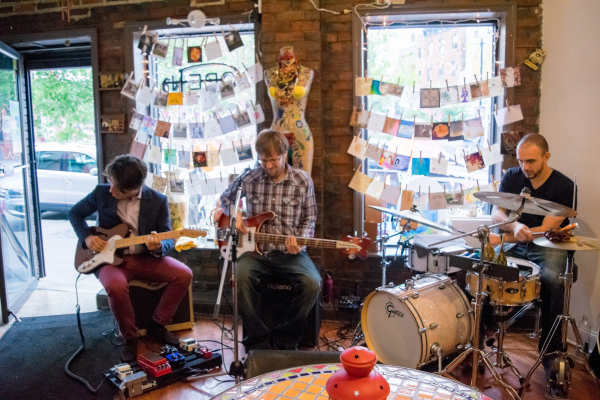 Fifth Stop: Raven Gallery and Boutique presents "Nature vs Nurture"
This was my first time at the Raven gallery, an adorable boutique in The Village part of town. They had beautiful artwork displayed and they sell very unique jewelry that I was tempted to try on until Nabil gave me that look that guys give you when  you want to shop…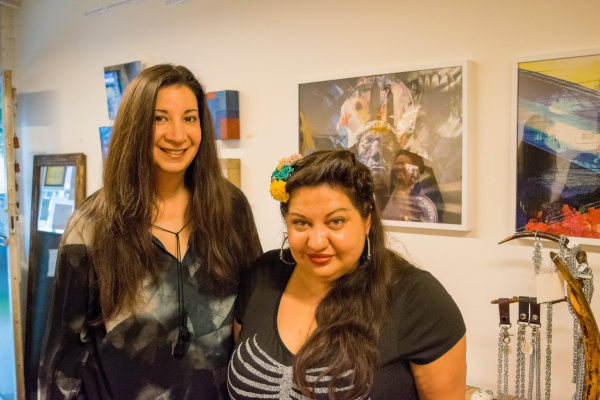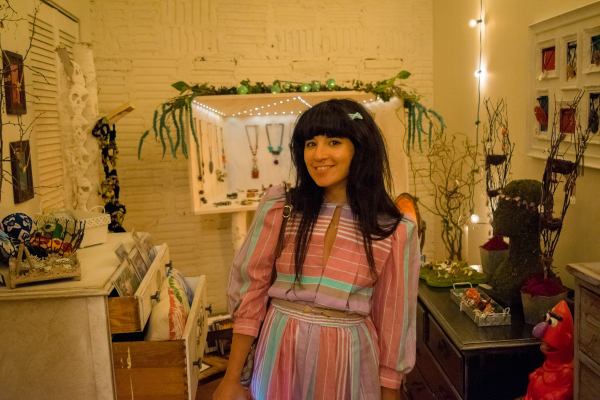 There was one piece that stopped me in my tracks. Absolutely stunning.
Sixth Stop: Speakeasy Studios, The art of Ralph Serrano
This was one of my favorite spots, I loved that this studio was actually a little removed from everything else in the downtown area. I am guessing it was someones home turned studio, with the sickest backyard where they unveiled a new mural by artist Ralph Serrano. PICTURE TIME!!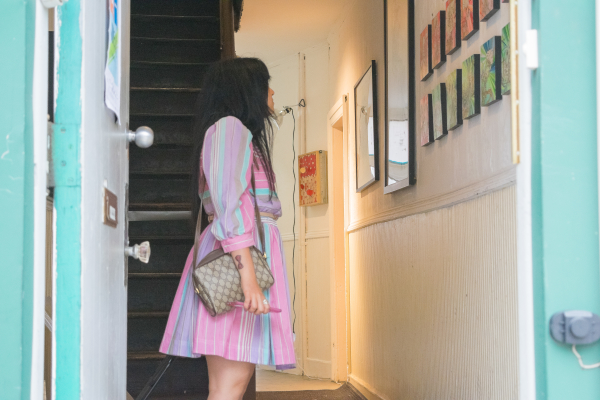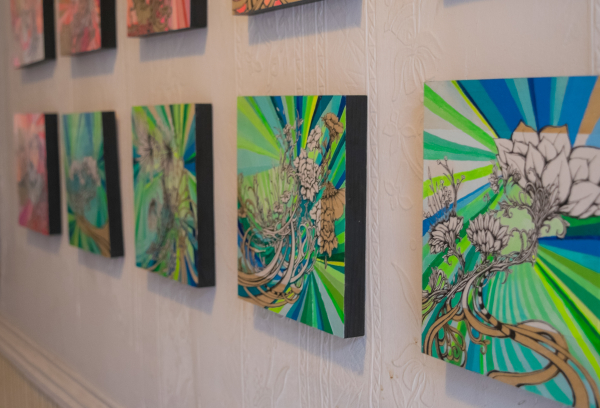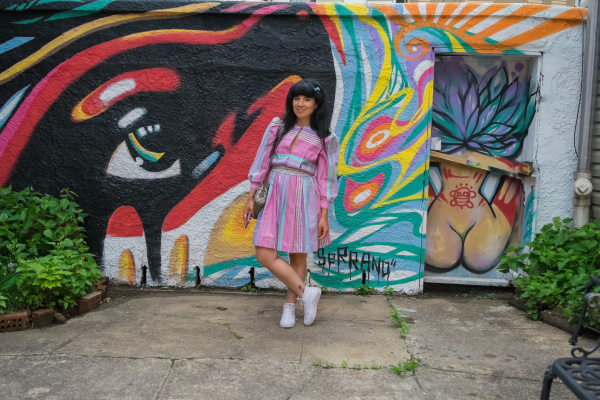 I got thirst so I had a little bit of wine and we hung and and socialized for a little… if I didn't have like 300 more places to go to I probably would have chilled here for the night.
Seventh Stop: Art House Productions Gallery presents Joe Velez: Signal Loss
We ubered to Journal Square to check out local artist Joe Velez's solo show at Art House Productions. While in the car, I explained to Nabil, that Art House is like the hub of all JC art and Theatre. I was excited for him to see it for the first time!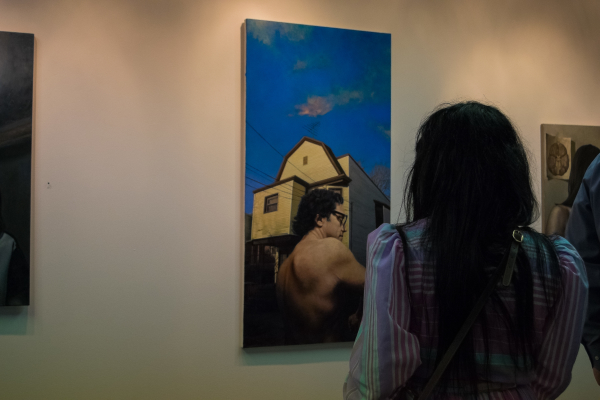 Anyway we got there and as soon as I walked in and saw all of Joe's art work, I was completely floored. Like, wow. He is so incredibly talented!! No words can describe it to be honest. I am going to say this, it was my favorite art show of the night for sure. I NEED TO INTERVIEW HIM ASAP. And maybe have him paint me?! Yes I have narcisstic moments… what can I say?!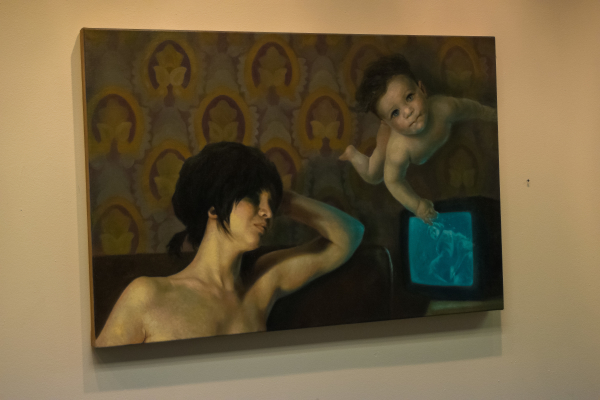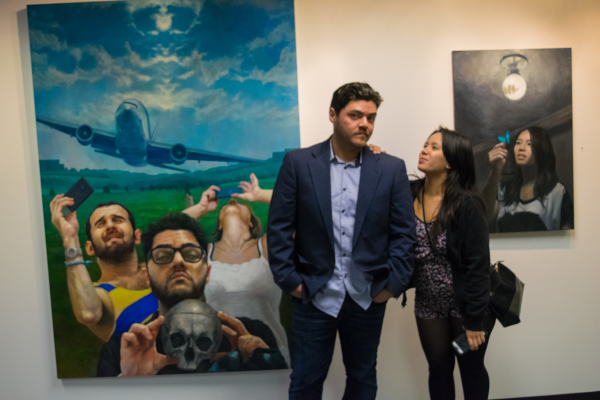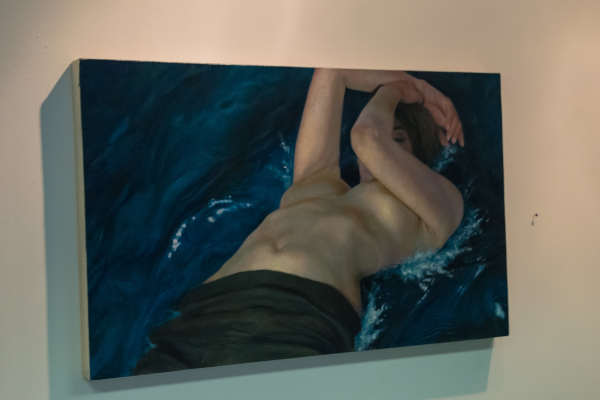 After catching up with Christine Goodman, boss woman of Art House and amazing human being, we checked the map and it was time to head to The Heights.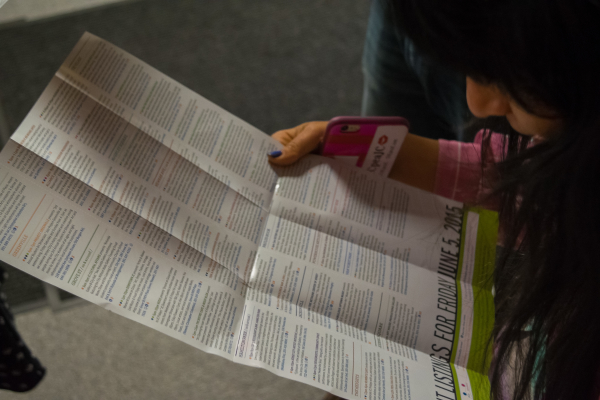 Eight Stop: Walter and Margo Parks present "The Statuary Art and Music Series"
Christine told us we had to go here so we listened and went straight there for our first stop in The Heights… and boy was I glad. Soprano Elise LaBarge was there to honor Edith Piaf, a french singer from the 1950's who I grew up singing… We got there just in time, and Elise first song was "La Vie en Rose", I got chocked up because this song is one of my favorites, so much so, I have it tattooed on my arm. It's a song that makes me happy, brings me back to my childhood… well I told  you that story already!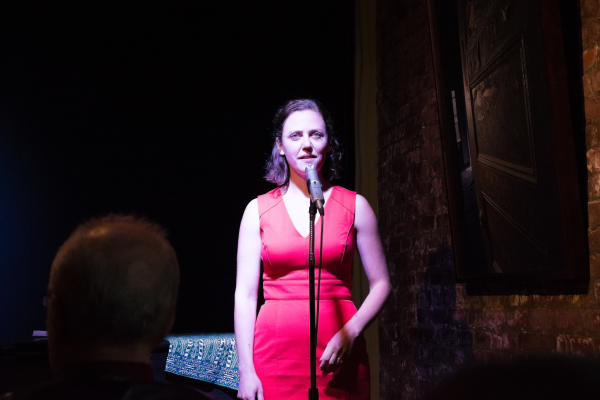 Anyway, Elise was incredible, I had goosebumps during her performance. I am so glad this was one of our stops.
National Donut Day Break
Before heading to our next stop, we got a little hungry and figured we should also partake in national donut day! I bought a pink one to match my dress…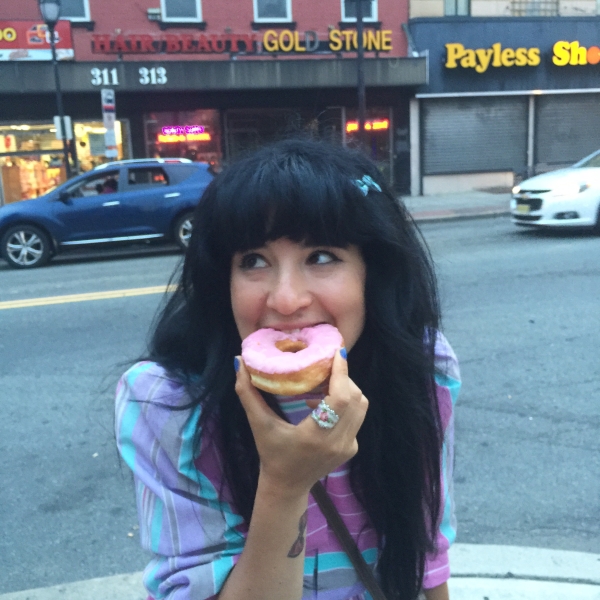 Ninth Stop: Yoga in the Heights presents "Human Nature"
I was excited to go back to the Yoga in the Heights studio to check out the work of various local artist like photographer Erin Delaney and artist John T Ruddy ( a 660 studio citizen). It was fun mingling with everyone and checking out everyones work! Light Rail Cafe was also there serving up some delicious bites, my belly was happy.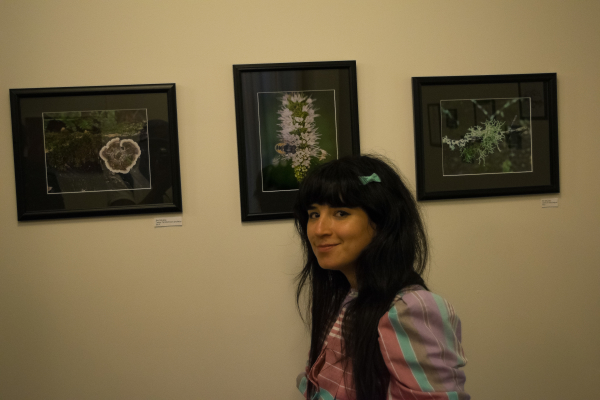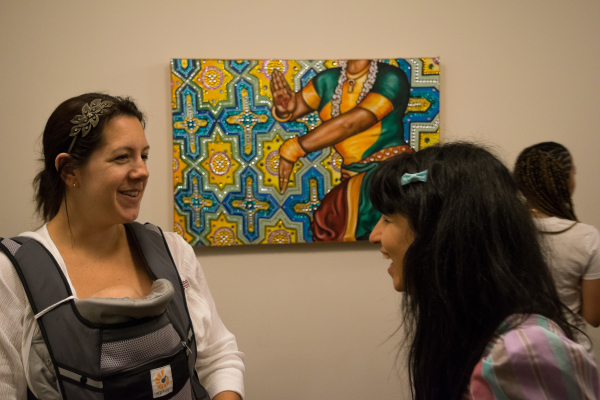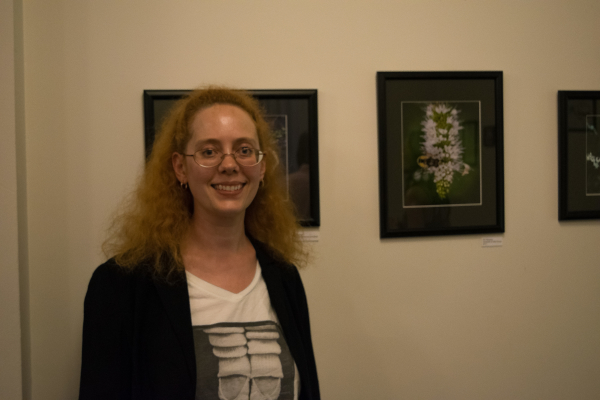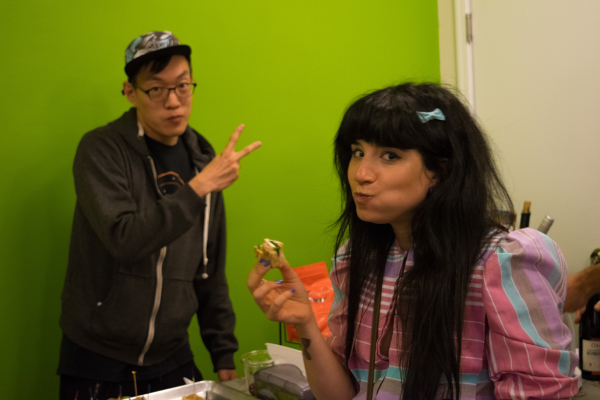 Since it's a yoga studio we had to take our shoes off and Nabil was making fun of the holes in my socks! Socks are not my priority in life, what can I say? LOL!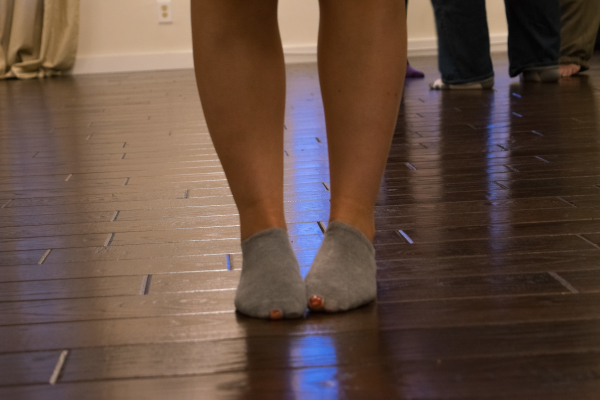 Tenth Stop: Live at the Lumberyard
If I had to choose a spot where I would stay the whole evening, it probably would have been the Lumberyard. It did make my top 5 list after all!! It had a really chill vibe, with a great line up of bands and most importantly the crowd was great! It was the perfect evening for live outdoor music. I even joined the kids up front for a little dance session.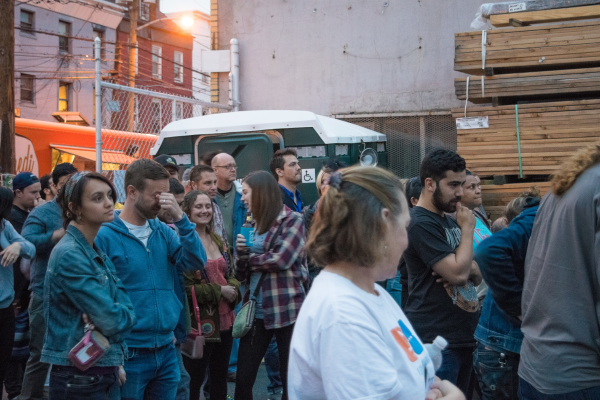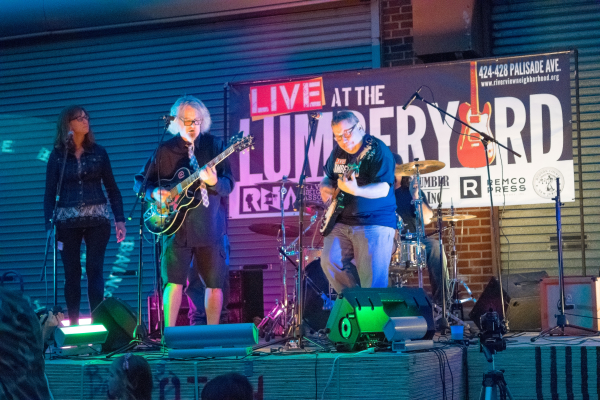 It was the perfect evening for live outdoor music. I even joined the kids up front for a little dance session.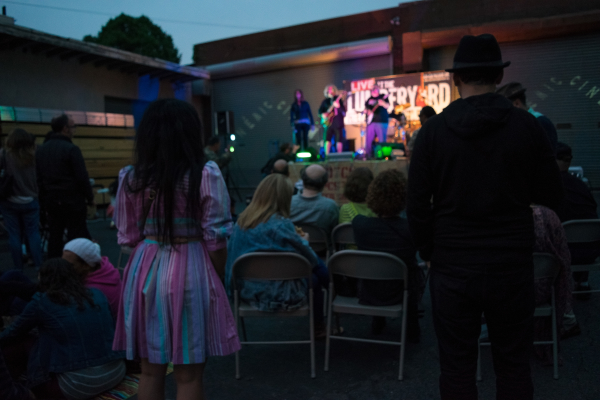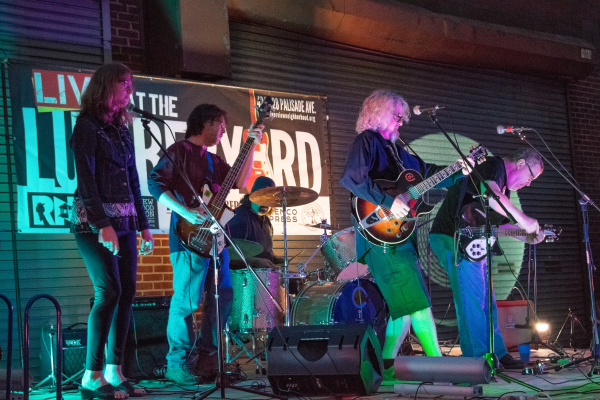 Eleventh Stop: Gia Gelato presents "Juxtopositions" art by Miguel Cardenas
We met Miguel earlier at the speakeasy studio so we told him we would come check out his awesome assemblage work displayed at Gia Gelato. While we were there we ran into some Jersey City friends!!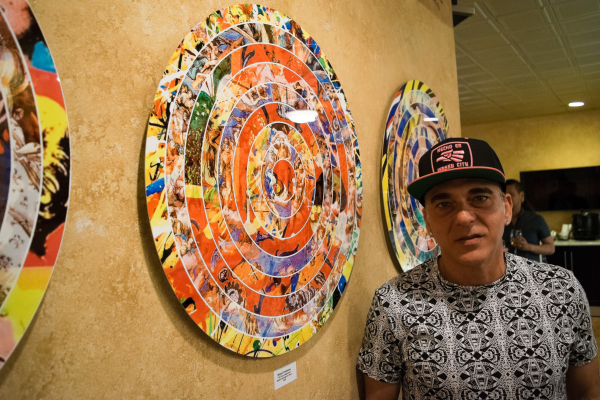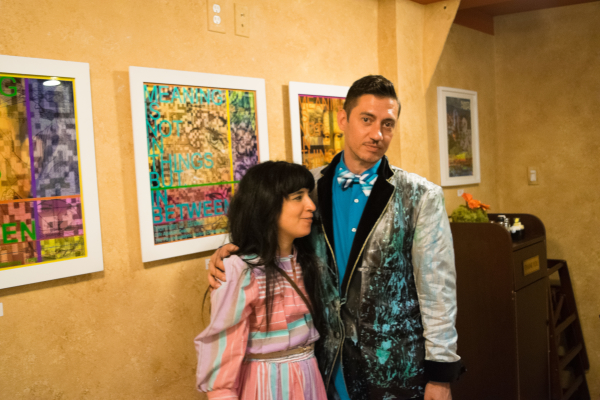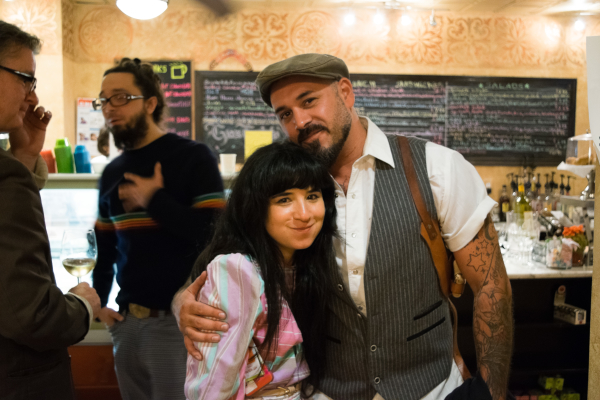 Twelth Stop: Balance Salon presents "Beautiful Disorder"
Balance Salon is always on my list of places to visit on JC Fridays, simply because they are so fun and there is always some crazy shit going on in there…. ohh and spiked punch!! It was cool to see Carla, stylish peeps Dave and Kari (what a babe) and also check out the work of locals Blair Urban and Vincent Minervini.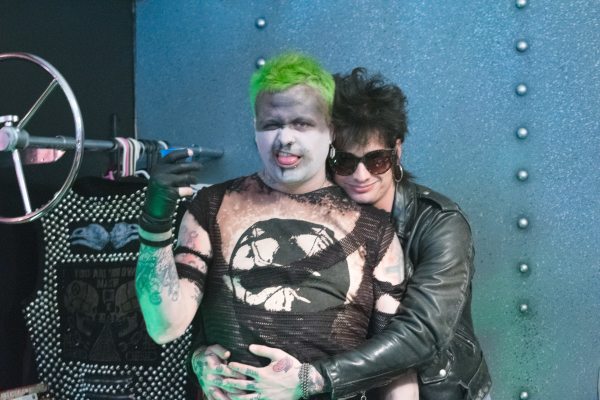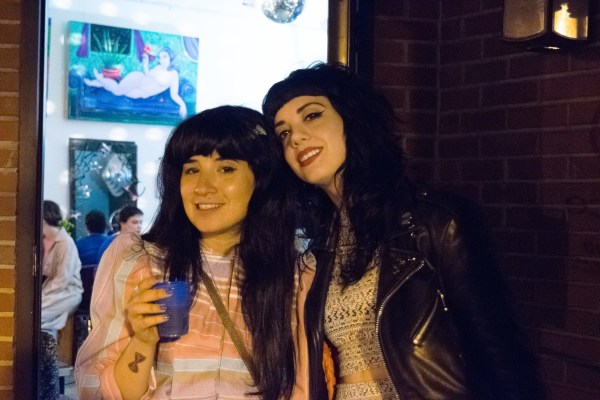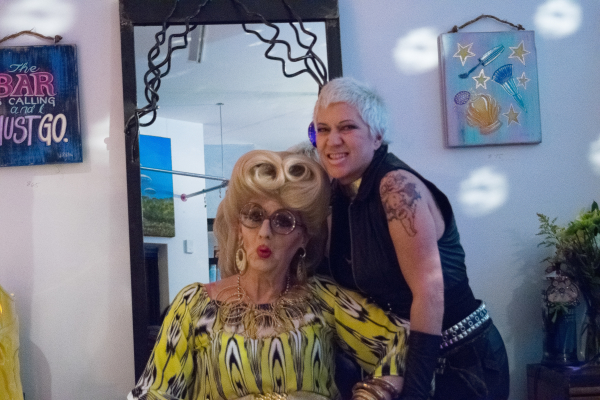 Thirteenth Stop: Porto Lounge Presents, "Shape Shifter" Ray Arcadio
I've been following Ray Arcadio's work for quite some time now, and have been meaning to actually interview him, so this was on my list of "must see". I was completely blown away by his work, it's really like nothing I've ever seen before. Ray is the sweetest guy ever, which didn't make sense because his work is a little twisted!!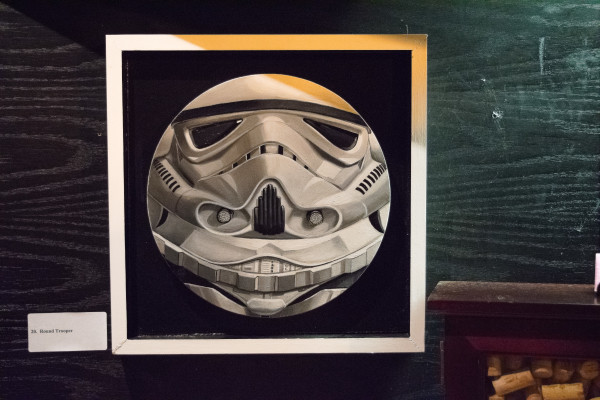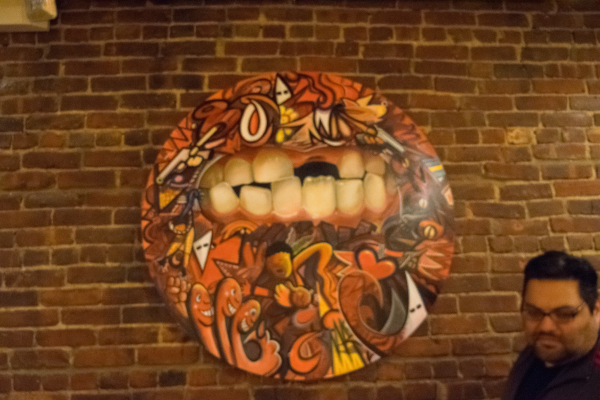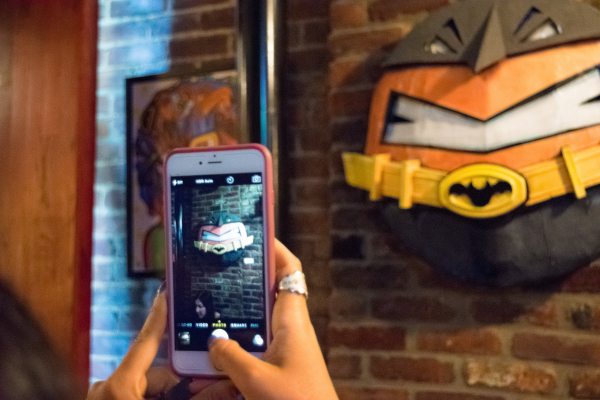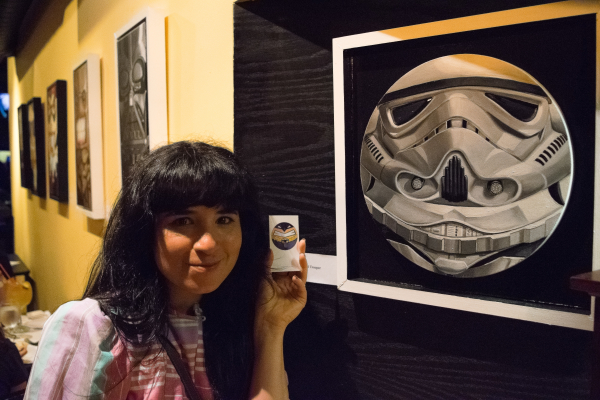 When I saw the Ken and Barbie piece I said to him "I love this, but it makes me feel weird inside" he laughed and said great!! I can't wait to hear this guys story. What a talent!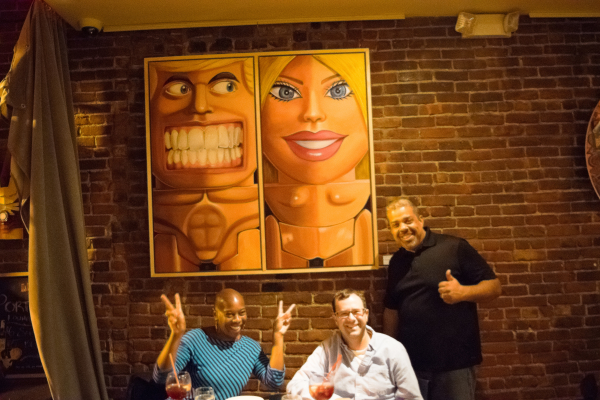 Are we done yet?!
Oh look! A ChicpeaJC Sticker!! #wemadeit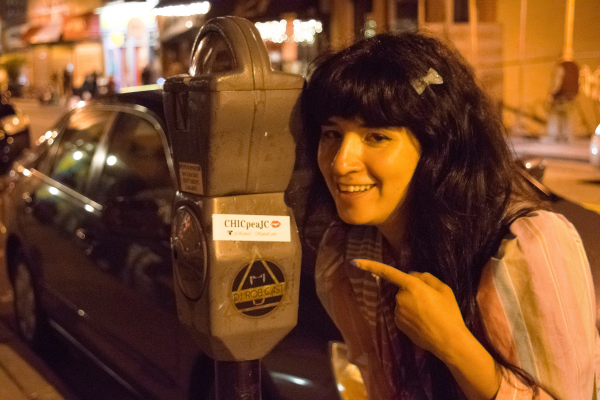 Fourteenth Stop: LITM Presents "Revolution"
At this point I think I was about to pass out but I knew we had a few more stops in us. Might as well break a record here!! We checked out the work at LITM, mingled with a few people…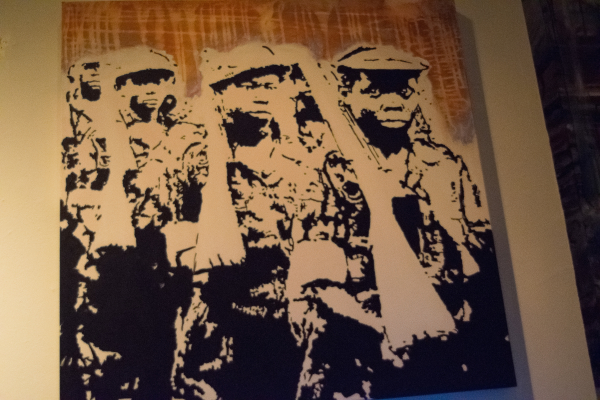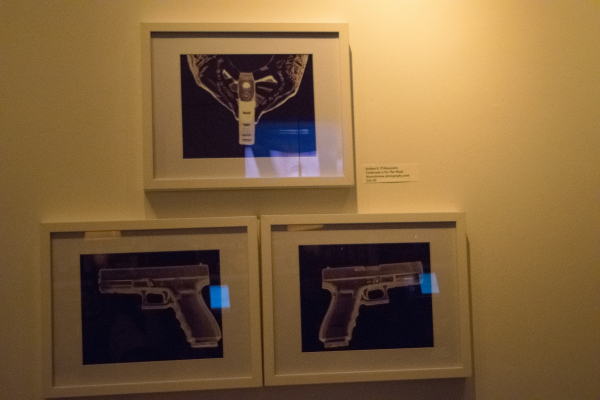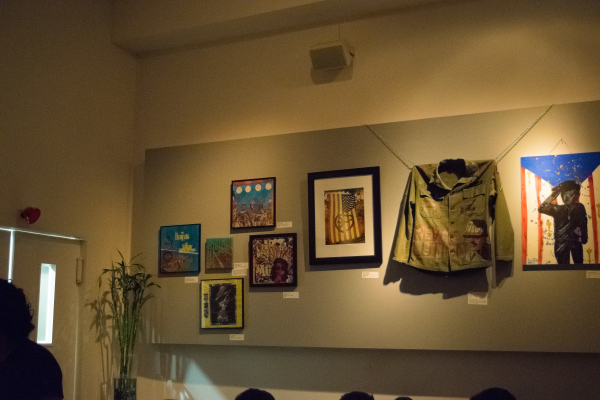 Fifteenth Stop: The Bistro Cafe & Missy Blem Present art by Juan Vasquez and Enver Vucetaj
Our last JC Fridays spot was at the Bistro Cafe to check out work by Juan "Cheese" Vasquez and Enver. This was the perfect last spot on our tour because the vibe was more like a party place. Bizznice was DJ'ing and playing some fun hip hop beats, so I was dancing while checking out the art work.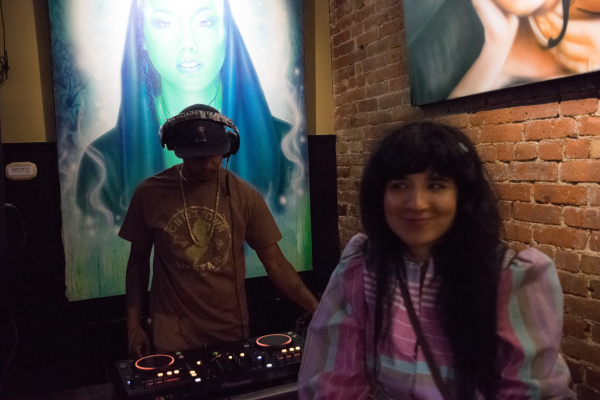 I met Juan almost a year ago at his shop on Brunswick street, and he let me go in the back of his store to see his work. According to Missy, the curator of this show, this was the first time Juan had his work on display.Juan's work is amazing, he paints pop icons like Katy Perry, JayZ, Beyonce…. Chicpea?! Jokes. I took his number because I am going to interview him.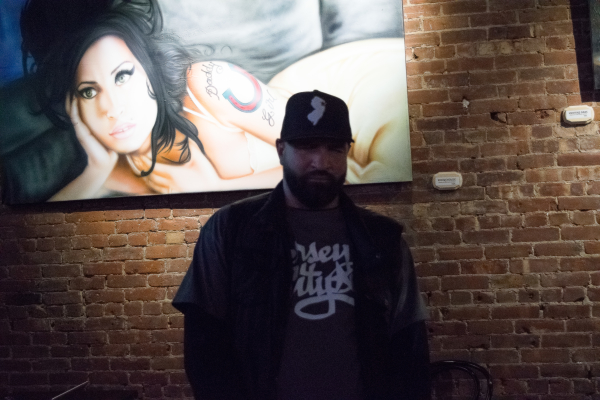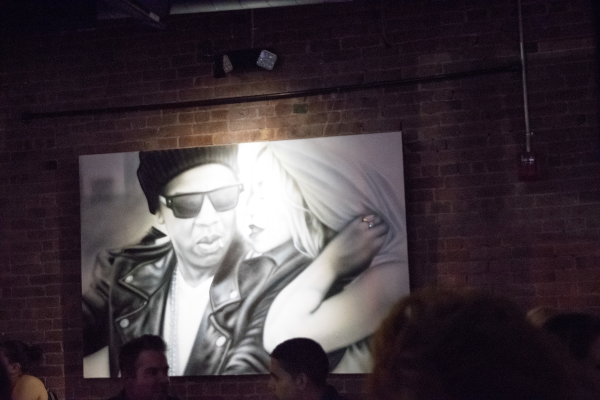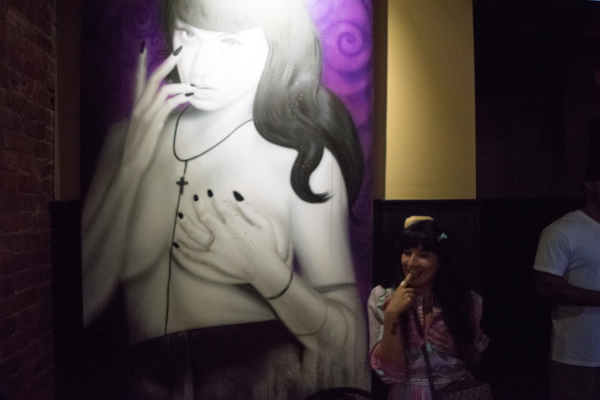 Enver Vucetaj's work was also on display at the Bistro and it was awesome! I've met him before but this was the first time seeing his work.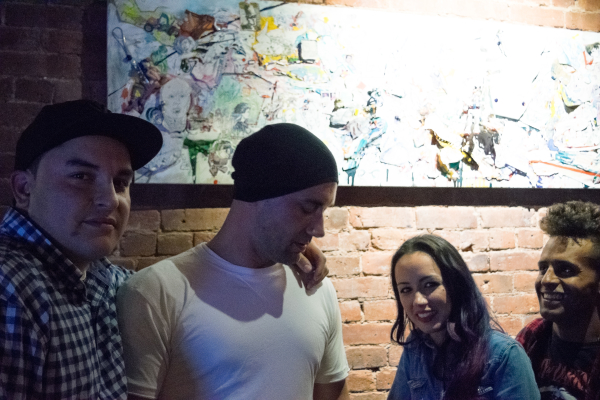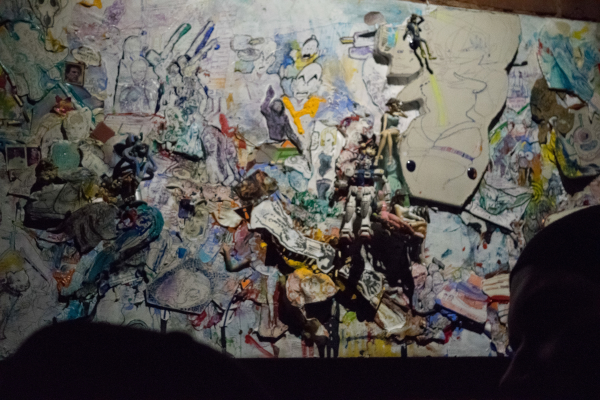 Can I have one drink? Thanks.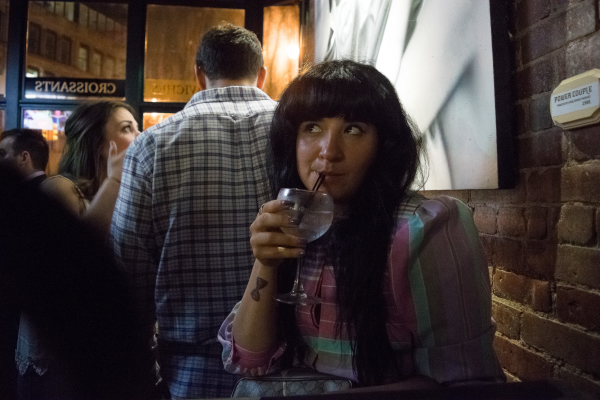 I went outside to get some air and ran into a few people from City Hall, I am such a fan girl that I had to ask Councilman Chico to pose with me for a pic!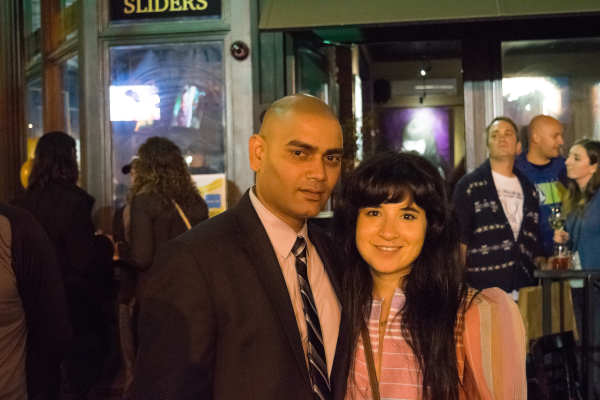 Good times. We were so exhausted and hungry we decided to head to Porta for some pizza. While eating, I asked Nabil how he felt about the whole evening….
So what did you think? "It was great, I saw so much that I personally wouldn't have known in Jersey City, we were all over, met so many interesting people and saw so many cool new things…. all thanks to you chicpea!".
Are you going to eat that? 
---
Brunswick Center Ribbon Cutting
A few weeks ago, Ben Torrei gave me a private tour of the Brunswick Center so I had to go back for their big ribbon cutting event. Now this was not your ordinary ribbon cutting!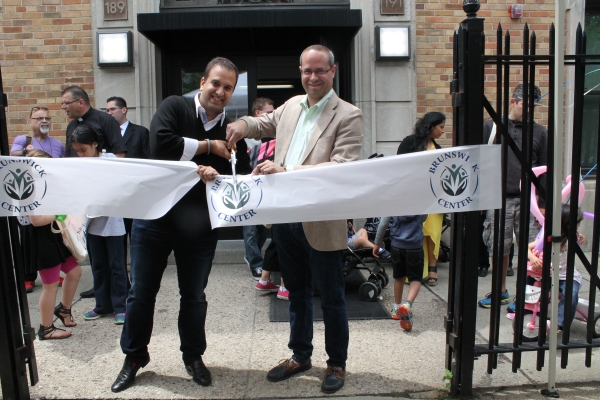 Every health studio held demos of the classes/services they offer, their were tons of vendors and activities for the whole family!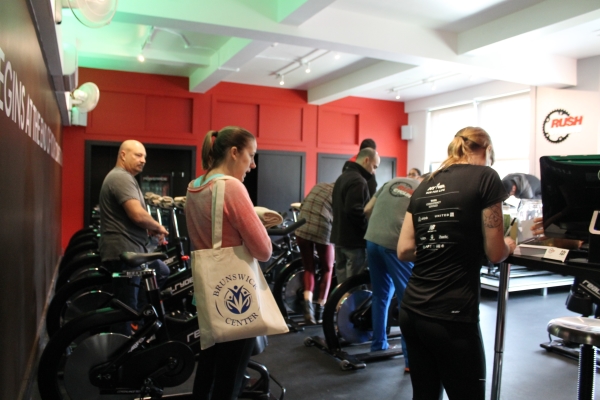 DJ Stadium Status was keeping the energy going with family friendly dope beats!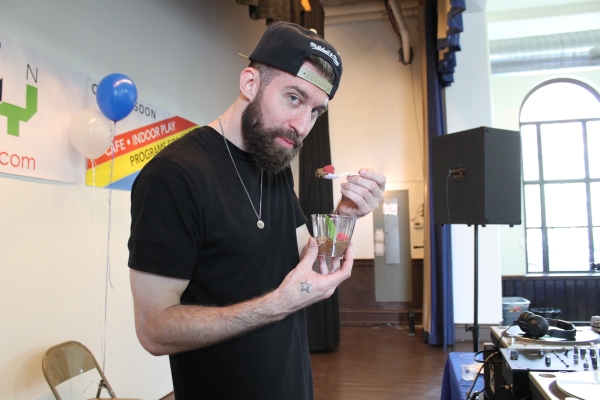 My favorite healthy food vendors Busy Bee, Whealth and Bone in where feeding us some delicious healthy bites..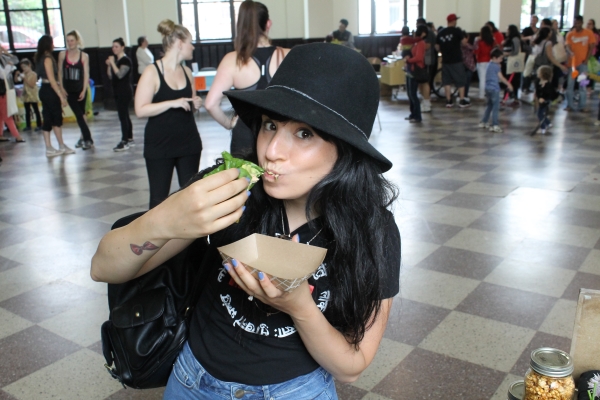 I went to see Doody Free Girl! So apparently her colonics practice is in the principals old office! LOL!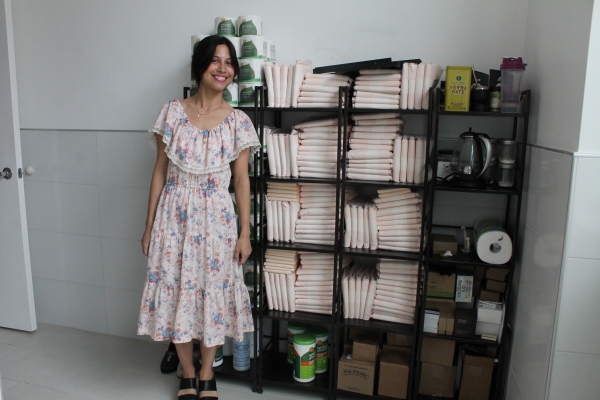 More fun!!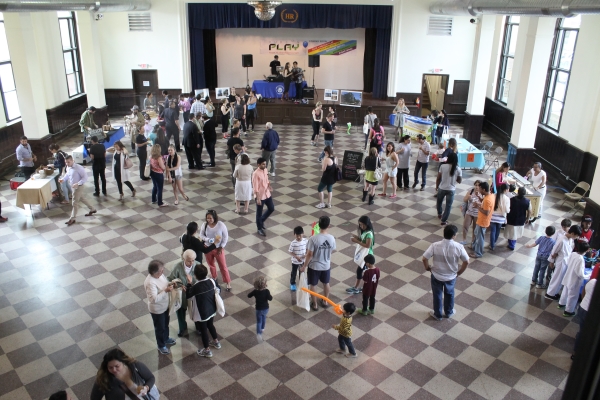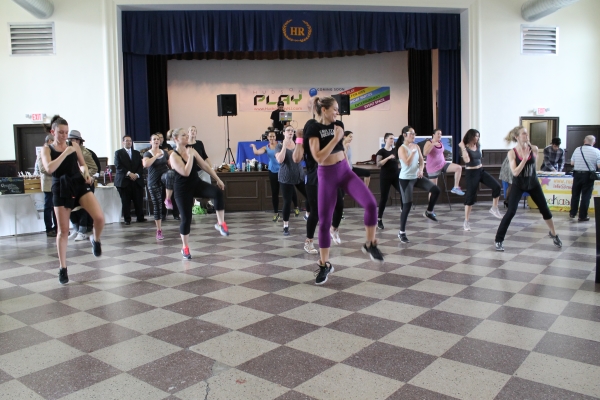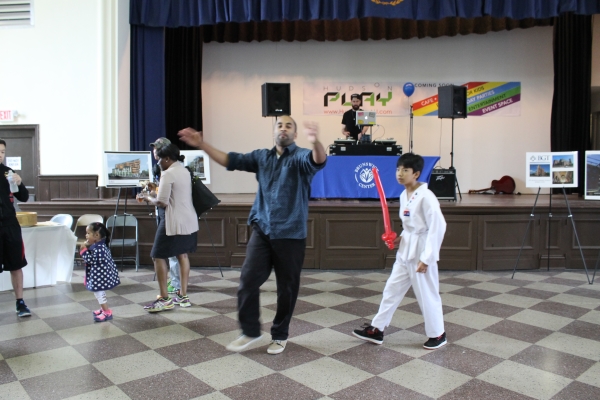 The Brunswick center used to be a school called The Holy Rosary, so I asked Gia a stylish peep who was born and raised in Jersey City who went to school there to tell me her thoughts on her visit at the Brunswick Center.
So how do you feel visiting this school? First of all, I hadn't been inside this building in 15 years, so while there was SO much change, I was struck by how much I did remember and how little had changed in some ways. I guess I hadn't reflected on how much that building and being in that school was a part of me. I kept getting randomly choked up and moved at each little step. But then again, I did grow up there.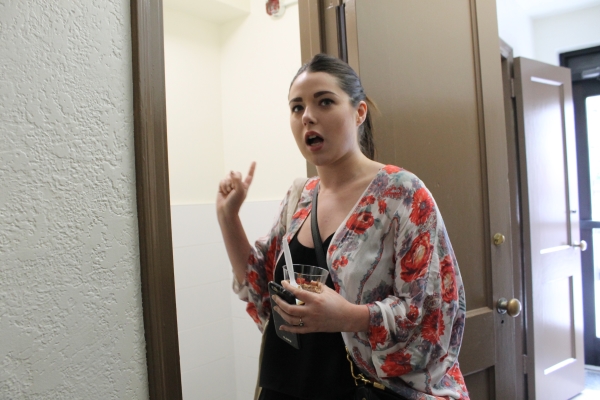 While many can attest to the fact that catholic school is a bit behind when it comes to actual education, I definitely learned a ton about myself being in such a small, homogenous environment. Anyway, I loved the Brunswick center.
I've heard a few alumni say "isn't that sad! That was our school!" I think the idea of a community center with a focus on health and wellness and activity is absolutely wonderful and it's an asset. Would people prefer that the building was ripped down and made into condos? I would have killed for a center like this when I was a kid. Jersey City has changed a lot in the 26 years I've been alive. It's changed a lot in the last FIVE years.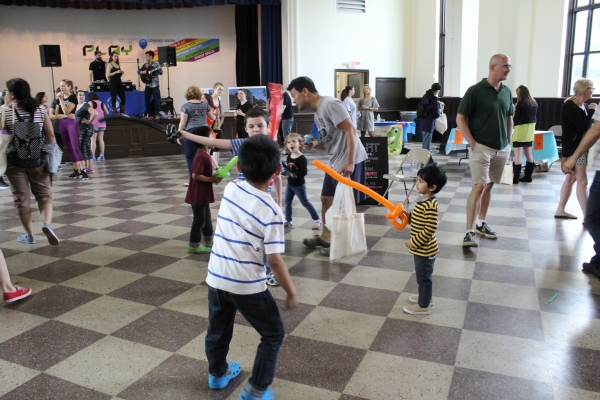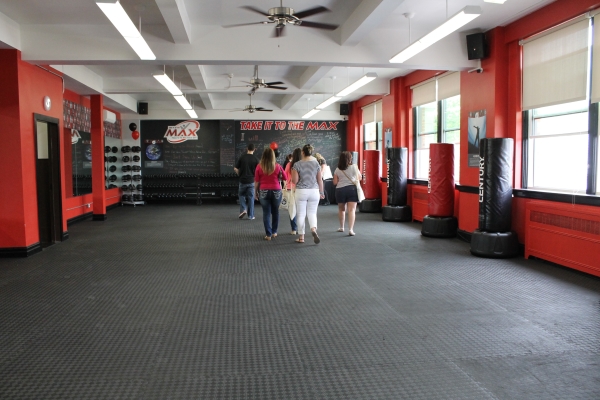 I was impressed by the renovation, I'm excited about the community building and I'm gonna try to get my lazy butt over there and take some classes
---
Riverview Jazz in the Park
After the Brunswick Center, we walked to the Heights (!?!?) to check out the Riverview Jazz festival, one of the activities on my Top 5 list! It was the first time since the weekend began that I actually relaxed and took in the moment… listening to live music on a beautiful day was just perfect.  We got there as soon as John Robinson and PVD hit the stage, I loved the hip hop/Jazz beats. It was right up my alley.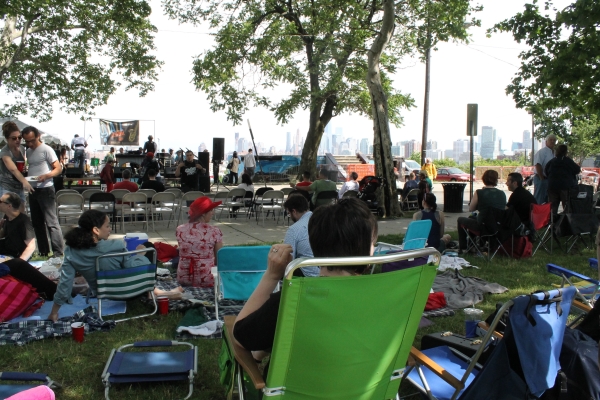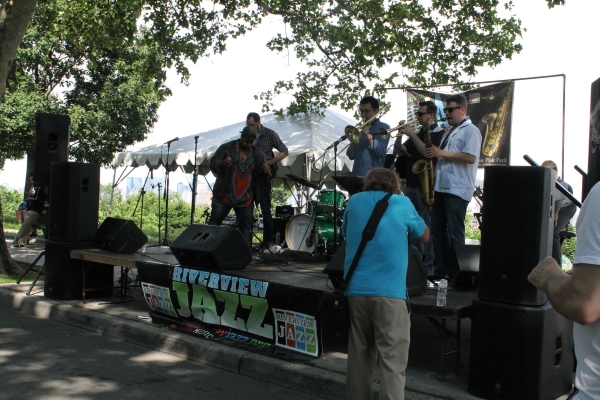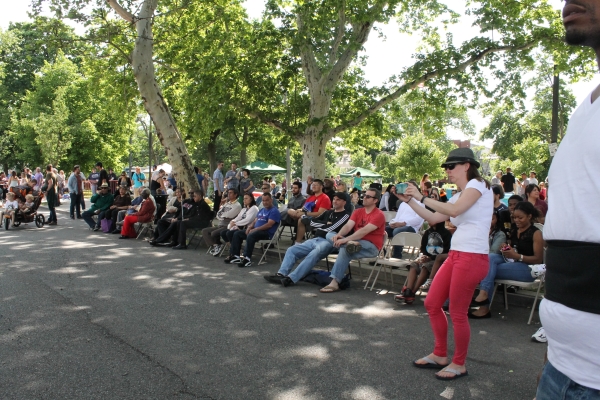 Next time, I am staying all day for this one.
---
Bike Tour 2015
This is the second year I do the Bike Tour, I heard that there were over 2,000 riders who registered for this one! Crazyness. We got there around 10am, got our bibs and waited for the horn. There were so many people!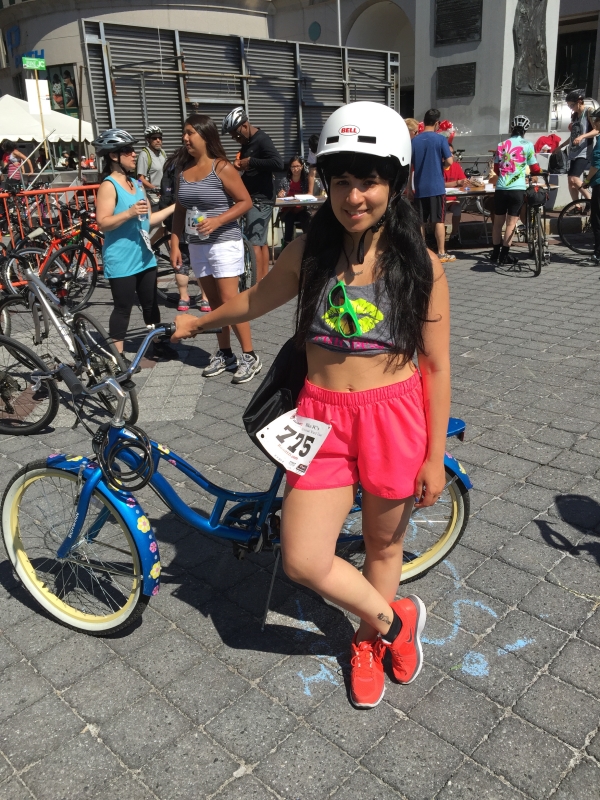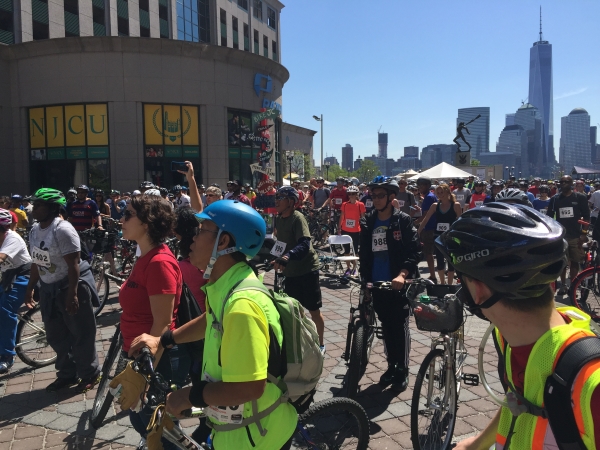 I went to the front to take some pics and ran into my new buddy Mayor Steven Fulop! He was there to show his support and sound the horn. Wait, let's take a selfie.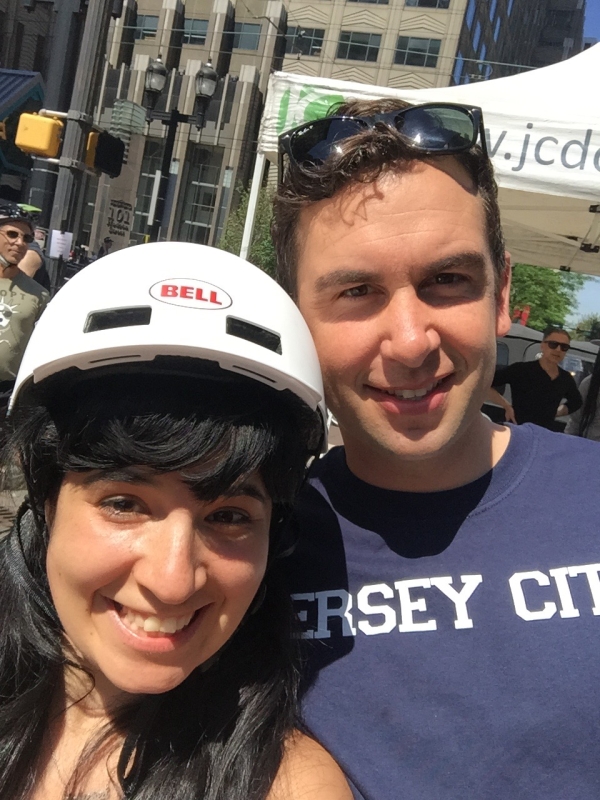 The ride was awesome, we toured all of Jersey City and I met some fun new JC friends!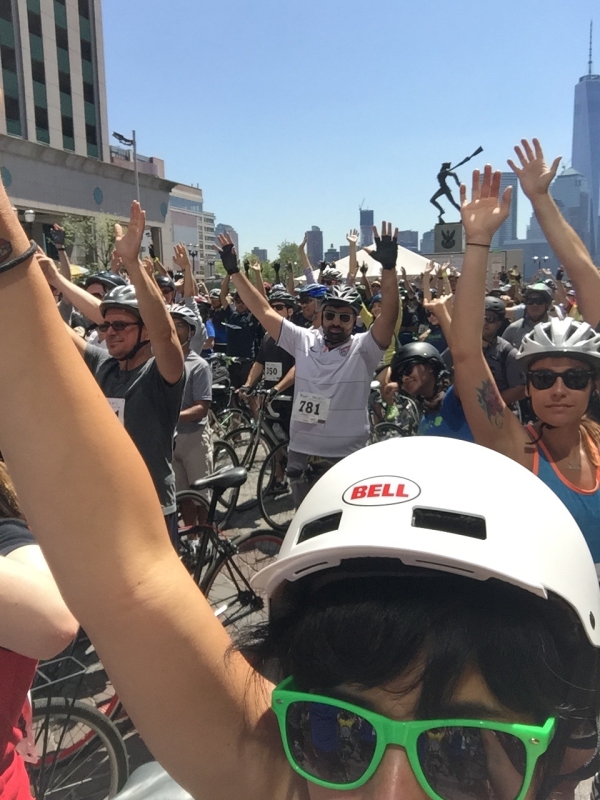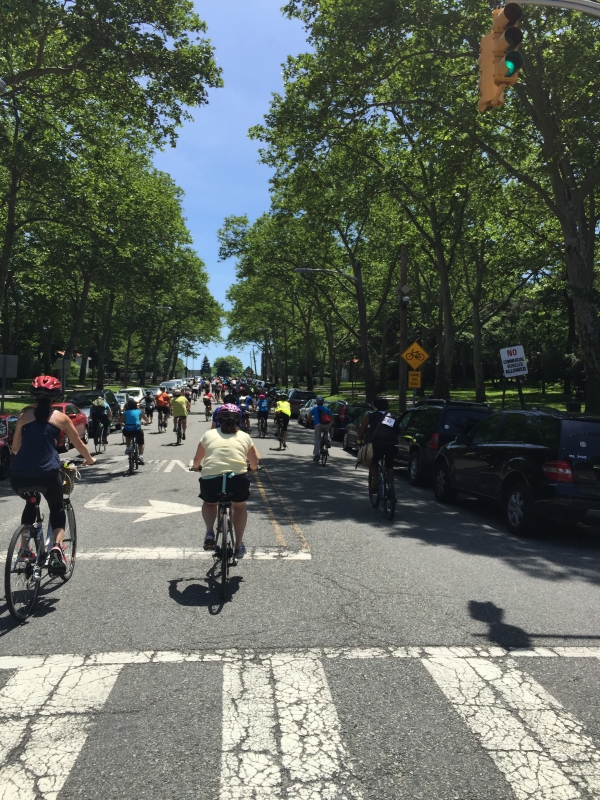 After the tour ended we hung out for a little and then headed home…So I can write this post and pass out.
Jersey City, Bravo.
ChicpeaJC is out.