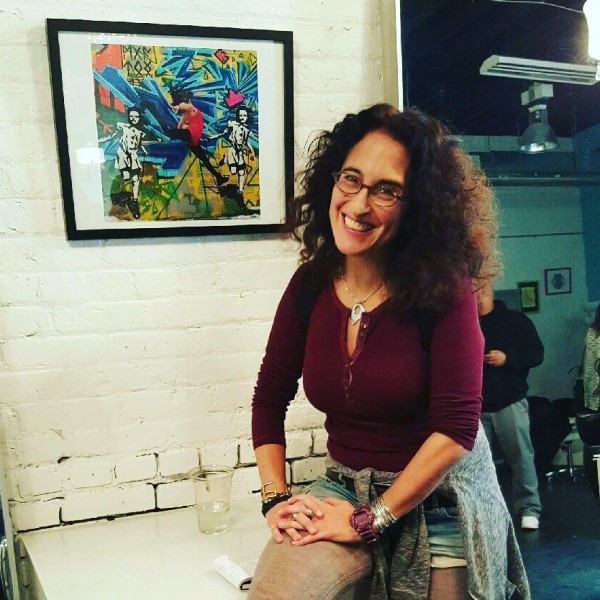 JC Fridays is getting bigger and better every quarter and this year's mild December Friday was so jam-packed that I had to send intrepid street art blogger Jayne Freeman to cover the All City 2.0 show at Blow-Out Salon. In a bizarre twist of identity, Jayne is also in that show under her street photography name, Janye West. She chose not to interview herself, instead we present Missy B – one of the show's organizers and a driving force in the Jersey City art scene: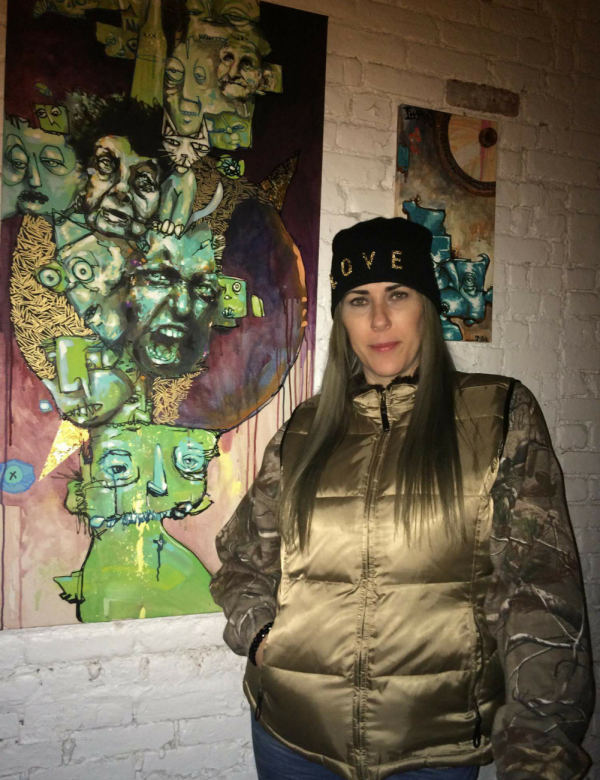 JF:  Who are you and what do you do?
MB:   My name is Missy B.  I've been in Jersey City for a decade, originally from Oregon, and I bring people together.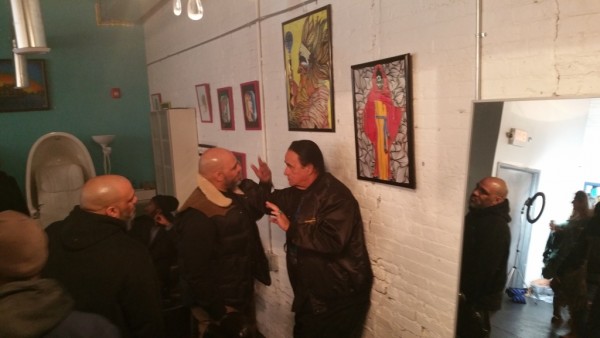 JF:  Can you elaborate?
MB:  Throughout my time in Jersey City  I've met a lot of talented people; I have a knack for making connections and bringing together whatever it is that people need. I like working in the creative realm; it's my passion and I'm constantly inspired by the people I've met. I also do marketing and business consulting for several companies.
JF: Before we talk about the art, does this salon Blow-out live up to its name? We curly-haired gals need to know!
MB: Yes! Blow-outs are just one of many services we offer and we do it very well! What makes Blow-out special and different from the other salons is the diversity in styling and the huge clientele who feel comfortable in all styling.  We've been open for 2 years and we are a full service salon! We also have a makeup artist now 5 days a week, her name is Ariel, she specializes in weddings, events, natural and dramatic looks.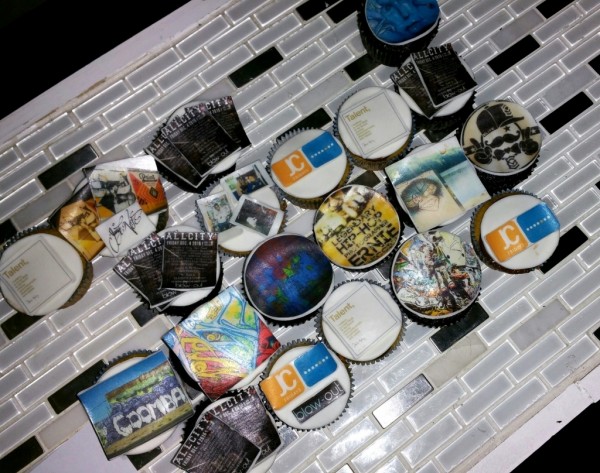 JF:  How is this show, All City 2.0 different from the previous 1.0?
MB:  1.0 was curated by Cheese [Juan Vasquez] with Redemption Art & Music, as well as DJ BizzNice who is a part of Society Needs Culture. This time around it was a collaborative effort which wouldn't have been possible without my partnership with Cheese. We wanted to present this group of artists to the "new" Jersey City residents – the one's coming from New York, just to say, "Hey, we've been here all along! Jersey City has its own thriving arts and music community and we want to share it with all you newcomers."  We also wanted to present some new artists who have never shown their work before, promote Blow-out, and to be a part of JCFridays.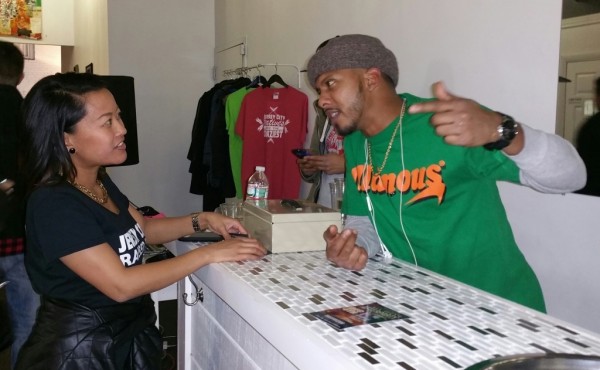 JF:  Who is new to All City 2.0?
MB:  Well, we have Jesus Diaz, who Cheese discovered with some excellent drawings. They met through church and Cheese just gave him a sketchbook and encouraged him to start drawing again.  He produced some beautiful work.  Also Denai Graham has never shown before; he is the husband of one of our stylists at Blow-Out.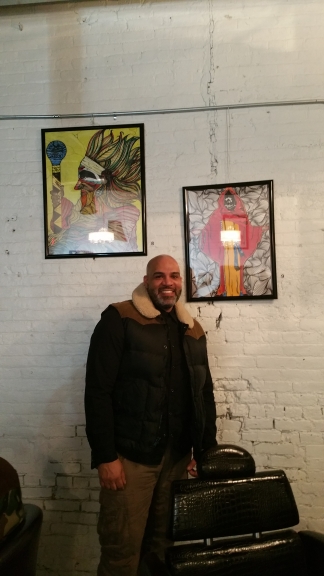 JF:  How did you select and curate the artists for this show, as it appears to be a lot of locals known for street art.
MB:  I was looking for quality artists who are more than just "style."
JF:  And "Cheese" is very meaningful to you not only as part of your team, but a significant force in Jersey City, correct?
MB:  Yes, well Cheese is a twenty-year veteran to the Jersey City art scene. He was the first person to make a Jersey City hat and tee-shirt, by the way! He used to work for Morlee's on Newark, and that's where these were sold, originally. Now he has his own business, Redemption Art & Music where he does his own designs and silk-screening work. He's just an all around great person too – with a big heart, always encouraging people, inspiring artists, donating his time or art to everything from baseball teams to church groups. Plus he can work in any medium, from air-brushing to silkscreen to pastels.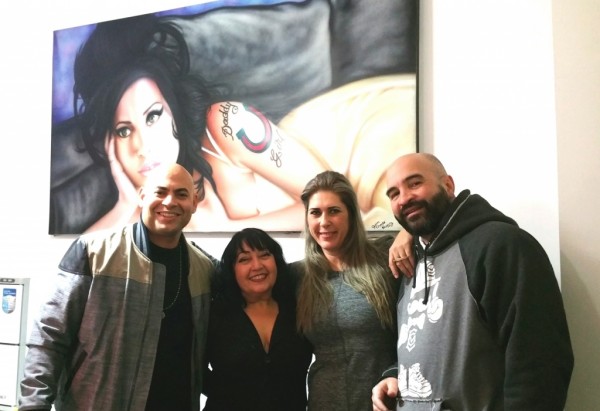 JF: What do you think of the changing art scene in Jersey City? How do shows like yours stand out and make a difference?
MB: When new people come to a different area they create a new dynamic and energy. Nothing ever stays the same so change is inevitable. Plus Jersey City is starting to be known as the street art mecca. This show is covering all areas and mediums – from artists who are new to the scene to those who are considered legends.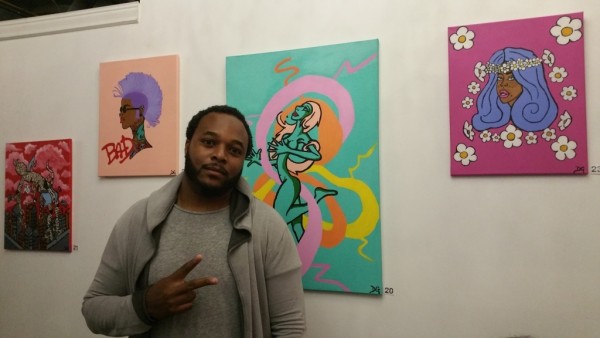 Location:  Blow-out Hair Bar & Beauty Lounge at 127 Christopher Columbus Drive – show up until New Years, curated by Missy B.