Michael Billy's Love and Marriage
On Monday night, I finally got a chance to kick off my pride week.  Now, I know I was a tad bit late to the game, missing out on two very fabulous events (including Ty's Bar in NYC and Sundays Are a Drag Brunch at Brightside Tavern), both of which I heard were huge successes.
I couldn't let another great pride event slip away, so I headed on over to Cantina at Talde and Carrino Provisions for Michael Billy's one man show, Love and Marriage.  The event was free, so there was no excuse to miss this one! And in the words of my cousin Meredith, "Free is for me!" (Wow, I sound cheap).
Upon arrival, both restaurants proudly hung giant rainbow flags from their establishments.  After grabbing a drink at Talde, we were escorted downstairs to Cantina; the subterranean child of Talde and Carrino Provisions.  This wine cellar themed hot spot was complete with communal, farm style-like tables, exposed brick and wood, and an entire wall chock full of wine.  It was something straight out of a Napa Valley vineyard.  You definitely want to check this place out!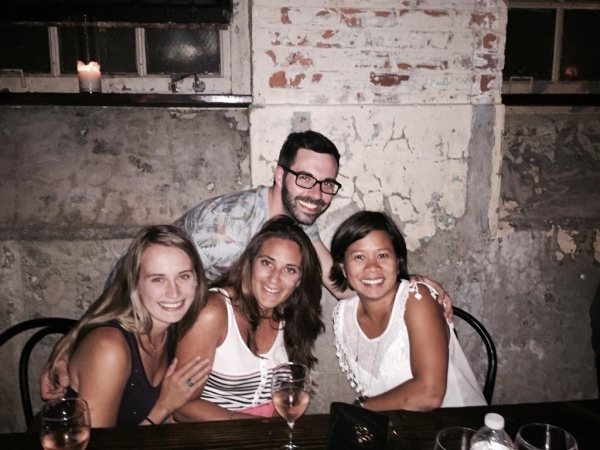 And just next door, at Miss Wong's, I was fortunate enough to sit down with the very handsome Michael Billy (sorry fellas, he's off the market) and quickly chatted before he performed to a packed house.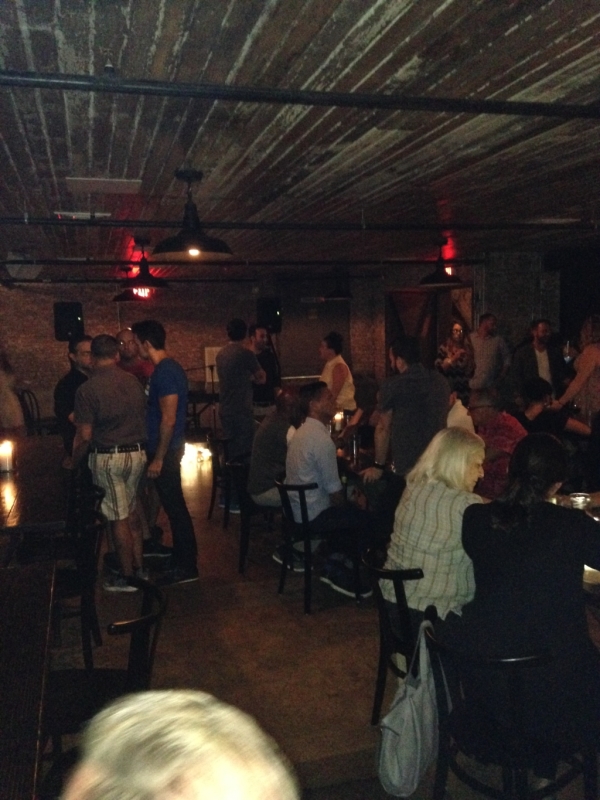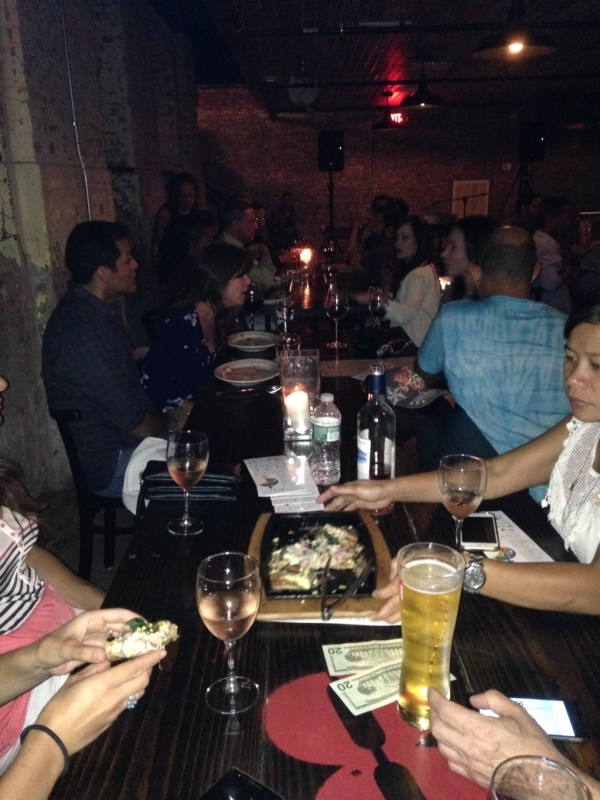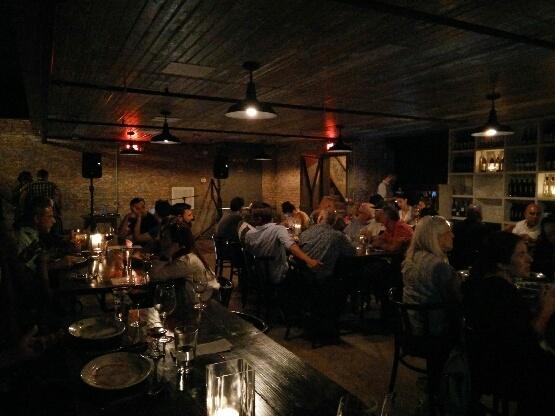 Do you live in Jersey City? I do!
How long have you lived in Jersey City? Four years.
What will you be doing for us tonight? Tonight is a collection of pop songs of recent and of yesteryear that I have my own spin on. I re-wrote some of them, I arranged some of them differently. It's basically what I play in my living room for myself and Matthew and is being shared here with everybody else.
What kind of show would you categorize tonight as? It's a nice, romantic collection of songs. I wouldn't call it a cabaret. I would probably call it more of a one man show by the piano.
According to IMDb.com (Internet Movie Database), you do more than just sing and play piano. I became a comedian early on; that was my first start into the business.
So you do stand-up comedy type stuff? Yeah, I was a comedian for many years.
So will we be getting some stand-up comedy tonight? Well, yeah, some funny stuff. That's the fun thing about tonight, I'm doing movies right now and I'm doing television shows, I've got a great television show on right now.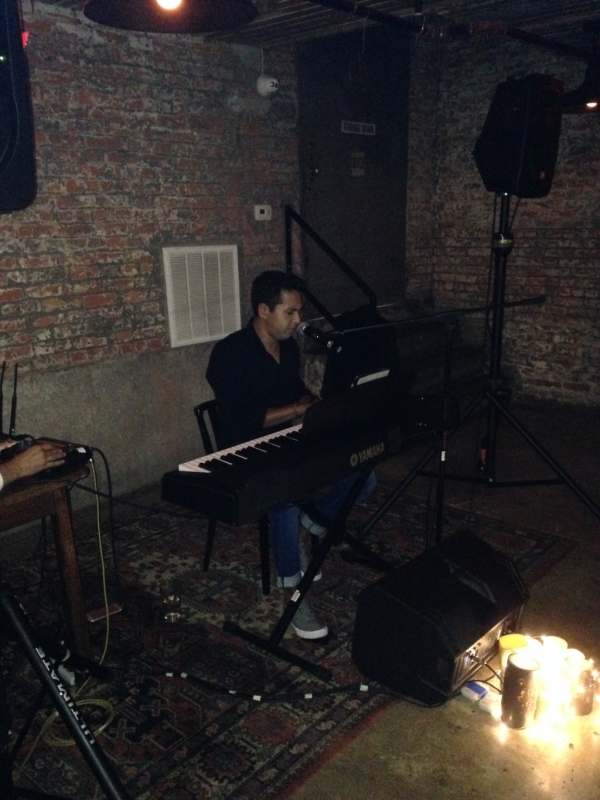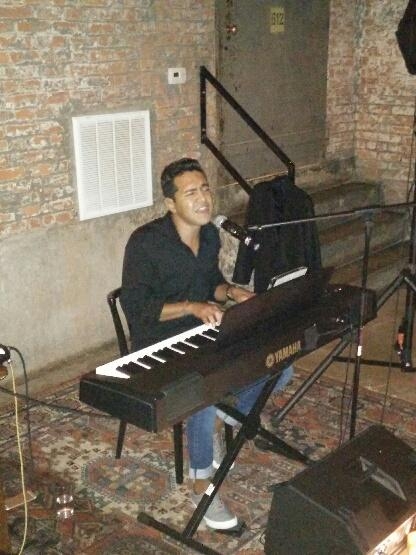 What's the television show? The Next American Gay which is overseas…it's a big thing overseas.
Is it a reality show? It's a reality competition show. I created the show with my business partner and the two of us star in the show.
What's the premise of the show?  Twelve guys move here into Jersey City and they compete day and night in challenges of political knowledge, debate, hotness, leadership—all to win the title of the Next American Gay, which is our nationwide search for not just a model, but a role model.
That's amazing! Where can people catch this?  In the U.S., I'm sure it's available on Amazon. You can also purchase it online.  Because it's overseas, you can definitely buy it and watch it.  It's really cheap too.  It may cost you ten dollars for the entire series.
I'll have to look for it.  Yeah, it's cool to see Jersey City in the background and that this international show was filmed here, right here in Jersey City.
I had no idea! Yeah, and right now I'm on Headline News (HLN) as a commentator.  I do anything from high-profile crimes to pop culture stuff.
And one last question for you, what's your favorite hot spot in Jersey City? You know I don't go out. Haha! I love to eat and I eat everywhere. It's Talde and Carrino Provisions! Carrino Provisions has some of the best meatballs! And they've been really awesome and wonderful to me.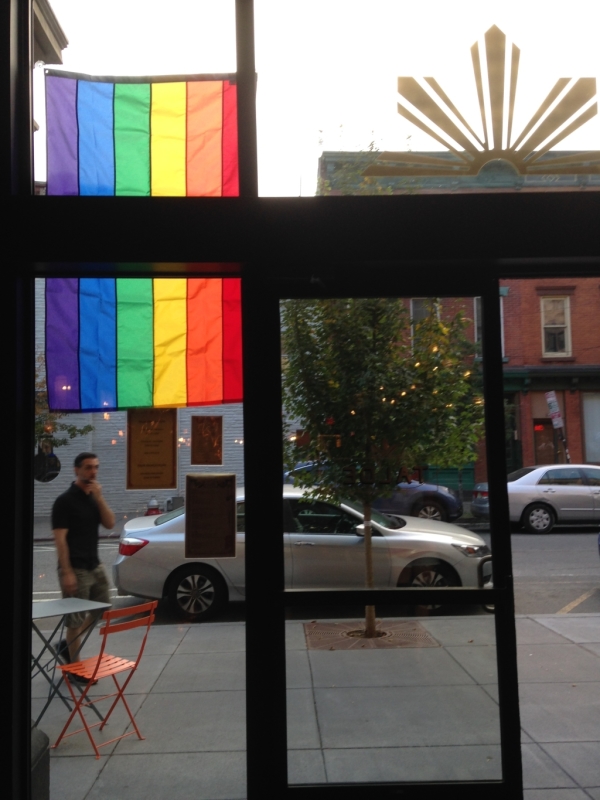 Thank you so much! It was great meeting you and I look forward to the show!
With so many projects, I don't know where Michael finds the time to do it all. But it was almost time for the start of the show, so I skittered back to my seat in anticipation.
Michael came out and began his act with a pitch perfect Kermit the Frog impersonation which transitioned smoothly into a beautiful rendition of Ellie Goulding's "Anything Can Happen."  His intoxicating voice serenaded the room with the likes of Katy Perry, Ellie Goulding, One Direction, Ariana Grande, Sia, Coldplay and A Great Big World all the while tickling the ivories.  The standout performances for me personally were Katy Perry's "Teenage Dream," A Great Big World's "Say Something," Coldplay's "The Scientist," and my absolute favorite cover was 1, 2, 3, 1, 2, 3…"Chandelier" by Sia!  And he does a mighty fine British accent as well!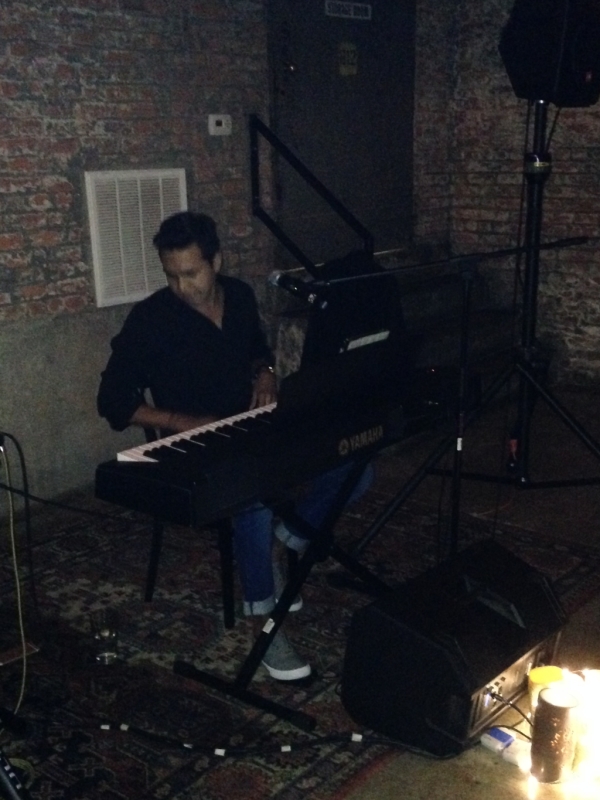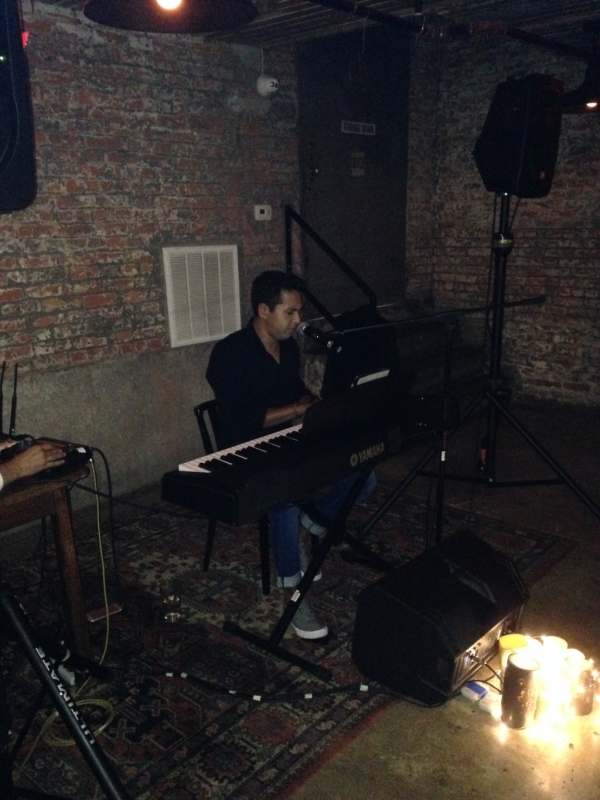 As Michael continued to croon, my party and I feasted on Cantina's meatballs and the goat cheese and red onion flatbread. Yum!  They were devoured within minutes before I could even snap any pictures of them.  And no night is complete without some vino.  We sipped on the Jean-Luc Colombo Rosé.  Well, for some of us (meaning me), it was not so much a sip as it was more like a guzzle.  It was really good!
Love and marriage were most certainly the themes of the evening and not just in Michael's song selections as he announced his upcoming nuptials.
"I'm getting married in two weeks!" He had proclaimed, and then added, "I'm starving!"
So, a very big congratulations is in order for Michael and his partner.  I also learned my cousin and her longtime girlfriend are newly engaged. Congratulations also to my cousin Sarah and her fiancée, Randa.  And of course there's my highly publicized engagement to the Magic Mike XXL superstar, Channing Tatum. (Ok that last one may only be in my head, but you can't blame a gay for trying!)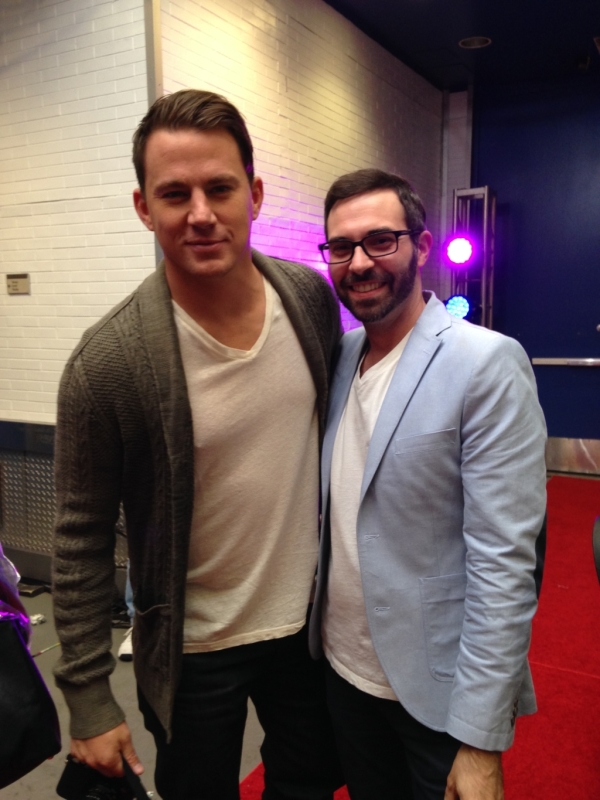 If you'd like to know more about Michael and his projects, please friend him on Facebook at www.facebook.com/themichaelbilly. Follow him on Instagram @mrmichaelbilly.  Or check out his credits on IMDb.com!
And if you didn't make it out to Love and Marriage last night, I hate to rub it in, but you missed a great night!  Michael Billy is a true talent and provided a much enjoyed evening by all.  So, thank you Michael for getting my pride week off to a great start!
Corkscrew Bar & Grill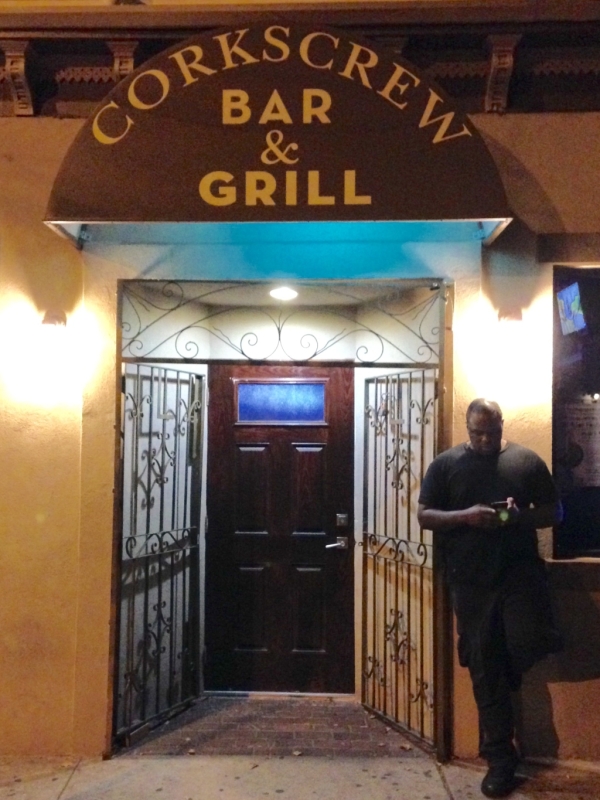 I had heard of the Corkscrew Bar and Grill before this neighborhood establishment was gracious enough to open its doors to celebrate Jersey City LGBT Pride.  In fact, it held the coveted #40 spot on my "Places to Go To in Jersey City" List  (This list is in no particular order).
So, although it was a school night, in the beginning of the week no less, celebrating Pride was the perfect reason to finally check Corkscrew off my list.  Besides, I was way over due with breaking free from my Downtown bubble to experience other parts of the city!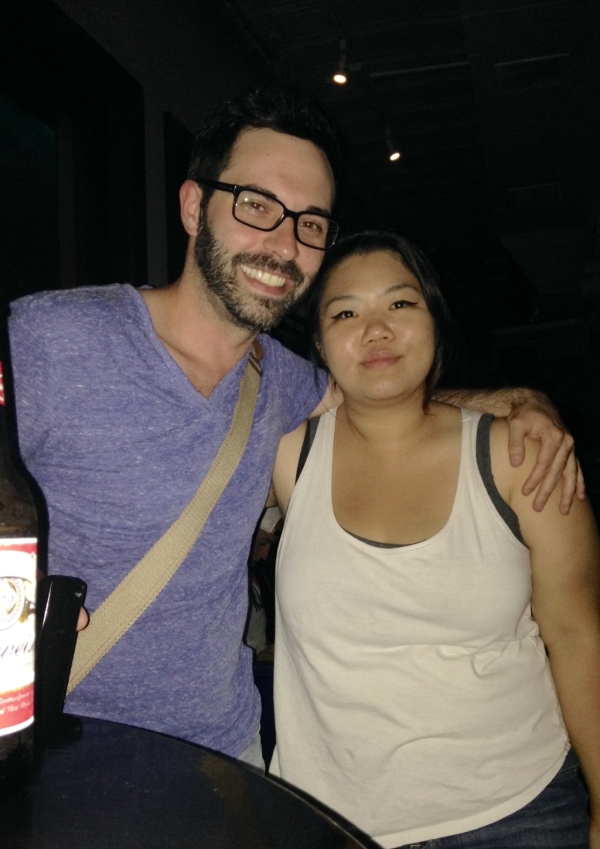 With my gal pal Bang in tow on a Tuesday night, we migrated up to the Heights for some boozy Pride fun.  Of course I was expecting fun, what I wasn't expecting was the BEST. NIGHT. EVER!
We arrived around 8 pm to a spacious pub-like atmosphere.  The party was already in full swing.  Laser lights danced across the ceiling as the DJ blasted out classic 90's dance tracks.  I was instantly transported back to my bar/club days back on Long Island when I was eighteen.
Madonna's "Vogue," the ultimate 90's dance staple, blared out as we set up shop at the bar.  Now, I'm no size queen in the bedroom.  The only place I take that title on is in a bar.  A bar must be big and long to satisfy my needs.  I can't stand it when a bar is too small and overcrowded to the point you can't order a drink.  So, let me tell you that Corkscrew measures up perfectly with plenty of seating.  Long.  Big.  Perfect ;)
As Bang and I sipped on our beers, the crowd continued to grow until it was a large sea of people.  They drank, they ate, they laughed, they chatted and they posed with one another for pictures.
Some were even dressed peculiarly.  As it turned out there was a costume contest. Contestants were to dress from a certain era.   I never got that memo, otherwise I would've dusted off my Z. Cavaricci jeans from the 90's.
And then she walked in.  The one and only Harmonica Sunbeam!  Harmonica actually spotlighted the Sundays Are a Drag Brunch at Brightside Tavern the previous Sunday.  And now here she was to officiate the costume contest.  Her quick quips and witty puns had everyone in peals of laughter all night long.  Watch your back RuPaul; Ms. Sunbeam can give you a run for your money!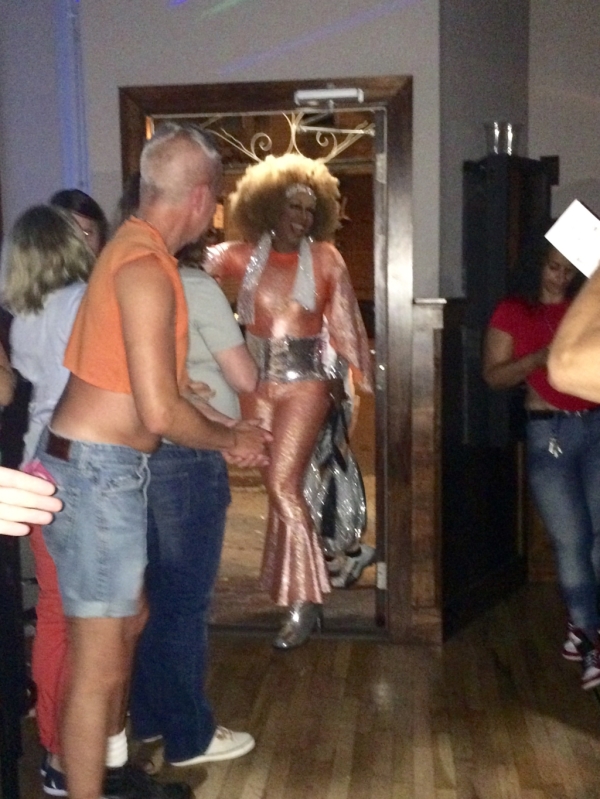 As Harmonica worked towards finding the Best Costume winner, Bang and I kept getting boozed up with the $2.50 PBR specials.  Hello, $2.50 PBR specials!  Sometimes even party boys need to maintain a budget. Until they meet a handsome sugar daddy.  Just kidding!  Kind of.   I am single just in case there are any handsome sugar daddies out there reading this.
After flashing back through the years with costumes from the 30's, 60's, 80's, 90's, and the 2000's, based on crowd applause, the top five contestants whittled down to one.  The 90's proved victorious.  At that point I really wished I had worn my Z. Cavaricci jeans.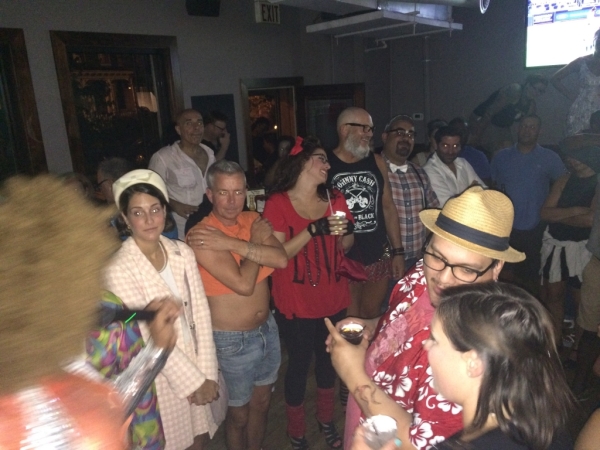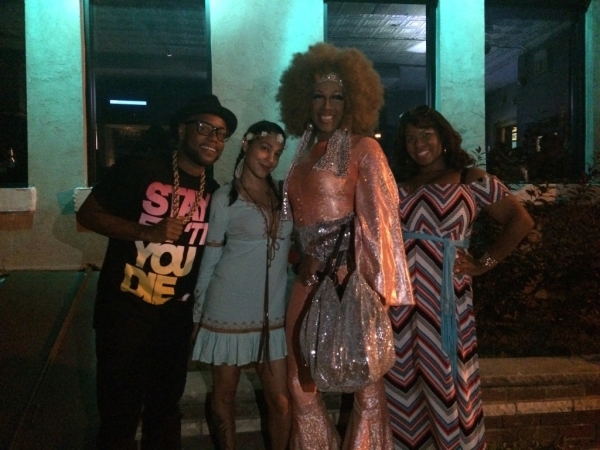 When Whitney Houston's remix of "I Wanna Dance With Somebody" hit the speakers, the hardwood floor soon became the dancefloor eliciting a full blown dance party.  The energy in the room was electric.  It was when Lady Gaga's "Born This Way" came on that I joined the party on the dance floor; which fed right into Madonna's "B*tch I'm Madonna."  The music was incredible.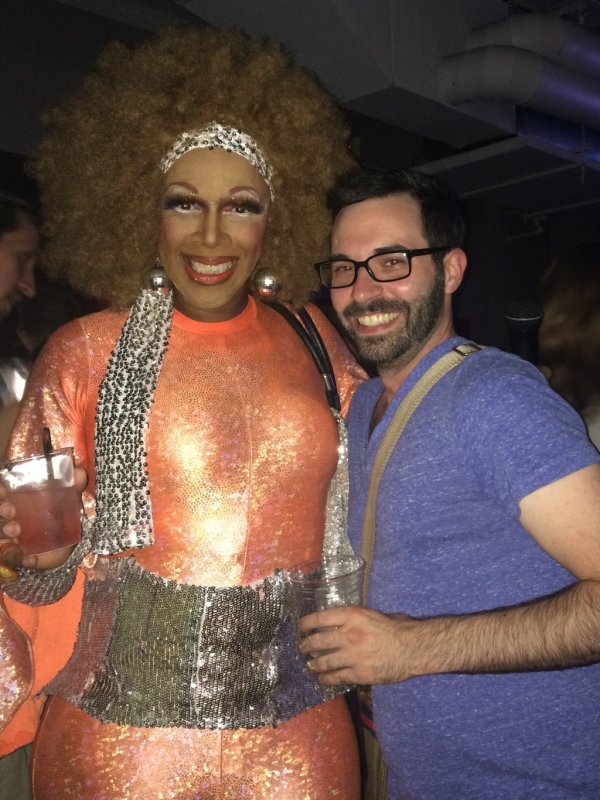 Later, while outside for a breather, the friendliest of strangers struck up conversation with Bang and I.  Her name is May and she is a resident of the Heights, and most probably the Heights' biggest cheerleader, who gave us the lowdown on some hot spots.  According to May, Corkscrew Bar and Grill has the best chicken and waffles.  They also put on an excellent brunch.  Fox and Crow (already on my list at #22) has the best burgers.  Los Tres Chilitos has the most amazing fish tacos.  And the Peruvian restaurant, El Rinkoncito Peruano is a must for a dining experience.  It just goes to show you how much people love this city, and want to flaunt it as best they can.  Thanks, May!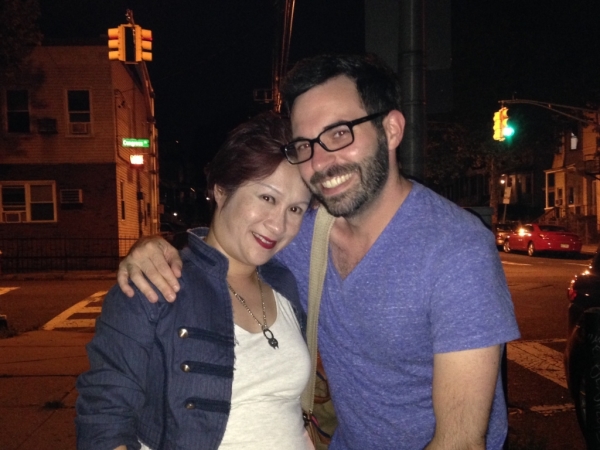 Now, the party began to die down as it was after midnight.  We stayed at that blazing fire of a party until it burned out into glowing embers.  Allowing myself only two beers turned into having seven.  Or eight.  I lost count.  Getting home at a reasonable hour turned into getting home after 1 am.  (There was also a late night hunt for food between Bang and I after leaving the bar)  But I just did not want to leave.  It was way too much fun to have went home at a reasonable hour.
I go out.  A lot. And I always have fun wherever I go, unless the place sucks.  Or I'm in a bad mood.  Or someone pisses me off.  Or no one hits on me.  But usually, I have fun.    In the year and three months I have lived here in Jersey City, I have never had the amount of fun I had at Corkscrew.
It was a mixed crowd that night at the bar.  There were the gays, straights, lesbians, a drag queen, men and women of all ages, friends, lovers, partners, husbands, wives, and they were all there for the same reasons: to celebrate and support Jersey City LGBT Pride.  And to simply have fun.  Well, mission accomplished.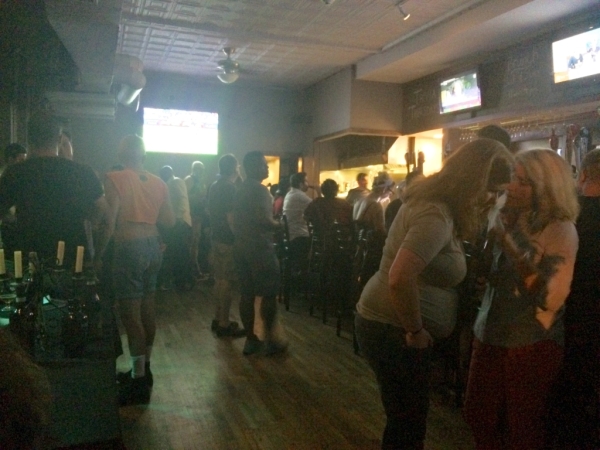 The energy. The vibe. The music. The pride. The love. The camaraderie. Harmonica Sunbeam! The cute guys!  The sexy ladies! The $2.50 PBR's!  All elements when combined equal nothing short of a perfect night out.  And I wasn't the only one.  Everyone had a blast that evening.  The evidence was plastered all over their faces. (And by this I mean smiles! I realized how this may be misinterpreted after rereading. Get your heads out of the gutter, people!)
I may have only gotten four hours of sleep and I may have been slightly hungover for work the next day, but that sleep-deprived day at work was well worth it.  Thank you Corkscrew Bar and Grill for supporting Jersey City LGBT Pride!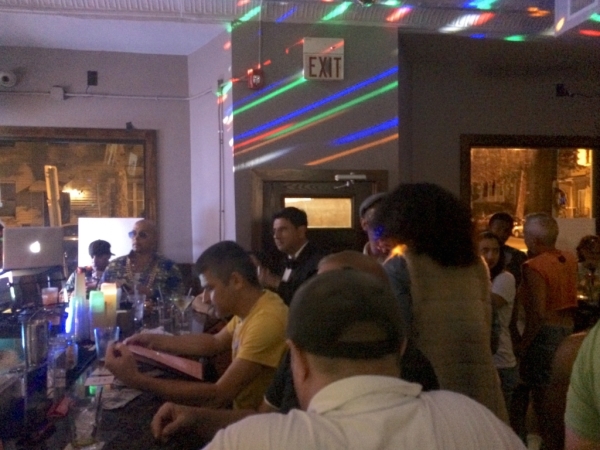 If Tuesdays don't fit into your social calendar, here's a little list of what else Corkscrew Bar and Grill has to offer:
Trivia Thursdays
Brunch Saturday and Sunday 11-4 pm
Ladies Night Saturdays
 Live Jazz Sunday 12-3 pm
Pride Film Screening
I'm a huge movie junkie.  Just ask my Netflix account.  So when I saw there would be a film screening in the pride events line-up, I wasn't going to pass up a chance to watch a movie…in a bar!  The locale of the event was The Brightside Tavern; another place I've never been, but held a position on my "Places to Go To In Jersey City" List.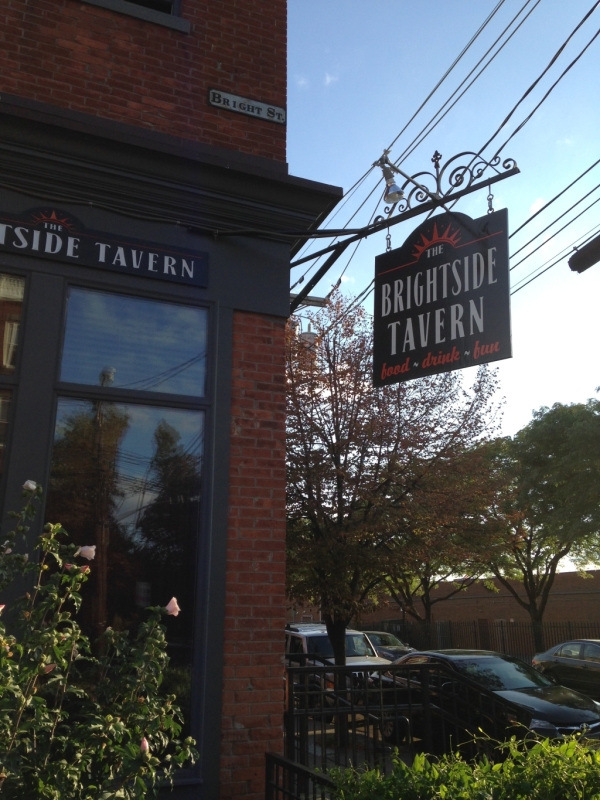 I flew this event solo, so I arrived early to grab a bite to eat.  The extensive choices made it extremely difficult to make a solid decision.  I ultimately went with the Turkey BLAT.   I'm already a sucker for a BLT sandwich, so throw in some turkey meat and avocado and I'm in!  And let me tell you, I made the right decision. Delicious!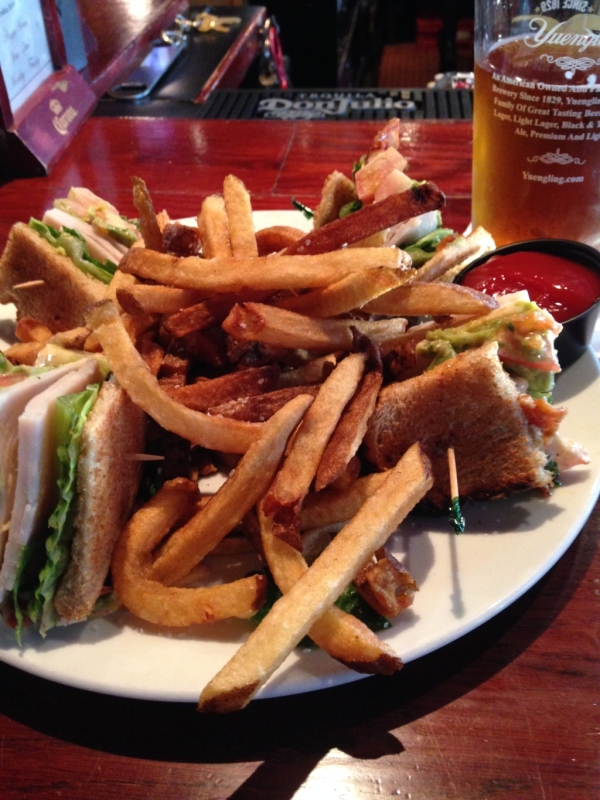 Now, for those of you who've never been to The Brightside Tavern, you're missing out.  The coolest feature I have ever seen in any type of bar/restaurant establishment exists right here.  It's the jacked up version of a jukebox.  Perched on a wall near the bar, there is a computer screen where you can select any song you want to hear.  Once your song selection plays, the music video of selected song will simultaneously play on the big flat screen TV above.  Personally, I could watch music videos for hours.
But I had a movie to watch!  So, I proceeded into "The Piano Room" with the rest of the movie goers where we would view the film privately.  FYI: If you're looking for a spacious venue for your special event, "The Piano Room" can accommodate 60+ people.
As I said before, I am a huge movie fan.  I may lean more towards the masked-killer-hacking-up-scantily-clad-coeds genre, but the film Pride worked its way into my heart (And my tear ducts! Spoiler alert: have a box of tissues handy.)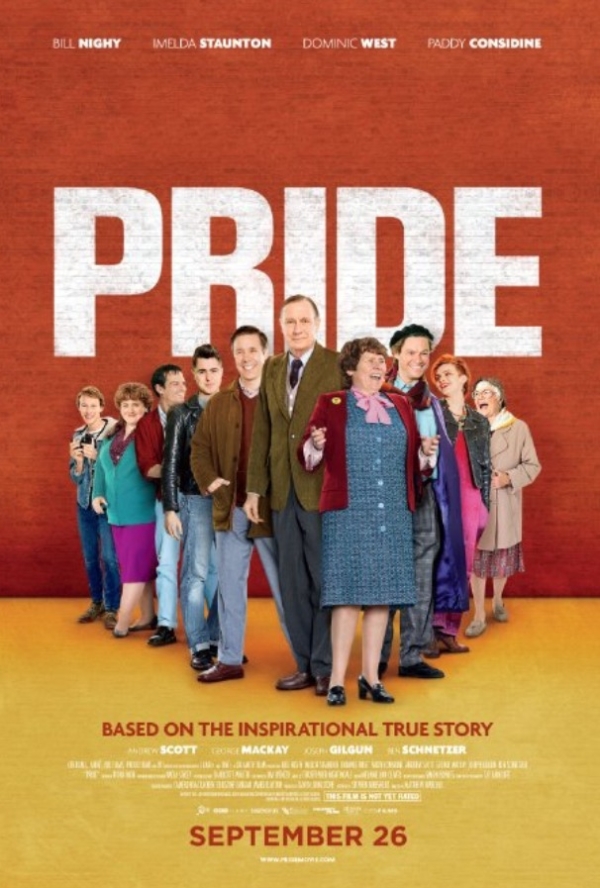 First let me start off by saying the film was presented by Chillfest. Chillfest, run by John Catania and Charles Ignacio, is a LGBT film series based in Jersey City.  Established in 2006, they have been happily sharing films about the LGBT community and experiences since.  For more information about Chillfest, go to Chillfest.org.
Pride, starring Dominic West, George MacKay, Imelda Staunton, Bill Nighy, Paddy Considine and the crush-worthy Ben Schnetzer, is based on an inspirational true story.  Nominated for Best Motion Picture at the Golden Globes in 2015 and awarded the Best British Independent Film award at the British Independent Film Awards in 2014.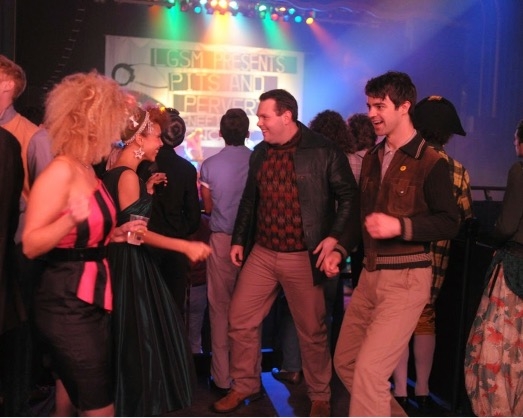 Now I'm no movie critic, but let me give you the synopsis of the film.  During the reign of Margaret Thatcher's government in 1984 London, an unlikely alliance forms between the LGSM (Lesbians and Gays Support the Miners) and the miners who are on strike from the National Union of Mineworkers.  The group of lesbian and gay activists will stand on the street, often being spit at, to collect money in order to help the families affected by the strike.  Don't you want to cry already?!  Hilarity often ensues, but the underlying themes of support and acceptance are the main force behind this heartwarming and touching tale.  Friendships are forged and walls are torn down.  Cut to me sobbing like a baby at the end of the screening.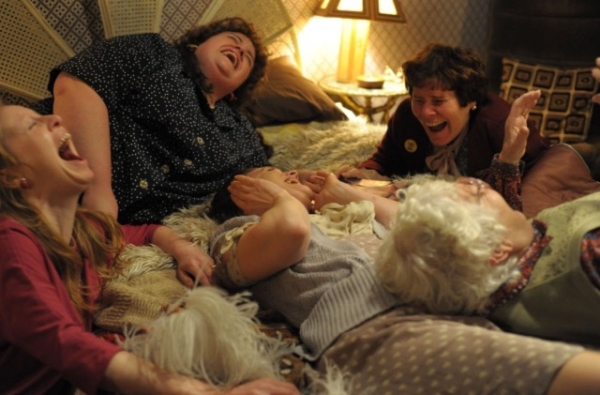 Pride is a look at the true spirit of human nature.  It's the ultimate lesson in acceptance; acceptance of yourself and for others.  Pride couldn't have been a more perfect selection for Jersey City Pride week.  Plus, it has a killer 80's soundtrack!
Despite the fact there were no maniacal killers, or chainsaws, or machetes, or body count, or even nudity for that matter. Not even a glimpse of cute British arse (boo!), in this movie goers opinion, it's a must see!
Pride is available on DVD from Netflix.  I've already rated it 5 out of 5 stars because I'm a huge movie geek and rate everything I watch.
After the film, Eddie Baez, co-producer and co-host of the Jersey City LGBT Pride Festival, collected donations for the Hudson Pride Connections.  Hudson Pride Connections is a non-profit organization serving the LGBT community since 1993 which offer a very wide range of services.  So, hopefully a nice chunk of change was raised!  Please visit their website at Hudsonpride.org.
And I just need to take one more moment to give a great big shout out to the very well known owner of The Brightside Tavern, Tommy Two Scoops!  Tommy has always been a welcoming friend to the LGBT community and hosts a number of LGBT events including Sundays Are a Drag Brunch.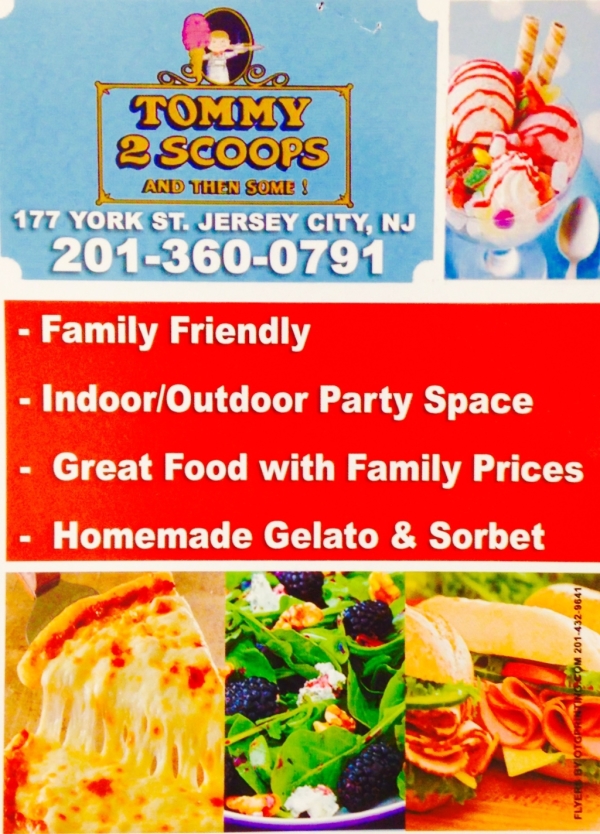 I had the unplanned pleasure of meeting Tommy while I waited for the movie to start, and he is one of the nicest men I have ever met.  Within minutes of chatting he purchased me a drink.  (This job has its perks!) It was a joy talking with him and learning of his newest restaurant, Tommy 2 Scoops And Then Some! Open now! Here you can find anything from tacos to pizza. Salads, paninis, wraps, quesadillas, gelato and even milkshakes! And his milkshakes will bring you to the yard because there is an outdoor patio, which looks perfect for private parties.  The food selections can satisfy any type of food craving you may have.  It's also BYOB, has free Wi-FI and kid friendly.  Check it out!  I know I will.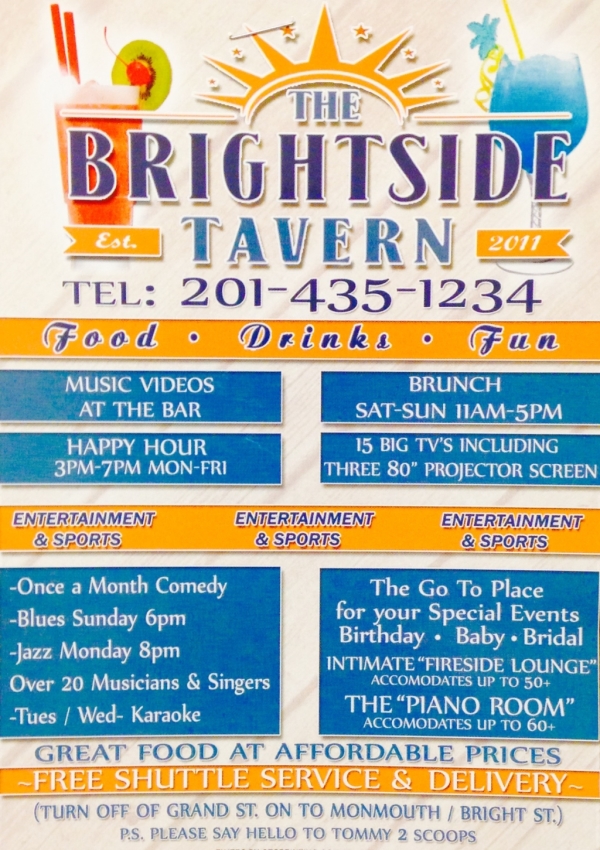 Also, check out the other great things happening at The Brightside Tavern:
Happy Hour Monday- Friday 3pm-7pm
Brunch Saturday and Sunday 11am-5pm
Comedy show once a month
Blues Sunday 6pm
Jazz Monday 8pm
Karaoke on Tuesdays and Wednesdays
And if you're too drunk to drive home, or stumble home, they have a free shuttle service!
Jersey City LGBT Pride Festival
On Saturday, August 29, 2015, the 15th annual Jersey City Pride Festival took place at the Newark Avenue Pedestrian Mall.  And if you didn't get a chance to partake in this incredible day, here's the recap for you!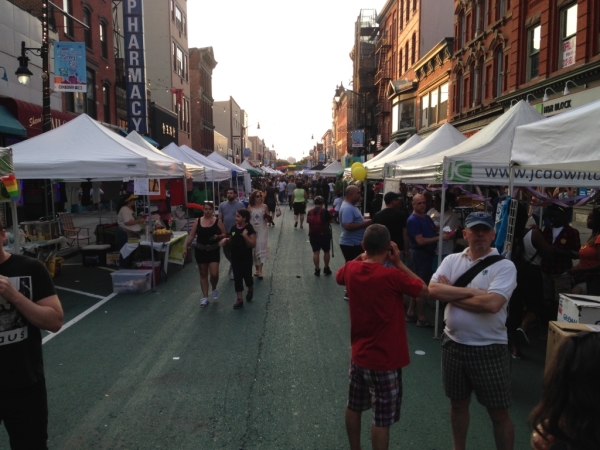 Newark Ave was flooded with people who came out to show their support.  The carnival theme was in full effect with acts such as stilt walkers and jugglers making their way up and down the street.  Aerialists contorted their bodies while dangling from the air.  Tons of vendors flanked both sides of the street.  Food trucks set up shop on Barrow Street where you could munch and purchase alcoholic beverages.  Restaurants along the Newark strip and beyond waved their rainbow flags bright.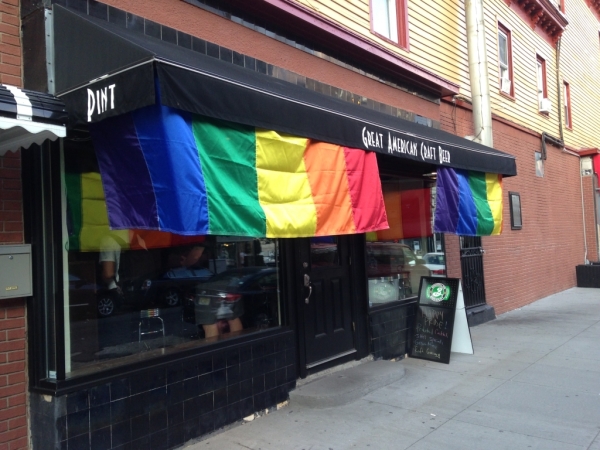 Same-sex couples proudly held hands as they walked up and down the street, which was a nice sight to see, and one I have never personally witnessed in Jersey City.
The DJ blasted out dance tracks all day long, with a designated area for dancing the day away.  Live performances including one by the Jersey City Ballroom, dazzled the audience.
At 5pm, Harmonica Sunbeam took to the stage looking fabulous in her caped rainbow leotard and knee-high boots.  Singer Cheyenne Elliott performed Pharrell's "Happy," followed by her very own dance single, "With You," which is available for purchase on iTunes.  Harmonica did her very fierce lip sync version of CeCe Peniston's "Finally."
Once the festival died down, I hopped around to some other venues to see what they had going on.  There was a very entertaining dance off in front of Downtown Yogurt, a hilarious drag show at The Coffee Shop, and Pint had a very scantily clad Nick and Keith bartending in nothing but Lycra Under Armour shorts.  Oh la la!  Sorry fellas, I tried to take a picture of them, but they were just way too busy!  And of course I stopped by the very packed after party at South House just a grab a few of their very yummy drinks.
I ran into a lot of friends and acquaintances throughout the day and the consensus for this year's pride festival; the biggest turnout and the best location!  Be sure to be there next year!
Below you can find a gallery of photos from the 2015 Jersey City LGBT Pride Festival and the links of the previously mentioned locations!
Links:
Talde
8 Erie Street
Jersey City, NJ 07302
(201) 630-0077
Carrino Provisions
8 Erie Street
Jersey City, NJ 07302
(973) 988-2836
Corkscrew Bar and Grill
61 Congress St
Jersey City, NJ 07307
(201) 239-0087
Fox and Crow
594 Palisade Ave
Jersey City, NJ 07307
Los Tres Chilitos
456 Central Ave
Jersey City, NJ 07307
(201) 216-9699
El Rinkoncito Peruano
501 Central Ave
Jersey City, NJ 07307
(201) 963-4800
The Brightside Tavern
141 Bright St
Jersey City, NJ 07302
(201) 435-1234
Tommy 2 Scoops And Then Some! (Off Marin Blvd)
177 York St
Jersey City, NJ 07302
(201) 360-0791
Hudson Pride Connections
32 Jones St
Jersey City, NJ 07306
(201) 963-4779