The Music In My Blood
Mar 24, 2018 @ 11:00 AM

-

6:00 PM

Free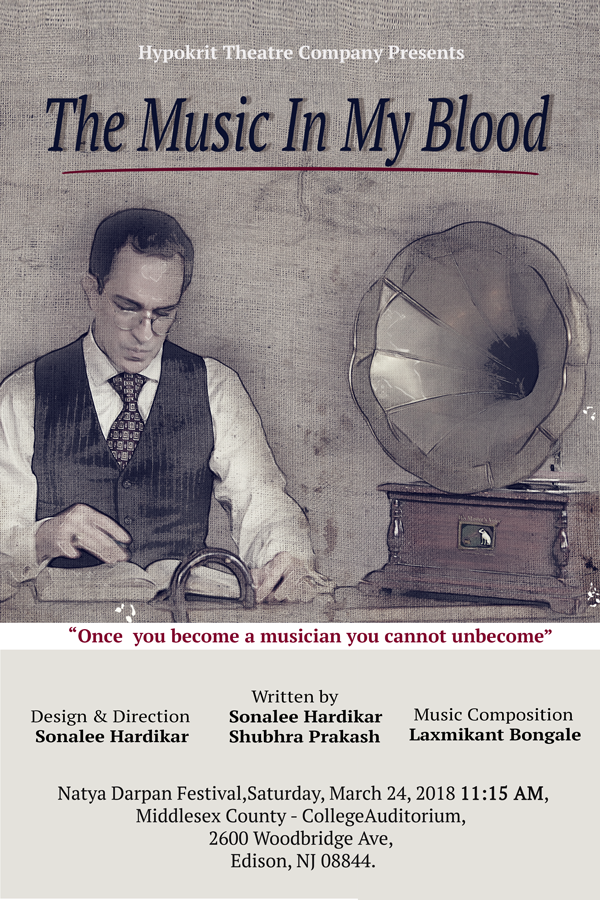 Hypokrit Theatre Company's original play "The Music In My Blood," returns with invited performances in NJ, DC and a NYC run in June 2018 at the acclaimed American Theatre of Actors.
Music in My Blood features a multicultural cast that explores a story that traverses the lives of a South Asian family carrying a musical legacy. Under the design and direction of Sonalee Hardikar the play exhibits a musical household in holy city of Benares India in 1960s, to Brooklyn in 1980s.
Vital Information
Who? Hypokrit Theatre Company
What? Invited Performance – The Music In My Blood
Natya Darpan 2018 Film Festival: 11:00 AM – 6:30 PM.
The Music In My Blood: 11:15 AM on Saturday, March 24th
Where? Middlesex Community College Performing Arts Center,
2600 Woodbridge Avenue, Edison, NJ 08818
More Information? https://www.facebook.com/themusicinmybloodNYC/
Tickets: Natya-Darpan 2018

The play crosses the boundaries of time and space to bring together Prema and Walter, two people bound and frayed by their love of music. Fleeing the demands of legacy from being an Indian classical singer, from a musical dynasty in Benares, Prema chooses to pursue a history degree in New York City. She discovers the writing of Walter Kaufmann, a Jewish man who developed a devotion to Indian music when he found refuge in India during WWII.
The Music in My Blood cast includes: Michael Gentile, Monica Sharma, Richa Rudola, Ashok Chaudhry, Sumend Wankhade, Miriam Eusebio, Meera Narasimhan, and Aanya Rastogi. Singers, Manoj Govindraj and Rucha Jhambekar, along with Amod Dandawate on Tabla. With an original score by Laxmikant Bongale based on folk and raga-based music, the play features live singers and musicians.
Social Media
FB: https://www.facebook.com/themusicinmybloodNYC/
IG: https://instagram.com/hypokritnyc
TW: https://twitter.com/hypokritnyc
Trailer: The Music In My Blood