Resurrection of Screamin' Jay Hawkins Band
Oct 27, 2019 @ 6:30 AM

-

8:00 PM

$20.00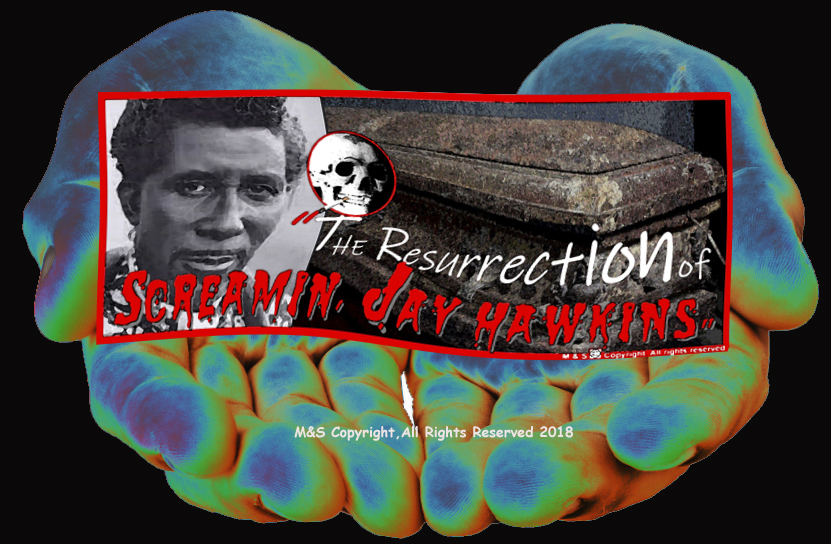 WARNING to All of Bordentown
All Hell is Going to Break Loose
Resurrection of Screamin' Jay Hawkins Band
October 27th from 6:30 PM – 8:00 PM – Performing at Randy Now's Man Cave. 134 Farnsworth Avenue, Bordentown, N.J. 08505
The NYC based Resurrection of Screamin' Jay Hawkins Band will be coming to town paying tribute to Rock 'n' Roll wild man Screamin' Jay Hawkins with a bewitching evening of stories and song! The band will be arriving from NYC like a ghost coming to town has shock rocked there fans. The band will come not only armed with musical instruments but with coffin / toilet bowl to be used to perform Hawkins famous blues tune Constipation Blues. Mike Armando was Screamin' Jay Hawkins guitarist back in the 70's he is the one that got this all started and is the guitarist for this band. Mike said he got the idea after being interviewed for Steve Bergsman's new book. After giving years of my crazy musicals experiences to be used in the book. I came to thinking. Yes people will love the book but why not give them the music also. This is how this project came about
also our star singer/ actor performer Shakar "TheRealShakar" Brumfield is making this all happen.
Forget about zombies! With the Resurrection of Screamin' Jay Hawkins Band, the man who invented shock-rock is back and he is gonna put a spell on you. Don't miss the most exciting stage act since Screamin' Jay Hawkins first emerged from a coffin. – Steve Bergsman, author of I Put a Spell on You: The Bizarre Life of Screamin' Jay Hawkins.
As shock-rock performer Screamin' Jay Hawkins once said "When we get on that stage all hell is going to break loose."
THE RESURRECTION OF SCREAMIN' JAY HAWKINS Band is a wild visual event along with killer (and famous) jazz musicians performance. We all know "I Put A Spell On You" – that's a Screamin' Jay Hawkins classic and is still played on radio stations every Halloween and also with Dr. Demento. Sunday October 27 at Randy Now's Man Cave . (That same afternoon at 2 PM is The Bordentown City Halloween Parade now in it's 49th Year !) Watch the parade from The Man Cave at 2 PM, grab a bite to eat, then come back at 6:30 PM for THE RESURRECTION OF SCREAMIN' JAY HAWKINS live in The Intimate Man Cave. Not for the screamish ! The stage show alone will be stuck in your mind for the Halloween Week
Shakar "TheRealShakar" Brumfield – vocals, Mike Armando – guitar, Tim Price – sax, Andrew Golba – bass Gene Linefsky – drums
For tickets: https://www.eventbrite.com/e/the-resurrection-of-screamin-jay-hawkins-sun-oct-27-630-pm-20-tickets-74621277249?aff=efbeventtix&fbclid=IwAR2_89lgoZF9B3gAllrJ4VILRZ88cjd7r-6mTBep2adiBtz-bwB2f-SOu_Q