Opening Reception of Sean 9 Lugo & LNY Solo Exhibitions
Sep 07, 2019 @ 7:00 PM

-

11:00 PM

Free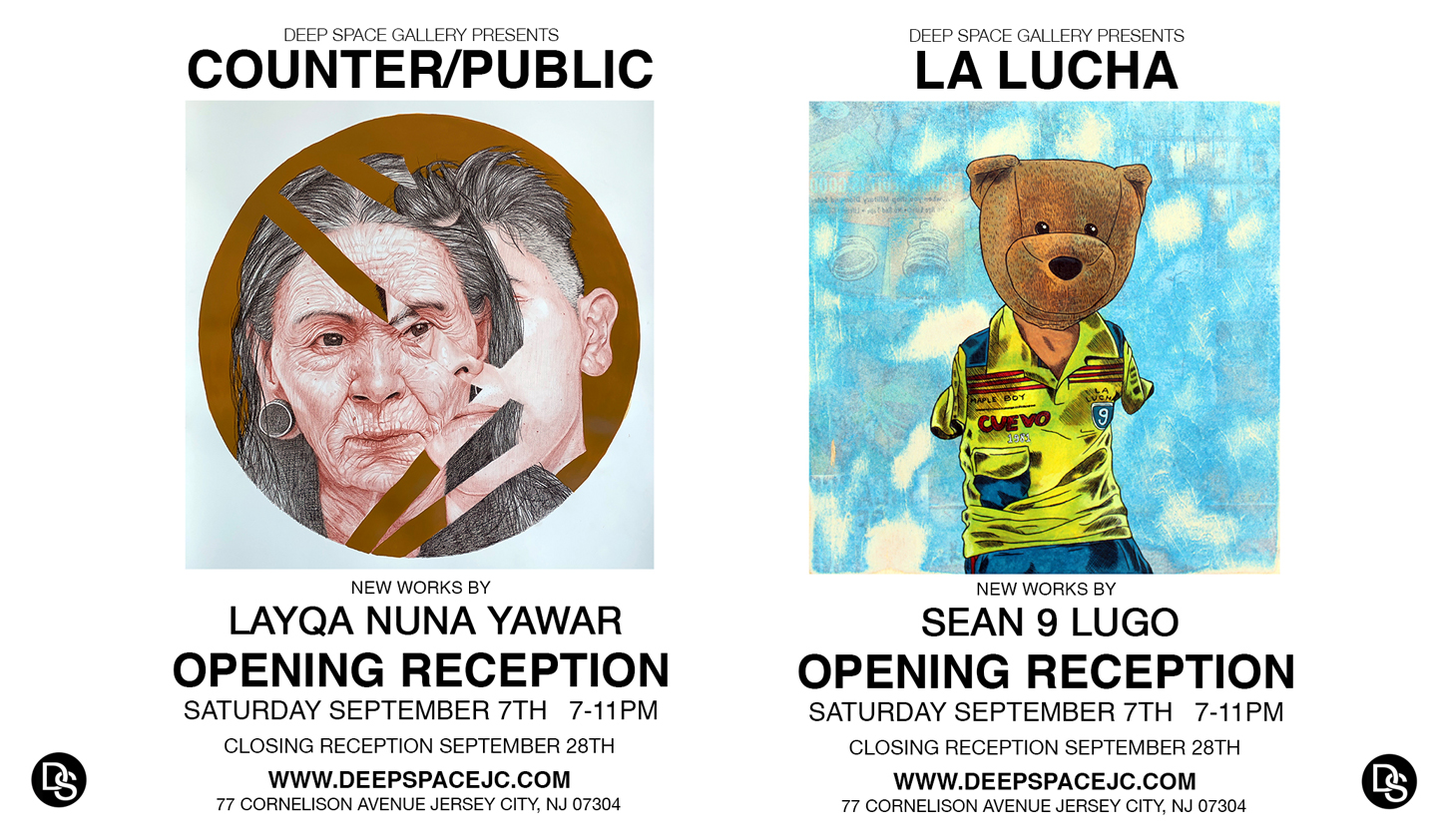 Art Exhibition Featuring NJ Street Artists Opens September 7th at Deep Space Gallery
LA LUCHA // New works by Sean 9 Lugo
COUNTER/PUBLIC // New works by Layqa Nuna Yawar
Double-header solo exhibitions
On view September 7th – September 28th, 2019
Opening Reception:  Saturday, September 7th, from 7-11pm
Jersey City, NJ — A new exhibition featuring two solo shows by Sean 9 Lugo and Layqa Nuna Yawar opens on September 7th at Deep Space Gallery in Jersey City, NJ and will be on view through September 28th.  More information about the exhibition can be found below.
---
Deep Space Gallery is very pleased to present a double-header solo exhibition featuring two street artists with inimitable styles recognizable to anyone paying attention. La Lucha features new works by Sean 9 Lugo and Counter/Public features new works by Layqa Nuna Yawar. The artist duo are coming back together in Jersey City for the first time since their two-man show at the legendary 58 Gallery nearly a decade ago. The opening reception is on Saturday, September 7th, from 7-11pm.
The artists will be on premises — come meet them and ask them about their work! Hope to see you all here!!! See more about the solo shows below.
LA LUCHA featuring Sean 9 Lugo:
No stranger to struggle, La Lucha is the most personal body of work to date by Sean 9 Lugo. It delves into what's really behind the mask, touching on [sensitive] subjects that many are too afraid to admit to. It is the depression we are unable to face; the corners that we grew up on; the uncertainty of where our next meal will come from; the five finger discounts we [sometimes hesitantly] get; and the beat downs that come our way, all of which is worth it in the end due to the love in our lives.
COUNTER/PUBLIC featuring Layqa Nuna Yawar:
The Counter/Public is the space where the subaltern change culture and create counter narratives that uplift our voices and fit our own definitions of who we are. The Counter/Public is the switching from English to a private language so you can curse at your boss, to say tenders things to your lover, to express the complexity of your being. The Counter/Public is an internal space for healing, a private realm that deals with our trauma and a strategy of survival against governments that dehumanize and scapegoat our existence. Counter/Public is a collection of new and recent work by Layqa Nuna Yawar that speaks about these truths and exists as a fold to his public mural work. These paintings, drawings and sculptures focus on the artist's own migrant history in order to speak about a larger communal experience of people of color living in the USA at a time of crisis.
About the Artists:
Layqa Nuna Yawar is a migrant artist, muralist and educator born in Ecuador and based out of Newark, USA. His large scale murals, paintings and projects question injustice, racism and xenophobia, while celebrating cross-cultural identity and migration in order to amplify the silenced narratives of people of color around the Americas and the world.
Sean 9 Lugo describes himself as a brown boy representing the duality of both Latin and American culture and experiences through masks that can either misconceive or stereotype perceptions. His art has a street element, but he does not consider himself a street artist. His images are meticulously done by hand, but he does not consider himself a fine artist. He is self-taught and creates art for himself, not for others. He describes his art as not fine-tuned because struggle and imperfections are the experiences echoed in his work.
Details
Date:

Sep 07, 2019

Time:

7:00 PM - 11:00 PM

Cost:

Free

Event Categories:

Event Tags:

2019, art, art show, artist, artists, artists of jc, arts, back to school, bergen lafayette, chicpea, chicpeajc, coming soon, community, community events, creative, creatives, cultural events, culture, date night, date spots jersey city, datenight, dating, decor, design, designer, designers, dj, dog-friendly, enrichment, evening, event, events, family-friendly, for the home, free, Free date ideas, galleries, gallery, gift guide, gift ideas, gifts, graffiti, hudson county, inspiration, inspiring, inspo, interior decorating, interior design, jc, Jc artist, jc events, jcmap, jersey city, jersey city new jersey, jersey city nightlife, jerseycity, launch party, lifestyle, local, local art, local artists, local biz, local business, local favorite, local talent, localbiz, locallygrown, mural, murals, networking, networking event, new jersey, newark, nightlife, opening, opening soon, paint, painter, painting, paintings, passion, Philadelphia, places to go, shop local, shoplocal, small biz, small business, small businesses, social events, street art, things to do, Things to do in Jc, to do, top things, top things to do, topthings, unique gift ideas, what to do, where to go

Website:
Organizer
Venue
77 Cornelison Ave




Jersey City

,

NJ

07304

United States

+ Google Map