Let Go Of The Old To Step N2 The New: Year End Guided Meditation Workshop
Dec 28, 2019 @ 1:00 PM

-

2:00 PM

|

Recurring Event

(See all)

One event on Dec 29, 2019 at 4:00 PM

One event on Dec 29, 2019 at 3:00 PM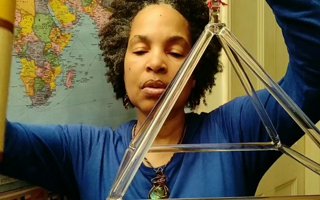 Let Go Of The Old To Step N2 The New: Year End Guided Meditation Workshop

Release 2019 with Mindfulness in preparation for stepping into the year 2020 Refueled and Energized.
We look toward the New Year with hopes for a better one, but often overlook releasing and letting go of the old, of the things that no longer serve us. We walk into the New Year with the same old thoughts, the same old habits, and the same old way of doing things–which only creates the same old undesired results.
What would you like to begin to let go of as this year comes to an end? Bring a journal, you'll need it. This 60 minute workshop is designed to assist you in beginning to pinpoint the baggage you want to release and let go of. We will journal, affirm, visualize and release stress to align your Energies and to cultivate tools for you to use in helping reduce stress and increase Mindfulness on a day-to-day basis. Experience StressBusters Guided Meditation, a juicy Relaxing, Centering, Balancing and Grounding session–take a moment to let things go, reconnect and relax in a soothing, calming atmosphere with a small group.
Light refreshments will be served.
*for video testimonials go to my home page on the Jacquie Bird, Spiritual Wellness site. And you can go to this page here for more information on StressBusters Guided Meditation and view another testimonial video
PLEASE READ THE FOLLOWING:
Please arrive 10 minutes early to settle in prior to the workshop.
**Wear loose fitting, comfortable clothing. You will need to remove your shoes. Bring something warm to put on or to cover yourself with in case you find you need it.
**Bring a journal or something you can write in, writing on paper is a very powerful action, no writting in cell phones for the exercises please.
And if you like, at the end of the workshop you can shop MODAL VISIONS, where Art, Spirit & WellBeing Come Together.
StressBusters Guided Meditation is a Holistic Approach utilizing Breath, Sound Healing, Movement, Visualization, Aromatherapy & Gemstones to ZAP stress & provide RELIEF. Mobile techniques for the busy & stressed out. StressBusters GuiTravelded Meditation comes to you by Creator/Practitioner Jacquie Bird. Check out the reviews that are on the StressBusters Guided Meditation Facebook page. Also check out & Like the Jacquie Bird, Spiritual Wellness Facebook page for more reviews!
Jacquie Bird, Spiritual Wellness offers products and services that support, guide, and
empower the individual. She is the author of the 7 Daily Thoughts & Mantras 4 Mindfulness
eBook series; the Creator/Practitioner of StressBusters Guided Meditation, and the
Owner/Creator of the handmade wellness brand MODAL VISIONS, which is rooted in the energetically
dynamic properties of gemstones, crystals and copper.
Her entire platform and intent is in mindfulness, personal growth, stress relief and stress
management–in essence, how we can live more calm, centered, grounded and meaningful lives.
---
A guest said this about a StressBusters Guided Mediation workshop:
"I had the opportunity to attend the Stress Busters Guided Meditation workshop lead by Jacquie Bird and it was fantastic. I am feeling so much better and energetic than I have felt in a long time. The people that were there and the atmosphere was pleasant and inviting. Healing and insightful so if you have any type of stress she taught us how to relieve the stress and bring yourself back to balance. I would highly recommend it to anyone who is having stress in their lives and frankly who isn't these days. Thank you so much Jacquie for following your heart and calling."