Jersey City Poetry Festival
Apr 21, 2018 @ 4:00 PM

-

Apr 29, 2018 @ 9:00 PM

Free – $20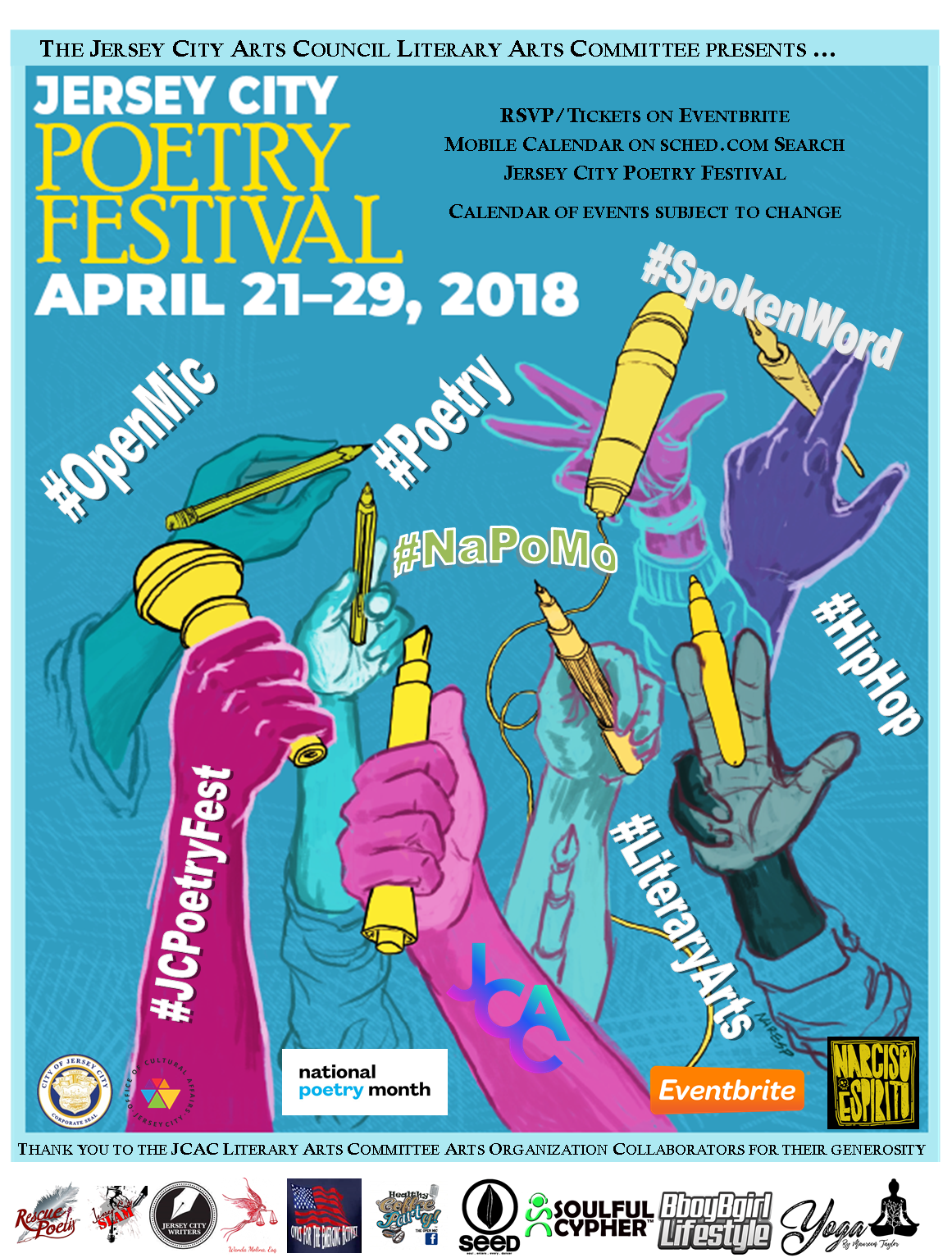 The Literary Arts Committee of The Jersey City Arts Council presents the 1st Jersey City Poetry Festival.
This nine day celebration of the written and spoken word is scheduled to take place during National Poetry Month, from April 21 to April 29, 2018 and will be a city wide event with a variety of scheduled readings, performances, open mic, workshops and panels.  The focus of the Jersey City Poetry Festival is to bring attention to the thriving Arts community in Jersey City, and New Jersey. The fundamentals of Literary Arts are part of educational, social and developmental aspects of our society. To be able to expand on the essentials in a fun, educational and community driven festival is a groundbreaking effort by the Jersey City Arts Council Literary Arts Committee that is possible with the contributions and involvement of community and business partners.
ORGANIZING COLLABORATORS:
Jersey City Writers http://jerseycitywriters.org/
JC Slam: http://jerseycityslam.com/
Civics for the Emerging Activist https://civics4emergingactivist.weebly.com/
RescuePoetix: https://www.rescuepoetix.com/
Soulful Cypher https://www.facebook.com/SoulfulCypher/
Bboy Bgirl Lifestyle Hip Hop Dance School: https://www.facebook.com/BboybgirllifestyleHIPHOP/
Wanda Molina, Esq: https://www.linkedin.com/in/wanda-molina-1072519/
Healthy Coffee Party: THE OPEN MIC: https://www.facebook.com/healthycoffeeparty/
Yoga by Maureen/ Seed Recordings: https://www.facebook.com/seedrecordings/
Event Schedule – Note that schedule, venue and times are subject to change – Click the link next to the description for full details of each event
Saturday 4/21/2018
4:00 PM – 5:30 PM The Poetry of Movement/ Yoga by Maureen Guided Meditation/Live Poetry/Music – Satva Yoga http://sched.co/ELbP
7 pm – 12 am Viral Verse: Genre Night Reading & Opening Reception St Matthew's Lutheran Church http://sched.co/ELbO
Sunday 4/22/2018
8:30 PM – 11:30 PM Healthy Coffee Party: The Open mic Cafe Sole http://sched.co/ELbW
Monday 4/23/2018
7:00 pm – 9:00 pm The Business of Art
AndCowork http://sched.co/ELbd
Monday 4/23/2018
8:00pm-10:00pm Frank Messina & Friends: An Evening of Poetry and Jazz
Village West Gallery 331 Newark Ave Jersey City, NJ 07302
http://sched.co/EVYp
Tuesday 4/24/2018
8:00p – 11:00p P JCAC LAC & Jersey City Theater Center present: The Art of Acceptance feat OVEOUS: Poetry & Music . Host: Benedicto Figueroa Music Opening Performance: Ariel Guidry
Jersey City Theater Center Merseles Studios
Wednesday 4/25/2018
8:00 pm – 10:00 pm Poetry & Rhyme Trivia Porta Jersey City http://sched.co/ELcV
8:00pm-10:30pm The Last Laugh Comedy Show – LITM
http://sched.co/EUYJ
Thursday 4/26/2018
7:00 to 9:00 pm New Poetry Show Tea NJ http://sched.co/ELbj
6:30 PM – 9:00 Just ADD Sound NaPoMo Pride Edition featuring Simply Rob, hosted by Harmonica Sunbeam, music by Deep Just (Get Open Sessions). Sponsored by 2018 JC LGTB Pride Festival – Bethune Center http://sched.co/ELbu
Friday 4/27/2018
7:00 pm – 9:30 pm SLYCE OF LYFE III SMUSH Gallery http://sched.co/EUYH
8:00 pm – 12:00 am Freedom of Expressions – Urban Mission http://sched.co/ELbn
Saturday 4/28/2018
11:00 am to 1:00 pm Poetry Workshop: Pushing Past Limits; Reaching for the Unexpected – AndCoWork – http://sched.co/ELcI
2:00 pm to 4:00 p Art, Activism & Ethics- A Panel Discussion & Poetry – Urban League of Hudson County http://sched.co/ELcG
8:00 pm – 10:00 pm JCAC in collaboration with Explore 2000 Middle school present Young Voices featuring Breanna Sena – Explore 2000 http://sched.co/ELc5
10:00 pm to 2:00 am Soulful Cypher with resident Saint Sanchez & Guest Bradford James – Hard Grove Cafe http://sched.co/ELc8
Sunday 4/29/2018
1:00 pm to 3:00 pm Poetry Publishing Panel – WORD http://sched.co/ELcO
5:00 PM – 9:00 PM Jersey City Slam Finals Festival Finale – Harborside Atrium http://sched.co/ELcQ
Full Calendar of events with featured artists, speakers, sponsors and venue information:
https://jcpoetryfestival2018.sched.com/
Mobile Web App for iPhone, Android & Blackberry
Bookmark on your phone by visiting
https://jcpoetryfestival2018.sched.com/mobile
As part of the #JCPoetryFestival the#literaryartscommittee is putting together swag bags that will be given out ONLY to advance ticket holders on Opening night during #ViralVerseGenreNight & Opening Reception
In order to get a swag bag click on the link and reserve your tickets. Quantities are limited.
The JCAC Literary Arts Committee is honored to support #JerseyCity business and arts entrepreneurs
If you're interested in becoming a #swagsponsor#restaurantsponsor #festivalsponsor email jerseycityartscouncil@gmail.com