Dinner for Hope
May 17, 2018 @ 7:30 PM
$45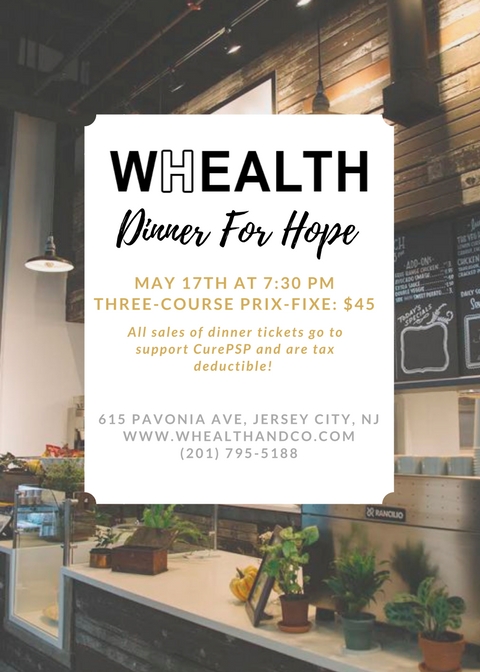 Whealth Dinner for Hope
Join CurePSP and Whealth Cafe to support the care, consciousness, and cure for devastating Prime of Life neurodegenerative diseases. We know everyone loves a good farm to table meal and here's your opportunity to have one right in Jersey City, NJ!
From Whealth:
"Whealth's connection to CurePSP comes from our founder David knowing the Director of Events, Jaclyn Zendrian, and helping with basic catering needs for the team. After dropping breakfast to a CurePSP Board Meeting and seeing a group of people working as passionately as we do at Whealth to help so many in need we couldn't help but want to find a way to do more! Jaclyn and David quickly came up with an idea of a dinner at our cafe in Journal Squared and thus "The Dinner for Hope" was born!"
Can't make it out to Jersey City, NJ? No problem! Join us virtually here: https://whealthcurepsp.eventbrite.com
Menu– lots of small plates for sharing – enjoy trying all the dishes!
BEGINNING TO SEE THE LIGHT
Ramps & Ricotta
Beets – Cucumber – Mint – Yogurt
Sunflower Taco
MAIN EVENT
Meet Me at Mary's Place – Lemon Thyme Chicken – Herbs – Garlic – Lemon
Eat Ya Greens – Greens, Cider Vinaigrette
Fiddle Head Hash – Fiddleheads – Bacon – Purple + Sweet Potato – Caramelized Onion – Parm
Extra Love – Farm Veggies – Roasted with Thyme and Love
HAPPY ENDING
Berried Alive – local berries and cream
$45 per person
FARMS:
BLOOMING HILL FARM – BLOOMING HILL NY
NATURES OWN FARM – LEWISVILLE, NJ
GOEFFLE FARM – WYCKOFF, NJ
LANCASTER FARMS – LANCASTER, PA
All tickets are 100% tax deductible! CurePSP would like to thank Whealth Cafe, David Trotta, and his staff for their generosity hosting this benefit on our behalf!