Closing Reception of ***The Gigantic Miniature Show*** at Deep Space with over 40 artists
Feb 06, 2020 @ 6:00 PM

-

10:00 PM

Free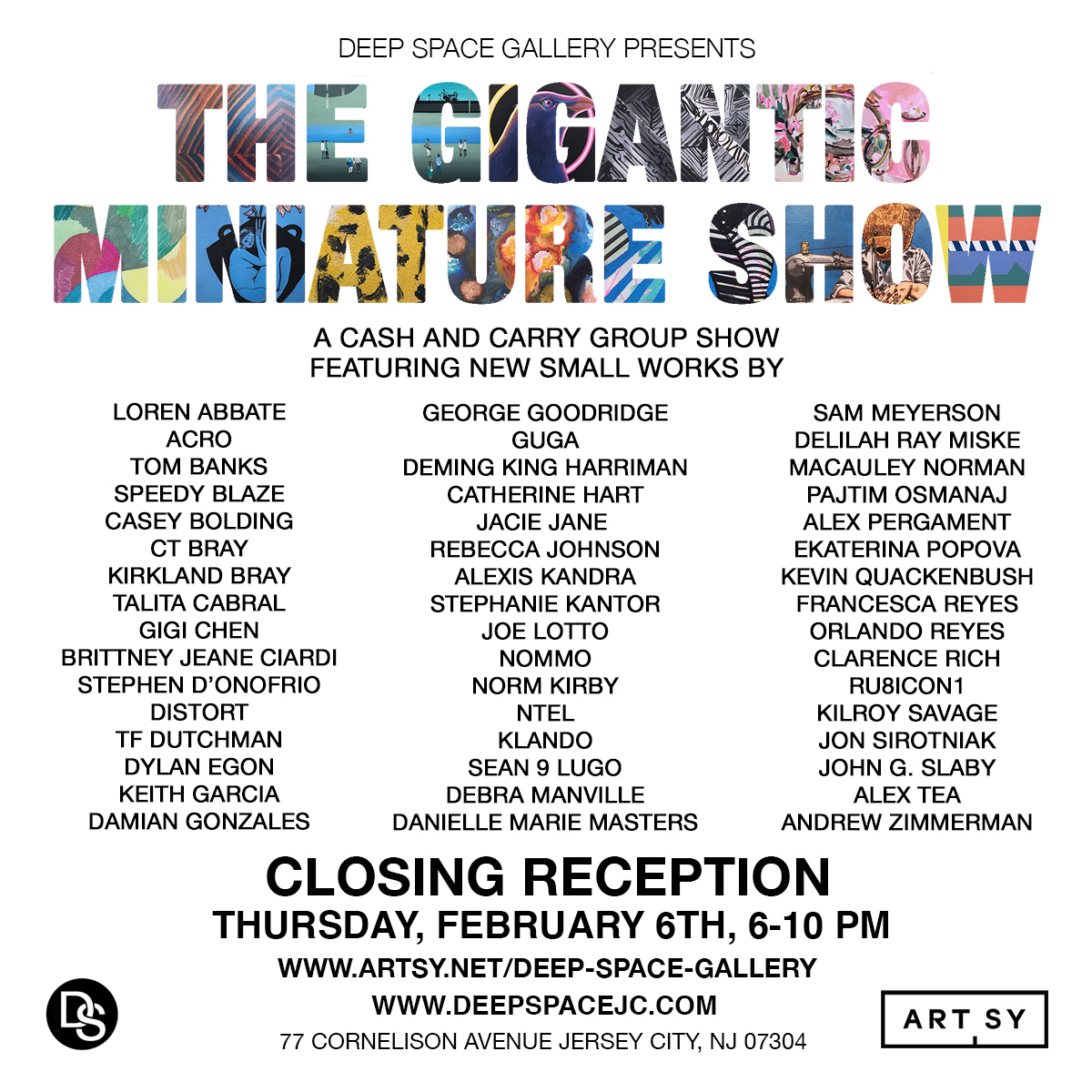 Please join us this THURSDAY NIGHT, February 6th, from 6-10pm, for the Closing Reception of *THE GIGANTIC MINIATURE SHOW*, featuring small works by over 40 artists from Jersey City and beyond. Our fave resident dj Scott Free will be on the ones & twos all evening!
This is our third annual miniature art show — there is an incredible variety of amazing small (and affordable!) works by your favorite Deep Space artists!! If you were at the Opening Reception, prepare for a whole new curation of works — we've restocked all of the walls and there's not a bare wall in sight!
Over ten artists have been added to the show since the opening, with amazing works available for sale. Come see and take home a new work to add to your personal collection!!
The best part about the miniatures show is that all artworks are little and easy to manage and easy to find a great spot for — everything is about 9×9 inches or smaller! Awesome artwork tinies in the house!
See our roster of incredible exhibiting artists below~
Loren Abbate
Acro
Tom Banks
Speedy Blaze
Casey Bolding
C.T. Bray
Kirkland Bray
Talita Cabral
Thomas John Carlson
Gigi Chen
Brittney Jeanne Ciardi
Stephen D'Onofrio
Distort
TF Dutchman
Dylan Egon
Jayne Freeman
Keith Garcia
Damian Gonzales
George Goodridge
Guga
Deming King Harriman
Catherine Hart
Jacie Jane
Rebecca Johnson
Alexis Kandra
Stephanie Kantor
Norm Kirby
Klando
Milosz Koziej
Joe Lotto
Sean 9 Lugo
Debra Lynn Manville
Danielle Marie Masters
Sam Meyerson
Delilah Ray Miske
Nommo
Macauley Norman
Anne Novado
NTEL
Pajtim Osmanaj
Alex Pergament
Ekaterina Popova
Kevin Quackenbush
Orlando Reyes
Francesca Reyes
Clarence Rich
Ru8icon1
Kilroy Savage
Jon Sirotniak
John G. Slaby
Alex Tea
Andrew Zimmerman
ALSO AVAILABLE FOR SALE ~ ART BOOKS/ZINES BY:
Alpha Channeling – Utopian Erotic
Nolan Price – Acro; Bomb Squad Boys
Jai Granofsky – Waiting for Baby
Alexis Kandra – The Redwood Tree & Its Friends
Kilroy Savage – Helluva Drugs & More
Joe Lotto & Kilroy Savage – Untitled Zine
Ekaterina Popova & Team – CREATE! Magazine
***If you can't make it to the Closing on Thursday evening, message us here or email us to schedule a visit anytime this week. We're at the gallery every day and night!
***For a catalog of available works or for gallery hours, email us at deepspacejc@gmail.com.
Hope to see you on Thursday!!
xox,
Deep Space crew
DEEP SPACE GALLERY
77 Cornelison Ave.
Jersey City, NJ 07304
www.deepspacejc.com
www.artsy.net/deep-space-gallery
deepspacejc@gmail.com
@deepspacejc
@deepspace_reserve
fb: Deep Space Gallery
Follow us on Artsy! www.artsy.net/deep-space-gallery
Follow us on Instagram! @deepspacejc
Subscribe to our website! www.deepspacejc.com
#JERSEYCITY #JERSEYCITYNJ #MINIATURES #MINIATUREART #MINIATUREPAINTINGS #MINIATURESCULPTURE #SHOPSMALL #SHOPLOCAL #JERSEYCITYARTISTS #JERSEYCITY #JERSEYCITYNJ #JERSEYCITYEVENTS #CONTEMPORARYARTGALLERY #ORIGINALART #ARTFORSALE #BUYORIGINALART #SUPPORTLIVINGARTISTS #SUPPORTSMALLGALLERIES #BUYART #DEEPSPACEJC #DEEPSPACEGALLERY
Details
Date:

Feb 06, 2020

Time:

6:00 PM - 10:00 PM

Cost:

Free

Event Categories:

Event Tags:

2020, art, art show, artist, artists, artists of jc, bergen lafayette, bergenlafayette, chicpeajc, community events, creative, creatives, cultural events, culture, date night, datenight, deep space gallery, dog-friendly, evening, event, exhibition, exhibits, family-friendly, February, forsale, free, friends, gallery, gift ideas, graffiti, hudson county, interior decorating, interior design, Jc artist, jc events, jcmap, jcspot, jersey city, jersey city mural program, jersey city new jersey, jersey city nightlife, jerseycity, kids, locabiz, local art, local artists, local biz, local business, local talent, localbiz, mcginley square, mcginleysquare, mommy and me, networking, networking event, nightlife, paintings, places to go, reception, ru8icon1, sean 9 lugo, shop, shop local, shoplocal, showcase, small biz, small business, social events, street art, talent, things to do, Things to do in Jc, to do, top things, top things to do, topthings, trending, unique gift ideas, weekdays, what to do, where to go, winter, winter activities

Website:
Organizer
Venue
77 Cornelison Ave




Jersey City

,

NJ

07304

United States

+ Google Map