Cathedral Arts Festival
May 18, 2019 @ 7:00 PM

-

11:00 PM

$50 – $60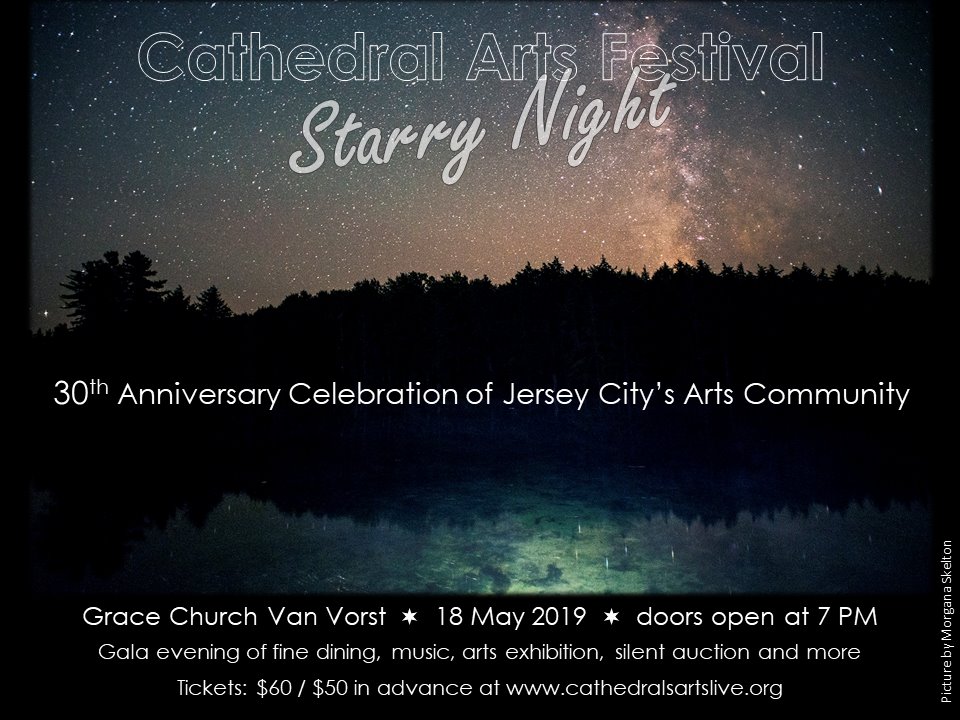 Grace Church Van Vorst in downtown Jersey City, NJ celebrates its 30th anniversary Cathedral Arts Festival Gala at 7:00 p.m. on Saturday, May 18, 2019.
Founded in 1989, Cathedral Arts Festival is the largest and longest-running celebration of artists and the arts in Hudson County.
For this milestone celebration, Grace is welcoming five area curators who collectively reflect the vibrancy and diversity of our unique riverfront enclave: Beth Achenbach, Cat Hecht, Robinson Holloway, Andrea Morin and Amy Elise de Jong.
"This year's submissions reflect the zeitgeist of these polarizing times, with images evincing anger and frustration as well as idyllic yearnings for harmony and peace. The exhibition will illustrate the full range of human emotion in such a way that I think every guest will find a piece they can relate to," said Ms. de Jong.
The gala, themed Starry Night, will feature a visual arts exhibition including dozens of artists from the tri-state area and beyond, along with free-flowing champagne, catered food, music, dancing, and a silent auction.
All artwork is for sale with a percentage of each sale going to Grace Church Van Vorst. Proceeds from the sale support the operational and outreach activities of Grace Church Van Vorst. These activities include, but are not limited to, religious services and adult education, Grace Van Vorst Community Services (our non-profit, 501c3) and the Grace Senior Center for Healthy Living, which provides various services to the elderly. Grace's Breakfast Plus Program also provides hot meals on Saturday and Sunday for the hungry and homeless of Jersey City.
Not only does the Cathedral Arts Festival receive participation from local artists, but nearly every member of the congregation volunteers in some capacity or another. It's truly a great community building event where lifelong friendships are made.
"Thirty years after launching, Cathedral Arts has fulfilled its vision of becoming a community center for worship, the arts, community organizing, outreach services, community meetings and activities and just plain enjoyment," said chairwoman Bayla Kallstrom.
The Cathedral Arts Festival is graciously supported by local Jersey City businesses, which advertise in the program guide featured during the gala and with items for the silent auction. Sponsors in the past have included Silverman, Goldman Sachs Group Inc. and Provident Bank, among others.
"The Cathedral Arts Festival celebrates the tradition of the cathedral as the center of community life; a place where all are welcome, where people hungry for community can find a home," said Ms. de Jong.
Community, diversity and creativity are the hallmarks of parish life at Grace Church Van Vorst. Regular services with Holy Communion are held every Sunday at 9:15 and 11:00 a.m. All are welcome to attend.
The 30th Anniversary Cathedral Arts Festival Gala takes place on Saturday, May 18 at 7:00 pm at Grace Church Van Vorst – located at 39 Erie Street and 2nd Street in downtown Jersey City, NJ. Admission to the Gala Champagne event is $50 in advance and $60 at the door. Tickets may be purchased online by visiting http://cathedralartslive.org