If you're big on Halloween and enjoy testing the limits of your fears, why not visit some horror-filled attractions in the area? Whether you want something passive or want to throw yourself into the most terrifying experiences, we've got you covered!
---
New Jersey
Brighton Asylum
Passaic, NJ
Brighton Asylum is a walk-through attraction with live actors, horror movie-style scares, and special effects. Check out the asylum, the Bleeding Grounds, and more attractions including their Black Out night where you experience two main attractions in complete darkness.
Website: brightonasylum.com
Fright Fest @ Six Flags
Jackson, NJ
From rides to characters waiting to scare you, you're likely to have a frightfully fun time at Six Flags' Fright Fest. They have a Blood Shed, The Manor, Wicked Woods, and more haunted attractions along with their Scare Zones.
Website: sixflags.com/greatadventure/special-events/fright-fest
Bloodshed Farms Fear Fest
Columbus, NJ
The Fear Fest includes 3 haunted houses and a haunted hayride, and guests can also purchase tickets for the Camper escape room as well as the Blood Shed experience. Only one person is admitted into Blood Shed at a time while the rest of the group watches through the night vision camera.
Website: bloodshedfarmsfearfest.com
Haunted Red Mill
Clinton, NJ
Available for only 6 nights, walk through five sections of the Haunted Red Mill. There'll also be a kid-friendly Happy Haunts including face painting and treats.
Website: theredmill.org/exhibits
Haunted Orchards at Demarest Farm
Hillsdale, NJ
Bring the family for a hayride and frightening adventures for Demarest Farms' first Halloween season with Haunted Orchards.
Website: hauntedorchardsfarm.com
New York
Blackout NYC
Midtown Manhattan
Blackout is less of a haunted house and more of an immersive experience where you'll be faced with your anxieties from the start. If you want to test yourself, this is the place to visit.
Website: theblackoutexperience.com/2019halloween
Blood Manor
Tribeca
Blood Manor has 5000 square feet of themed rooms, corridors, and a labyrinth for the ultimate haunted house experience.
Website: bloodmanor.com
I Can't See
Financial District
I Can't See is a horror immersive theater experience by Psycho Clan, and it takes place completely in the dark with audio headsets guiding you. In this attraction, you're the subject of the horror story.
Website: nightmarenyc.com
The Gravesend Inn
Brooklyn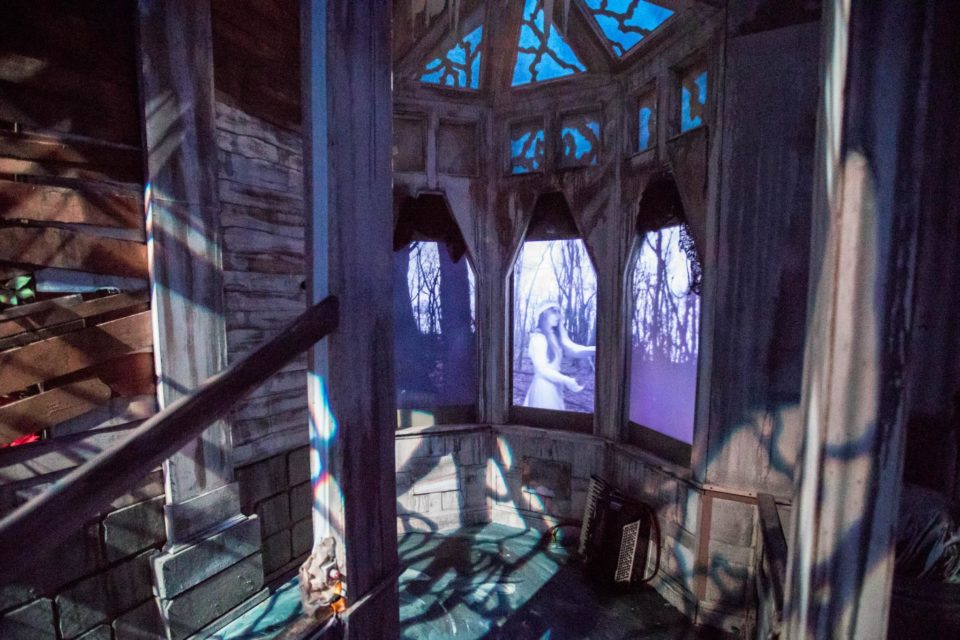 Every year, the New York City College of Technology put together a high-tech haunted experience. This year, they're bringing a haunted hotel to the Vorhees Theatre.
Website: citytechtheatreworks.org/gravesendinn
Bane Haunted House
Hell's Kitchen
Bane Haunted House is considered one of the scariest attractions in the area. They play on typical fears – claustrophobia, clowns, anxiety, and more – through their interactive experience.
Website: banehauntedhouse.com