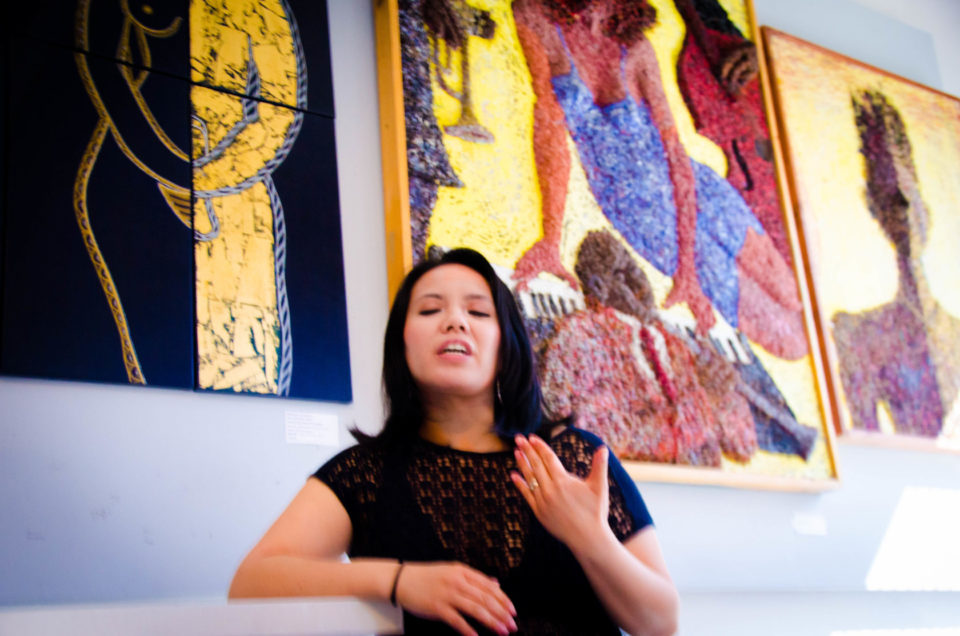 Although spring is making what appears to be a slow approach, the women of Thinking in Full Color celebrated the newness of what the season brings by hosting their Thinking In Full Bloom fundraiser recently held LITM.
TIFC is an educational and artistic organization founded by executive director, founder of TIFC, playwright, director, actress, and all around amazing woman, Summer Dawn Reyes. Through community talkbacks, theater performances, and education, TIFC has provided women of color who are actresses, writers, and artists the opportunity to display their work and talent which has continued to empower other Women of Color to share their own stories.
Recently I was given the opportunity to speak with founder Summer Dawn Reyes, about the amazing endeavors the dynamic women of TIFC have accomplished and what Thinking In Full Color has in store for the near future of performance art throughout New Jersey.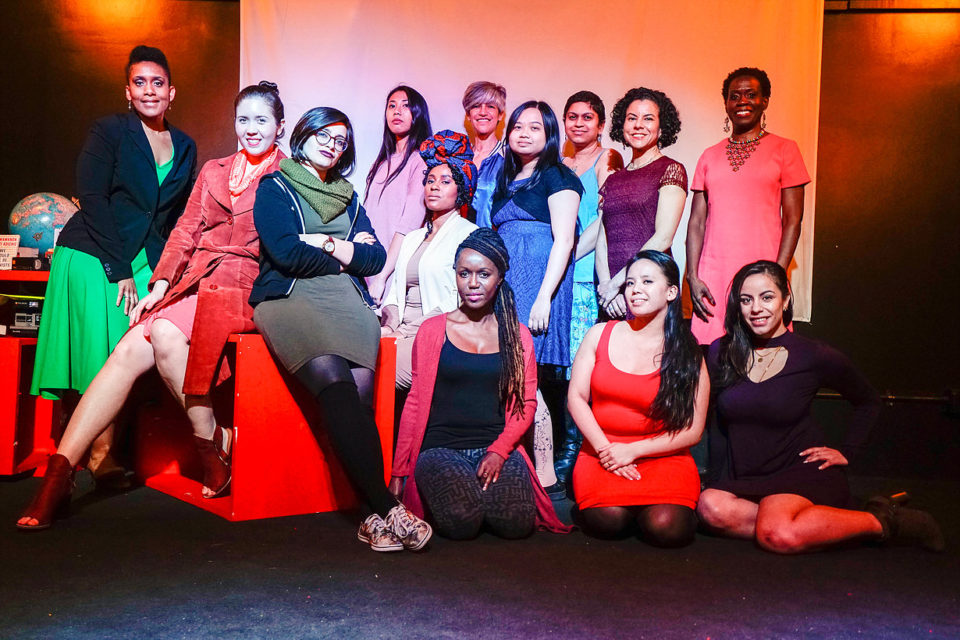 You founded TIFC in 2015, what inspired you to develop a medium where theses dynamic women who are also creatives have an outlet to share their stories, but also an outlet for communities to gain education on very important social issues through the arts?
Thinking In Full Color began mostly because I am an actress of color. I felt like it was difficult to find roles that weren't really stereotypical [it was really hard to find roles when I did], it was always you know– the nerdy best friend, the person from China who doesn't know English. I've actually had better experiences than some of my colleagues, but I know a lot of people who have been asked to do an "Asian accent", which isn't a thing. I've been to auditions which I didn't feel was educational, or exploitative. Seeing all this it inspired me to create TIFC. I've done theater here in Jersey City over the years, we have a space here and a community, especially being in the most diverse cities in America. We have the women who would be interested in this, and I wanted to create an opportunity and for TIFC to be more than just acting. I wanted people who maybe had an interesting story, but never the opportunity to share it before to be able to share it audiences in a really earnest way in their own authentic voice, without anyone from a different background, of a different gender telling them how to say it. When we initially started we did it at Art House Productions-, it was a co-production, I went up to the former executive director, Christine Goodman, who is now the director of cultural affairs at city hall. When I told her she thought it was a great idea, and through the process of rehearsing with the women and seeing that they had never really had this kind of opportunity before, it was so interesting for them to explore their own identities, to learn about other people, and that's when I realized that it was much bigger. What really solidified the decision to create TIFC was the audience's reaction. The first night no one really knew what to expect. We had a healthy house because we had a pretty large cast; I had pretty big network as did Art House obviously, it was a modest and impactful showing. People expressed they had never seen anything like this, it was so unique. It something where they felt that these women were truly being represented, and a lot of women in the audience listening felt they were being represented, and then people of different backgrounds, of all ages, genders and colors were feeling so enlightened I guess, just by hearing all of these stories, and realizing how other people felt and being able to appreciate what is different, while also embracing what was the same. Right away people were telling us that we had to get this in schools, you have to keep doing this. So we did!
Would you say TIFC has created an outlet for people to understand the on-going social-issues we seem to be experiencing, and possibly begin rectifying them by being inspired through these stories?
I definitely think so. The performances have definitely opened up dialogue. Every year one show that is a talk-back, "Sunday Matinee", we also have talk-backs at our college performances. It is incredible to hear people speaking of experiences that are maybe more political and socio-political and addressing real problems. We have people of color discussing real racisms that they face and not just through the actual monologues, but afterwards in the discussions. We have audiences that share stories about discrimination or violence, or different things that they face and a lot of people particularly from more privileged communities- white, heterosexual males communities, have also come and said this is incredible to see and to hear. It does make them look at their privilege in a particular way and figure out how can we as a society of people wo should have equal opportunities and equal respect, that are not in equal situations. How can we bring everyone around us up together, how can we solve the problems that the Black community is encountering, that Latino community, the Asian community, the Middle Eastern community, and we often begin to explore other cross-section of identity like LGBTQ, or Transgendered, and different areas of privilege, whether it be class, or in a lot of place your religion also affects what kind of privilege you have? We see a lot of Islamophobia in America in the past 10 years, and it kind of brings all of this to light. I think it gets the conversation going and then a lot of the women in the actual monologue do a lot for really furthering the discussion giving new insight on it, and new insight for instance; what it means to be American when you have this background from a certain ethnicity, what it means in terms of immigration, what it means in terms of religion, what it means in terms of police brutality and its really amazing to see how much more impactful a message can be when it's delivered through art with a lot of sincerity and honesty. But beyond that we are, I think our stuff will always have that social message, that feminist message, but it's also really an entertaining show.
How has TIFC grown and developed each year since 2015?
Oh wow, I guess there's definitely been several changes. The biggest change is now we are an independent theater company, before we were a co-production theater company between my company: 68 Productions and Art House Productions, now it's own thing. We are an LLC , fiscally sponsored project through Fractured Atlas a non-profit organization that helps artists and small organizations have access to raising funds and applying for certain grants using their 501c3. They're really a fantastic organization. That's what they do, they're a fiscal sponsor, they're amazing. They have helped create so much art actually in this area; new jersey, New York area. We now have a board, we have a website, we have all the stuff and merchandise. Every year we've been building. The first year we the first thing we started doing was touring schools. We went to a few different ones, you can find a more comprehensive list in the bookings section of our website. In the second year we printed an anthology, which has been amazing. It has all the pieces from the first and second years from all of the women. It was amazing that these ladies allowed us to use their pieces in general the cast of our show has been so giving we do our best to create opportunities for them. In general the alumnae of our show have been so giving, we do our best to make sure our actresses and our writers get paid, the writers get paid a licensing fees and then the actresses get paid for their work as well. But otherwise they have also volunteered for many performances because they are just that passionate. At the fundraiser all the women are volunteering their time which is amazing. There's really a community and sisterhood in Thinking in Full Color. A lot of these women spend most of their time rehearsing alone with me, and they do all their bonding just in our tech week, and they just have a few days with each other, but I think it's just something about going through the experience together and knowing you're already coming from a place of common ground really bonds these women, and they've gone on to work together and they support each other socially and professionally- it's really beautiful. We've done a different venue each time, kind of by accident. The first year Art House got flooded and we had to do a show at Jersey City theater center, they were really kind to take us in last minute, and then they had some other structure problems last years, and Transmission was nice enough to take us in, Transmission is now closed, but every year we have been going to a slightly different part of town, and moving our way around Jersey City, and I hope to eventually go to every neighborhood in some way, and I'll be announcing this years venue at this year's venue.
As I have researched, read, and listened to others speak so highly about what you ladies are doing in this community. I think it's beautiful to see what you ladies achieve what you have only envisioned for TIFC, for me it's apparent that you and the ladies of TIFC have made many strides through your commentary and performances and with the In the Full Bloom Fundraiser. Not only are you giving donors an opportunity to witness firsthand the amazing work they are contributing to, but you are giving other young women who are watching the dynamic ensemble of women, the sisterhood that you are showing us, and the ability to tell your stories with strong voices as well, what do the contributions and contributors mean to the future of TIFC? What can we expect from TIFC in the near future?
That's a great questions, wow! Thinking about all the wonderful people who have donated and contributed and who are coming to the event, it's been really amazing to see the community rally around us, we've seen audiences grow every year and it's amazing to see people really showing up for us. People who really strongly believe in our cause. A lot of the funds from this particular event will go to our next main stage show, it's the biggest attraction for people, and our biggest open public event, it's going to have a fresh new cast. I always say that, but it's always someone from a past year who submits something amazing. But I try to really curate a really diverse group. I try to get women from many backgrounds, all ages, get pieces from many subject matters. But I am definitely looking forward to seeing new people, to really step up and share something new, and giving more communities that feeling of representation. One piece that I will be performing at the fundraiser is the first piece I've accepted into the show this year, is my little sister she's 14 years old and she lives in Minneapolis, and she was sharing with me some poetry she wrote, she competes in slam poetry competitions, and she has this amazing piece called "WALLS", and it's about bi-racial identity, and a certain politician's wall. What I love about this piece, is it's by somebody so young. And we're seeing through gun-protest, the power, the intellect, the power of this new generation. This is the generation we will be performing for in about one or two years at our college performances, this is the generation that will be able to vote in our next presidential election, and who felt really threatened, and powerless in 2016, they have thoughts and opinions, and their families are being affected by decisions, but they had no power to vote. I remember my sister being very sad, and feeling really scared as a person of color, wondering what will happen to her and to her community and friends, and just thinking of all of that. I guess this is a stereotypical answer to "what is our future" but our future really is the children. The reason why it's so important for me to do the educational side of this is because, while I still believe that older generations can be educated and it's important to them, I really want to make sure that we reach out to young people who have just formed their identities but figuring out how that identity fits in, in the world around them. You know that's why college is really important for that. High School you're figuring out who you are, college you kind of have it, but what is the world.
Kind of an existential crises of some sort.
Yea! You know you're kind of like, I got it but eek! How does that fit into things. I really just want to continue working in a way that creates real change. I think the more people hear the pieces in this show, and the more people that start being able to discuss these subjects and recognize the need to discuss these subjects I think the more action we're going to see. On a side note I am looking to do more programming that is more particularly focused on serving our target communities in other ways, doing writer's workshops, possible tax workshops for women of color, if you're and immigrant or grew up in a family that doesn't have a strong financial background, you lose out on tons of deductions and how to manage your money. I want to create events that offer services in other ways outside of art and discussions. That's very important. That's what we're preparing to do, and I am amazed that they community is so supportive and is behind us.
If you'd like to support the dynamic and necessary stories being shared from the Thinking In Full Color troupe, please visit their website www.thinkinginfullcolor.com to find out when you can attend the next event or to make a donation.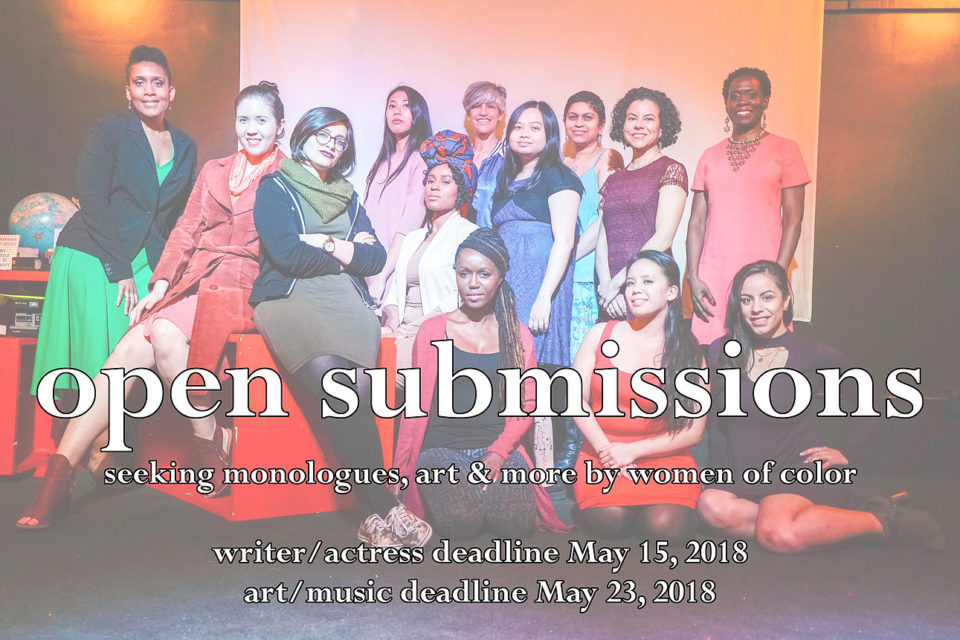 If you're an actress, writer, or visual artist of color and are interested in participating in TIFC 2018 IN FULL COLOR show being held at Nimbus Dance Works. Submissions are now being accepted.
https://www.thinkinginfullcolor.com/single-post/2018/03/23/Submissions-now-open-for-In-Full-Color-2018