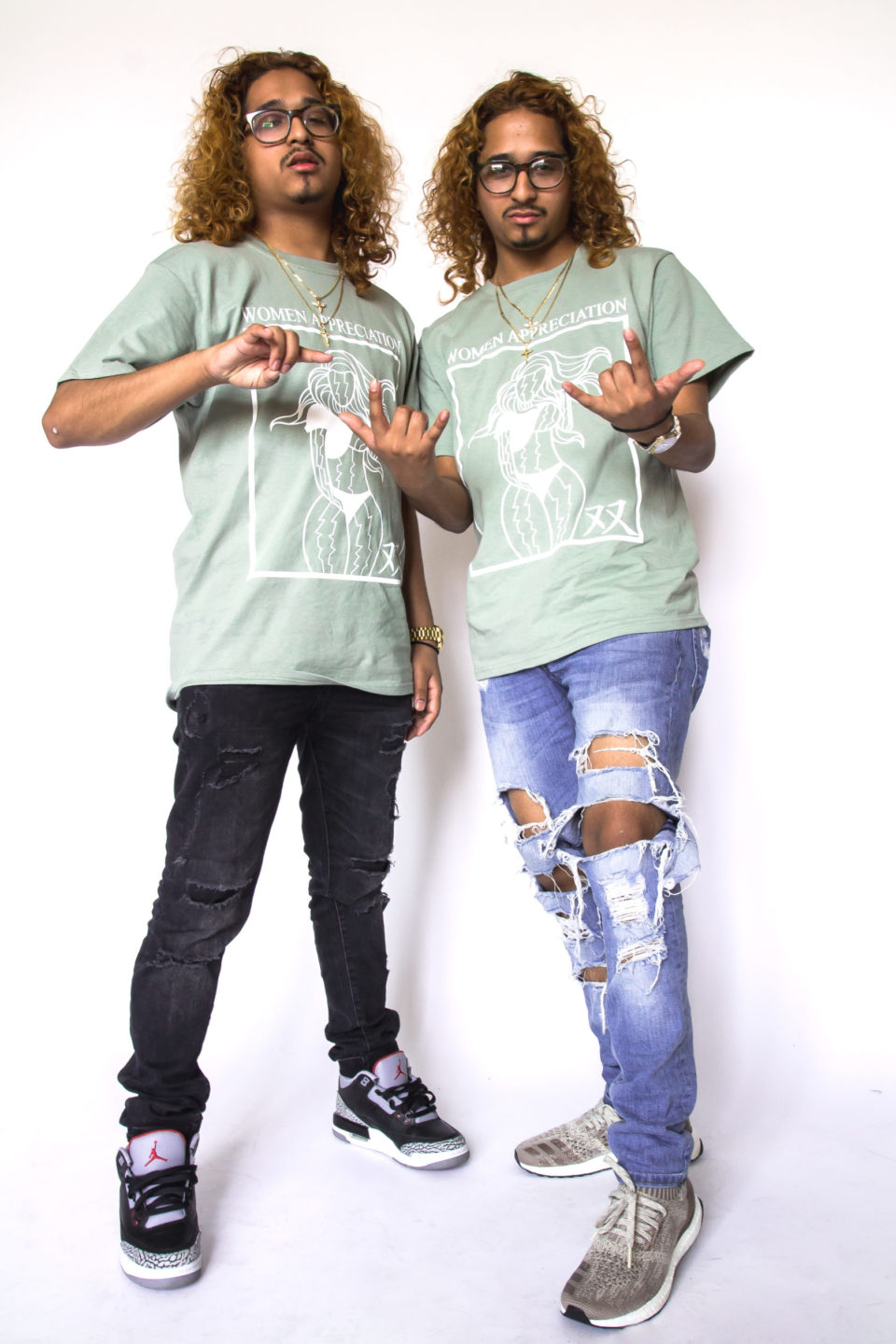 No, you are not seeing double. The Vera Twins are incredibly talented visual artists, and they are twins! What are the chances of finding brothers, let alone twins, who are so creatively gifted? Not only are they extremely talented, but they are also business-savvy and extremely hard-working. They are true role models for the youth of Hudson County. I had the pleasure of sitting down with them for this next episode of "It Was All A Dream."
Watch or read the interview below!
Meet the Vera Twins.
What are your names?
Kelvin and Kelby.
What do you guys do?
We're visual artists – VeraTwinsArt.
How are you both artists? How did that happen?
Kelvin: It started with me first. I was painting for fun out of passion, and he was like, "Oh, I can do that, too!" I told him to do that.
Kelby: He started painting, and I thought I could do something like that, too. I started getting a passion for it, and we both get inspired by each other.
Kelvin: He creates something, I create something, and we feed off each other.
Kelby: Like a friendly competition.
And you guys complete each other's sentences.
Kelby: Yeah, of course.
That's amazing. When did you guys start painting?
Kelvin: Painting, I would say I started 3 years ago seriously. I was in high school and was painting stuff, but I picked up the brush and thought, "Nah, it's not for me." I used to stuff with colored pencils and wasn't into painting. My teacher told me I already mastered colored pencils, so I should go to a different medium. I experimented with painting. That came about because of my teacher. I did my first painting and then I let it go. I thought I sucked at this, and then later on I thought, "Let me give this another shot." And that's when I started taking it seriously.
And you've only been doing it for three years? Wow. 
Kelby: Yeah, about 3 years I'd say.
How old are you guys?
22.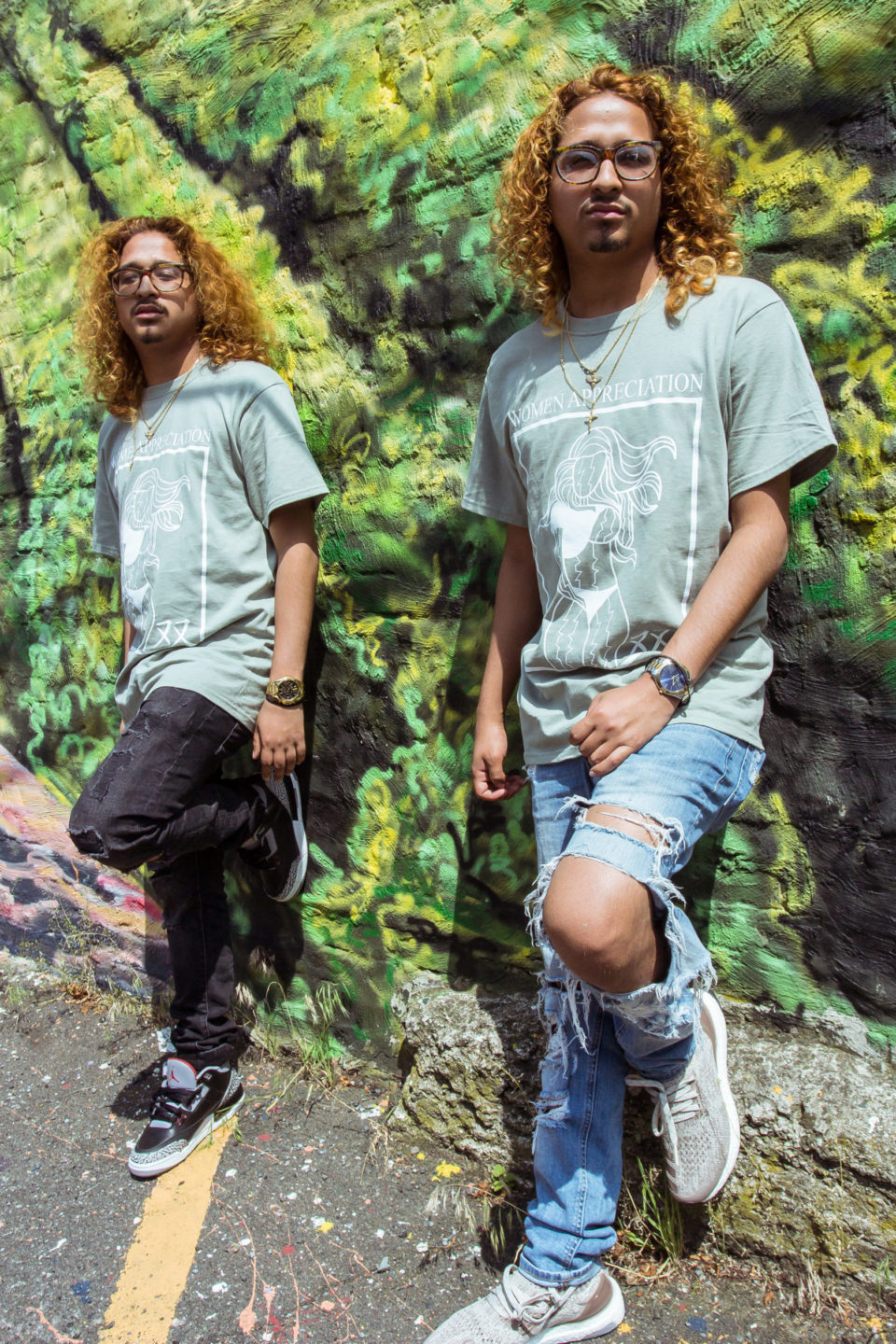 So young! What inspires you? Define your type of art.
Kelby: Basically anything that we see. We're around everywhere and move a lot, so if I see something in the street – I like street art – or I see colors I like, I try to incorporate it with my art. I get inspired by a lot of street art.
Kelvin: Yeah, there are a lot of artists that we are inspired by, like if I see something and like the colors, I might take that and incorporate it with my style. I'm not afraid to say I'm inspired by other people. A lot of artists like to be original, but you can only be original to a certain extent. It's like, "Okay, I'm going to do a rose." But everybody has done a rose. It's time to do the rose your style, you know what I'm saying? Inspiration comes from anything, to be honest. Inspiration can come in two forms, like inspiration as far as coming from something that you feel and another inspiration for me is my mom. My mom works 9 to 5. That's a inspiration for me to keep going. The stuff that does inspire my art as far as colors and all that creative stuff is the stuff I feel and see… emotion.
How has it been, working together?
Kelby: It's amazing. When we work on a big piece, we have to work on it together. It's 36×48 mostly, and all the 36×48 pieces we've worked on have been us together. He'll work on one side and I'll work on the other side, and the project comes out way better as an experience overall because we balance each other. He's like, "You go here and I'll do this," and we know what to do. It's not like when he does something, I go, "Nah nah, that's not good." Or when I do something, he doesn't judge it.
Kelvin: We feed off each other. We judge each other in a good way, that honesty that other people won't give you. Let's say you were an artist…
Kelby: It's a nice piece, but they're not gonna tell you what's wrong with it.
Kelvin: They're not gonna be totally honest with you.
Kelby: They won't say, "Change that. That's not good." I'll tell him that, or he'll tell me that and I won't take it to offense. I'm like, "Oh, I'm gonna change that." That's how it is with me and him when we're working on a piece together because it's both of our pieces.
I noticed that you guys paint a lot of portraits of celebrities.
Kelby: Yeah, we got noticed by a lot of celebrities – Rich the Kid, Chris Brown, Johnny Cinco, Wiz Khalifa, Metro Boomin, Fabolous… It's been good.
That's amazing. How do you feel social media has played a role in your success?
Kelvin: I think social media is the main reason for our success. As far as talking and networking, my brother and I haven't been big on networking personally or attending events. Now we're big on doing things like that. Social media has played a part where we connect with our followers or connect with people that also do art as far as doing collaborations and seeing other people's visions. Social media has been our platform to become successful.
What kind of advice would you give other young artists who are trying to make it out there?
Kelby: You have to be really consistent. You have to really want it and be passionate about what you do. There's a lot of artists who do this for like a year or two and be like, "You know what, I'm not going anywhere." But that's not the end, you have to keep going and going until you get to where you want to be because we've been doing this for about 3 years and we're not giving up.
Kelvin: There's been times where I was like, "That's it, this is the dead end for me to stop this right here," but you need to have drive. if you don't have drive, you're not gonna make it nowhere. There's been times where I'm pretty sure everybody has felt that way.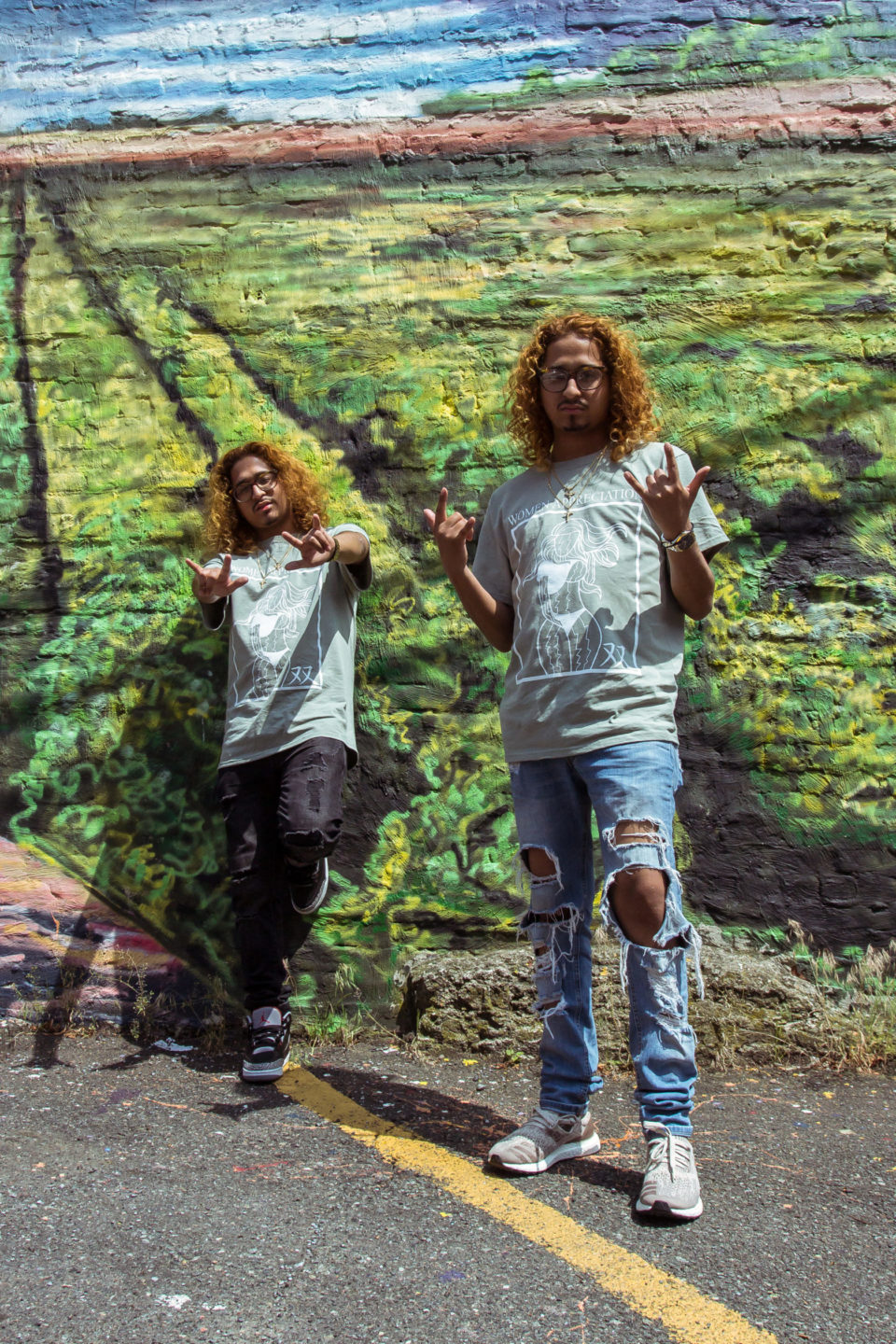 I feel it, like, every 20 minutes!
Kelvin: "That's it, this is the end, I can't do this anymore." It's like mind over matter, at a point. Don't think about money, don't think about stuff that's bringing you down, just use that as motivation to keep going. If you don't got that, then you don't got what it takes to be successful. You don't got what it takes to become an artist, to do anything.
That's very wise for a 22-year-old. 
Kelvin: There's a lot of things that you have to put into play when it comes to being an artist. You have to really take it seriously. You know, a lot of people are like, "I want to become an artist." I have friends that have told me, "Yo, I want to be an artist." I'm like, "OK, come to my house, you're gonna become an artist." And they hadn't lasted two weeks. The amount of hours that we put into work, the amount of hours that I put into it, it's longevity point blank. If you don't have that mileage to keep going and going, you're gonna fall.
Kelby: We painted for, like, 12 hours straight and nobody keeps up.
How many paintings a week do you guys do?
Kelvin: It depends. Recently, we've been getting into different stuff as far as clothing, doing interviews. Now we're doing different stuff. If it was painting straight-up, I think we could bang out a piece easy if we stay on the table for 9 hours. That's two a day.
Kelby: With our women appreciation series, it's not like we can just do one piece. It'd be three at a time. We'll work on one piece, the background is drawn, then we work on another background. That's how we work with it. That's how we create bigger pieces and series, and they all come together.
Tell me more about this Women Appreciation.
Kelby: That's like our favorite piece to paint. I think it doesn't matter about women's complexion. There's three different types of shades in the Women Appreciation – there's light skin, tan skin, and really dark skin. With that being said, it's like there's all types of women in one girl. Different types of hair and everything.
Kelvin: Women Appreciation is just like all of the complexions of skin, but it's one woman. So it's like everybody's equal. That's the main message of it, and it's not just women, it's everybody. We just decided to go with women because it fit best for us. Everybody's equal, and that's why we divided the woman into three – that's the main focus on the Woman Appreciation. That's why we started it. We want our art to meet our expectations and wanted to send a message to people. And that was our message, Women Appreciation.
I feel like the public has really loved it. 
Kelby: Yeah! That's been our most loved piece. I've seen people see the Women Appreciation and have the most reactions to the Women Appreciation piece that we do. Now we're getting into it a little more in detail and doing different types of Women Appreciation, like different stances and all that, different hair, and we're even collaborating with different artists. We just had a piece with JJ the artist. He's not a pop artist, but more realistic with his feel to his girls. He made the Women Appreciation into three shades, but also made it in a realistic form. We touched up the backgrounds and all that.
That's amazing. So where do you guys live?
Kelby: We're from Union City, born and raised. We've lived there all our lives. We haven't lived anywhere else.
Do you guys hang out in Jersey City?
Kelvin: We've been here for a couple of events. Maybe four or five.
You were at our headphone party!
Kelvin: Yeah, we were at the headphone party!
Kelby: That was a great party.
Kelvin: We've been to a couple of studios around here, too.
Do you guys paint full time? Is this your full-time hustle?
Kelvin: Yeah, we only have one job. This is like our full-time job. The only thing that I needed to realize that I wanted to do art forever was my one job. That's the number one thing that told me, "This is what you need to do." I had somebody I had to listen to, somebody that told me everyday once I came to work when I needed to live, how long I needed to talk to people, and I don't like that. I'm self-made. I was in school, some people told me, "This is school, you need to do this in this amount of time." You don't need to tell me anything. I'm self-made, he's self-made.
And you get to work together.
Kelvin: And we get to work together whenever we want! Of course he has times when he wants to do something that he loves, or he has time for his girlfriend and I have time for my girlfriend, but there's time to work. We're not gonna listen to anybody, but we're gonna work together for us. And that plays a big part. People want to say they're self-made, but if you want to do it, then do it for real. Don't be talking too much about it, just do it.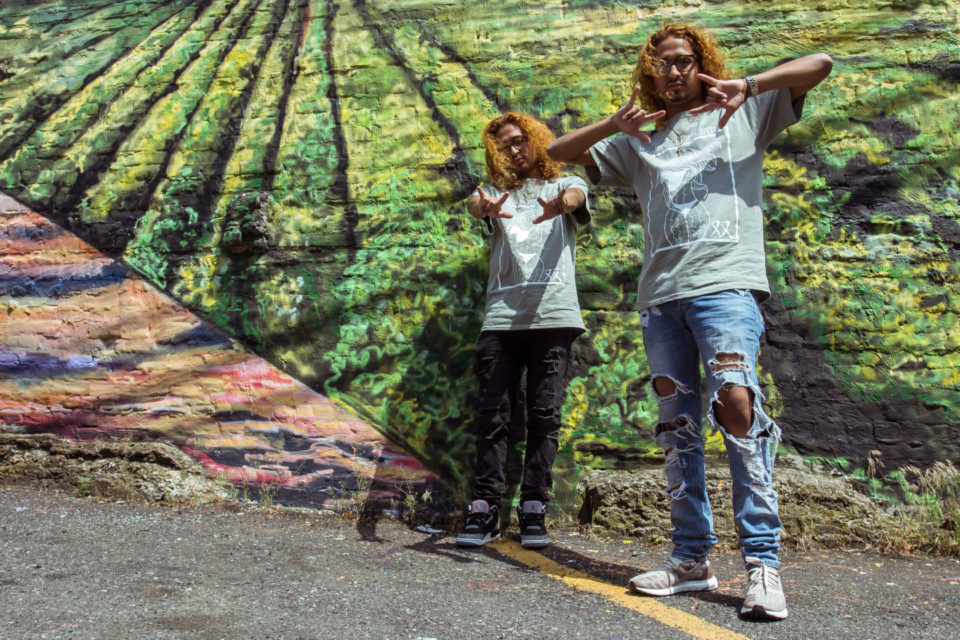 Any advice you want to tell people who are going into art? I know we brushed up on it, but from a social media and marketing perspective, how can these kids make it?
Kelvin: They just need to perceive an image. They need to have an image of themselves as far as being original. Be consistent, have the passion for it. When you want to do art, you can't have other things in between, like you can't work a 9 to 5 and do art. That's not gonna happen for you. And I'm sorry, I tell you that with all the truth in my heart. I've got friends that are really good photographers that I know will not make it to where they want to make it if they don't put 100%. If you don't put 100% into what you love, then what you love is not going to happen. I've got people that want to be rappers and every time I see them, it's like "Yo we're working, we're working." Where's the work? That's what separates me and my brother.
Kelby: We have paintings in the house. You come to our house and you'll just be there looking at the paintings. Everybody that comes in the house is like, "Wow, look at all these paintings! You guys created all this work."
Kelvin: That's work ethic.
Kelby: There's just so much work. You could just be there looking at it.
Kelvin: And that's just paintings. I have other stuff that I've done, all my work is not sitting my house. There's artwork that's sold. We just updated our website to a bigger scale. Now it's like we're going to do bigger things with our art. People bought our art, and now it's time to elevate.
Would you say you're living your dream?
Kelvin: Not yet. I don't think I'm living my dream yet. I think I'm close to living my dream, but my expectations are far from where I am right now. To be honest, God has blessed us already. I have stuff that I can appreciate right now that other people don't have. People are always contacting us like, "Oh my god, you guys are an inspiration." That's enough for me, but not to the extent where I know I could be. I'm not living my dream yet. My dream is pretty far from where I am right now. It's coming soon, though.
Awesome. Thank you guys!
Thank you for having us!
Follow Vera Twins on Instagram, and check out their website.