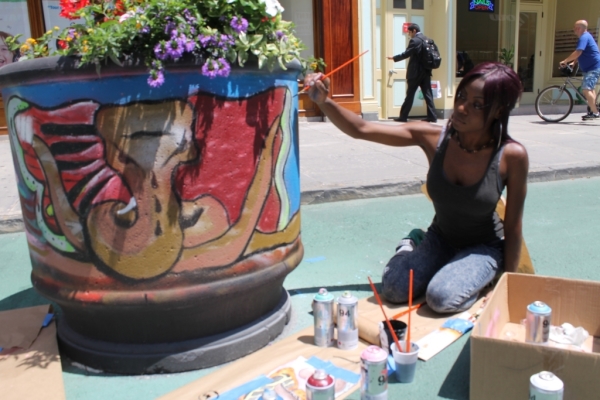 For the second summer in a row, the Jersey City Summer Mural Program has partnered with The Jersey City Summer Works Program and the Board of Education to offer artistically inclined young people an opportunity to apply their skills towards the creation of public art in various locations around Jersey City.
A week ago, I went to meet the kids and people involved in this amazing program while they were painting the flowerpots on the Newark Avenue pedestrian plaza. Mr. AbiLLity was also there, lending a hand and helping the kids! I also got to speak with Duda Penteado, a world-renowned international artist that lives now in Jersey City. He is leading this summer program and mentoring these aspiring artists on the inner workings of creating public art.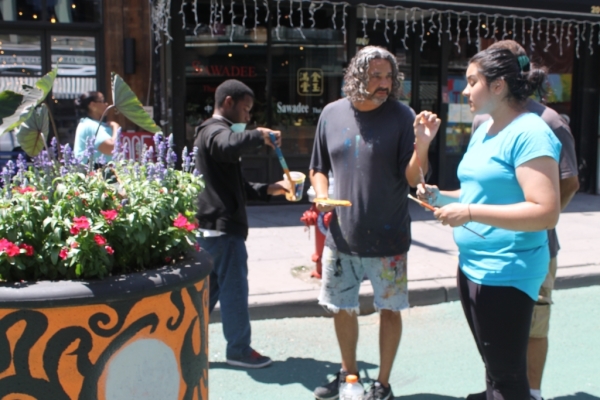 What's your name? Duda Penteado.
What do you do? I'm a fine artist.
Tell me a little more about the Summer Works Program and how you got into it. Well, I've been talking to Brook (who runs the mural program for cultural affairs) for a while; we've been going back and forth and trying to design some kind of summer program and the kids who join can have a sense of what public art is, how you choose thematic things to approach, how you interact with the public feeling the tension, blending in is a totally different experience when you work in a studio when you do small drawings and doing your own thing.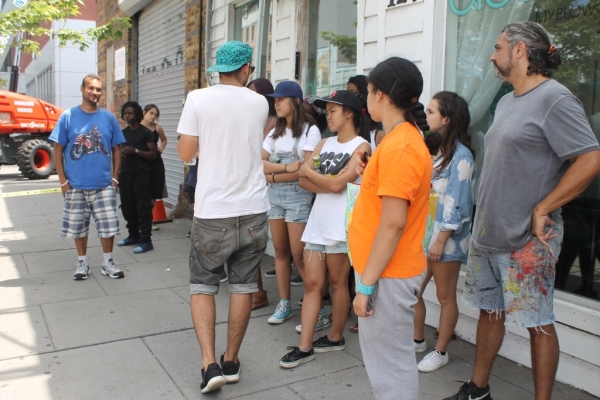 Here it's a whole new way of understanding how I can fit in a public setting. The second thing is how to create an image that it flows in a bigger scale. You know, many of them are very used to working in a littler scale, and they do little drawings, little scribbles. What we do here is big image, how it flows, how we do the contours, colors and also that kind of things.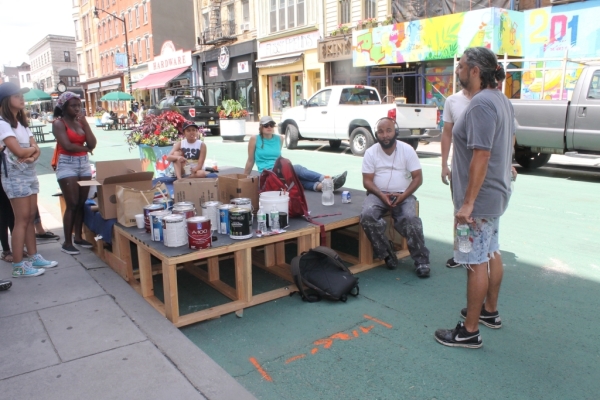 Students participating in the Outdoor Street and Graffiti workshop will learn the various aspects, skills, styles, and background knowledge involved in the public art form of graffiti as an element of hip hop. Students will learn the basic history of public name writing and early forms of graffiti, as well as other forms of street art that evolved through this discipline. Youth will be challenged to think critically about the ethics, aesthetics, and legality surrounding the craft.
Students will be provided instruction as well as the open space to practice and develop artistically on their own and in groups using a variety of mediums ranging from pencil and markers to paint pens and spray-paint. Classroom components include group and individual workspace for sketching and conceptual piece construction, lecture, group discussion, and practice walls where students can hone their skills with the medium of spray-paint.
So our first challenge was to come here and do the flowerpots, so this is between when they can use the spray paint and paints. And the second one when we get to the park it's going to be a lot more space to make larger movements.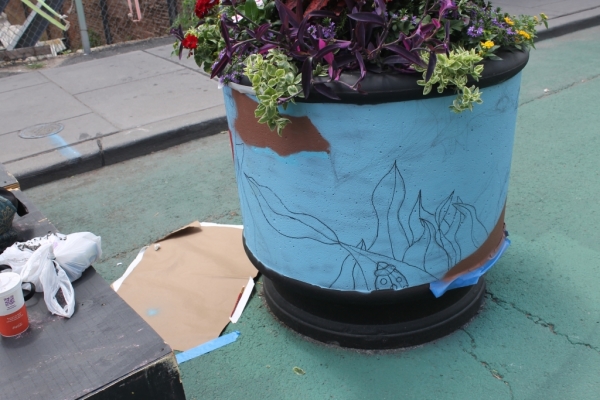 It's going to be in front of the Mary Bethune Center right? Yes, right on the left there we're creating sort of an open-sky studio to experiment with ideas and images. I think this group is going to do well.
How did you guys select the kids? Well they go through a process with the city with Brook; there's a selection process, many of them come from the magnet program, they already have nice portfolios of art and there are a few other kids who need to do some kind of social work.
Because they were tagging buildings right? Yes, tagging buildings, doing a few things they should not be doing. They now have to go through the process and just learn the right thing to do with the tools. One of the interesting things about this program is that we are using spray—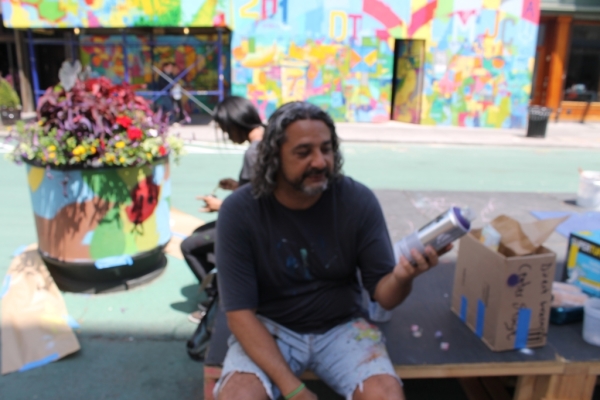 It's controversial. Yeah, controversial, it gives such a strong memory of how people can go around tagging and just doing the wrong thing and we're taking the tool and doing the right thing because in the end it's all about an idea, it's what you do. Are you up great beauty to join the community or are you just doing your own thing not caring about anybody? So what this workshop does in the end, as they work together with me, developing images, working in groups, they created their own community, but they understand how they feel in the larger community. So when they leave here, they're not leaving here with a bad excuse, but they just leaving here with a great consciousness of how to fit in a public setting.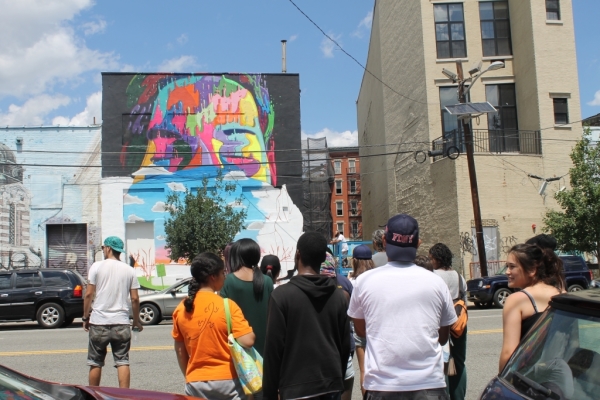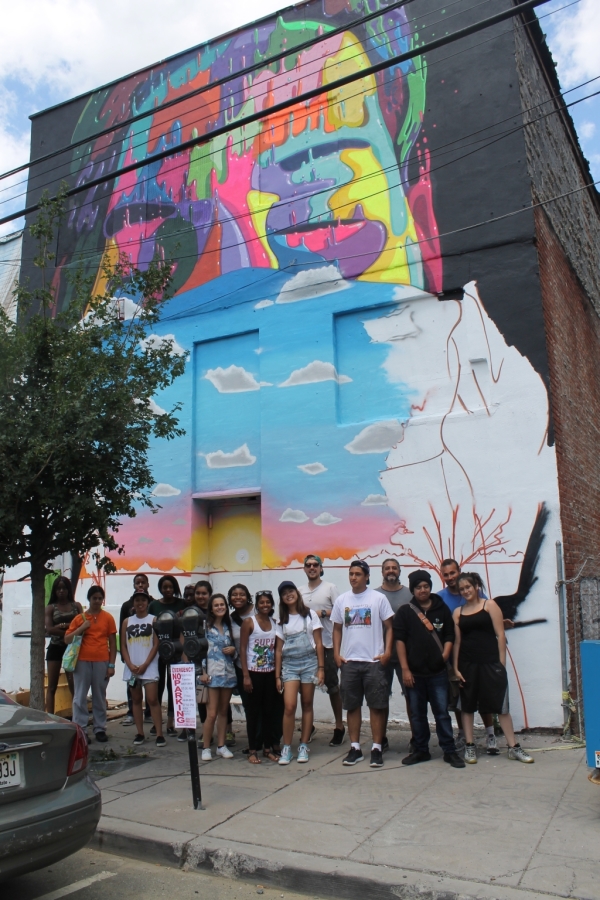 It's great and they're getting paid for this. Yes, that's the amazing thing, it's like a summer job they're getting paid. When I was sixteen, seventeen, I never had the chance to be in a program like this.
It's wonderful; they look very into their work. Yeah, they getting into their work and each one doing the details and pairing in twos or threes, so they're going around. When you work with young artists it's a mix to push them a little further and getting them to understand their little styles.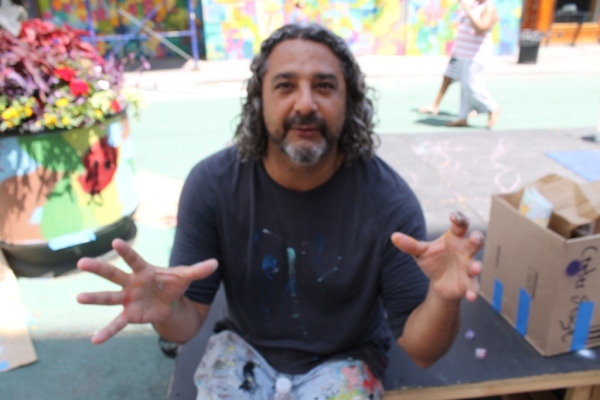 Do you guys let them come up with their own concepts? Well we talked about colors, compositions, ideas. The first idea we have for here is kind of morphing animals into geometric shapes, so we kind of have a nickname for this, Naturemorphis, it's the name of this project here. So it's all about becoming something, discovering something, the mystery of things. Sometimes it's easy to understand what's going on sometimes it develops into something else. So Naturemorphis is happening here at the flowerpots at Newark Avenue and we're probably going to extend this to the park.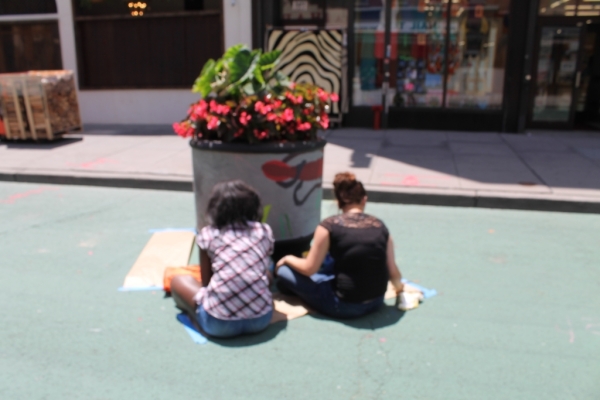 Anything else you would like people to know about this program? There are for sure a big group of vibrant young minds out there in the United States ready to participate in a exciting and creative Public Art Project in the urban areas of NY and NJ. The Jersey City summer Works: Public Art Program 2015 – Outdoor Street and Graffiti Workshop, is just an amazing opportunity to empower and shape the consciousness of this generation, and create a collective attitude by bringing beauty and life to our neighborhoods throughout the dynamic and diverse City of Jersey City.
---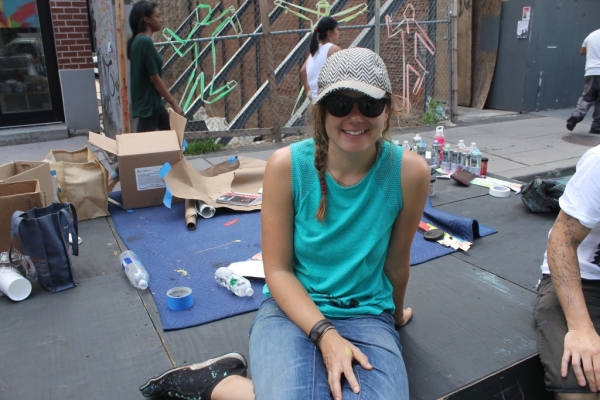 What's your name? Katherine Heart.
What do you do? I'm an artist. And I'm going to be doing some of my own murals and I'm also Duda's assistant.
What are they doing today? Today we are on the next stage of getting our designs on the flowerpots; we have to finish this quickly because we only have a few more days to do it and we're down a few kids so we've got some extra pots. So yeah, we're painting the flowerpots with their designs.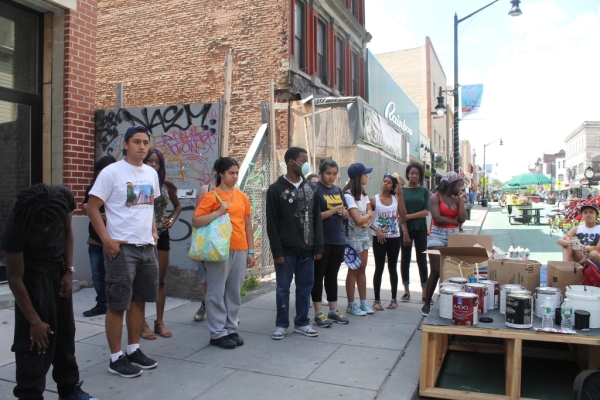 We're working with some youth that have been caught for tagging and they're doing community service with us instead of going to jail and so we're kind of teaching them how to do it the right way.
---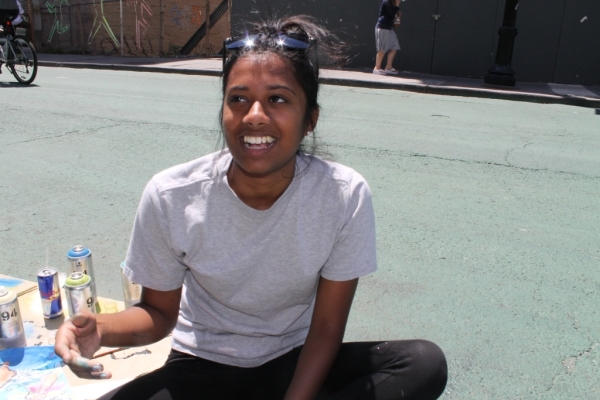 What's your name? My name is Alanena Rambaran.
What do you do? I am an artist.
Are you from Jersey City? Yes.
How old are you? I will be eighteen in August.
So how long have you been doing art? Since I was in eighth grade, I really wasn't like an inspired person to be an artist. I felt like being an artist was not my thing because I could not draw for my life. But then I got into this art program called [Jersey City Arts (colloquially known as JCArts)] it's located in Henry Snyder High School. It used to be in NJCU but now they moved it to a magnet program in Henry Snyder High School and then there for four years I learned to pursue art. They help you start from the bottom to be the best.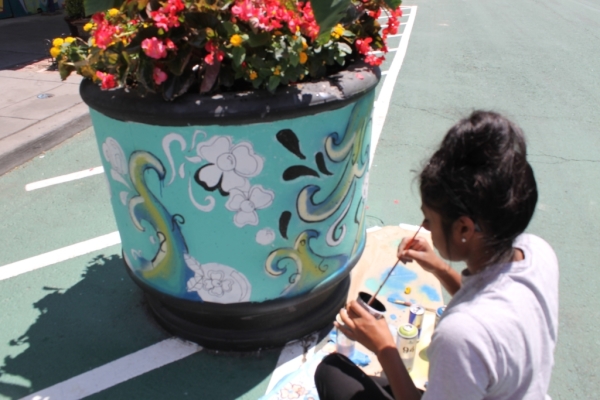 Can you tell me about your mural? I decided to go with Koi Fish because I don't feel like everybody else would try to do a Koi Fish and I was inspired because they are so beautiful.
What inspired this? Duda, he wanted everything to be unified so he decided to go with animals and automatically I decide to go with Koi Fish because I love the tattoos of Koi Fish, all the vibrant colors and everything like that. I feel like I could flow the fins with the waves pretty well and just make it work.
Do you have a favorite Jersey City hangout spot? Not really. I would like to be all over.
---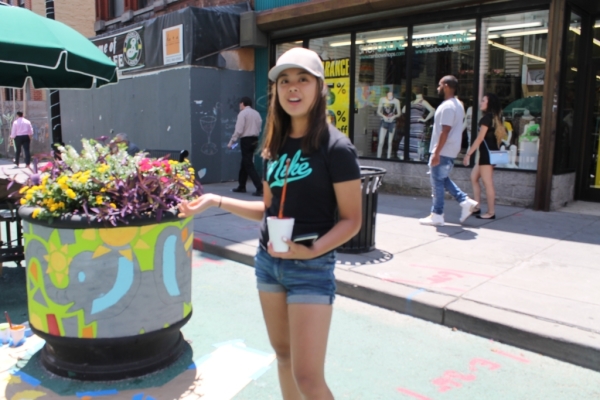 What's your name? My name is Kristina Paragas.
What do you do? I am an artist here in Jersey City and I just graduated high school.
How did you get into the Summer Works Program? I was originally in [the] JCArts program and one of my teachers recommended it to me and she was like, "It would be a great program to just learn and experience more with other artists," and I was like, "Alright, I'll just give it a shot."
Can you tell me a little bit more about your work? So when they told us that we were going to be here Downtown and it's gonna to be around a family friendly part of it. I decided that it'd be best to make my design very playful so I decided to do it a kid-based design so it's like animals [and] the fun shapes.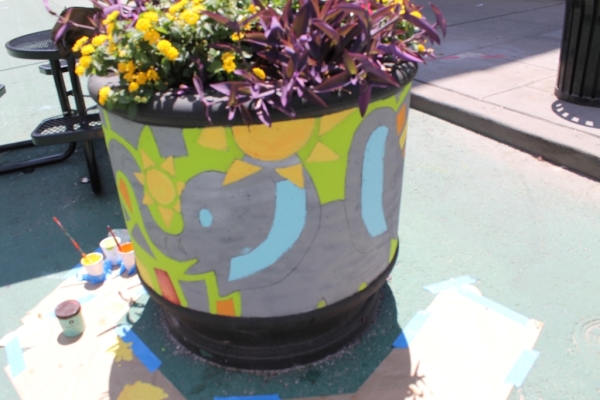 So you're doing this all summer? Yes. It depends how long the program will be until.
What do you like about it? I like that we have our own space, like we're able to just come out here in Jersey and just paint somewhere so that other people can see it. And I like when people are just like, "Hey, that's really good," and I feel enlightened that they enjoy seeing artwork just going around Jersey.
Do you have a favorite Jersey City hangout spot? I guess now it's this place, it's here in Downtown.
---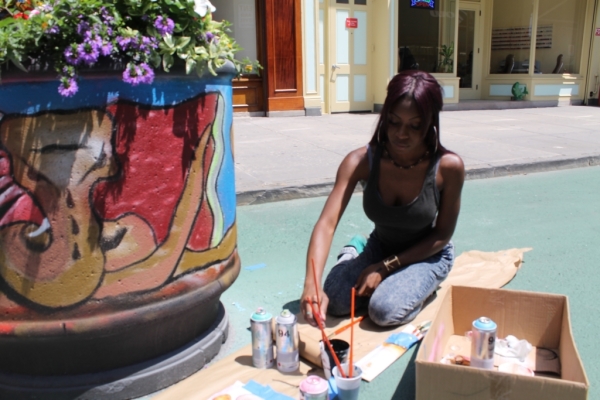 What's your name? Charnell.
What do you do? Right now I'm doing a mural for Jersey City.
How did you get into it? I just went to Mary Bethune Center and I applied there. They [were] talking to me about an art program. I thought about joining it.
How long have you been painting? All my life really.
Can you tell me about your mural? It's an elephant, as you can see the elephant's trunk is long, I tried to play it off and connect it to the octopus.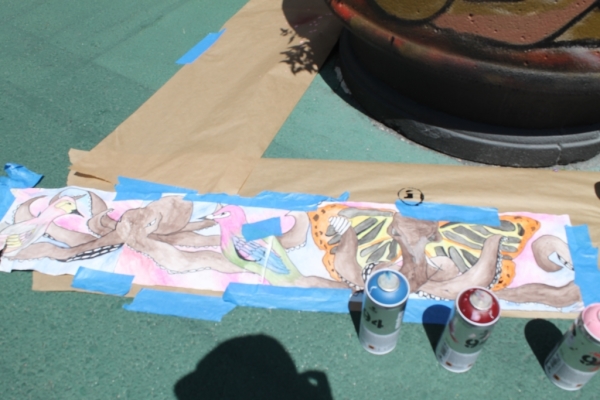 What do you like about this program? I just joined it this year, it's my first time. I like because it's in public and everyone can see my creativity.
Are you from Jersey City? Yeah.
Do you have a favorite Jersey City hangout spot? Sometimes the mall, Newport Mall.
How would you define your style of art? I can't. Every time I draw something, I never have a title to it; it's just my imagination, something creative.
---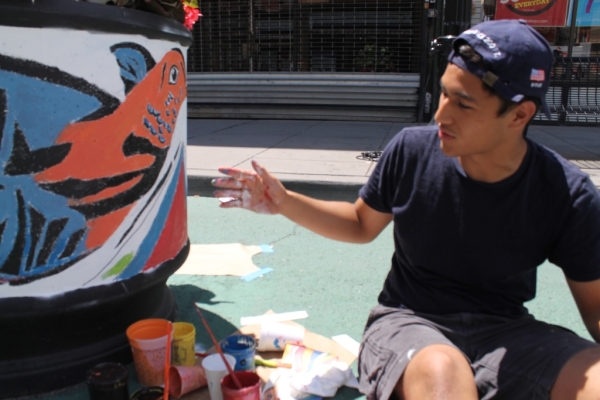 What's your name? Luis.
What do you do? This is actually a job, painting murals.
So you're an artist? Yes. I am an artist.
So what we're doing now, we're painting each pot; each individual is painting their own pot with their own design. So this is my design.
Can you tell me a little bit more about it? Oh, of course. Well, since my girlfriend likes giraffes, I added a giraffe and since my other friend likes humming birds, so I added a humming bird.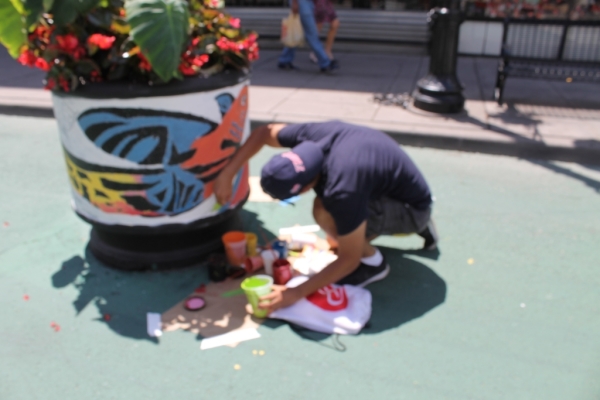 You're a good friend and boyfriend. I actually tried to combine them together and tried to make brighter colors, like neon colors so you could identify them from afar.
How long have you been doing art? Since 2nd grade actually, I started drawing dinosaurs, I started by tracing them and I really loved it a lot. It was a really great experience.
How did you get into this program? We actually had an interview actually I graduated high school and then they actually picked good artists to do the murals and now we're doing this.
Where do you live? I actually live right next to Saint Peter's University.
Do you have a favorite Jersey City hangout spot? Newport Mall.
---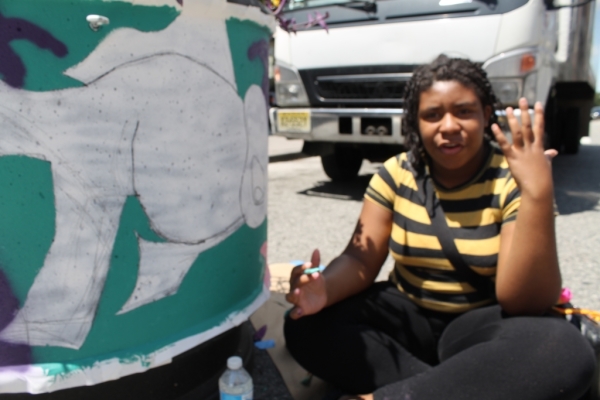 What's your name? My name is Alicia Reed.
What do you do? I'm an artist.
Can you tell me about the Summer Works Program? Well, they asked us to do murals around Jersey City and this was one of the spots and then we have this park that we're doing which is big so it's includes all the sides of the park. Each of us gets our own image, like we make it up ourselves and we paint it on.
Can you tell me about your work? First my idea was to do starfish and then we added goldfish to it so I combined this idea of the underwater—the starfish and the goldfish being together. And starfish [are] kind of funny, they have no set color so they can be kind of any color, but they're any color because they're either trying to blend in or stand out so that predators don't eat them.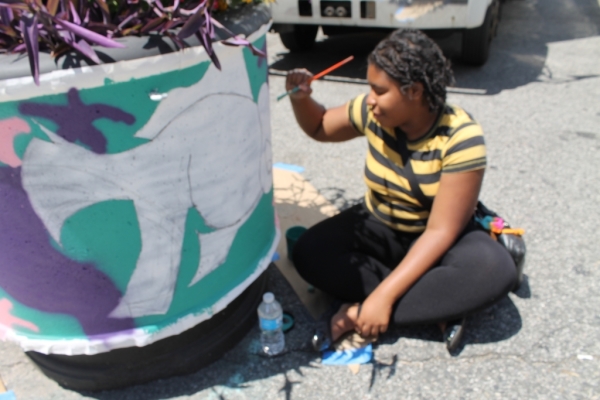 I love it, it's really cute. It's going to be so kid-friendly too. Yeah, I wanted something like that because we're around an area that's probably got a lot of kids. I saw there was a kid's center and they come out and play so it kind of makes sense like something that's like, "Oh fish!" like something they know like a star.
How did you get into the program? My teacher shot out an email just before the end of the school year and she was like, "Oh there's a summer work program where you guys do art and you get to use spray paint," and I decided, "Eh, I'll try it!" It seemed like a great idea.
Where are you from? I'm from Jersey City, I live uptown.
Do you have a favorite Jersey City hangout spot? My house, I'm a homebody I really don't go outside.
Do you want to be an artist when you grow up? Yes, I'm going to college to become a biomedical artist.
---
The program runs from July 6th-Aug 14th, 10am-3pm Mon, Weds & Fri at the Bethune Center, 140 MLK drive.