Sean Lugo is the first artist I interviewed for the blog. The very first creative that gave me a chance before this was even a thing. I remember we sat down at Barcade and got to know each other over beers, and I got to listen to his story. I've always been a big fan of street art culture since my Montreal days, but never dreamed in a million years that part of my job would be to write about it and get to know the people and stories behind it. It's awesome.
I enjoyed meeting Sean so much that afterwards, it became apparent that the blog would have a heavy focus on the artist community in Jersey City. Since then, we've interviewed hundreds of artists and I honestly have Sean to thank for that. We've been friends and kept in touch since, and one day he asked me to be a model for a wheat pastes he would be putting up in Jersey City.
This was a highlight of my career, being made into a wheat paste that would be put up in two locations in Jersey City, in Miami, Long Island City and Philadelphia. Coolest thing ever. We called her ChicBearJC.
A few months ago, we messaged and I told him that my wheat paste needed an upgrade. I was no longer that person he sketched a few years ago.
So Chicbear got a makeover and I couldn't be happier.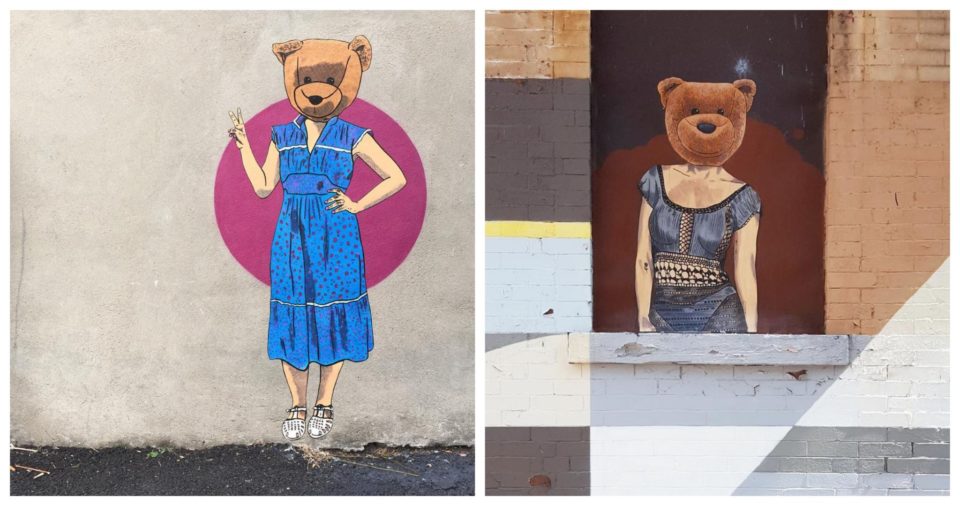 We took this opportunity to catch up on all his new work and current shows in Jersey City.
---
What's your name and what do you do?
Sean 9 Lugo. When I'm not working my full time job, I create art and enjoy time with my wife and cat.
So you were one of the first artists we interviewed on ChicpeaJC over 5 years ago! What have you been up to since then?
Just trying to survive and be creative as much as possible.
Tell us more about your work and your style. Why the bear heads?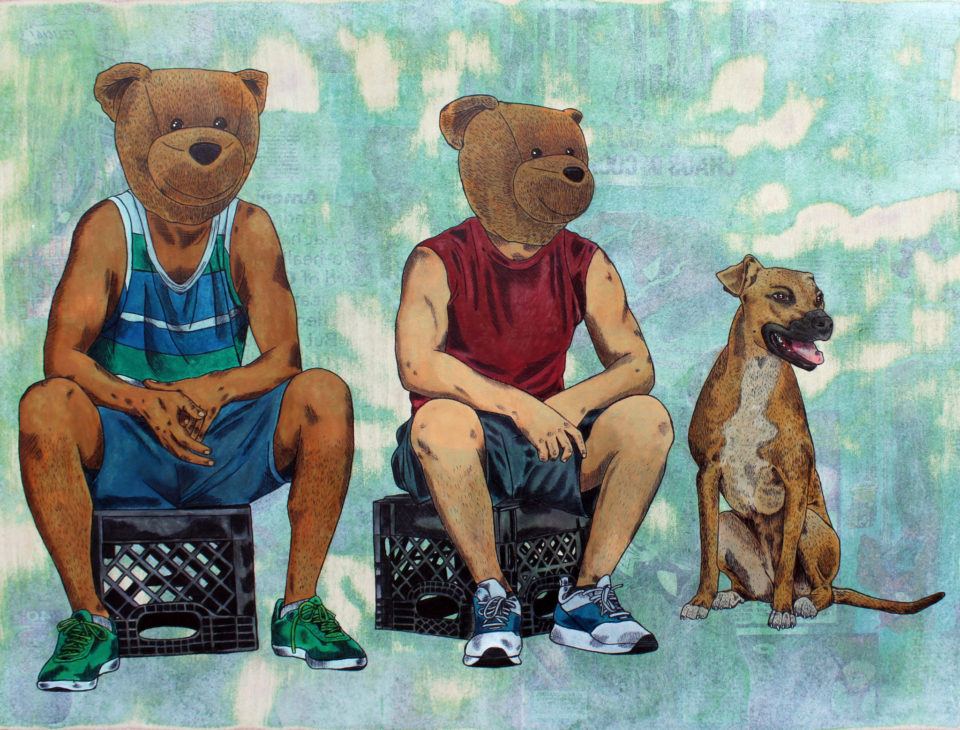 My style is illustrative style. In general, I draw heads on people because of the misconceptions we have about others. Put a 'mask' on the person and suddenly you don't really know who it is or what side of them are you getting (everyone is two-faced whether we admit to it or deny it).
The bear head was brought to my attention by my homie Boogie Down Michael.  When I was telling him about my series he showed me photos of a teddy bear his ex-girlfriend bought him and how we cut their heads off and took photos with them. It looked so dope that I went on eBay that same night and bought those teddy bears, and the rest is history.
A few years ago, we collaborated on a #ChicBearJC wheat paste, tell us a little more about this collaboration.
I love showing love to people who support what I do and inspire me. Many of my wheat pastes are of people that do exactly this (i.e. my Clones of Illadelph series). You are one of those in JC so it was only right to create you as a wheat paste.
ChicBearJC recently got a makeover! How was that process?
Shit, you have to ask yourself that question… you are the one who put in all the work and busted your ass to get to where you are now. I just picked up pencil and paper and looked at a photo.
You have a show at Deep Space, give us all the details and info.
The opening was Saturday, September 7th but runs until September 28th and there will be a closing reception.  The show is entitled La Lucha. As someone who is no stranger to struggle, La Lucha is my most personal body of work to date. It delves into what's really behind the mask, touching on [sensitive] subjects that many are too afraid to admit to. It is the depression we are unable to face; the corners that we grew up on; the uncertainty of where our next meal will come from; the five finger discounts we [sometimes hesitantly] get; and the beat downs that come our way, all of which is worth it in the end due to the love in our lives.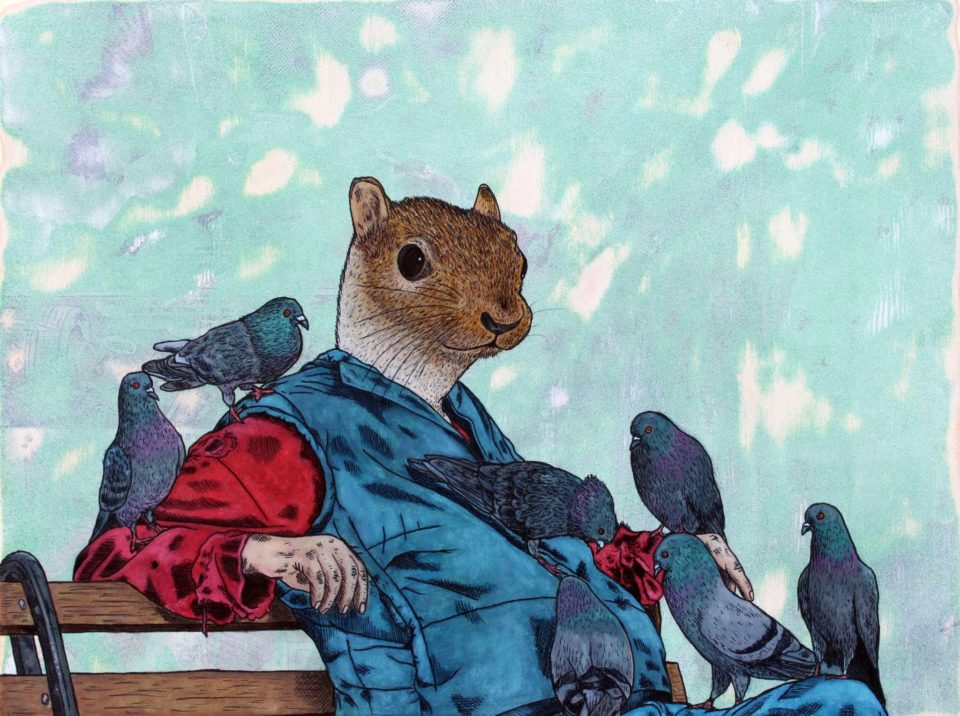 Any upcoming projects you would like to talk about?
I've got a couple things in the works, including a new street series that I hope to finish before it gets cold… this series will touch on a huge problem more and more people in our country face.
How do you feel about the emerging art scene in Jersey City? how do you feel it's changed in the last few years?
I honestly can't really speak on the art scene since I moved out of state a few years ago. There are a lot of murals which is great, but I don't feel like enough of them have to do with the history of JC or are community-based enough. Jersey City has a great history and it would be great to see more murals based on that.
What inspires you?
Check out my show La Lucha and you can see bits and pieces of what inspires me. Struggle; the good, the bad, the ugly; those who support me, hate me, and who are creative; things I experience; all of these aspects are what make the cogs move.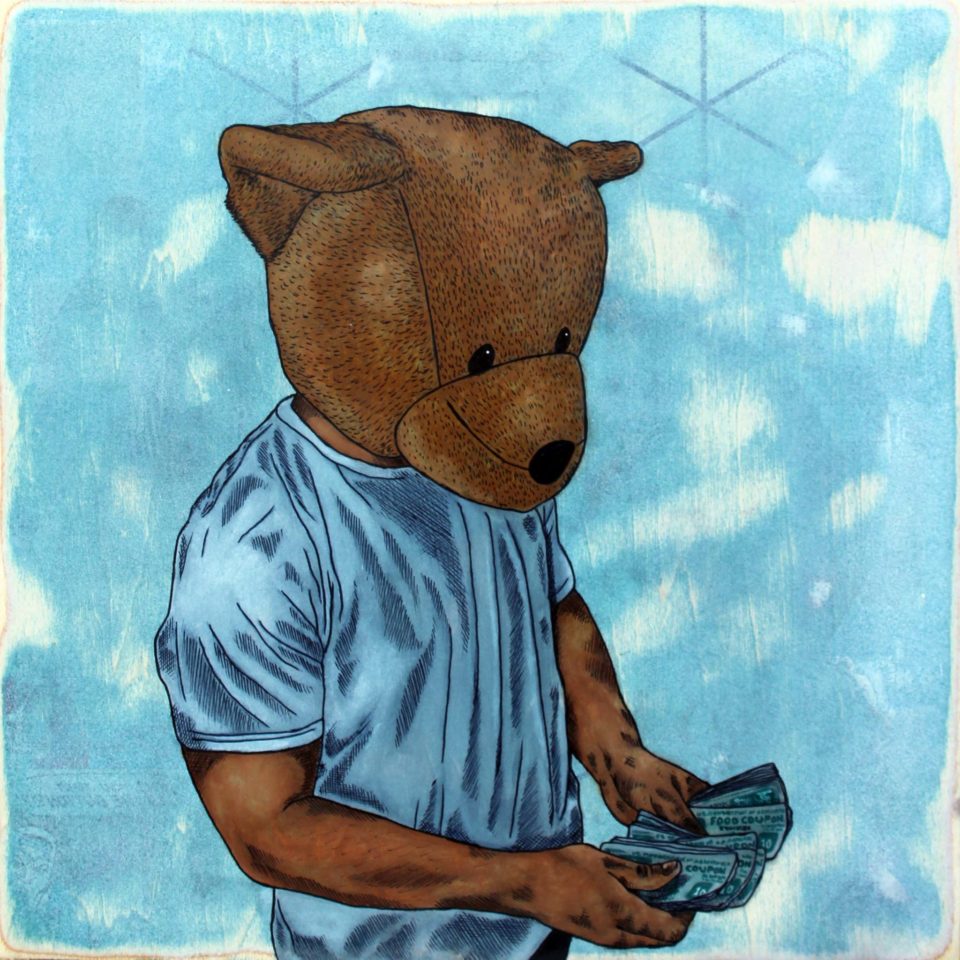 Favorite Jersey City hangout spot?
It's been a while since I hung out in JC but I used to enjoy going to The Key Hole, Lucky 7's & LITM.
Anything else you would like people to know?
Go to Deep Space Gallery and check out work from myself and the savage LNY.  Closing is September 28th and I will be there giving out free sticker packs to the first 20 people that stop in. Thanks again for all the support and wish you nothing but the very best.