Every time I walk down the street and see any kind of street art, I always wonder who is behind it and what the story is. After interviewing my first Street Artist Sean Lugo, I found out about Savage Habbit; A Street art blog that is behind 10 or so murals in Jersey City. Savage Habbit works with street artists from around the world to bring us the most amazing murals.
I was invited to check out Savage Habbit's two latest projects, the first one with Toronto based Artist Li-Hill and the second one with artist Maturuda and Nanook. I also got the chance to get to know the person behind Savage Habbit…
So who is Savage Habbit? To be honest, at first I thought it would be a group of street artists that like to write and collaborate with others… Nope, that is not it!  The person behind Savage Habbit is Inez, a really pretty young lady, who has a passion for street art. She is really sweet and knows her shit, I love meeting other Girl Bosses. Who run the world?! GIRLS!
Inez, can you tell us what's happening now? This is one of the murals that we have going on for the Savage Habit Murals project, the artist is Li- Hill. He is a Toronto based artist that just recently moved down to Brooklyn. This is the second wall we are doing with him…. most of his work is based on movement and motion. He has a whole series that he's been working on… kind of the competitive nature of olympians and how they are bred and raised to be what they are. With this wall he is doing a fencer in motion, in different stances of movement….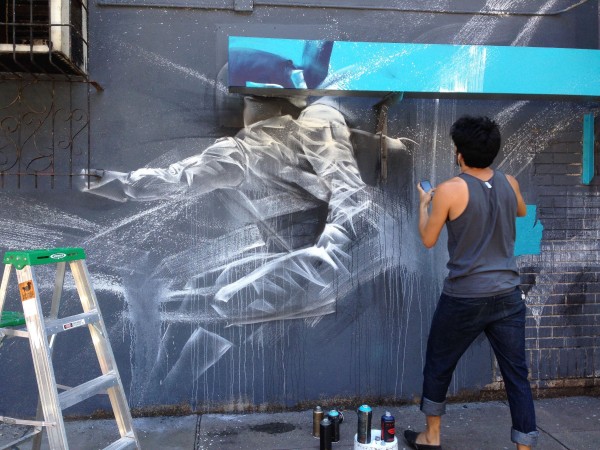 How do you go about planning the murals? The murals usually start by first getting the wall which is always the hardest part…. We've been able to work with realtors that have different properties so it makes it a little easier, so you don't have to go to too many people to ask…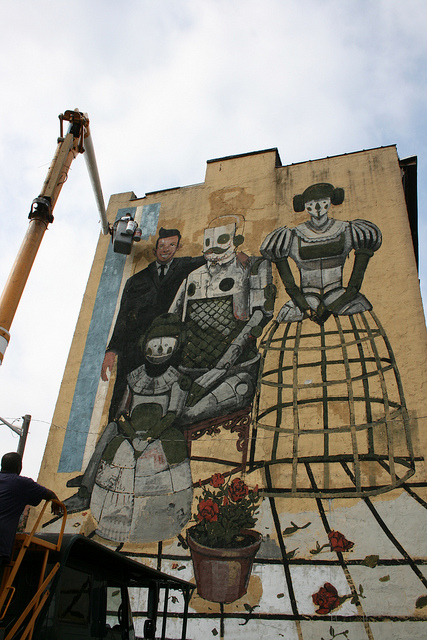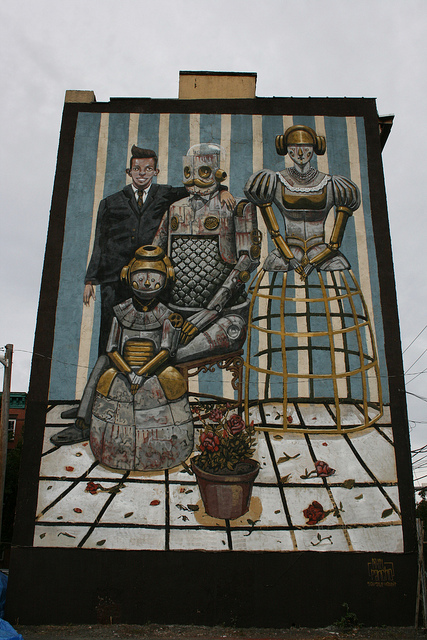 So that's how you find the wall? Most of them except for 2 or 3 which where individual owners…. the other ones are through realtors so they have their own property and their own development and everything…. that's how it starts off and based on the location of the mural, that is how I try to figure out which artist will work best for it. We work with various artists from overseas, the states and local artists. Many times, depending on if somebody is visiting then… This artist Alice Pasquini, her work is super child friendly, she has very positive messages in her work so I thought it would be perfect for the daycare.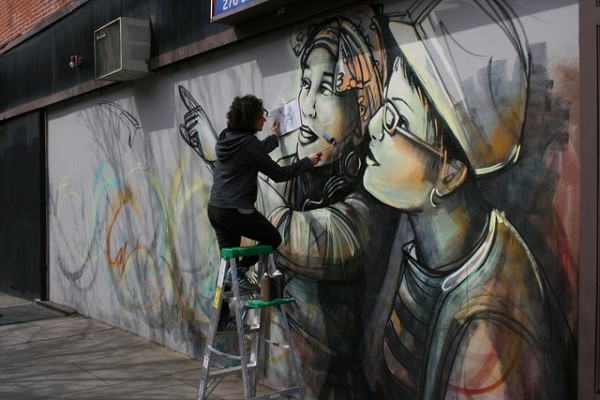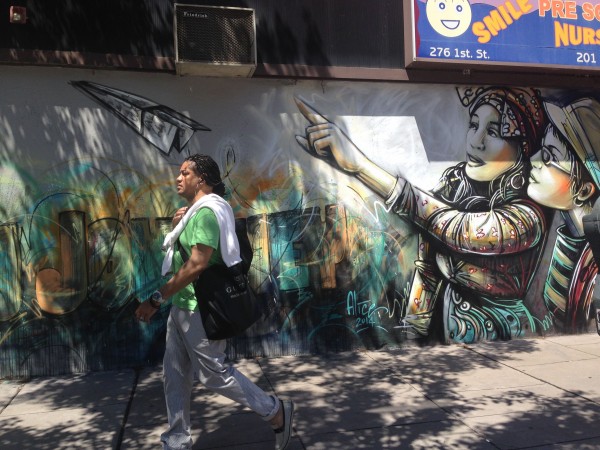 It really depends on their style of work and where they would best fit. Li-Hill is really great with working with obstacles with the type of work he does… and this wall is shaped weird and has stuff sticking out… which works for it.
Does the city have to approve the mural? Savage Habbit is not city affiliated in any way… the murals are not city affiliated. Everything is all completely supported and funded by us and I am trying to finally get some local businesses to support the project, so any donations are welcome so we can buy paint and supplies….we can have more murals to our streets.
To Support Savage Habbit Click Here!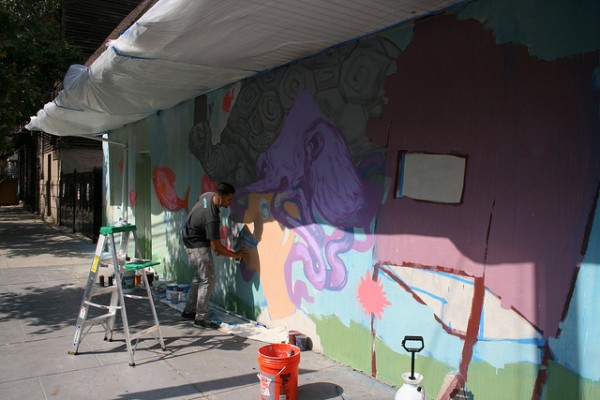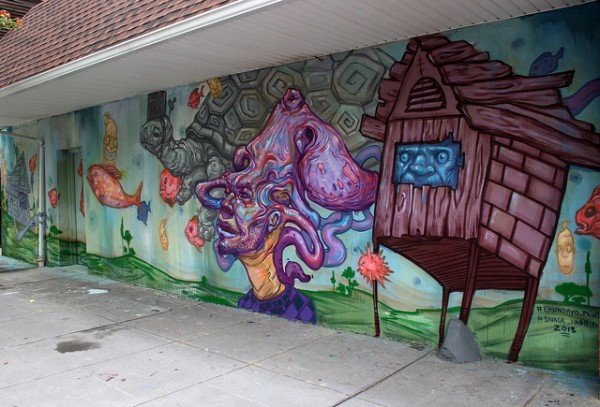 How do you guys pay the rent? Since its self funded we know how to budget things really well… we can't pay the artists, I wish we could give them something but they are taken care of in any way possible and then most of them want to paint because they love to paint and because we have good relationships with them so through the art blog I am able to have a good network with them.
What is Savage Habit? Savage is an art blog that I run, it is mostly street art.
How did you get into it? I've always been into street art, I did a thesis back in college, writing about the globalization of graffiti… Savage Habbit used to be the name of my fiance's website and art , and he said that this name should be used for something cooler… and at the time I stopped writing for a while and complaining that I kept going to other art blogs to see what was going on and I had to go to three different places to see what I wanted to see… so it kind of started out of something selfish…. So that is how Savage Habbit started, I put up posts that I wanted to see in an art blog on a daily basis.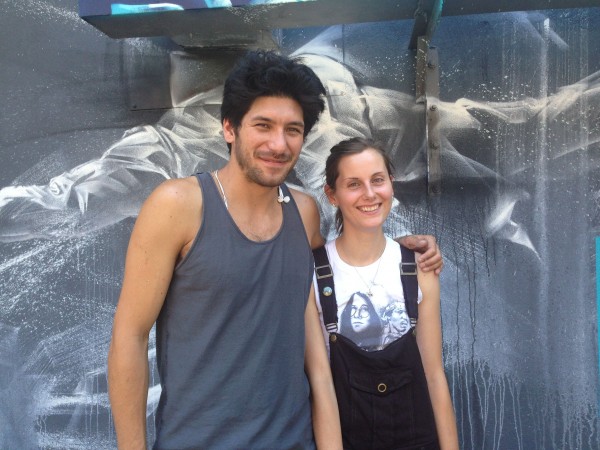 Do you do any street art yourself? Haha no. I put stickers up that is how far I go with that…With the art blog if you support them constantly the support comes back and I got good contacts with them and they will let you know when they are around during this time…. it usually goes from there. I like to keep a good balance between overseas and local people so its a good way of globalizing the local art scene but still keep it true to what the community is at the time.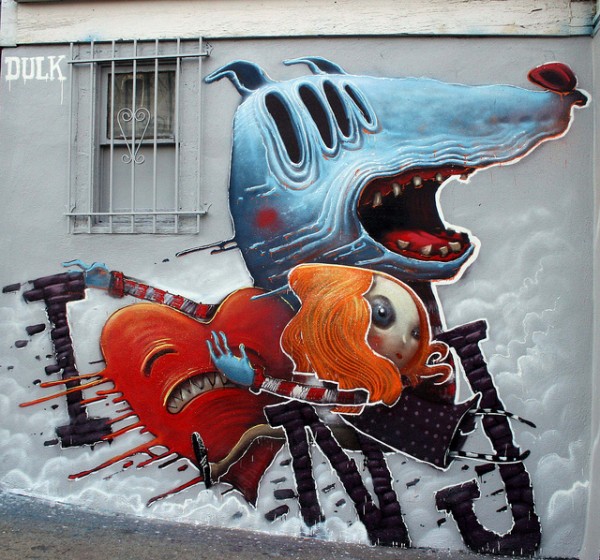 Is it only in Jersey City? Yeah only downtown Jersey City but hoping to go up to the Heights and by Journal Square… right now everything is down here.
Have you worked with Jersey City artists? We did a wall in the Heights on Mountain Road with Mr Mustart. He's done alot of stuff in Jersey City.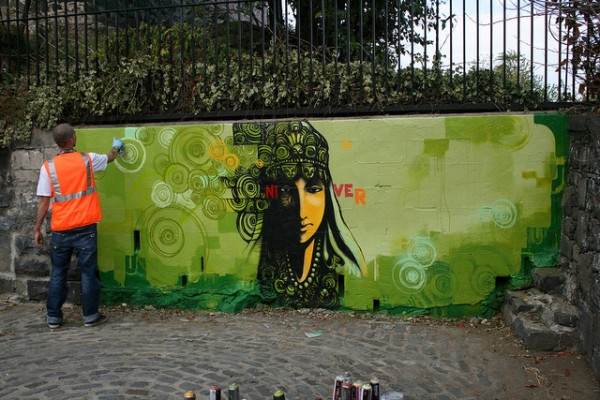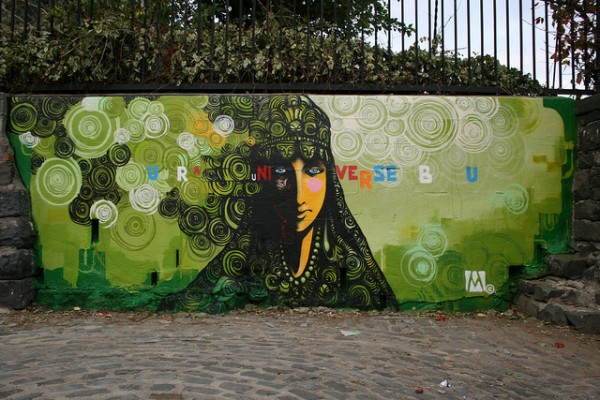 In terms of Jersey artist we worked with LNY he did the falling crown mural and he is based out of Newark.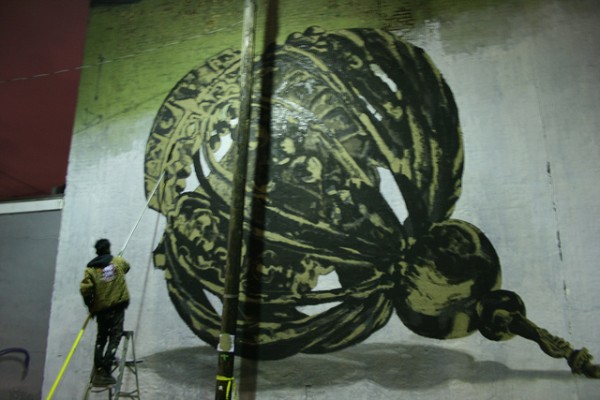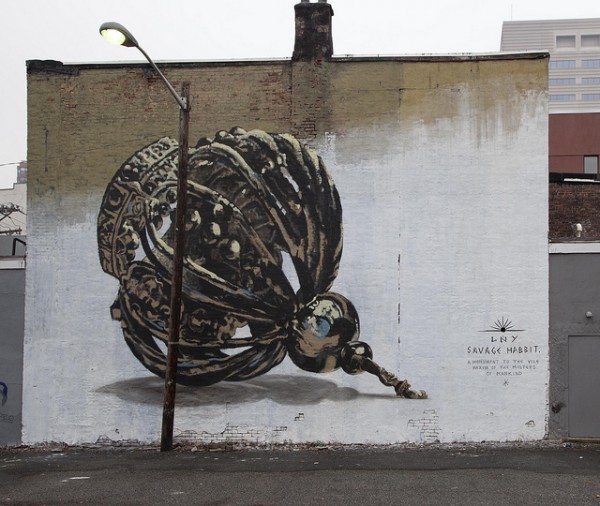 What about this one? the Hand? Case is from Germany we did that a month ago….He is one of the founding members of the Maclaim Crew (?) they are one of the best crews in terms of photo realism out in Europe and the world right now… most of his work is based on the power of movement and that is why he has hand signs in all his work…. This piece is about Fight for Peace, the hand is the fight connecting to Peace…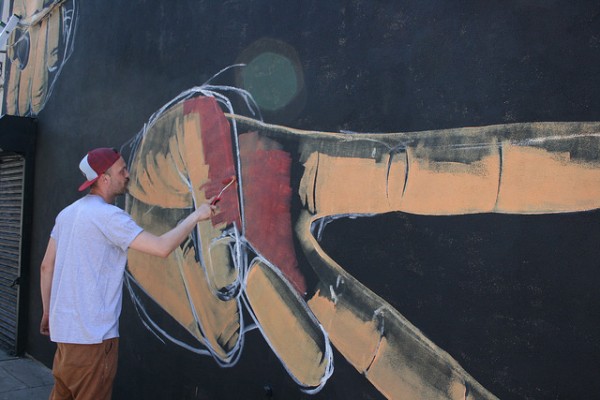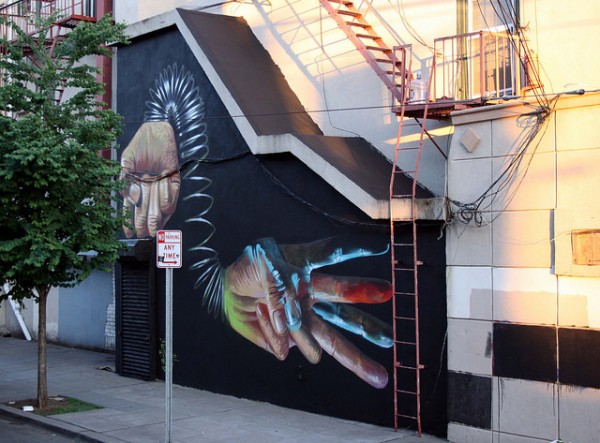 I believe in globalizing and bringing different styles of art because otherwise you will see the same stuff over and over. Having different artists from different places will inspire people that live here a different point of view without having to actually leave the community and get a taste of what it is if you had to go elsewhere.
All the murals you guys do are very different… Yeah which I love how different it is, you really get to see that there is so much to it outside of Jersey in general.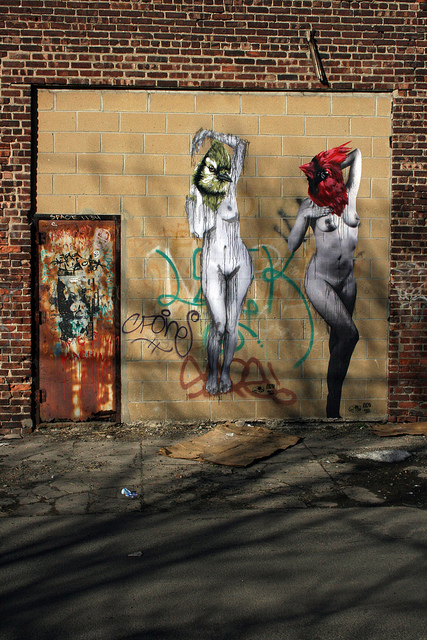 What's next for Savage Habit? Our blog is going to continue and as for the murals as well, just to keep bringing more murals and getting more support from the community. Just keep doing it, adding more every year… Maybe at some point bring in a street art festival… like a one week thing where there is a bunch of walls going on at the same time.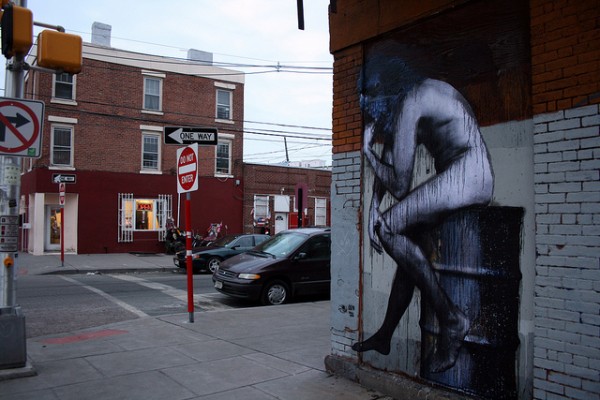 They do that in Montreal, actually! Yeah the Mural festival…. Yeah I totally want to, but I feel like the city is not ready for that yet. Eventually it will happen.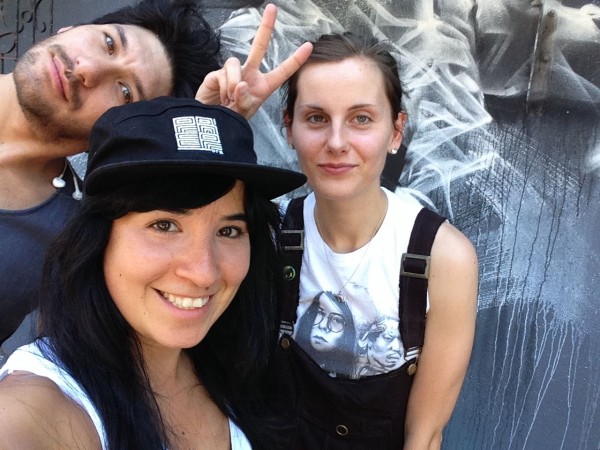 ---
After chatting with Inez I got to catch up with Toronto artist Li-Hill on his latest project.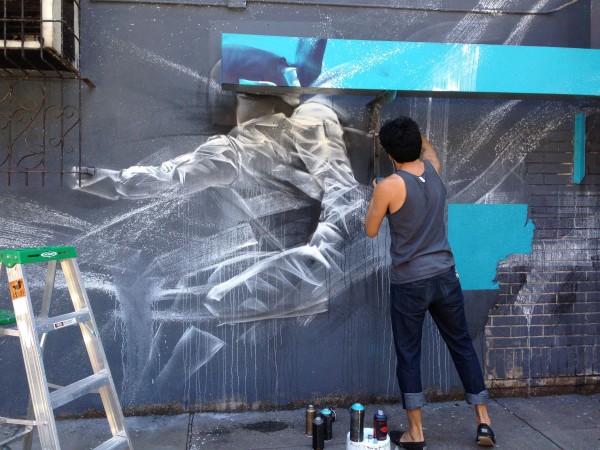 What is your name? Aaron Li Hill
How long have you been living in the US? Almost a year.
How come you moved to NY? My girlfriend moved to NY for a scholarship and I am a dual citizen.
Where you doing street art in Toronto? Yeah! I do it wherever I can now, I contacted Savage Habbit about a year ago to try and get a wall and as soon as I arrived here, I tried to get as many walls as I can … murals are my favorite thing to do.
What is your concept here? It is multiple exposure image fencers from the olympics… my concept talks about contemporary culture and contemporary forms of competition… and fencers to me are the perfect elusion to that because sword fighting is such an old concept of a fighting competition but fencers themselves from the olympics are kind of the futuristic version of this but still has this overlaying concept of dominance and having that nature of competition….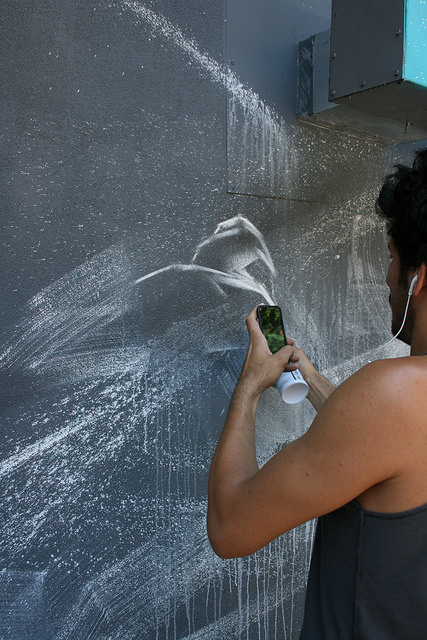 Do all your murals have this kind of theme? A lot of them have some sort of political social environmental  themes embedded in them… this specifically is like a whole other realm and has to do with my multiple exposure imagery …
How did you start street art? When I was really young, I got arrested and one of my punishments was a mural for a catholic school… and that led to more and more things… I enjoy the walls.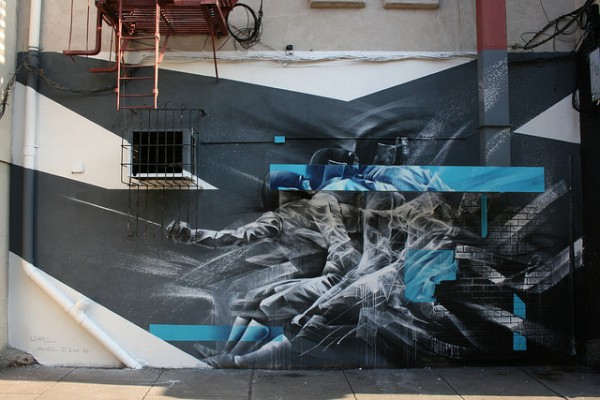 Do you sell prints? Yeah I sell prints, you can check out my website.
What other walls have you done? I did another wall with Savage Habbit by the Grove street path station. That one is a ping pong player… I will be doing another one in Jersey City coming up. I have another piece in Williamsburg that is on a Vintage store…. I did a collaborative piece in Bushwick at the Bushwick collective with Kaffeine from Australia.
Instagram @Li Hill
---
The following week, Inez let me know about the most recent project; a massive mural on Christopher Columbus drive. A collaboration between two friends and two amazing artists; Nanook and Mataruda…. and I got a chance to catch up with them while on their lunch break.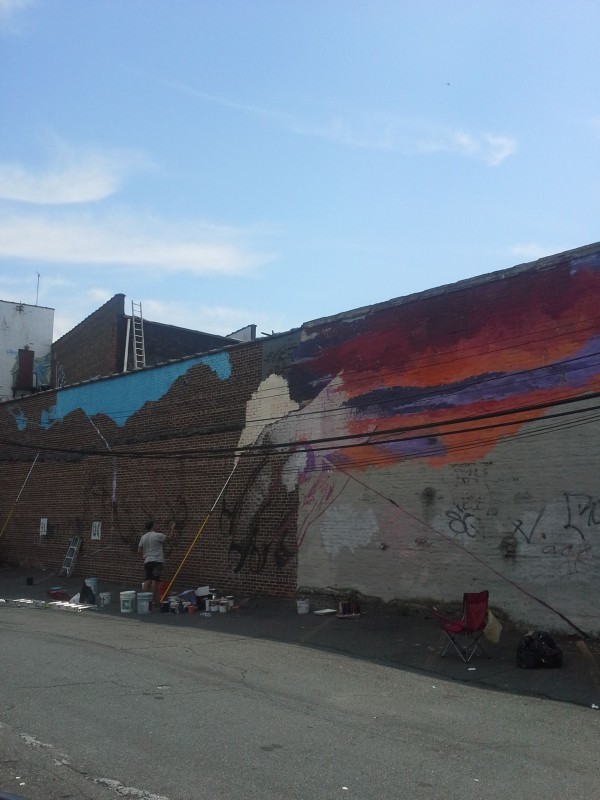 Can your tell me the concept behind this mural? (Mataruda) Yeah, David and I came to Jersey City to do research on this area and on the city in general and we found some interesting facts about this guy Peter Henderson who was a horticulturist in the US but mostly based out of Jersey City and had green houses everywhere …. he was a little ahead of his time. So we wanted to do something that connected with the history of Jersey City's horticulture and tied it into contemporary people that handled fruits, vegetables, plants…. we wanted to tie it in with the Mexican immigrant population.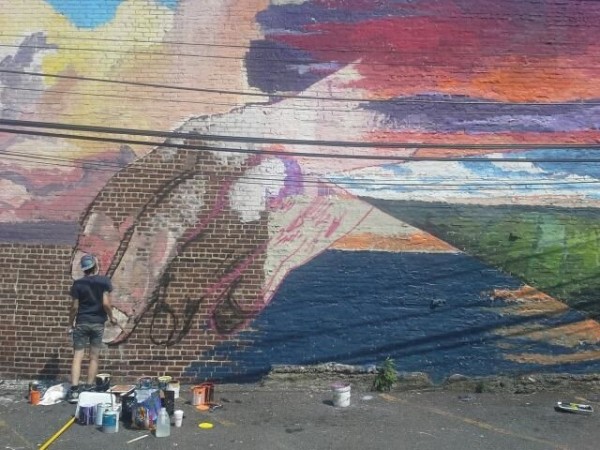 At first we had a sketch which was a portrait of an undocumented worker and a statue of Ceres (goddess of harvest and agriculture…. So we wanted to tie in the history of Jersey City's horticulture with the contemporary issue of invisible hispanic population of undocumented people in Jersey City.
(Nanook) If you look at the mural you have the left hand side…. well you have two boxes which are referencing the green houses, localizing nature scenes…. having flowers that are the same but drawing different lights….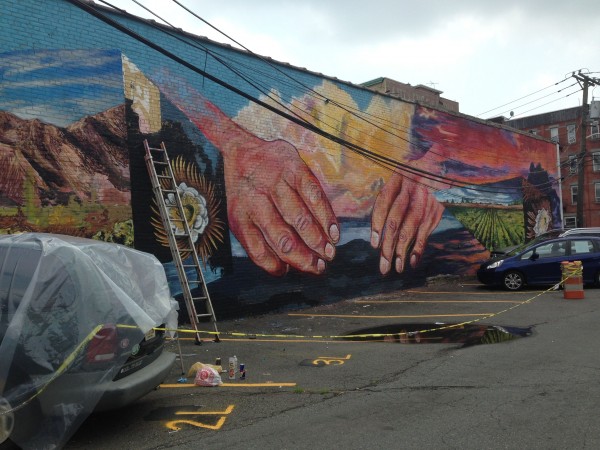 There is a domestic flower over here, next to a field that is in the United States and then left hand side you have a mountain range that is found in Mexico City…. and another flower that has a church in the background and then in the center you have two hands that are interacting with a Loreal Novelist; one of those plants that the greeks used to use as a crown…. which goes back to Ceres and not being able to paint her so we are referencing Greek culture…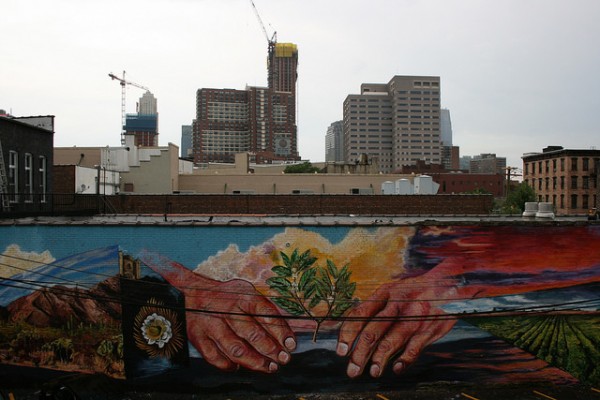 How come you weren't allowed to paint her? The owners did not want any representation of people and faces. So replaced the people with the hands that are referencing Diego Reveres drawing. We used the direct reference of his hands and the plant to connect it to our original idea.
How did you guys work together? Coming up with this idea? It's really easy to work with Mataruda (or Carl) we have very similar hands in the way that we paint… we are really drawn to similar iconography , our visual lexicon is super similar and so as soon as we started uncovering things about Jersey City…. the ideas really popped out…and we sat down at our computers and emailed each other mockups back and forth till we came up with a balanced composition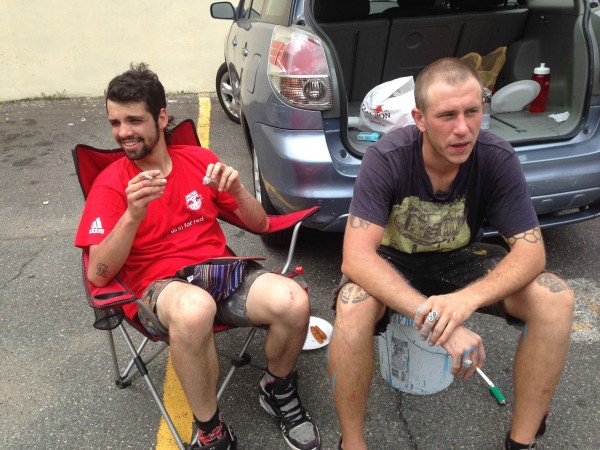 (Mataruda) We have a really similar approach to how we do things…. I learned alot from him, we both lived in Baltimore for a while…. I started learning through him and Gaia on how to so spray paint and do walls … They influenced the way I approach the work… so its not a foreign language, we speak the same language and we are also friends…."
Any fighting while doing this? No we are brothers, when it comes to work we are on the same page.
How do you guys like Jersey City? I really love Jersey City, the community definitely came out to give us support…. whether it is giving us food or water or just telling us how much they enjoy the process and appreciate the work. Its a nice block that we are on in Jersey City….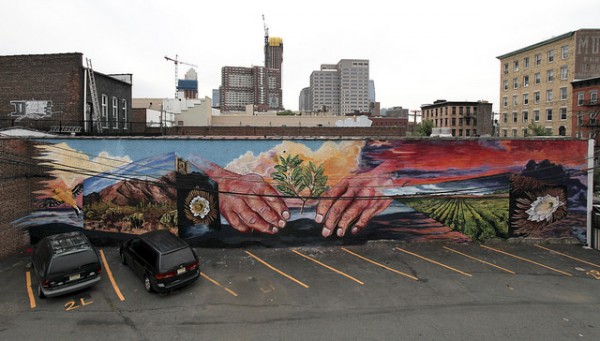 If you are into street art, you must check out Savage Habbit. Inez was gracious enough to include me in these latest projects and hooking me up with some dope pics for your enjoyment.
For more info on all the Savage Habbit Murals check out the links below!