We've seen amazing artists come out of Jersey City – Joe Budden, Akon, Albee Al, the list goes on. The amount of talent here is incredible, and it's always a great moment when we see artists succeed on a larger scale.
---
Jay Hype
Jay Hype is an artist and has been rapping for years.
We reached out to JayHype about her most recent track and video, and how she felt about how well-received it was by everyone, including Kanye.
The music video for "Lines" is a montage of my time on Teyana Taylor's "KTSE" Tour. In my eyes, I couldn't have done a more perfect video for that song. Lines is about working towards a goal & not getting discouraged by what life throws at you. It's about overcoming obstacles & remembering that your time will come you just have to stay at it.

I'm extremely happy & very moved by all the recent love & support I've been receiving from the public as well as 'Ye. I didn't even know he was going to post the video especially because it wasn't out yet but I'm grateful nonetheless that he felt it was fresh enough to post lol. I've been receiving such heartfelt messages from all over the world & it lets me know that I'm moving in the right direction with no plans of ever stopping!
ONHEL
Onhel is a producer and engineer who's been in the game for over a decade.
Onhel recently worked on "Mona Lisa," a track by Lil Wayne and Kendrick Lamar for Tha Carter V. We had the chance to ask him about his work and how he felt being a part of the project.
What do you do and how did you get started?
I produce music for recording artists. I started off as a recording engineer in 2004. During that time I worked with many producers and artists in the industry. I started to build my network then. While I was engineering. I produced a few tracks here and there but was not able to focus on it. As an engineer working with and for artists that would work twenty hrs a day, I was not able to focus on much else. It wasn't until about two years ago that I stopped engineering to focus on producing.
What is your experience as a Jersey City creative? Has the area or the people you met here influenced your craft?
Being from Jersey City, I love being able to create in my hometown! To be honest, I can do what I do anywhere. Being home doing it just feels better. Growing up here definitely has influenced me musically. My grandfather would come downtown and play the tres, a Spanish guitar, with his buddies. My older cousin, Eddie was putting me on to Nas. While my older sister was blasting Nirvana. Since I have moved back here a few years ago. There are a couple people I met here that are now friends, that influence me everyday. Watching Stadium Status spin at Wong's always gives me ideas. My boy, Vic, that I share my studio with is a beast with visuals. Bri Scully with video. Surrounding myself with creative minds always influences me.
You have a long list of credits and years of experience. Did you always know this was something you wanted to do?
I always wished to make music. I never knew that I would be able to make it a career. So it was never a passion as a child. I always wished for a career in music but I didn't WANT it until I was 19. By 21, I was working with Beyoncé.
One of your recently produced songs "Mona Lisa" has gained popularity now that Tha Carter V is out. What was the process behind producing the song?
It was a very long process for this one. Not like many other tracks. There's live strings, clarinet, flute, sax, and other musical elements in there that were tracked to old tape. My friend, Infamous, and I are actually working on something to show how it was made. Stay tuned for that…
Are there any artists you'd like to work with that you haven't already?
Adele and Lana Del Rey.
Is there any advice you would give to other creatives in Jersey City who are trying to get into the industry, especially as a producer or an engineer?
Nothing outside the same cliché "believe in yourself" "when it gets tough, don't give up"… They are always said for a reason. Can't even remember how many times I wanted to quit music. It took me years in this industry before I got a #2 song on billboard hot 100. This goes to all creatives out there. Doesn't have be music. It goes to everyone chasing their dream whatever it may be!
Scott Lauren
Scott Lauren is a DJ who is the tour DJ for Sheck Wes. We met with him for a moment to talk about his rise as a DJ.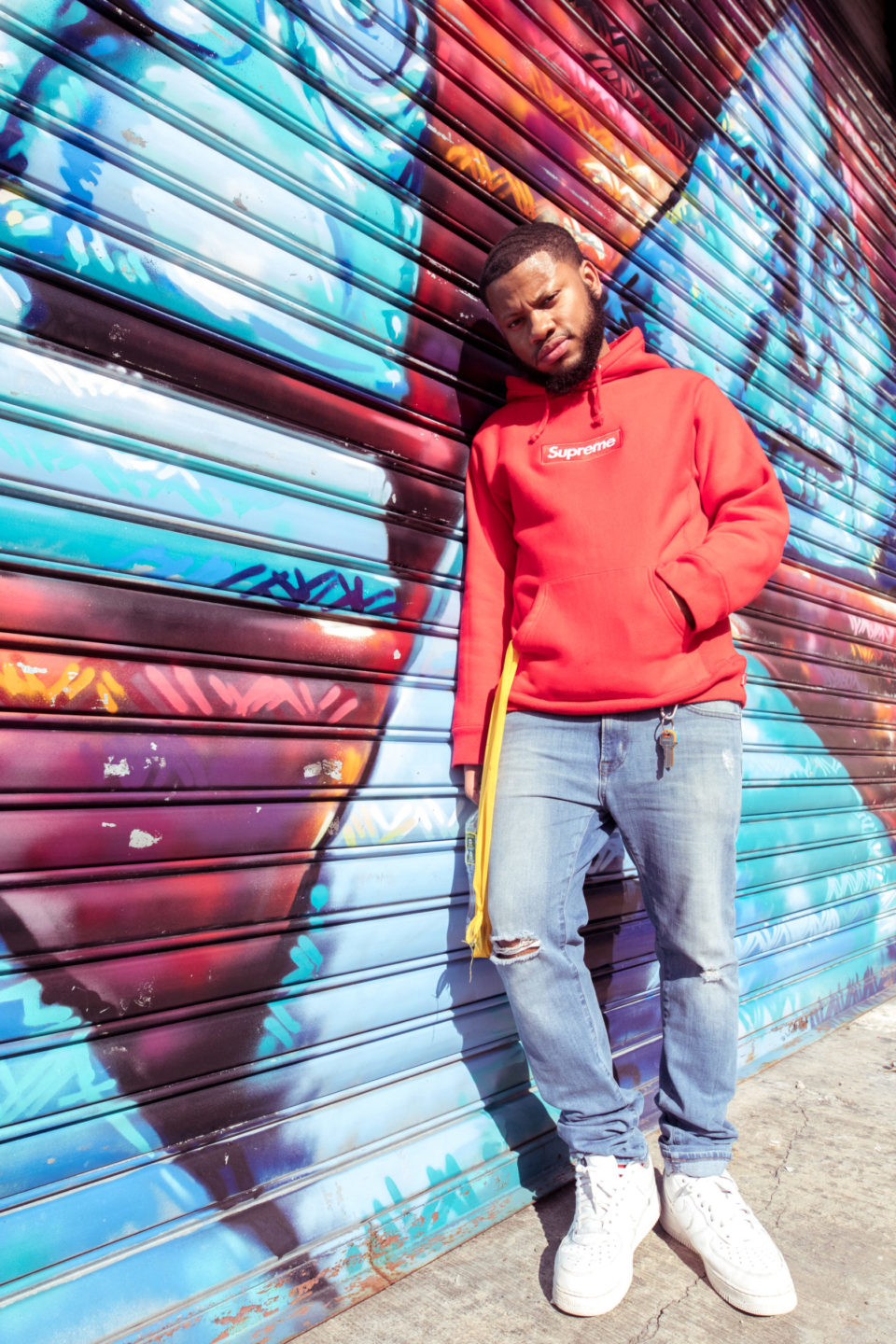 What's your name?
My name is Shaquille Tisdale. Everybody knows me as Scott Lauren out here in Jersey City.
What do you do?
I'm a DJ.
I've known you for years, and you're killing it. Let's start from the beginning – you're from Jersey City. How did you start DJing?
Originally at 14, I got behind my older brother's turntables at my dad's house. I just decided it was fun and I tried it out. Before you know it, within that same year, my dad actually bought me digital CDJs because I had the vinyl. Ever since then, I did my family's first Christmas party and it led up to years of doing Sweet 16s and baby showers. It came to a point where I even did my mom's wedding at 18. After that, being around my team, I met them through my cousin.
Who's your team?
Stragg. Self Trained Respective Aggressive Global Grinders. We're from Jersey City and East Orange. The founders are me, my big bro Bizzy, Dre, Dougie F, there's a lot of us.
And all of you guys are killing it in your ways.
Dougie's definitely big right now, his pen game is incredible. Bizzy is in the management game, his business game is crazy right now with Travis Scott and Sheck Wes. Even with Dougie. Everyone else is doing their thing – clothing, events. I'm the official touring DJ for Sheck Wes.
How did that happen?
Back in March, I got a call from Bizzy saying Sheck needed a DJ during the time everyone was going for him. I was the only guy he can think of because he felt like I was ready for that position, and from then on, we did our first show in Ole Miss. After that, we kept in touch and then we went on tour together.
So for anyone watching this who doesn't know who Sheck Wes is…
Sheck Wes is an artist signed to Travis Scott and Kanye West – GOOD Music and Cactus Jack under Interscope Records. He's an amazing rapper, a genius. He's only 20. I learned a lot of things from him, as well. His debut album recently dropped and we did a good promo run for it. Shout out to Travis Scott, he came out to the release party and turned up with us.
Live Sheck Wes was released last year, as well as Mo Bamba. As soon as we were at the top of the year, we started to push it even more and it grew on its own. It's its own monster. By September, almost a year later, it hit Billboard charts. It's at 31 right now. He's killing the game. The song takes over like crazy in every club I've been in. It's one song I can say I never get sick of hearing constantly.
And the energy you get from the crowd is probably wild.
We perform it twice at almost every show. We start off with it and finish off with it. This guy is going to be a legend.
How does it feel to be doing this?
Oh man. I kind of got some inspiration from you, by the way. I remember you were on IG Live one time around the time I was working. It's going on a year now that I've left my job.
I remember when you were at my first office and DJ'd for like 4 hours. And now you're in the big leagues!
Yeah. All praise to the most high. It's amazing. I'm proof that you can make it out here. I'm from Jersey City, born and raised. If you really want to do something, just do it. Even if your parents or close friends feel like you shouldn't do it, at the end of the day, it's your life and you just gotta keep going. There's so much talent in Jersey City.
I think part of your success is being surrounded by people who push you.
My cousin CJ always had me at these events, these venues. PeteyxKraze and Andy, shoutout to Andy Mac, they actually introduced me to a lot of people out here. When I moved to East Orange, I lost connections from a lot of people out here. That's when I started doing Open Mic sessions for Wolf Juice. That just started building my name. Even when I met Stadium Status, he put me onto the nightlife in Jersey City and within a year, I was everywhere out here. And of course, you for giving me the inspiration to keep going.
I know your biggest influence is Jay-Z.
Yes! Him and Kid Cudi. Favorite artists of all time. Kid Cudi is a god. There've been times where I'm depressed and sad, and he has music I can relate to. And Jay-Z is just the big boss. I listened to a lot of HOV and Kid Cudi growing up, and my mom would listen to Biggie, Jay-Z, even Nas.
What's next for you?
We're getting ready to go on the Astroworld Tour with Travis Scott.
That's amazing!
It's gonna be lit. I'll definitely be back out here. I want to do something out here, as well. As soon as I get that plug to get things going, I'm definitely gonna do something back in Jersey. It's only right.
What's your favorite Jersey City hang out spot?
Talde. I love Just Beclaws a lot.
Any advice you'd give to young creatives looking to break out there and live their dreams?
I'd just say to keep going. No one else can really tell you what to do. At the end of the day, you're living for yourself. When you're out here, don't let any of the negative shit get to you. It's gonna be here and gone within minutes. I was the outcast of my brothers, I wasn't in the streets, I was just doing what I wanted to do. I just continued to be me. That's all you can be, yourself, at the end of the day.
Citoonthebeat
Cito is a producer who comes from a family with a musical background. He's worked with the likes of YG, Dave East, Jadakiss, Troy Ave, and plenty more. He's always working hard and is constantly dropping new beats, as you can see on his Instagram page.
Cito is someone we've worked with before, and he's a great soul. Suaso interviewed him in 2017 for his HeARTist series on our blog, and Cito explained that he took something he loved and developed it into his own business.
I realized I had been making music for so long and saw myself standing still. I'm making all these records and I'm still in the same place, and I'm watching people younger than me around the country in places where I felt like I should have been years ago. I took a meeting with Chaka Pilgrim, president of Roc Nation, two years ago and I played her my catalogue. When I was done, her advice to me was "you're super talented 'cause I can hear it in the music, but,I don't know what to do with you because you're everywhere," and I really took that hard 'cause she was right. And it wasn't until now, at 27 years old, that I found my sound.