A new mural at Tonnelle and Sip Avenues in Journal Square is raising questions about the Jersey City Mural Arts Program.  Critics of the piece claim that the work is cultural appropriation, while others claim that it pays homage to Native American history as it relates to our city's past, as well as current events on a broader scale.
I had the chance to meet the mural's artist, Shaun Edwards a.k.a Pawn, to hear about the inspiration and intent behind his new work. I also heard from Sarah Ordway, a Jersey City artist and activist who has started a petition urging the city for a better vetting process for murals.
Public art has the unique ability to spur dialogue and create civic engagement within a community. Is the Jersey City Mural Arts program presenting public art that is capable of bettering our community in all of the ways that art has the power to do?
According to Sarah Ordway, no. She believes that Jersey City residents should be more involved in our public arts program from inception to completion. As an example, we discussed The Mural Arts program in Philadelphia, which relies on collaborations with community-based organizations, city agencies, nonprofits and schools. Sarah also believes that there should be PR for the projects that the administration is sponsoring, providing a "safety net for artists to know they are supported."
As an artist who puts his work out on the literal streets, Shaun Edwards a.k.a. Pawn is unfazed by the public critique that inherently comes along with this medium. Pawn believes that street art is a form of activism, and that if every piece of art were subject to approval by the masses, then the artist's intent would be lost. Unlike the mural arts programs in cities like Philadelphia, which was created thirty years ago, Pawn believes that Jersey City's comparatively newer mural program has the potential to represent the next phase of street art – more progressive and more rebellious in its nature.
Even so, he was shocked by the backlash that his latest piece has received. He asserts that his artwork is an act of "cultural appreciation," not cultural appropriation. The new mural is not the first time he has included Native American themes in his work. Interestingly, Pawn was the artist of the first-ever piece produced by the Jersey City Mural Arts Project back in 2013, a mural depicting a Lenape woman with a backwards American flag imposed over her face and falling feathers surrounding her head. Pawn explained that the mural depicts the irony of the symbolic meaning of the American flag, and laments the genocide of the Lenape people that occurred right here in Jersey City.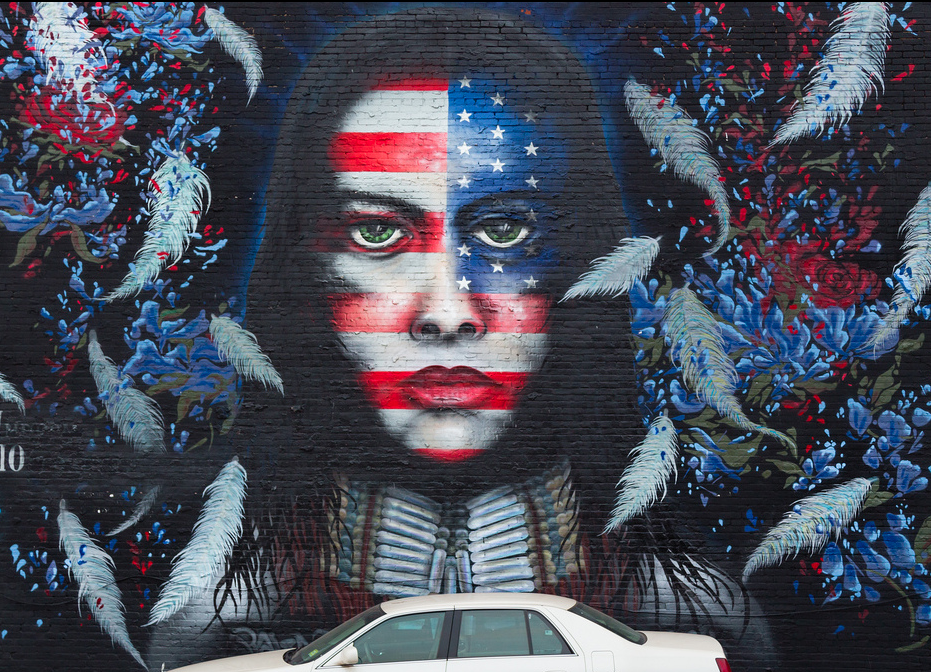 His newest mural on Sip Avenue similarly juxtaposes American symbolism with an image of Native American culture – the blazing torch of the Statue of Liberty dwarfing a glowing teepee. Pawn explains that his intent is again ironic, as a symbol of liberty looms over an image that represents the Standing Rock Sioux.  Pawn shared with me that a representative from the Alliance of Colonial Era Tribes said that the glowing light of his mural's teepee could be interpreted as "the light of liberty being an ancient reality" for Native American people.
Pawn explained that the local community picked his design out of three possible choices, and that the neighborhood's block association and building owner were involved in the vetting of the piece. He said: "I received countless compliments from people who live in this neighborhood and several members of the community board who stopped by to personally engage with me and discuss exactly what I was aiming to accomplish."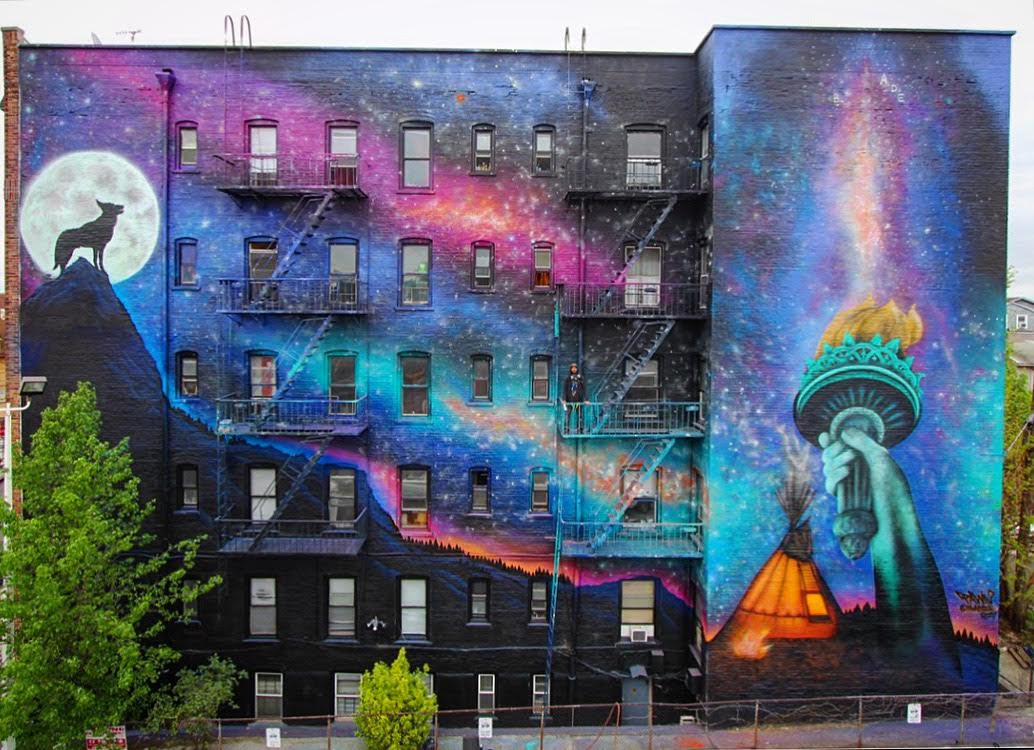 Despite the neighborhood's approval of the piece, the public reaction is evidence that street art is subject to the interpretation of residents beyond the immediate neighborhood. However; if you didn't live in the neighborhood, or speak to Pawn directly, you wouldn't find much in the way of information about the project. When I reached out to City Hall to find out why, I received an interesting explanation: the mural arts program is not funded by an arts grant, but rather a "Clean Communities" grant, which seeks to eliminate graffiti. They explained: "murals are an evidence-based method for deterring graffiti."
The Jersey City Mural Arts Project chooses empty walls, pairs them with artists and beautifies the wall while eliminating the possibility of it becoming tagged by graffiti. Local neighborhood associations are consulted for their opinions on the artist and theme. Now, a new step is being added to the process: input from a committee of community members who weigh in on the mural project at every proposal.
The Public Art Advisory Board was created just two months ago, and is tasked with "making curatorial decisions on a project-by-project basis in coordination with City's residential and business community and members of its artist community" as well as "development for education and promotion of public artistry"
I heard from Jayne Freeman, a member of the new Public Art Advisory Board, who provided some insight into what the new board's role will be. The committee must now approve, by a majority vote, all murals proposed by the Jersey City Mural Arts Program. This voting process will be in conjunction with the current process of voting by the property owner and the block association.
Their first board meeting was in May and they voted on three new proposals, there are at least fifteen total proposals in the works. The next meeting will be Tuesday June 20th at 5:30pm. Among the proposals are a science-themed mural in commemoration of Liberty Science Center's 40th anniversary, a justice-themed mural near the courthouse and a Revolutionary War themed mural near Paulus Hook.
Many members of the local arts community are planning to attend the Jersey City Council meeting on Wednesday, June 14 to voice their opinions on the mural arts program, among other matters regarding support for the arts in Jersey City.
Moving forward, will Jersey City take its mural arts program beyond the elimination of graffiti? How should we curate our public art? Could we use our art to form our identity? Can we create art that makes us collectively think, feel and reflect? Is there a way to create revolutionary, activist art while maintaining transparency in our program? How do we approach the "next wave" of street art, and is it right for us? What do you think, Jersey City?