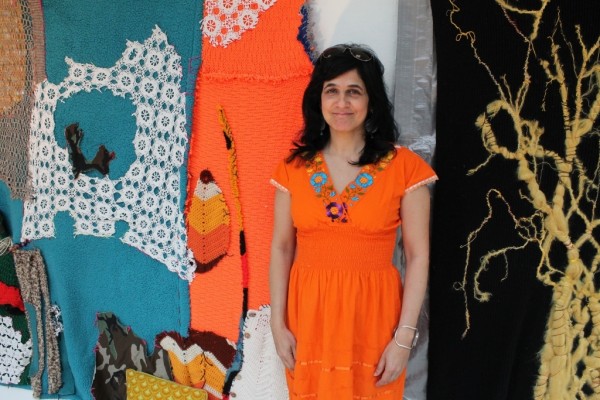 Michelle Vitale aka Woolpunk is a Jersey City artist who machine-knits fiber installations and embroiders on photos of urban sprawl. This past year she created a special blanket with a tarp for the homeless of Jersey City (which I got to try on, and it's quite chic actually). I went to meet her at one of her installations to talk about her inspiring work and the homelessness problem in our country. She's awesome.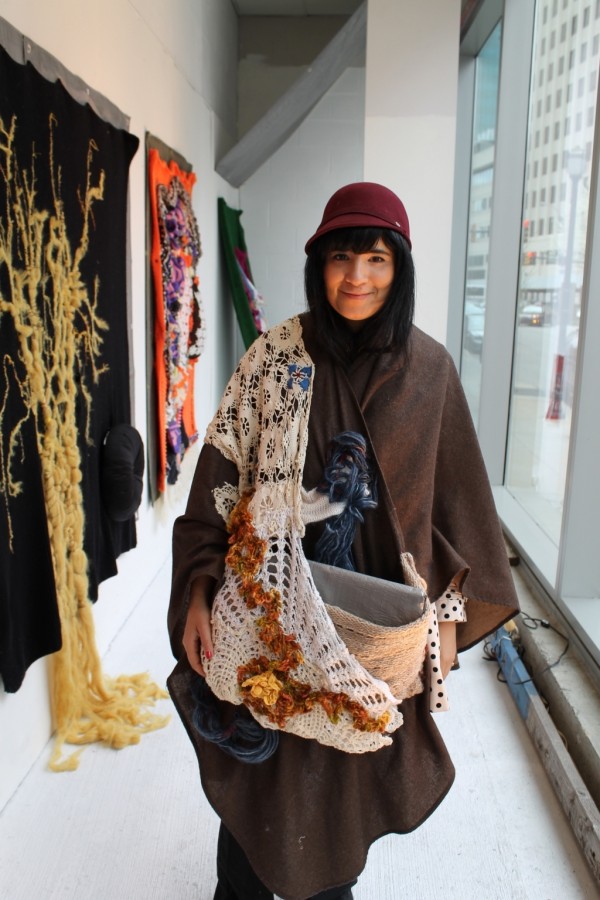 What's your name? My name is Michelle Vitale (a.k.a Woolpunk).
What do you do? I am an artist and I am the new Director of Cultural Affairs at Hudson County Community College.
Can you elaborate? My work lingers between installation and fiber, and I have been embraced by both communities. Some refer to me as a textile or fiber artist. Others refer to me as a sculptor or an installation artist but I just feel I am an artist-artist.
Can you describe your art? I come from a long line of seamstresses and my grandfather's sisters were lace makers in Rome. So growing up, I was always around a lot of these special things, like special tablecloths that people had made. I was lucky because my mom and I made my school clothes which became a form of expression.
I also liked to draw and paint so I went to school for art. But then, some of the things started to resonate from my youth—like in art class when we would stretch the canvas over the stretcher and we'd staple it then coat it with gesso—I just felt it was so unnatural for me. I had never treated a fabric like that before. When I went to graduate school at Rutgers, I worked with a lot of very successful women artists like Martha Rosler and Emma Amos, who encouraged me to keep these elements in my life important to my process. And so I just kind of went with it and I started painting on blankets that my grandmother and I knitted in graduate school. Those painted blankets were my thesis exhibition.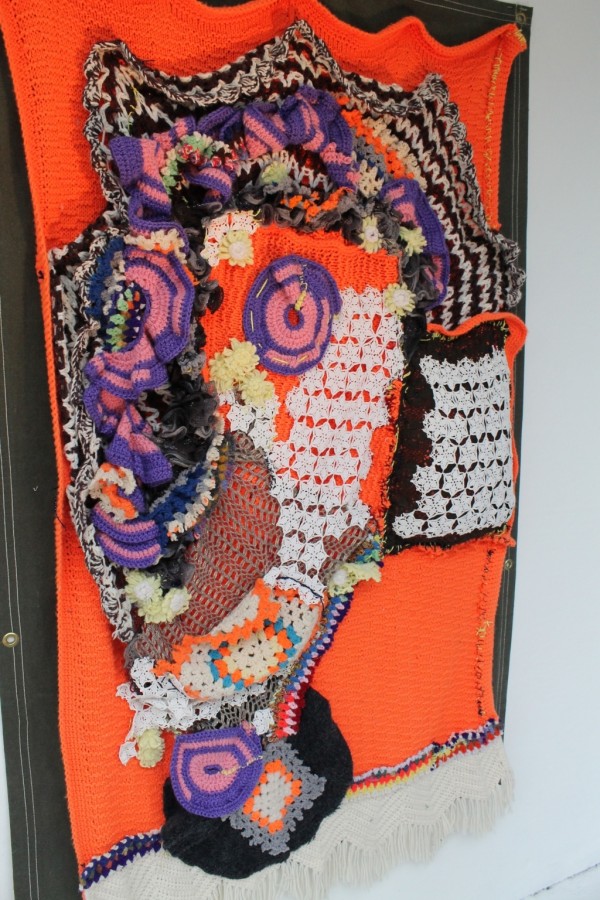 For the Gimme Shelter project, I originally wanted to make these gorgeous blankets for homeless people and drop them in Union Square Park. So homeless people would have these well-crafted blankets, which for them would be shelter– temporary or otherwise. And I was the rogue architect, at the same time, I was working with Garden State Episcopal's Longest Night Campaign. A great event every year that helps the homeless of Hudson County. There was a blanket drive for the event which got me thinking that "Blankets don't really work for the homeless because they get wet," and so I thought to attach blankets to tarps for protection and warmth.
Midori Yoshimoto, an art professor from NJCU, and I were at a party and she asked about the project. She's a great curator here in Jersey City and she said, "I want to exhibit one," and I said, "But, it's a tarp, a blanket, a bungee cord and cinder block." I really didn't make them for exhibition reasons. The goal was to make sixteen because the homeless count went up 16% in the State of New Jersey. I just wanted to drop them for people to use. But she urged me to show it because it would help the project. And it did! And then Luca [Cusolito] saw it and she wanted one. I made one like an abstracted house for the pier for the opening of the [Jersey City Arts] Studio Tour because I felt I only had one minute to tell everyone about the project. And then Eileen Ferara heard of it and she asked me to exhibit them in Windows on Columbus. So then there were eight.
I met with the Jersey City Homeless Advocacy Group and they helped me set up a Gimme Shelter Stich-In at City Hall. I encouraged the community to make the other eight to represent the 16 percent increase in homelessness. And from there it took off, Parsons School of Design featured the project at their school, Verizon did a show about it, a radio station started advertising the stitch-in dates. I actually drove out to East Hanover, NJ because this woman who was eighty-five years old had been knitting blankets so she could be a part of the project. Even a writer from England wrote a piece about the project. It totally spread and I really never intended it to but it just turned into something much bigger than me. It became about the community and how people really do care about what happens to others.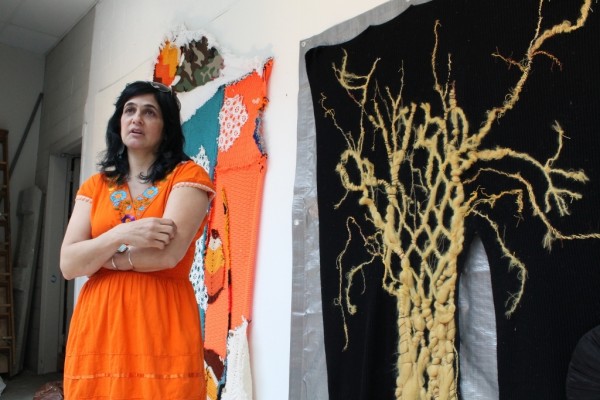 Can you tell me about your involvement with the homeless shelter and how that ties into your work? I worked with the United Way and Garden State Episcopal. Carol Mori, Director of Garden State Episcopal, runs a homeless shelter in Union City. She had people sleeping in chairs because there was so much overflow in 2015. If everybody took just a little social responsibility in that, we could probably do a lot. I think that's what the project is really about. I realized, as I started hosting the Gimme Shelter Stitch-Ins, people shared my similar frustration. I had people all the way down to the shore write me and ask me to come down. The project ended on May 5th for Global Homeless Awareness Day. On May 5th, and this was Carol's idea, I placed all the blankets on the shelter beds to make it look like a beautiful room. Then I donated over twenty blankets to the shelter.
Artists also contributed including Abigail Doan from Lost in Fibers. She's actually from New York, and she sent me all these wonderful knitted pieces to work with. People really surprised me.
I did a project in 2009 called "My Foreclosed Neighborhood." This is when I was living in the Heights in Jersey City and was the first time I thought about housing or the homeless in my work.  I wanted to photograph all the homes that were a mile from my house that was in foreclosure. Because everyone kept saying, "This has been the worst economic time since the Depression." I then concentrated on one and two-family homes that were totally vacant and it came to fifteen homes within 500 yards from my house. I photographed them, found the bank that took them over, and printed the bank over the image. I used Depression-era quilting style by printing the images on old shirts and sheets and embroidered into each quilting square. I did this project for _gaia, which is a great Jersey City women's artist collective, and the project showed at ABC No Rio in Manhattan.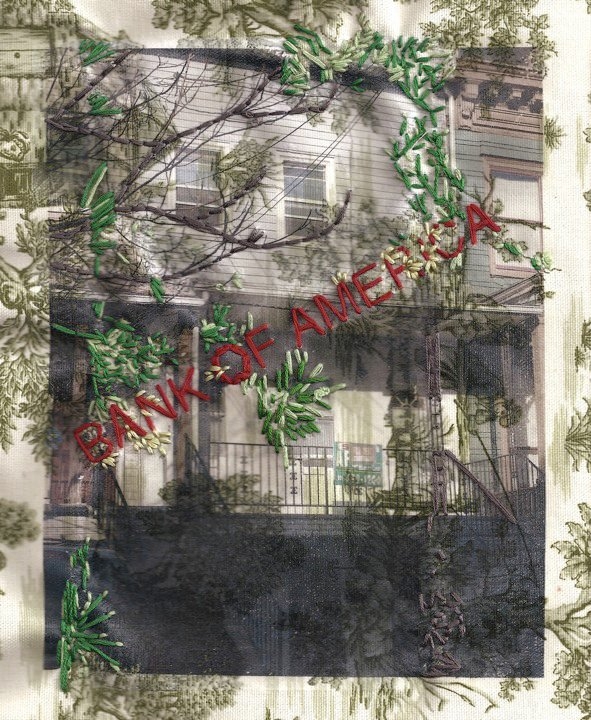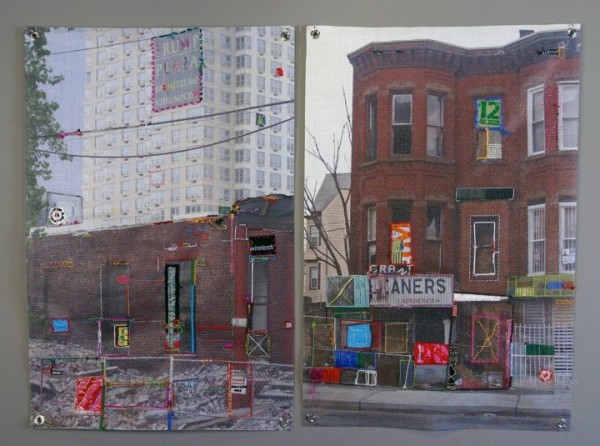 It seems like you hit all the issues that people who have lived in Jersey City for a long time are concerned about, homelessness, people are not being able to afford their homes anymore, being pushed out, and gentrification. How do you feel about all those changes? I created an embroidery of 111 from a picture I took off the last day of demolition of 111. I don't know if you were here then, 111 used to be this huge artist complex. It was this terrible controversy, artists were very upset. It was the beginning of the gentrification of Downtown—and part of the reason why I moved to Jersey City was because of 111, and many of the artists there. I think it was horrific for a lot of reasons. The artists had lived here and built a scene for many years and got no respect or financial reward for it. And Jersey City continues to promote itself as an arts destination, and meanwhile, many artists can't afford to live here anymore.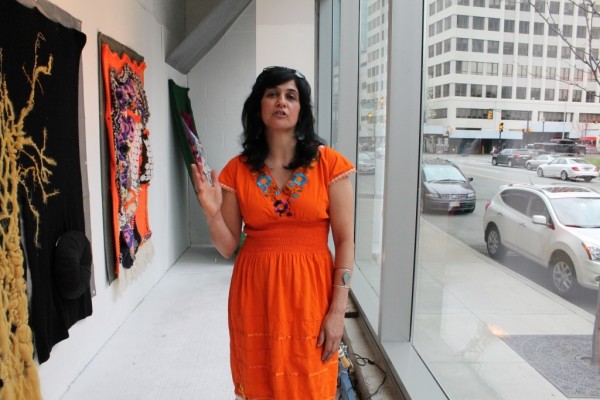 How long have you been in Jersey City? Oh, my god, it's been too long. I've been here since 1995. I used to live in Paulus Hook and got chased by wild dogs. I've seen it all.
Do you have a favorite Jersey City hangout spot? Well, I like Barcade on slow days. You go there and everyone just leaves you alone. They're way into their video games. So it's cool. And, of course, Marco Pepe. I am a regular there.
So what's your creative process? It's not just about me, it's about what's going on that influences my creative process. And my work is influenced by many artists including Judy Chicago, Faith Ringgold, Ghada Amer, among others. I knitted a red tornado for a show at Stockton College, near the Jersey Shore,  right before Sandy hit. And I was the Hudson County Coordinator for Sandy, and so I moved off that. It's a reaction of what's happening outside. I usually always use fibers because it always just seems to fit. I think that fiber, in general, is a culture of love. Your grandmother knits you a blanket and it's on your bed even if it doesn't match your room. And that's how I feel connected to what I do. It's love based and I like that message.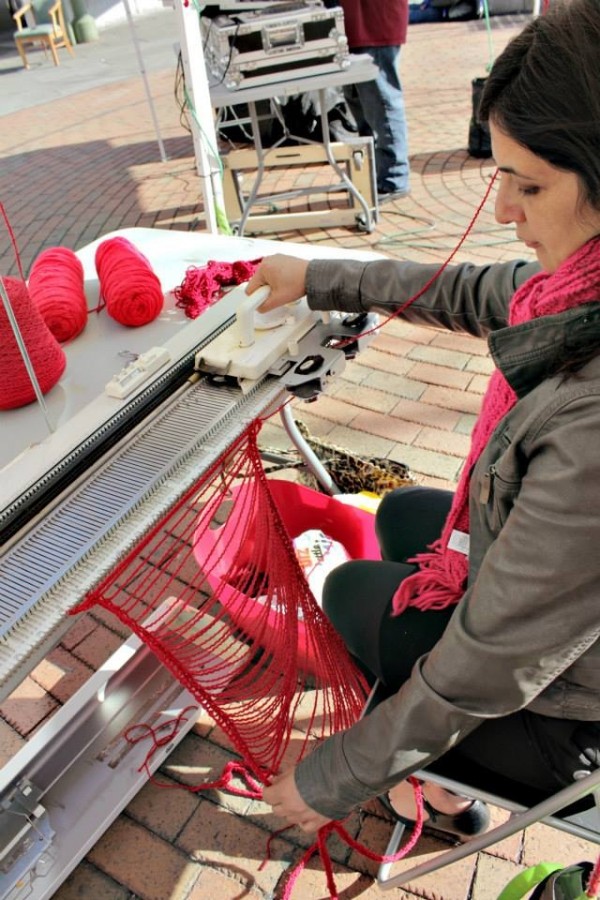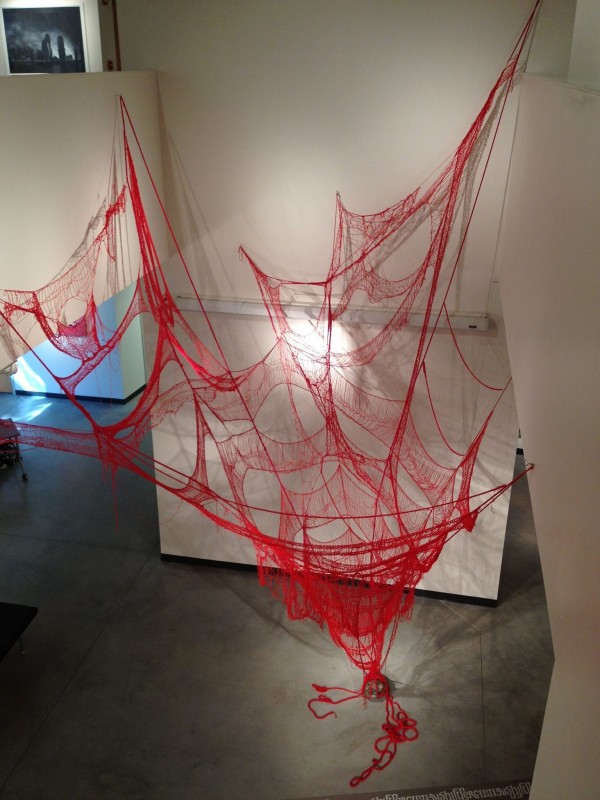 Are you a full-time artist? No, I work now at Hudson County Community College as Director of Cultural Affairs.
What is this Blanket? This is a collaboration with artist Abigail Doan from Lost in Fibers. She lives in New York, but she was so moved by the project, she sent me some pieces to add. I wanted to create something functional. I made somewhat of a pocketbook here that's attached and the tarp could be placed inside or belongings could be stored inside. You can put one side down and fold it over so it could even be used like a blanket. So it can be used as a bunch of things; a coat, a blanket.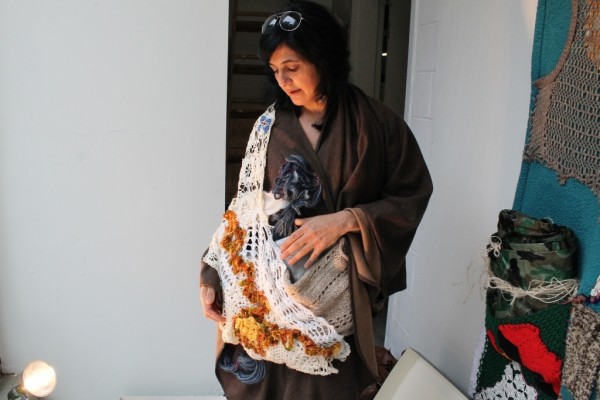 So what's next after that?  Currently, my latest Gimme Shelter piece is featured at Hudson County Community College in the Contemporary Hudson exhibition, curated by artist and professor Laurie Riccadonna. The opening reception is on February 2nd at 3PM and features some great work. The gallery is located on the sixth floor of the library at 71 Sip Ave, right across from Journal Square Path. The exhibit is up until March, and the gallery is new with beautiful views of New York.