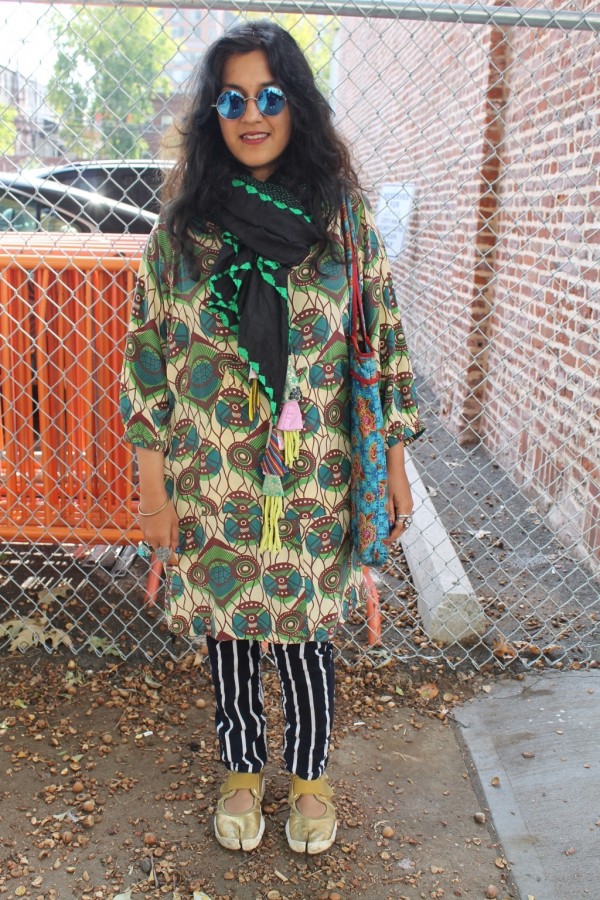 As part of the Navatri Festival a few weeks ago, I set out to explore the Indian Culture in Jersey City… From food, to fashion to the arts. Meenakshi Dash is a local artist who is curating all the new murals in India Square along with the Jersey City Mural Program team. I first met her when Brian and I were eating lunch at Rasoi and after speaking with her for a few minutes, I wanted to get her whole story.
We met a week later at Short Grain for some tea. Meenakshi is a fierce lady, entrepreneur, world traveler, "hustler" and crazy stylish! She is the definition of a ChicpeaJC "Stylish Peep", but this is an art post so yeah…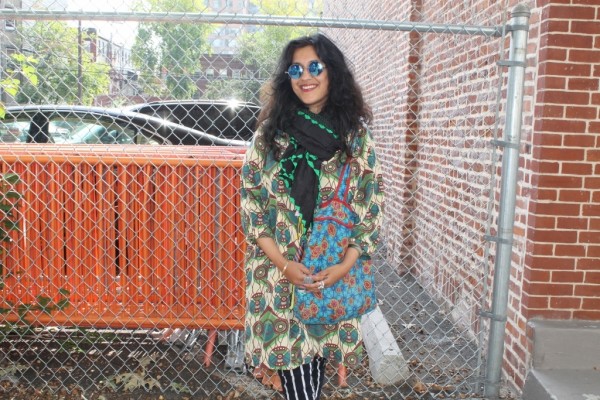 What's your name? Meenakshi Dash. My artist moniker is 'munubug.
What do you do? I am a multi-disciplinary artist. I have a BFA in painting, performance and fiber from the School of the Art Institute of Chicago, and an MBA in marketing, economics and strategy from the University of Chicago Booth School of Business. So I'm sort of left and right brained and as a result, I'm doing a lot of things.
So what do you prefer? I think I prefer that intersection of art and business, but more importantly I am interested in giving a platform and voice not only to myself but to other artists – creating vision proposals that sell an idea that's too abstract to communities or to businesses. I'm also a design and brand consultant, I'm a lot of things. I sound like a hustler—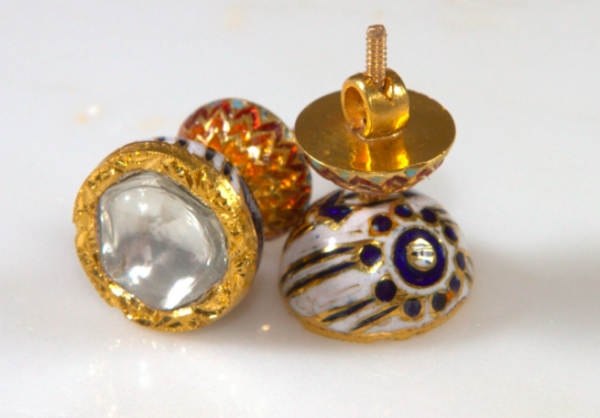 You are! –because I'm doing different things I suppose. I also work directly with non-for-profits in tribal areas of India – the idea really is to promote their art and work. I use the raw materials, manipulate and mix them into unexpected combinations, with semi-precious stones, silk, and pearls. It's really important for me to take Indian tribal art out of context and bring it into a contemporary space – not keeping it within the ethnic boxes and connotations that people feel comfortable with in categorizing folk art or tribal art. This includes the stores I sell to as well, it's very strategic because I sell to stores who don't sell anything Indian. It's very important for me to take it out of context. I love things that are contradictory, unpredictable and not typically identifiable because I grew up in a lot of different places so I'm kind of an omelet of sorts so I appreciate that.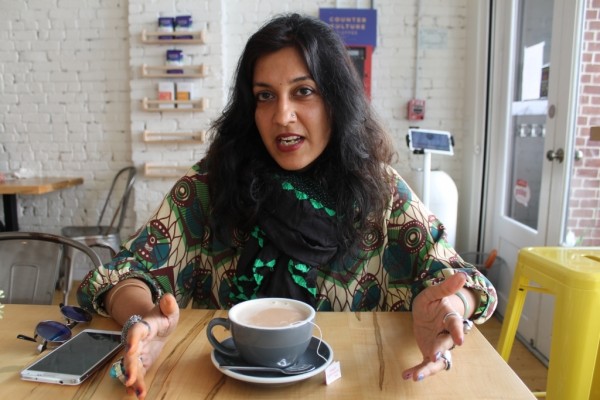 How long have you been in Jersey City? We moved here from Williamsburg, Brooklyn in 2011 so it's exactly four years.
What brought you to Jersey City? So I moved from Hong Kong to New York to be with my boyfriend at the time (now husband, or 'bearded roomie' as I like to call him), we met at the University of Chicago and he moved here. I moved back home which was Hong Kong and then I moved to Brooklyn to be with him. We realized very quickly after tax day that it made more sense to live here because Rich, my husband, worked out of lower Manhattan and Jersey City and the commute was quite heinous. I actually sobbed when he said we were moving to Jersey City. I had just literally moved from living half the time in Hong Kong and Singapore to be with him in NYC and then after a year he said, "Oh, we're not living in New York, we're living in Jersey City,". I remember looking for apartments and protesting, "I don't want to move out of Brooklyn," because I had never been to Jersey City.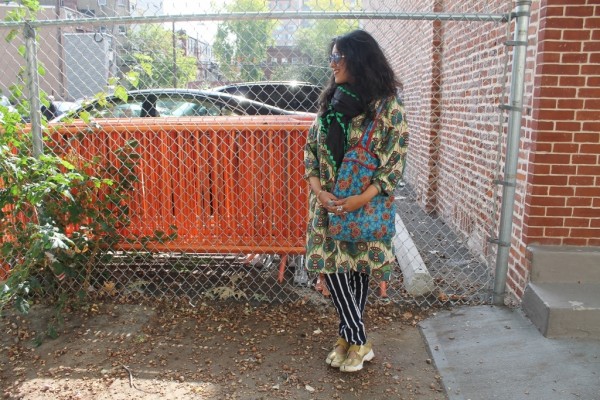 So what did you think of Jersey City when you moved here?  I've lived my whole life moving around. I've lived in Bombay (Mumbai), London and San Francisco, and several other cities in India, also Hong Kong, Singapore, [and of course] Chicago. I had lived in New York before as an intern, and I'd always wanted to live in New York so it was a median – I actually intended moving out of the U.S. and either moving to Europe or Asia and I only came back here because my husband's American and he lived in New York. I didn't understand until I came here and actually visited it (Jersey City) and loved it. I fell in love with it right away; we moved into our apartment, and it's been brilliant.
Are you going to stay in Jersey City?  Yup. I love it. We're going to stay here, I refuse to move.
Out of all the places that you've lived, is Jersey City your favorite? It's one of my favorites, no question.
Why? Because of the diversity. Because it has a lot of heart, it reminds me a lot of Chicago in that respect where it's a city that's built on a lot of hard work; it's got a lot of grit. We live in a bubble by the river, we're on Grand and Greene and we live in a secluded little corner. But as I've been exploring Jersey City, I've just fallen in love with it and I can't really put my finger on it, I just feel it really has a lot of heart. It's a very hardworking, gritty, beautiful city at the same time all the different elements combined and I love the diversity. Love it.
How did you get involved in the Jersey City Mural Program?  I wanted to make Jersey City my own. I realized "Okay, I'm here now." I used to spend four to five months in India, and Hong Kong, and Singapore right up to this year where I only spent two and a half months back there because my work brought me back. I wanted to make it my own so I had taken a photograph of New York in the winter from Jersey City and it got picked up by NBC and then I sent it to the mayor just on a lark and said, "Hey! I moved to Jersey City, I moved from Hong Kong here. I have a BFA, I have an MBA, I want to volunteer, what can I do? Here's what I am, I'm a design and brand consultant, I'm also an artist."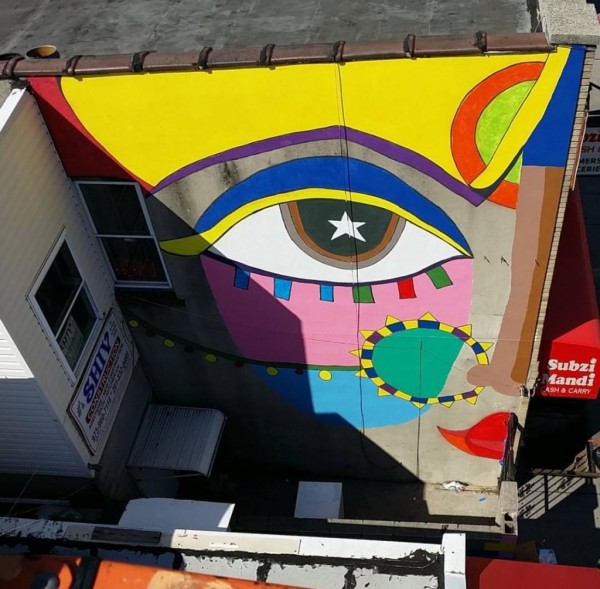 I wrote a proposal a year and a half ago for painting a mural in either the Art House area, the Powerhouse District or Journal Square because I thought it was important to further beautify, and I like using that word because I think an area can be beautiful regardless of what stage of development it's in and so really to further beautify and bring in an aspect that was still modern and contemporary and not typically Indian but still had the inspiration from the subcontinent. I've worked in a lot of different countries so I bring a lot of different perspectives with me that's both immigrant as well as parts of different cultures.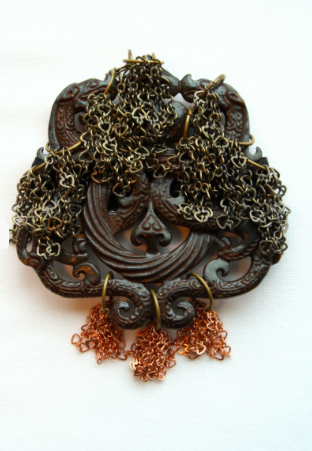 And so, Brooke, Brian, and I met and they asked "Would you like to paint here in Indian Square?" and I said, "It would be much more interesting for me to curate this area and construct a dialogue between other artists," 'cause honestly it's every artist's dream to be told, "You can paint as many murals as you want." But to me what was most interesting was really to bring in artists whose work I felt had synergy with the subcontinent without compromising on their aesthetic and still really taking it to the next level.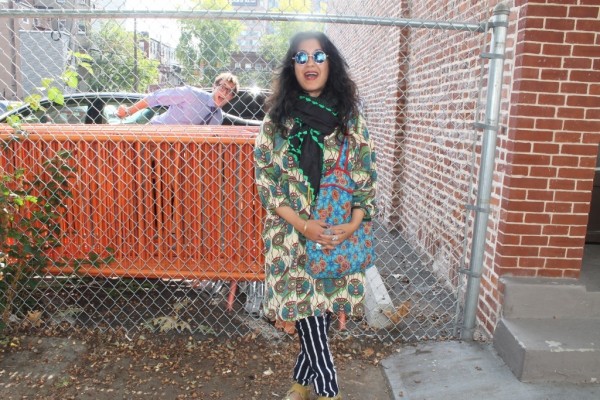 How did you figure out who all the artists were that you wanted to work with? I've lived and breathed art since I was a kid. I started following street art twelve years ago when I was still really young, I love photographing as well and I'm very particular, I don't like everything. That comes with my BFA and my background in Fine Arts. But I think the process is great – and I think the spirit of being able to put it on a wall for the public; we're going to get critiqued on a mass scale, people are going to hate it and to have that courage to be able to do that without the safety of a gallery or the PR of a gallery. I love the fearless, brazen, boldness of this medium.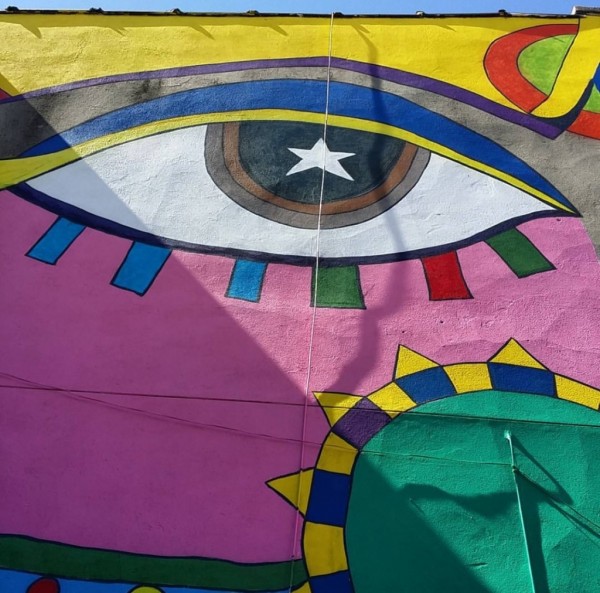 At the start of the project (which is a dream project) I had photographed all the buildings and all the walls. I imagined it as a journey through India Square and  had strategically chosen the artists. And the thing is with every artist I approached, it was wonderful because Brian and Brooke who were amazing to work with too, shared the vision, and gave me full autonomy on the artists picked. I had created all these different proposals for them. As I approached artists, I asked, "Would you be open to getting inspiration from me, that I would take from the art, colors and patterns of the Indian subcontinent and tailor it to your work ? I'm not asking you to change anything,absolutely don't want to compromise your aesthetic and integrity because it goes so perfectly with what we are trying to achieve and that's why we've chosen you," the artists who said, "Yeah!" it was perfect. Great symbiosis.
So it was a very deliberate choice on our part in terms of the first wave of artists (Hellbent, NDA, Wing, Kremen, Emilio Florentine, Joseph Meloy, Munubug,) and we're going to continue next year as well with other artists.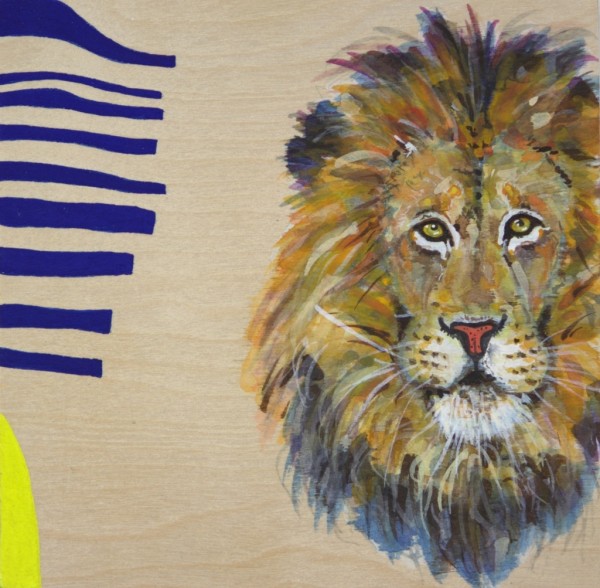 So it's going to be all over Indian Square? Yeah and again they're really thoughtful pieces. They're not typically Indian – even my piece is a blown up kind of overtly kitschy and adorned modern, starry-eyed doll face—
But they do seem different than other murals you see. –And that's that goal.
Where can people find you? On my website and also, I'm a voiceover artist—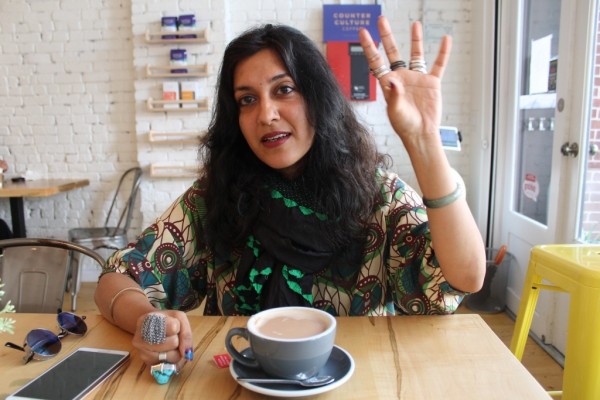 You do everything! –Yeah, I told you. I love art.
What is your favorite Jersey City hangout spot? Right now because I'm so crazy with my different jobs, I go to Greene Hook a lot 'cause it's in my building. So I'm addicted to their kale salad and their duck confit tamales, and we love Taqueria, I could eat there every day.
Anything else you'd like people to know about you or your art? So art is just one aspect of who I am, I'm also an MBA consultant, I help prospective students get into Business schools like Harvard, Stanford, MIT, Chicago Booth etc.
How do you juggle it all? My husband and I are both work and play addicts, we have very late nights and we work together. He and I, we just love doing stuff together as well. I think because of my personality, I need to be doing several different things at one time.