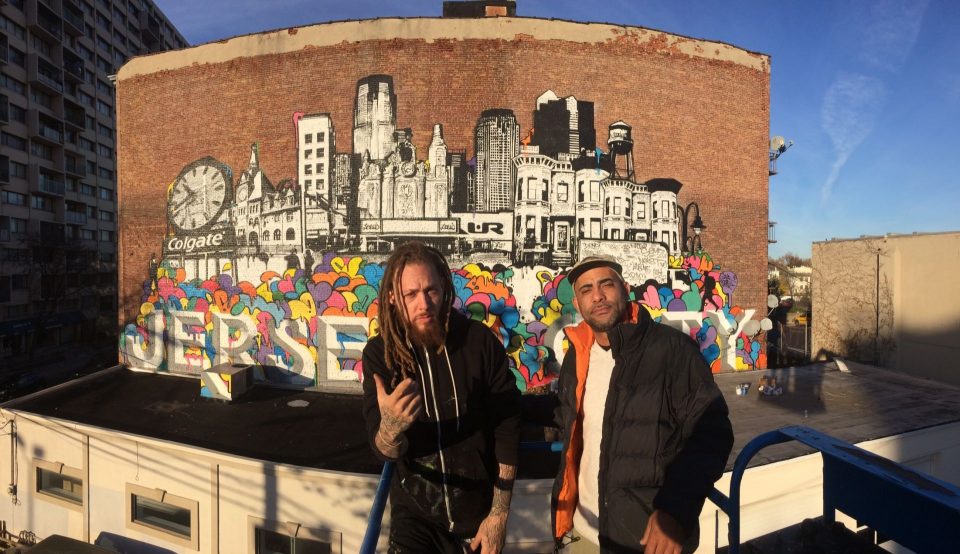 UR New York has completed their most recent mural right here in Jersey City. It's a black and white interpretation of the JC skyline, highlighted by their style of vibrant graffiti. The piece pays homage to some local landmarks, both new and old, like the Colgate Clock, Central Railroad Terminal, Goldman Sachs building, Loews Theater, even a Kid and PK water tower. There's also a box car dedication to various deceased fellow writers/artist. This stunning new mural spans the full length of a building and four stories high, with big block letters at the bottom, proudly reading, JERSEY CITY.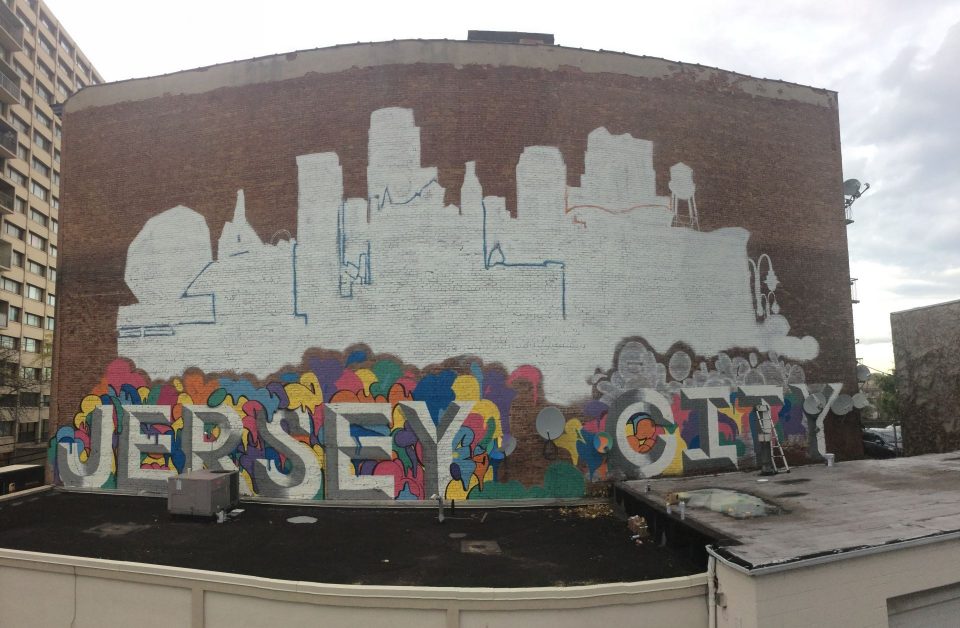 UR New York is a collective, comprised of the talented duo, 2esae, and Ski. I had the pleasure of originally meeting the guys back in October of 2014 when they had a show at Pop Gallery in SoHo. It was great to be able to catch up with them in my own town, watch them paint, and find out a bit more about them.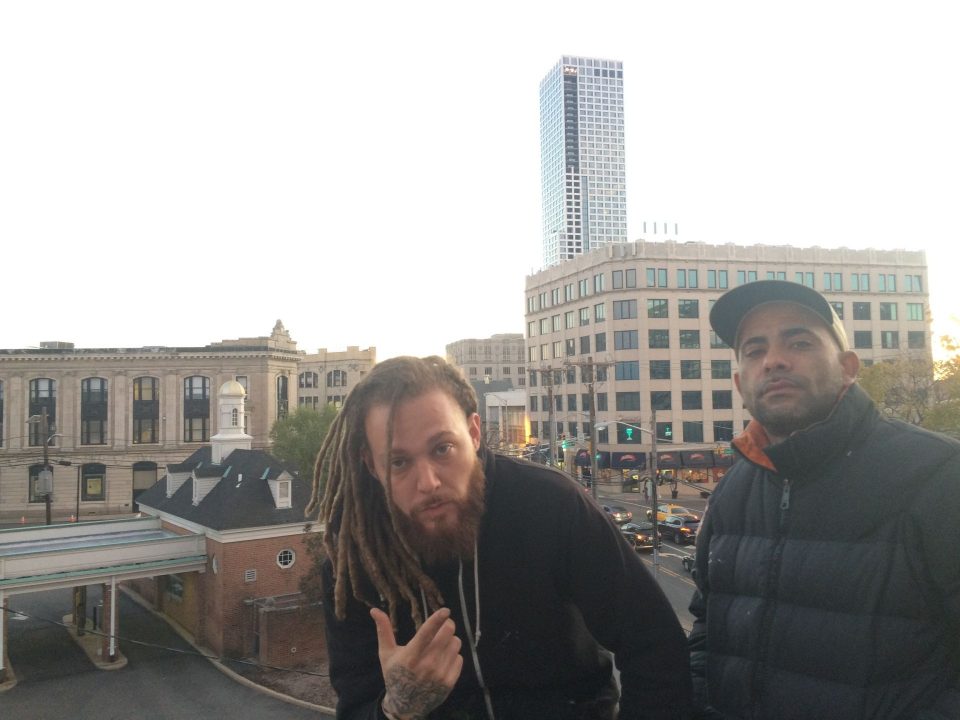 Ski grew up in Astoria; Queens surrounded by '90s era New York influences, but graffiti really caught his attention. The event that really sparked him on his artistic journey was the brazen coolness of his cousin's actions when getting caught by his aunt. As Ski retells, "My cousin used to write graffiti, and I spotted him one night while I was walking with my aunt. My aunt called his name, and he didn't turn around. He just threw up his hoodie and walked away. I just thought, that was like, holy shit." After that, he began to hone in on his craft practicing his technique, watching Videograf, and checking out FlashBacks magazine. Shortly thereafter, he created his tag, Ski (Stay Killin It) and developed a love for the underground painting train cars, up until a hiatus 1998.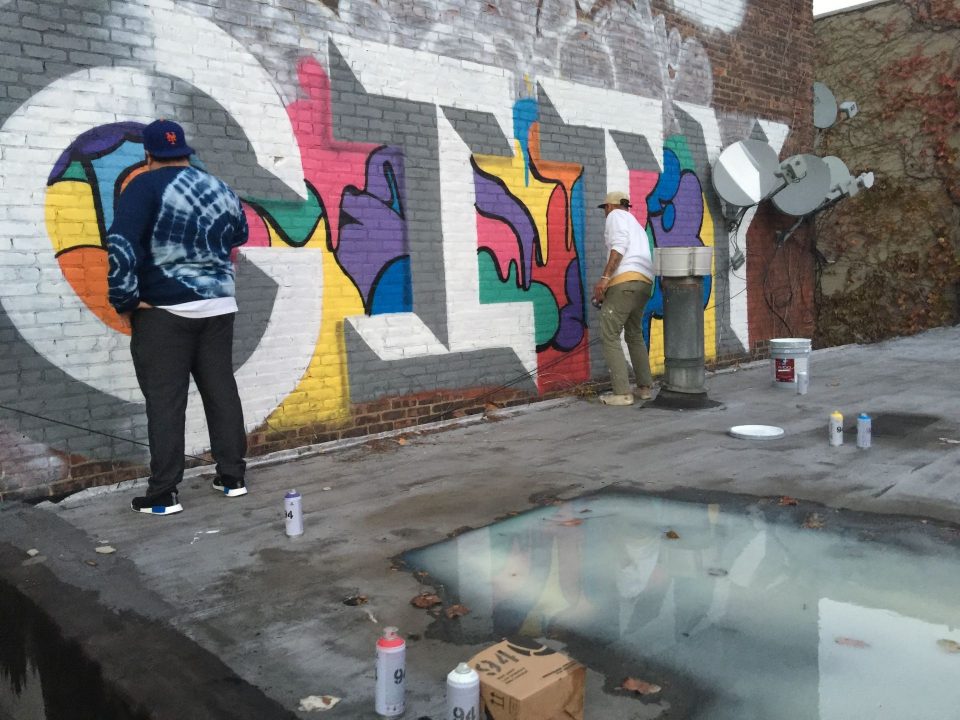 2esae also grew up in New York and credits the graffiti he saw around him as the inspiration for him to begin to paint. He was allured by the colors and the in your face nature of these tags, which were not suppose to be there. So at a young age, he too created a tag and began to write. The incident that really hooked 2esae was a notorious tag on his school making him instantly schoolyard famous. 2esae recalls, "Little by little, I started writing my name, and then one day I wrote my name so big in my schoolyard, I got suspended. After that, a couple of days passed, I went to school, and everyone knew who I was. There was some sort of fame aspect to it, so I dug that a lot." After that, he began to get his tag up everywhere, which brought him much bigger fame, even some unwanted recognition from the law.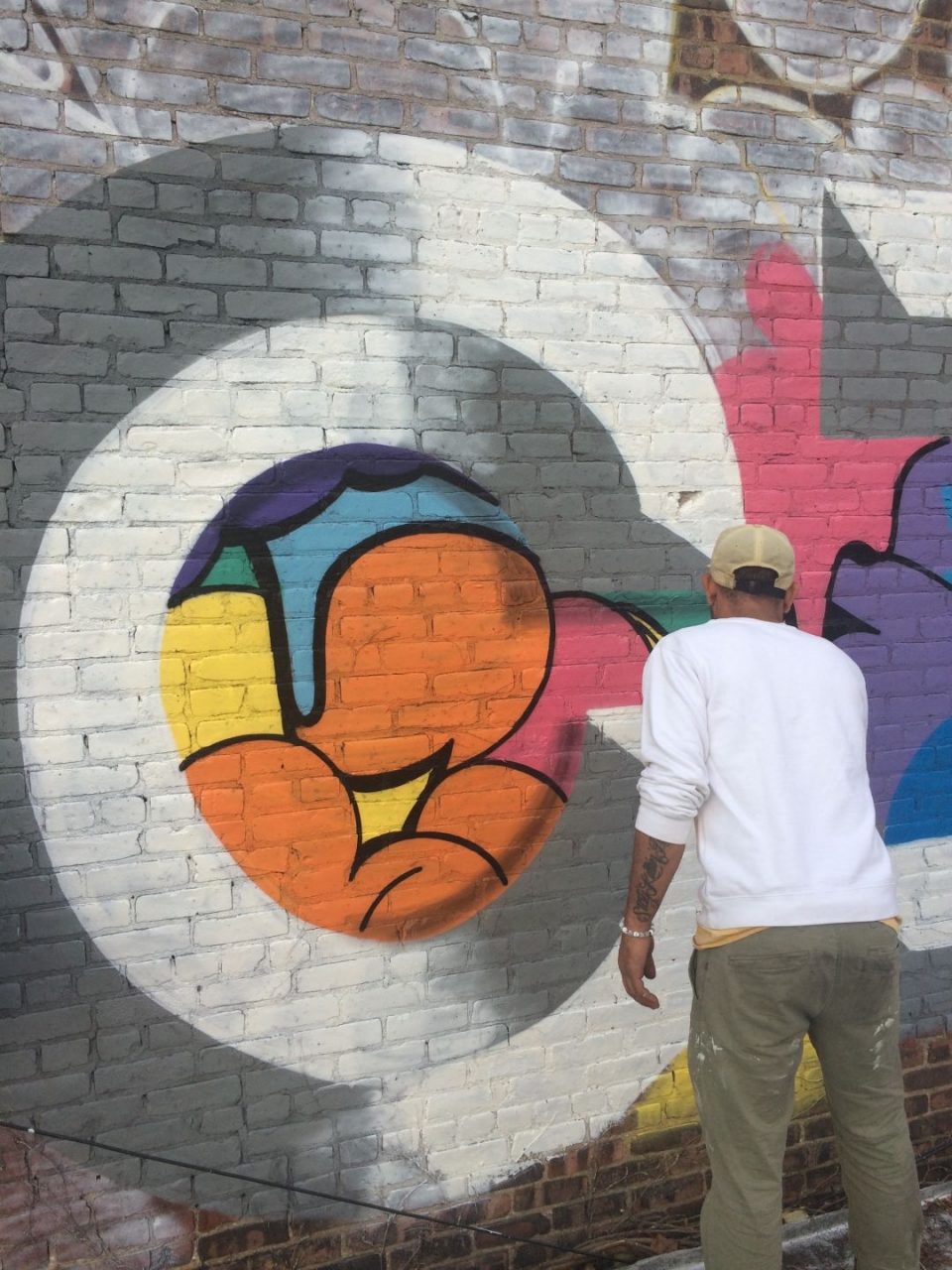 In 2004, relationship problems and spray paint therapy brought Ski back to the game. 2esae's ever-growing fame immediately caught Ski's attention. Ski admitted, "2esae, this guy was on a rampage, him and his crew, All City Crew. How are they painting on this magnitude, in this day and age? So my mission was to meet him." 2esae had his own troubles at the time as well – legal troubles, which ultimately motivated him to turn his craft into a career. So finally in 2006, based on trust and mutual friends, the boys met up. "I'm going to take this and make something positive with it. I'm going to make a business out of this shit. And luckily, I met up with Ski. You know, at that time, we were on the SoHo streets selling artwork, and we just became a partnership. It's been eight long years, eight beautiful years," 2esae said thankfully. The guys began painting together and formed an inseparable friendship. 2esae had created the name UR New York, and he and Ski began working together under this collective officially in 2009. They incorporated the name and business in 2011. They have been blessed with this opportunity to travel to many countries to paint, as well as be involved with a few galleries, most recently with Pop International Gallery.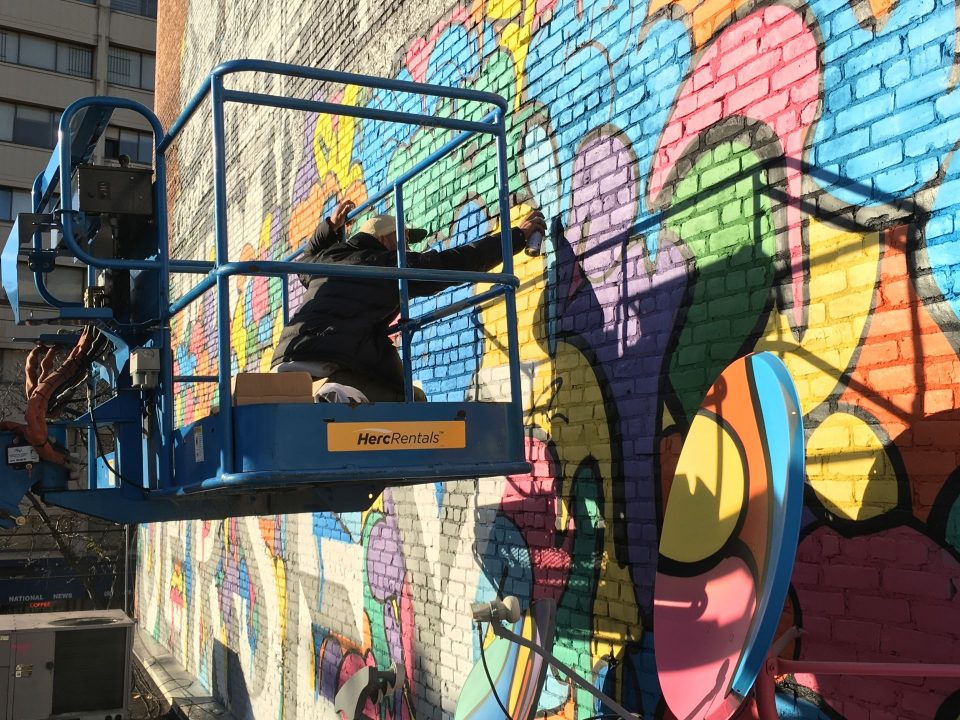 Thanks to the Jersey City Mural Arts Program #JCMap, their travels now bring UR New York to Jersey City. Meenakshi Dash and Brooke Hansson, who work directly with Mayor Fulop, contacted 2esae and Ski a little over a year ago. After working it all out and having their concept approved, our community has now received another stunning mural. 2esae describes their concept behind the mural as "we highlight, almost time capsule the city for what it is, its landmarks, the aesthetic of it, and that's what we did here. We're just highlighting the city and immortalizing it, also adding our graffiti aspect to it, hooking up all the people who passed away in tribute, throwing up the PK Kid on the water tower because that's essential. We're just brightening up the city, man, one city at a time." Ski added, "We stuck within our style; we do a lot of urban industrial landscapes. We just changed our subject matter to Jersey, a little bit of the old and the new. Even though we're looking to the future, we can't forget the past and where we came from. That mural will always commemorate time, from the Colgate which was one of the first things on the skyline, up to today the Goldman Sachs building. We're thrilled."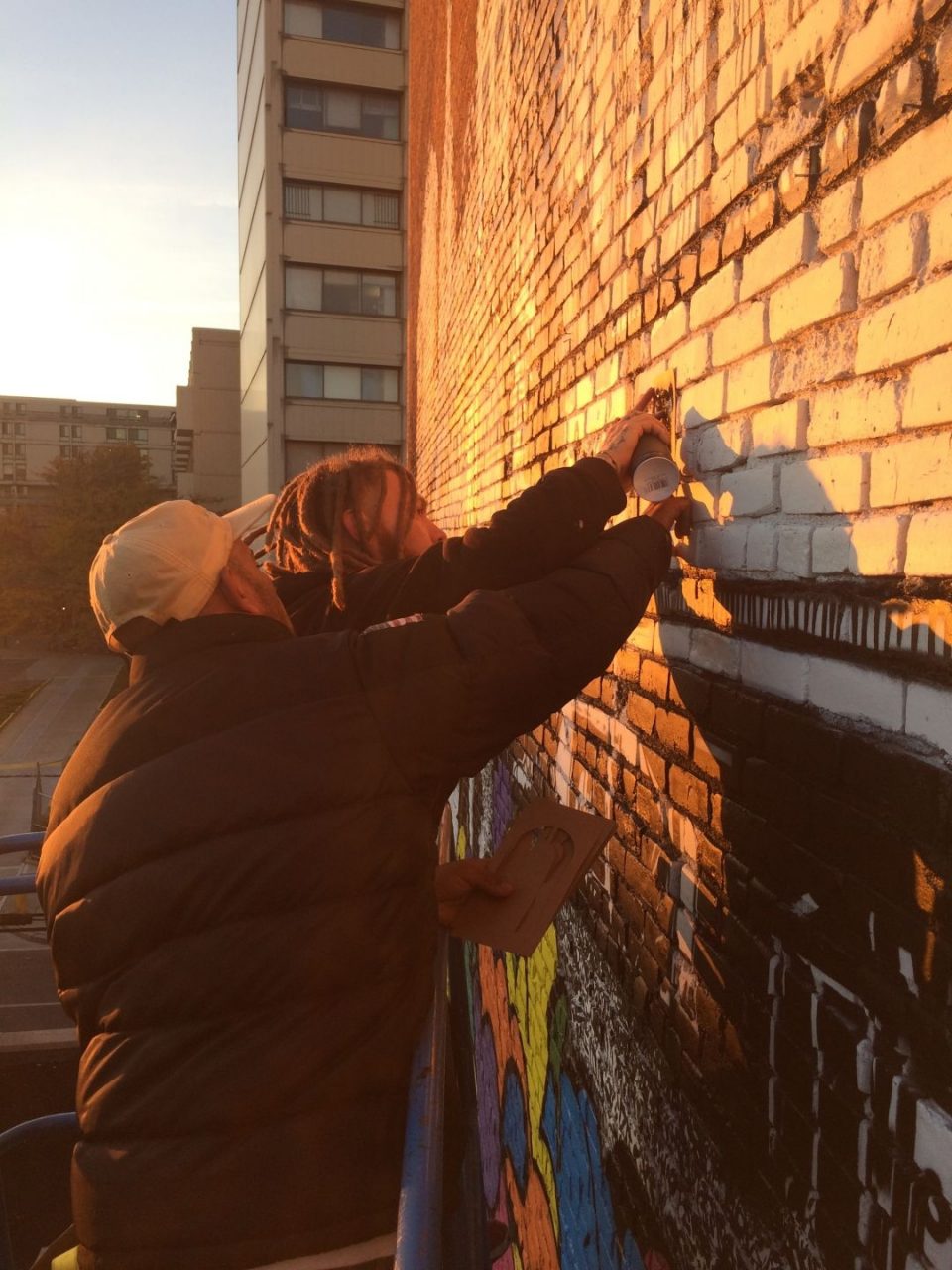 As the sun began to set and the guys were wrapping up the mural with their signature phrase, Be Who You Are, stenciled across the Loews Theater marquee, I asked what they enjoyed most about Jersey City. Ski began telling me about his enjoyable experiences walking around Journal Square – the great Indian and Filipino food, and meeting so many great people, including Jersey City's own artist Paws21 (@Paws21art), who not only stopped by, but also helped spray the background for the skyline. While we were talking, we noticed an officer across the street was curiously looking in our direction, so we pointed upwards towards the mural. As he noticed the mural on the side of the building, he called over his partner, and both officers took it in. They both smiled and waved to us in a good luck gesture. 2esae closed with his final sentiment, "My favorite thing about Jersey City is all the love that we have been getting from all the people, and how appreciative they are for what we're doing. It's cool because it's all familiar to them, and it all speaks to them, Like oh, this is the Theater, this is the Terminal, this is this, this is that. It's cool, and it's something that they really embraced, and that's what we appreciate. We love the people out here, so thank you, thank you for having us, Be who you are, don't be sheep."
UR New York's mural can be found in Journal Square, near the NE corner of Summit and Newark.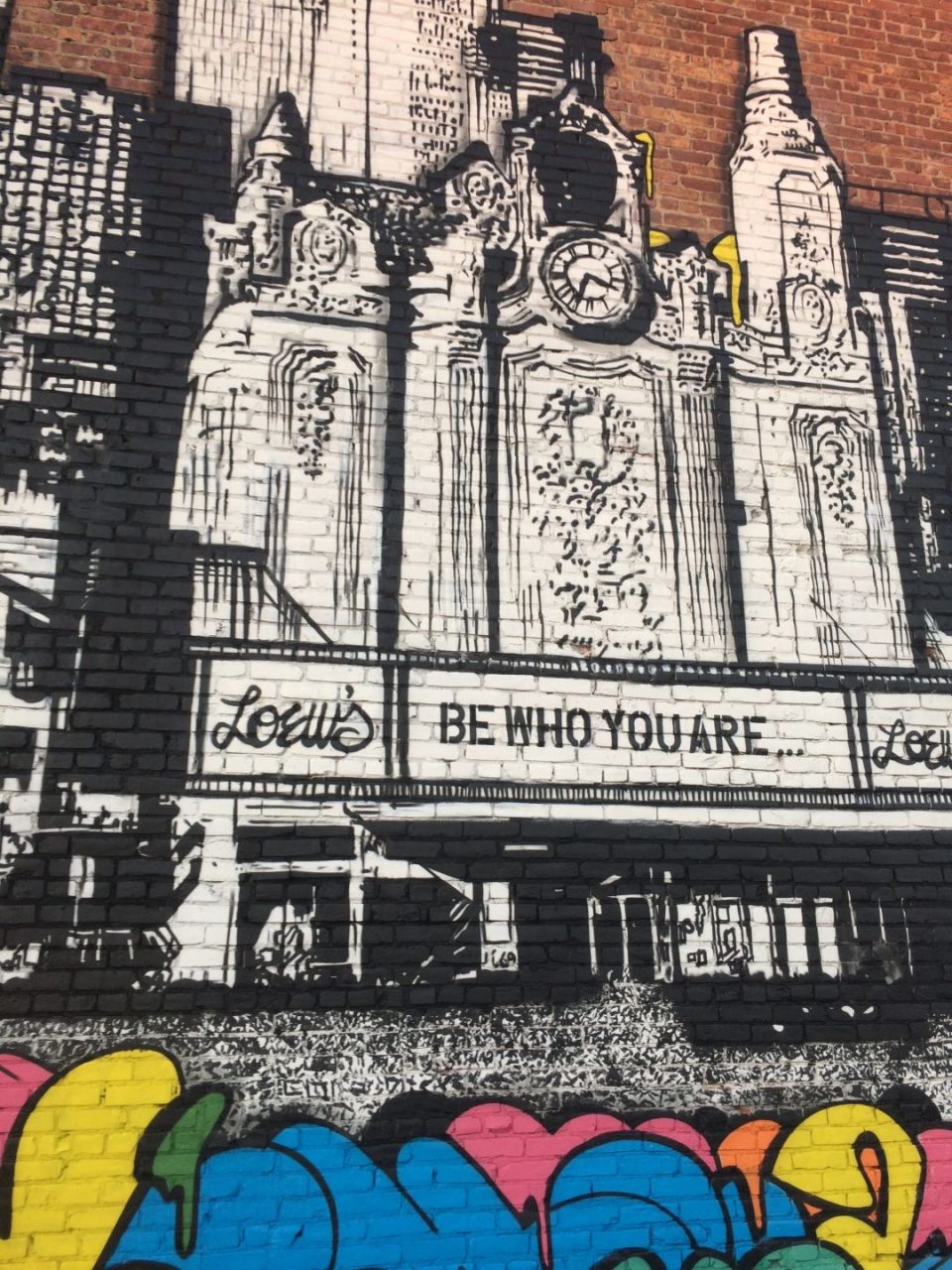 You can continue to follow them at: