In Case You Missed It- August 28 2020
Jacob Blake 
Words cannot describe how sickening the current landscape in America stands in regard to the racial disparities. Once again, another power hungry police officer took matters into his own irresponsible hands, this time Jacob Blake was the victim. 
I'm sure you are caught up on this developing story, but if not Jacob Blake was shot by a police officer in Kenosha, Wisconsin last Sunday night. Multiple videos show an officer firing several shots at Blake, who is turned the other way. Seven point blank shots headed directly into Blakes back can be heard. You can easily find the disturbing videos online. 
Luckily Jacob Blake did not die, but he is deemed paralyzed from the waist down, and it would "take a miracle" for him to walk again. His family's attorney called for the officer who opened fire to be arrested and others involved to lose their jobs. 
Anyone with commonsense would agree these actions should and will be taken, but that is not the case in the 2020 version of America. African American citizens have been let down by the judicial system time and time again. At this point it would be shocking for real justice to be served. And that is beyond disgraceful.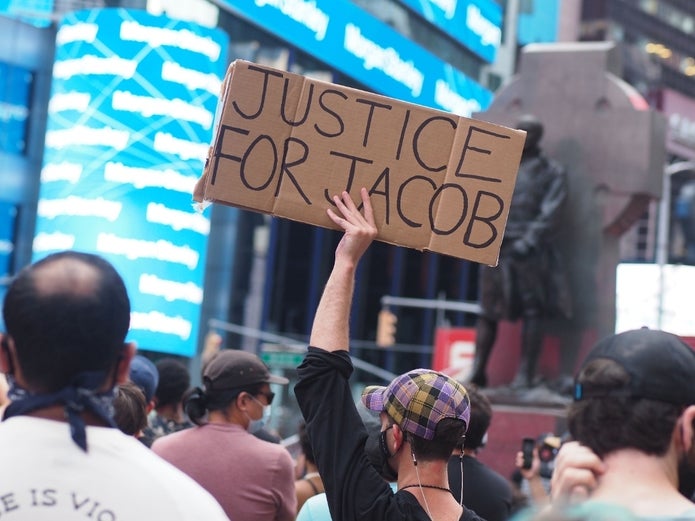 To make matters even worse, two people were shot to death and another wounded during a third night of protests in Kenosha over the shootings of Jacob Blake. Authorities on Wednesday hunted for a possible vigilante seen on cellphone video opening fire in the middle of the street with a rifle. 
As these protests continue to heat up, President Trump tweeted on Wednesday that Wisconsin Gov. Tony Evers (D) will allow federal assistance to help control the protests in Kenosha. 
While the rest of the nation sends the Blake family prayers from afar, NBA players from the current playoff Boston Celtics and Toronto Raptors have discussed boycotting upcoming games due to the frustration after another police shooting of a black man. Members of both teams met Tuesday night to discuss options in an effort to affect change in the ongoing fight against racism, injustice, and brutality. 
UPDATE 8/27- NBA, MLB, WNBA, and some NHL / NFL events were postponed Wednesday and Thursday after the player led actions in response to the shooting of Jacob Blake. 
Tennis star Naomi Osaka also withdrew from her semi-final at the Western & Southern Open in New York, scheduled for Thursday, saying "before I am an athlete, I am a black woman".
It is important to note, the Dallas Stars and Colorado Avalanche played game 3 of their playoff series Wednesday night, hours after multiple sporting events were postponed. Stars forward Tyler Seguin said the team did not have a serious conversation about not playing against Colorado on Wednesday.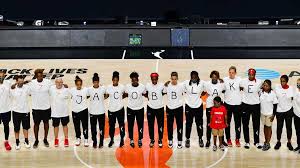 "A couple of us [were] talking, but to be honest, for myself, I don't know what these guys did today, but I woke up from a nap and I didn't even really realize what the NBA was doing until I got to the rink," Seguin said. "So there wasn't much thought in my head throughout the day to think about not playing tonight. Like I said, I support what's going on. I support the movement, and I think hockey needs, honestly, to do more. But I think we can all show our actions in different ways."
Sporting events are on track to resume Friday afternoon. It will be interesting to see how the players display support now they are back playing in front of the camera. 
Hurricane Laura 
Tropical Storm Laura was upgraded to Hurricane Laura on Tuesday as the system increased and continued to track toward the Gulf Coast, with landfall expected late Wednesday or early Thursday. 
As the now Category 4 hurricane heads towards the Texas and Louisiana border, residents along the upper Texas and southwest Louisiana coasts should finish preparations now for a major hurricane strike. Follow any evacuation orders issued by local or state officials.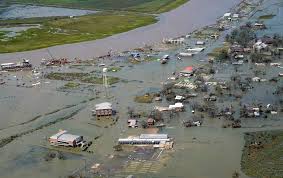 The remains of Hurricane Laura will likely douse New Jersey during the day on Saturday and pose a threat of localized flooding in some parts of the state. "Everyone is going to see some tropical rain from this," said Rob Reale, a meteorologist with the WeatherWorks forecasting company, based in Warren County. "This is the type of setup that can produce several inches of rain." If you have weekend plans, make sure to check the weather! 
Back 2 school !
Normally, parents and kids would be feeling the back to school blues, but this year is different. Covid has completely changed our normal procedures and school is majorly affected. Parents, students, and facility must work through this together. Universities across the nation have also completely changed typical procedures to protect everyone from the virus. While all schools are implementing different tactics, all have a common goal- to contain the spread of covid.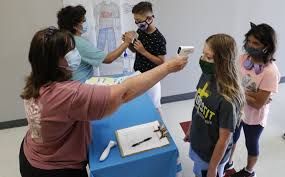 Moving forward, it will be a very long time for school to feel like it once did, but we most remember- we are all in this together. Please be safe and check with your school for current protocols and rules. 
Gym (Tan Laundry) returns !
On a lighter note and finally some GOOD NEWS- all New Jersey gyms may reopen soon under new rules. Gov. Phil Murphy plans to announce gyms may be able to open at 25% of indoor capacity and follow other guidelines. The new rules go into effect September 1.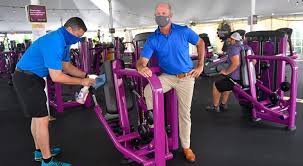 The new rules for gyms when they open their doors on Sept. 1 also include:
Restrictions on indoor group activities (such as cycling classes) to one person for every 200 square feet of space in the room.
Masks or face coverings must be worn at all times inside the gym.
Equipment must be six feet apart.
People must sign a form when they enter the gym that says they will adhere to the safety guidelines.
Gyms must keep a log of workers and clients, including names and phone numbers, so the information could be made available to contact tracers in the event there's a COVID-19 exposure at the facility.
Weekend photoshoot!
Need something fun to do in Hoboken this weekend? How about an Instagram worthy mini photo shoot session? Capture you and your loved ones (pets included!) with a fun 30 minute photoshoot, shot by vetted and local professionals. Sessions available every Saturday and Sunday. Select the date, location, and time slot that works best for you.
Booking Info:
– Sessions are complimentary to book and last 30 minutes.
– Receive a digital gallery of 40+ high-res photos to choose from 3-5 business days after your session.
– Pay only for the ones you love at $15/photo with package deals of $120 for 10 photos or $220 for your entire gallery of 40+ photos. All photos in your gallery will be lightly edited.
Book your session here: https://bit.ly/3eMXus5