About a week ago I went to shoot with photographer 5thMindset (post coming soon) in front of a new mural by the Holland Tunnel. This mural was painted by "Greetings Tour"; a couple traveling around the US painting murals inspired by vintage postcards. After my shoot I decided to reach out to them and get the background story on who they are! Since they are in Ohio now painting a new mural, we did the interview over the phone.
What are your names? Victor and Lisa.
What do you do? (Victor) I used to paint Graffiti for about 15 years. Lisa is my girlfriend…
(Lisa) We met on a photoshoot, November of 2013.
(Victor) I was doing graffiti for DNKY and she was working in the studio… long story short… now we had this idea to travel the country and we didn't want to just travel, we wanted to create something along the way. We wanted to do these "Greetings from" murals which are inspired by 1950s postcards like the large letter postcards.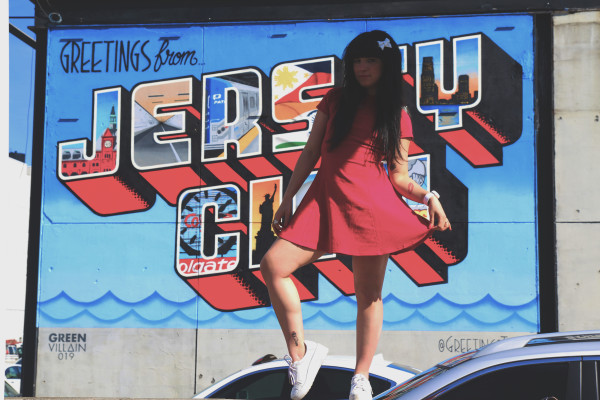 Was the Jersey City one your first? We did a couple of them.. Chinatown and Downtown. The Jersey City one is the first one outside of New York. We leave on our trip April 28t for a year. We are talking to you from an R.V in Ohio! We are in the process of painting one here…
(Lisa) Which is my hometown.
So where did this idea come from? (Lisa) My family grew up in the R.V business and we just bought this one over Christmas.
(Victor) We are painting these to travel the country, create public art and connect with people. For example the one we are doing now, one of the letters, we are collaborating with a local artist.
(Lisa) We want that to happen in every city.
I love that! When I was a kid for 3 summers in a row my parents and I toured the United States in a motor home. (Victor) We have a couple of planned cities but the rest we are just playing by ear… each one we do opens more doors to other people.
(Lisa) People love it.
(Victor) We are going to places and learning about the history about the town and incorporate it in the art. It's like our way of giving back. The Y in Jersey City is a tribute to Kaws one of the biggest artists who came out of Jersey City.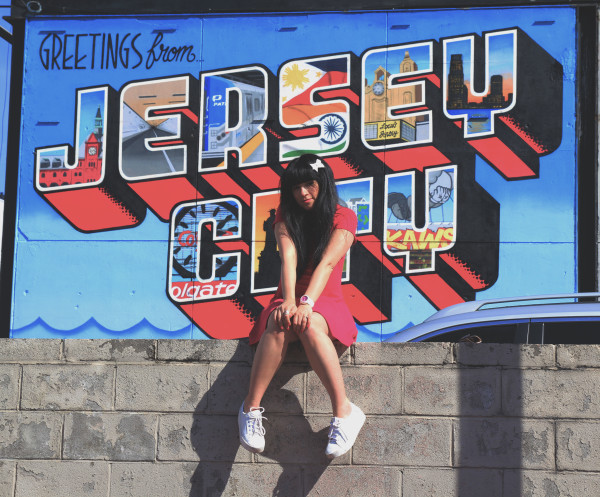 Do you get the walls in advance? How does that work? We ask around. The JC one we did was with Greenvillain. I've done some projects with him and he helped us coordinate it and get the wall.
So fun! Can you tell me about the inspiration behind the mural in JC? (Victor) We asked a bunch of locals.
(Lisa) We did research and we also pulled references from these old postcards we've been collecting.
(Victor) Lisa is also a photographer so she is documenting these murals.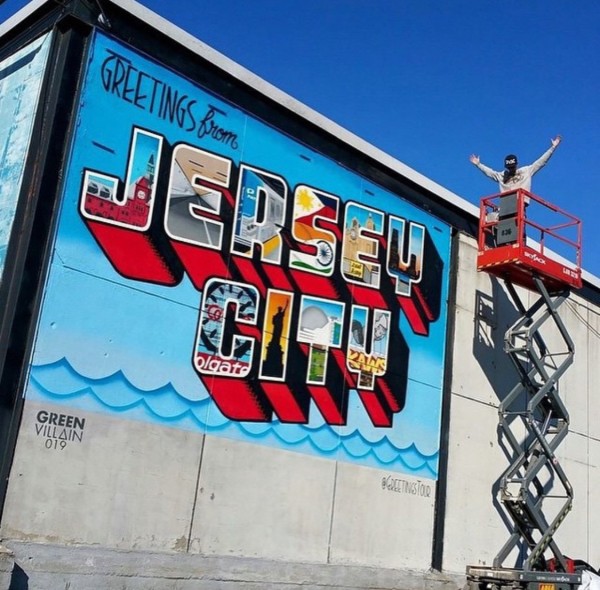 Where are you headed after Ohio? We are doing one in Coney Island in April. Our first destination after New York is Chicago.
Good luck guys! I will be following your journey.
---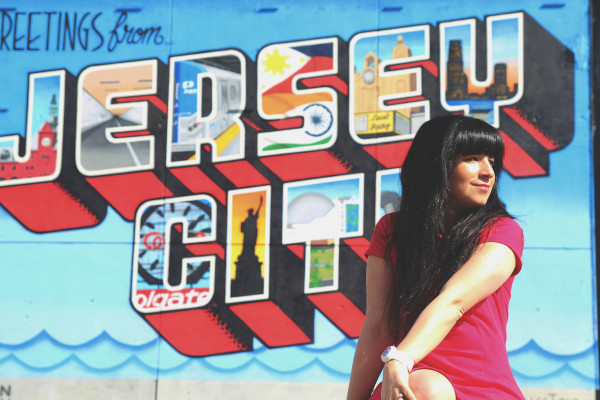 The person who helped bring this wonderful mural into our city is Greenvillain. Since I started this blog, I've been trying to get him for an interview and no luck yet! Greenvillain is behind some of Jersey City most beautiful murals, he is responsible for beautifying our city and I am hoping one day he will agree to have coffee and tell me his story. I reached out to him to comment on this project to which he responded:
"In regards to our mural program, GVM019 is the crown jewel. 16 million people passed by this wall heading into the Holland Tunnel in 2013—imagine how many will pass by in 2020? Think about where Jersey City will be in 5 years? This is just the beginning. $ ∆ 1º"