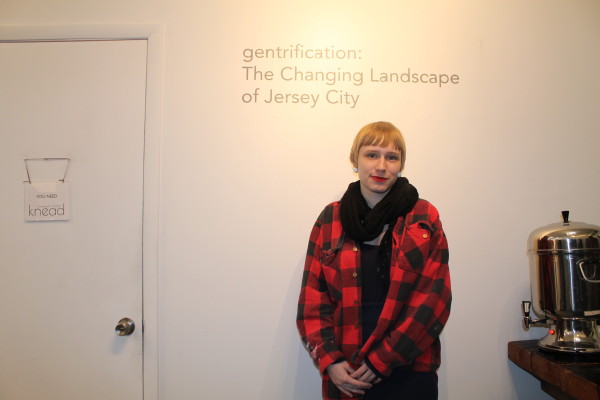 A few weeks ago I interviewed artist Sam Pullin aka Bedbugs In Love for an art post. During the interview he told me about an exhibit his girlfriend Allison was curating surrounding the hot topic of gentrification. I wanted to show my support and went to check it out on the day it opened with mini chicpea in tow.
Allison interviewed various locals on the subject of gentrification and the artwork displayed was inspired by these interviews. When you walk into the exhibit you grab a pair of earphones attached to a mini iPod, walk around and look at all the amazing art work while hearing people's thoughts on the subject. Which are on both spectrums and subjective. It's a whole experience and I thought was extremely well done.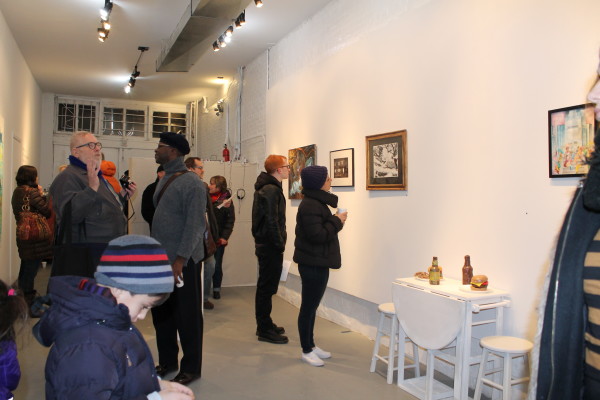 The turnout was great, so many people came to support the artists. I wanted to get the background story on the exhibit so I bombarded Allison with questions on her opening night! poor thing, I am selfish I know!!  I also reached out to two of the artists who have work in this show, Sam and "Stylish Peep" Dan Joseph to get the inside scoop on their work.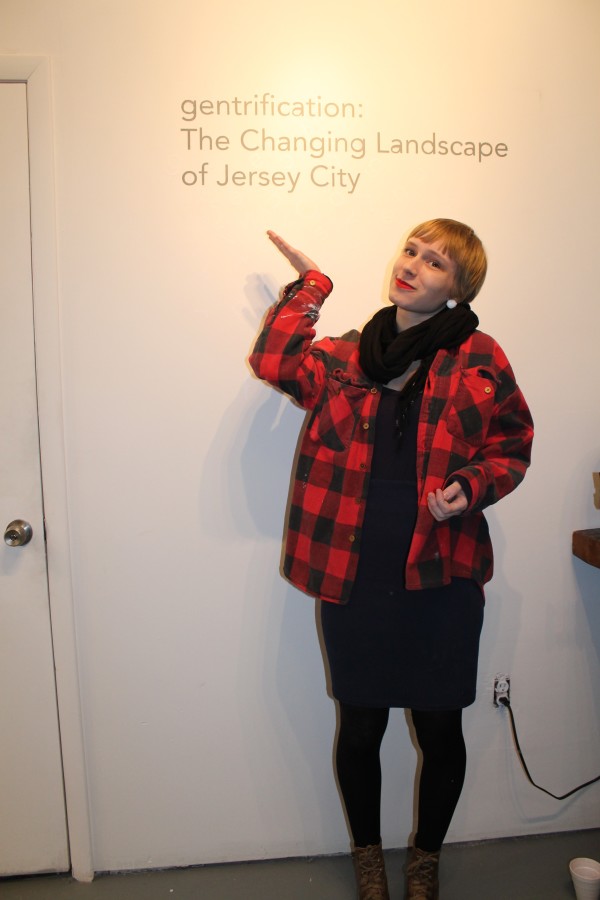 What is your name? Allison Remy Hall
What do you do? I'm a flight attendant primarily when I'm not doing that, I curate art shows from time to time.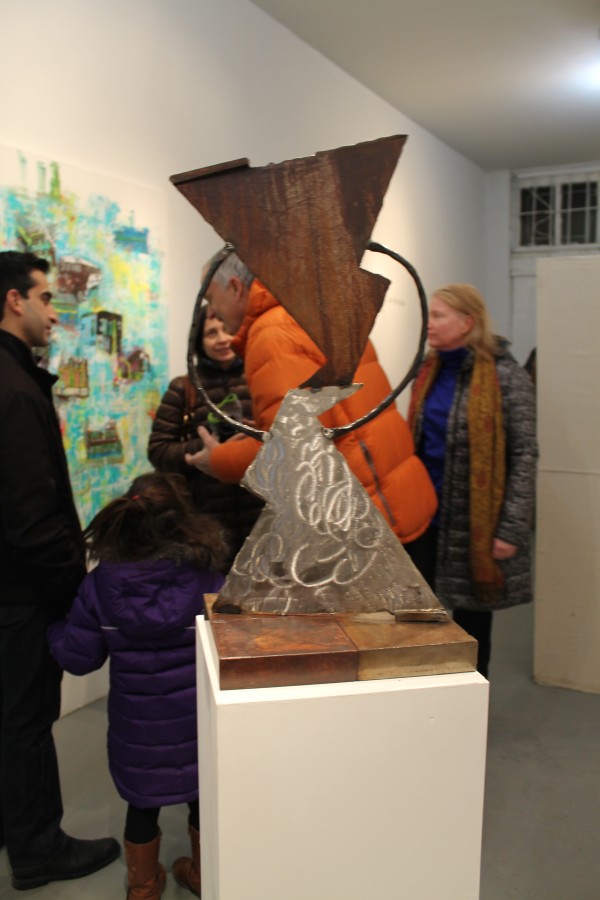 That's awesome! – Can you tell me a little bit about this art show? It started about 4/5 months ago, I was just thinking about gentrification and how people talk about it 24/7 – I went to a city council meeting over something, and it was like everyone who showed up, they all had their minds made up…. so I was like I want to create an environment where people can talk about gentrification and they can also experience other perspectives and not just see their own.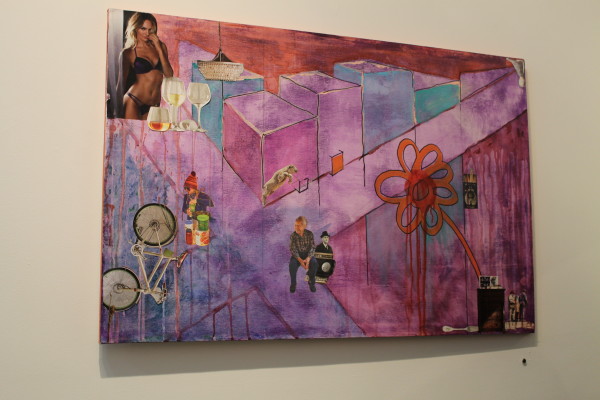 How did you come up with the concept? I guess I was just thinking what's the best way of actually getting other people's voices into the exhibit. And then I thought, wait I can literally get people's voices, through the iPods and headphones. In terms of the expressive media I have access to, I had access to this art space and how cool it would be to have the audio and then pieces inspired by it and then when you add the viewer it becomes a three-way conversation I guess.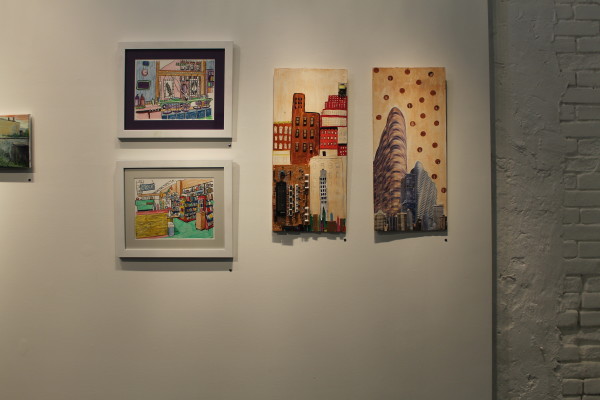 Did you do all the interviews? Yes I did.
What were the questions you were asking? It was some simple questions, asking them about Jersey City and people's experience of growing up here or living here, and some of the interviews are more focused on how the city has changed, if it's changed in a good way, and what do you think about that – the idea was to create a neutral opinion of many voices.
What's your opinion on the subject…how has Jersey City changed? Honestly, my perspective isn't long, I've only lived here 2 years… but my boyfriend grew up here… during this process I talked to so many people not just here but all over the world… its really a universal phenomenon, in terms of urban environments right now… it sort of just speaks to a greater global dialogue about inequality and government support for the development or promoting of unequal circumstances that would otherwise not be talked about.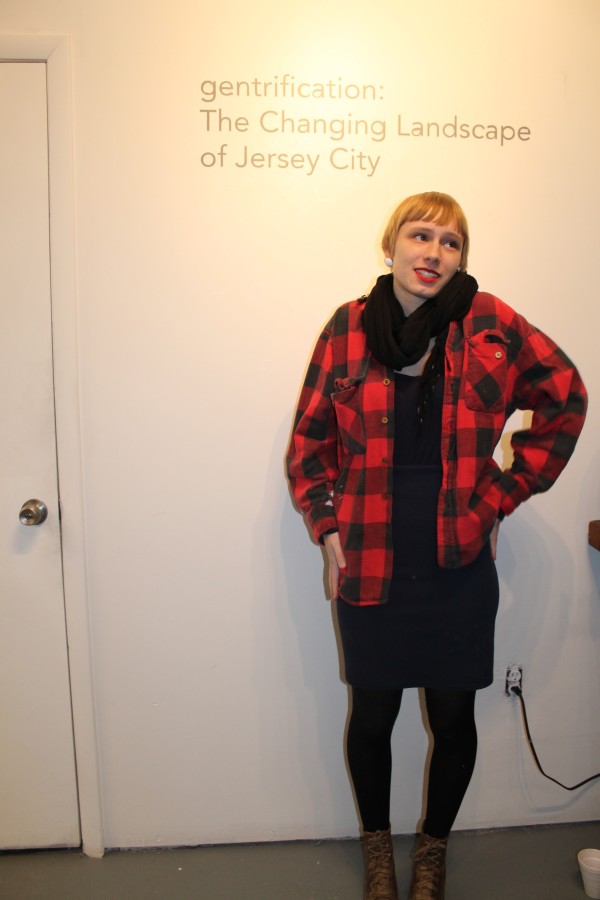 How long is the exhibit on for? It will be open till February 21st, weekends from 12-6pm.
Is there anything else you want people to know about the exhibit, or the artists about them? Yea – actually the artists are really diverse, they're not all from Jersey City but there's a handful that grew up here or were born here or have lived here over a decade or more or people relatively fresh to the city, they all worked so hard. To hear about their life and struggles they've been through its so interesting. I guess I just want people to come out to the exhibit, with an open mind.
Thanks Allison!
Sam, can you tell me about your work here? The piece is called 'Dope Sick Realtors Flip Reality'. The work is meant to inspire the viewer to question the commonly accepted construct of value. The hands supporting the structure reference human interest in the buildings that comprise the city. One hand supports the house, representing its value in terms of its capacity to generate revenue, while the other hand references its value in terms of utility and purpose–the basic animal need for shelter, home. Living in a climate of vast income disparity between the classes, we must ask–Is the creation of revenue alone equivalent to social growth? Can we continue to subject ourselves to this perverse incarnation of social and fiscal Darwinism while reciting the tired slogan of 'America, land of opportunity'?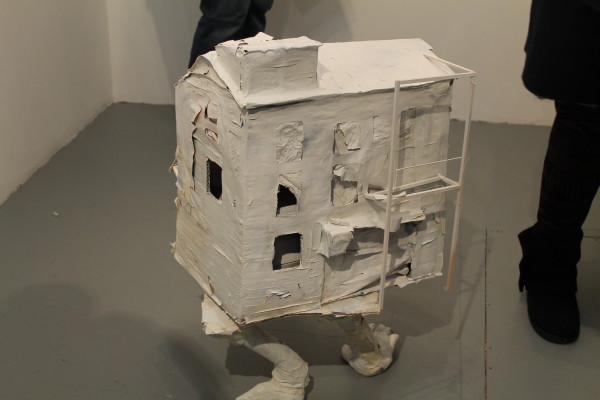 Dan, what about you? Growing up in Jersey City I've seen every side of it and it's evolution over the years, both positive and negative. I wanted to use my background and network here to shine light on an underrepresented side of the story that isn't told by the #JCMakeItYours campaign. The side that is ignored, displaced, pushed aside. Each of my pictures attempts to tell a story of a real person in a real environment in Jersey City that is significant to them with stories that aren't told by this campaign. We tend to see condo development as progress but we ignore the Jersey City natives that are being left behind in the process. I want to thank Scheme and all of its artists for helping me make this shoot a reality, they're also a talented group of JC artists and I couldn't have done this project without them.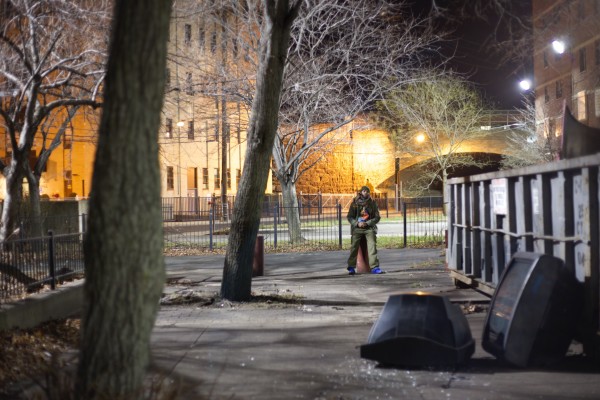 Web
Exhibit is at the 313 Gallery till February 21rst!
Address:
313 3rd Street
Open Weekends from 12-6pm