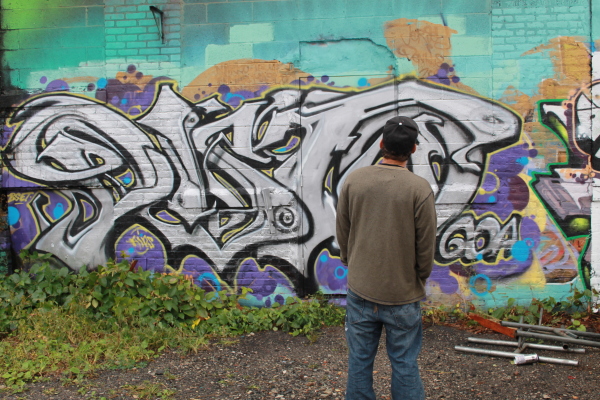 When I started ChicpeaJC I was mostly focused on fashion and stylish people, until I discovered the street art scene in Jersey City and I was hooked. My street art posts are always a favorite, since I get a chance to not only get to know extremely talented and inspiring individuals, but I also get to do a tour of their work and get a taste of what its like doing street art. I learned about Distort through Mr. Mustart when I last interviewed him, and after seeing his work I couldn't wait to meet him. Distort invited me to his studio which so happens to be the same spot I did a photoshoot once with the Big Hair Girls, this studio shall remain as an undisclosed location.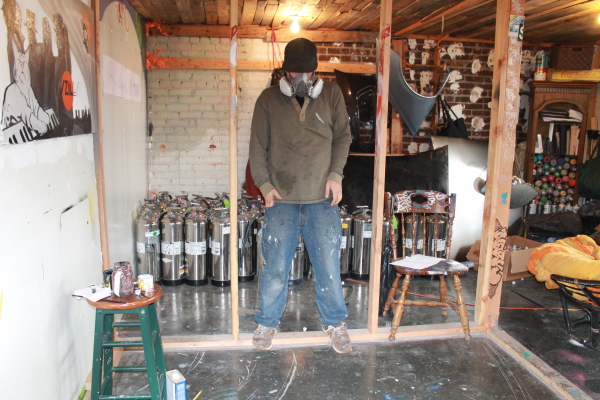 Distort and I chatted in his studio and then got in my car to do a small tour of various walls he worked on… There was one place where we had to go through a broken gate and into train tracks. I felt like I was in a scene of a movie! A train was passing by as we snapped pics and then out of nowhere a cop came to tell us to leave. "Did we almost get arrested?" I asked Distort, to which he smiled and said "haha, maybe". Then my response was "Can we do that again?! The adrenaline rush is addicting! Maybe ChicpeaJC will take on spray painting. Thoughts?!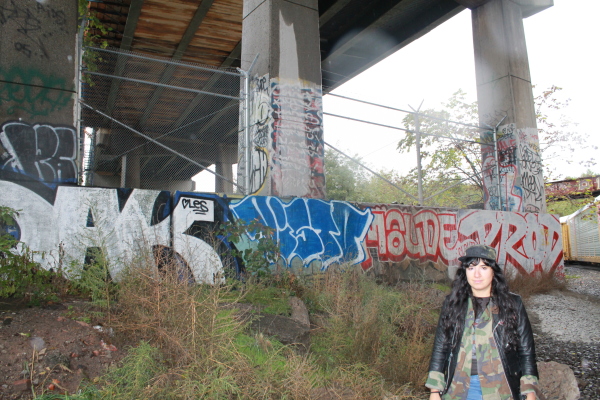 What's your name? My name is Distort.
Why Distort? I've had that alias for a very long time and I feel like I've sort of grown into it in a way… I don't know whether I chose that name because it suits me or I just embodied what that word means to me.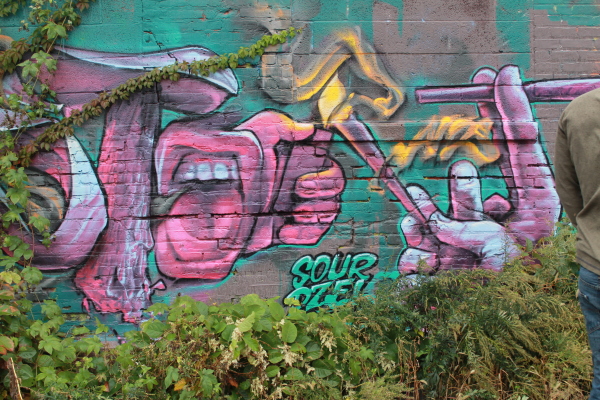 How long have you been doing art? Since I can remember. I would say I've been doing fine art longer than I've been doing graffiti… I did the two things separately for a really long time while combining them but I am not more one than the other. Really what I love to do is put them together.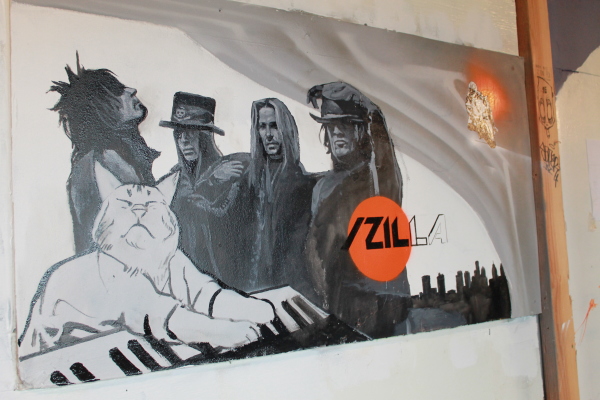 Is there a reason why I can't take a picture of your face? Well I use my graffiti name for my fine art because it's such an uphill battle to make it as an artist. Graffiti is now really popular in the art scene and I happen to have been doing it since way before that. It actually helps me promote myself as an artist and alot of the jobs I get… it's not clear whether it's because of my graffiti but it definitely helps spread my name better.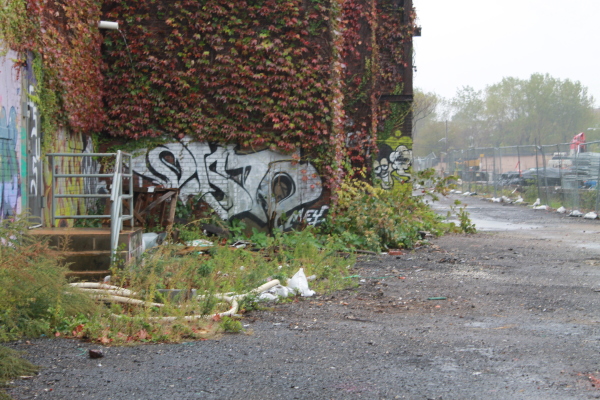 I do all my own advertising, it's my own business…Having public art in places that people see, especially verbal art like graffiti…  I use it to my advantage to draw attention to my art. Which is more what I am trying to say… what I believe in, what my principles are.; politically, aesthetically…. so it's not just "hey look at me…" I have things on my mind that I want to share with people.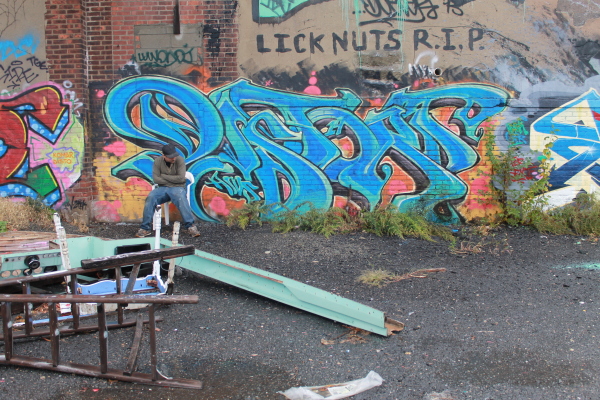 Like what, give an example. Well I think the art says it better than I do.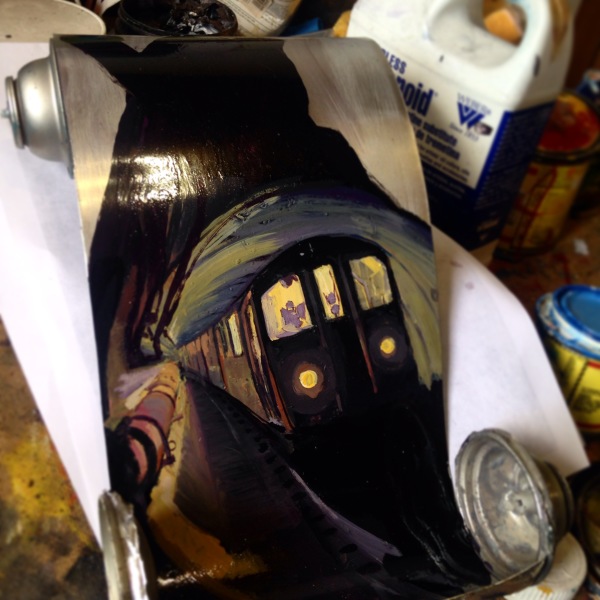 To try and take where we are at in time now and resolve it with the timeless characteristics of human beings is the vast exploration of art. Artists try to get the bottom of it and everybody sees it differently… I think I've developed a visual vocabulary that looks medieval…. I don't know if you've seen the hoods I've engraved or the spray can scrolls…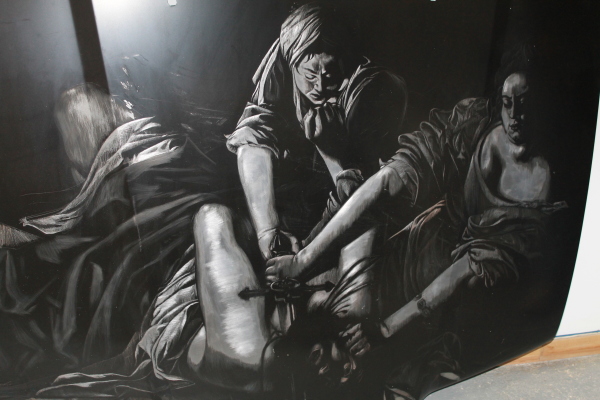 I think of the hoods as shields and I reference a lot of violence in classical art. I think what I am trying to get at with my visual style has a lot to do with both the violence that is inherent in renaissance art because all the wealth that contributed to the creation of those sculptures was derived from the crusades and shit like that.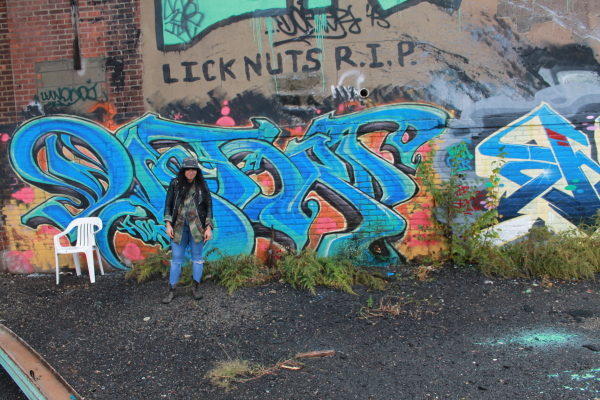 As an American artist, I work my ass off but within the context of comfort…. and comfort at the hands that we are constantly at war. The parallel with referencing classical violence on car hoods which have to do with oil and are the dinosaur bones of our society…. those kinds of parallels are what make it dark but also really classical. I am not just someone that puts something there and it's up to you to try and figure out. I don't have a hard job, my job is to communicate visually so if it isn't going to reach a viewer, it's not doing anything.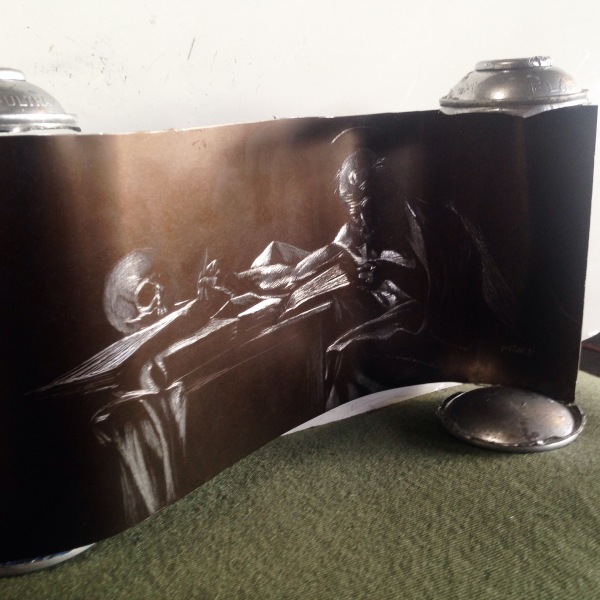 I am classically trained, I went to PAFA (Pensylvania Academy of Fine Arts). I think people respond to my art with less bias… I feel like its nice to use a language that is going to appeal to people that have bias and then hit them with really dark undertones…
Which is interesting because you collaborate with Mr. Mustart a lot and his style is different. He wants the viewer to figure out what he is trying to say… Yeah totally. I've known him for a long time. He is a person in the world and his life is experienced throughout the city, interacting. I am hidden in my own little world.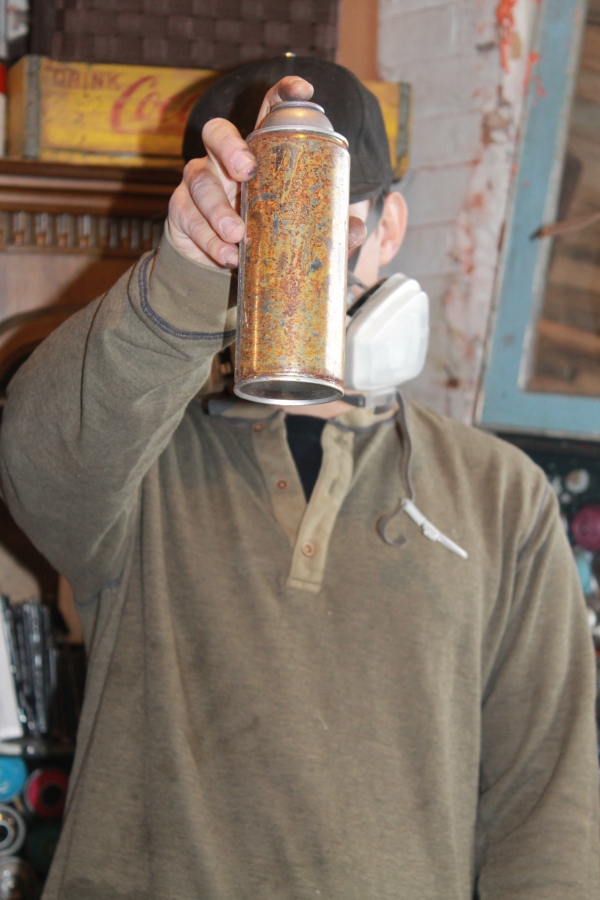 When did you start graffiti? I started writing in middle school. I am not comfortable in big crows of people and always felt like I never said what I wanted to say in the moment or I wasn't able to be myself around other people. Graffiti was totally an after the fact social interaction… When everyone else is gone, you go and write on stuff and then people see it in the morning when they wake up.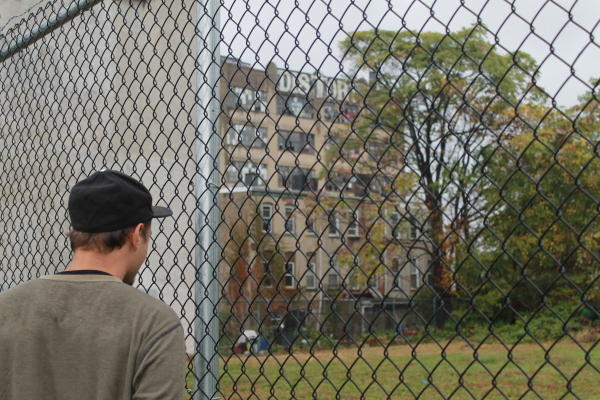 I feel way more comfortable doing that then interacting with people… nobody really knew who I was, I felt lost in a big sea of people… I remember how shocked I was at how quickly people knew who I was… I still feel like I haven't done anything in terms of graffiti but when you are putting your name out there people start listening.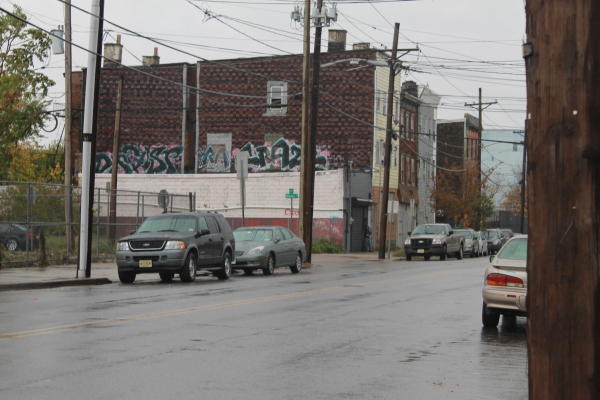 Can you tell me more about your work around Jersey City? It's a mix of legal and illegal things.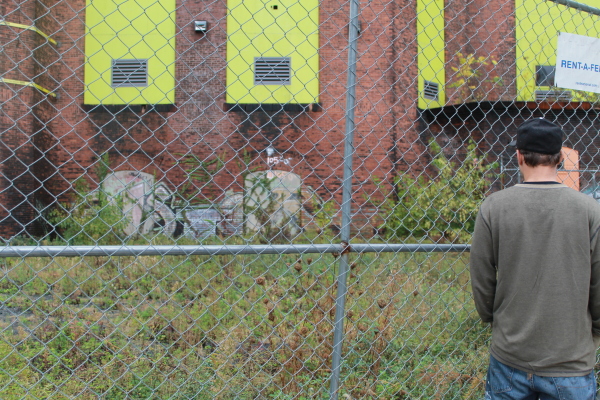 Have you ever been arrested? Yes but not in Jersey City.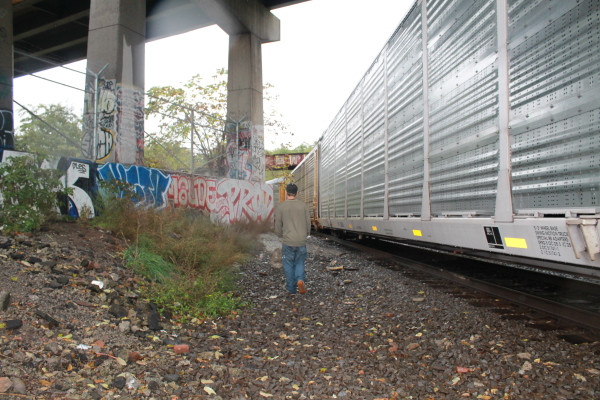 Do you see that changing? No definitely not. It's strange because Jersey City is embracing graffiti, like Mana arts is introducing it…
Have you done work with the city? I can't comment on that.
Other than Mr. Mustart have you collaborated with other artists? Yeah my whole team is here… my boy Clarence Rich we did a show together at Freshly Baked and we've done a bunch of murals together too… We got a whole team out here… We've been in Jersey City for a while.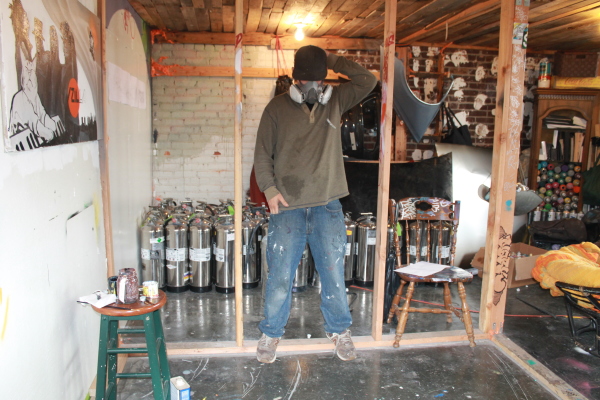 How long have you been living here? I'm from Hudson County and then moved to Philly for 7 years and then moved back. Been living in Jersey City for 4 years.
Do you have a favorite Jersey City hangout spot? This place. Other than that, I like to go to Abby's…. I went to the Keyhole for the first time recently… it's awesome.
What's your creative process? What inspires you? I like to have references and I think a lot about whats going to lead peoples minds to different places… I look at images and see what kind of relationships they have with each other. Like if you put two colors next to each other it is completely different then the two colors on their own. It creates a kind of tension, or lack thereof and images do the same thing. I just did a series of religious women and tunnels.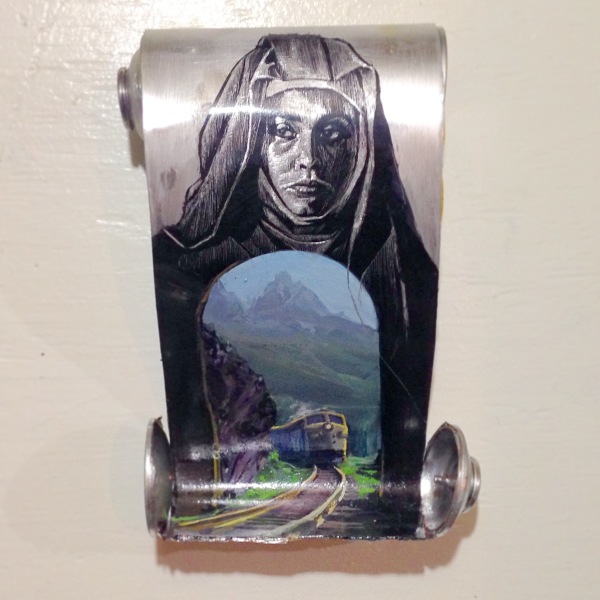 Those images together, makes the tunnel look like a spiritual place… I also really think the graffiti made me an adrenaline junky so the way that I paint…. I don't sketch anything out but I am very OCD about it being perfect at the same time…. I freestyle it but sometimes in ways if I mess up I can't correct and I like that… It makes my blood pump and makes me focus.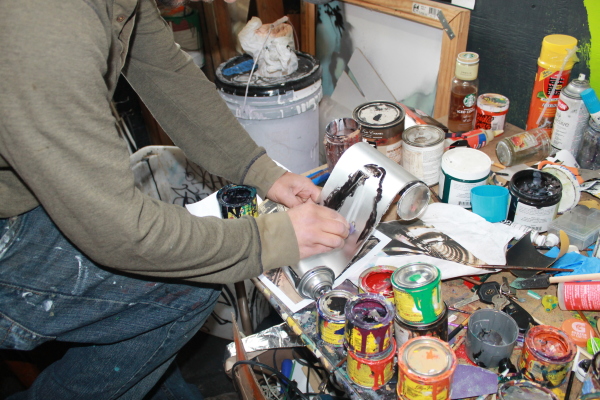 It's the recording of moments that are used to make the art.
Do you have any upcoming projects? I am in a show this Friday at the Westport Art Center in Westport Connecticut. I also have a show right now in Louisville, Kentucky "Often seen, rarely spoken" It's a group show. I am going to be showing at "Scope art fair" in Miami for Art Basel. Over collectibles is releasing a Distort print and sticker pack that is available on their website.
Wow, Congrats! Yeah I won a competition. I go down there for my job anyway…
What is your job? I am an art handler for a gallery in Chelsea. I am a low down person for a high up gallery. I've been there for a long time and I get to see whats going on in the art world and see how it works.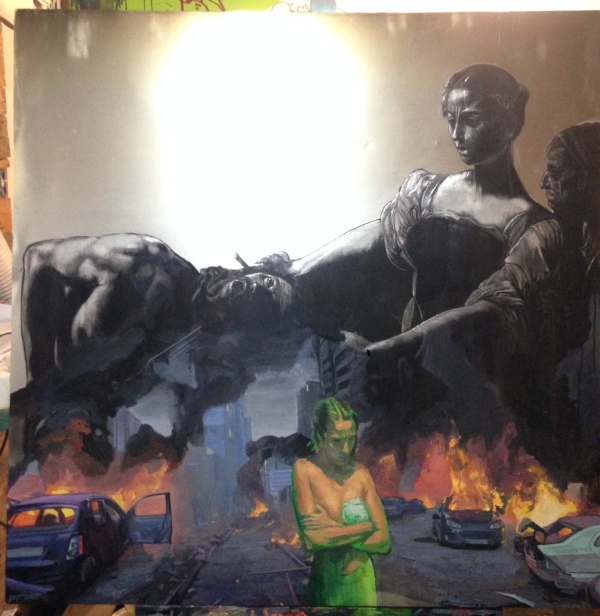 Where do you see yourself going in the future? I have a whole body of work that I want to make… every day is not enough time to do everything I want to do. I have all these fire extinguishers over here to make scrolls with… I only made one so far and sold it already…. I am also working on an equestrian statue, it's going to be made out of car bumpers. It's going to be huge.