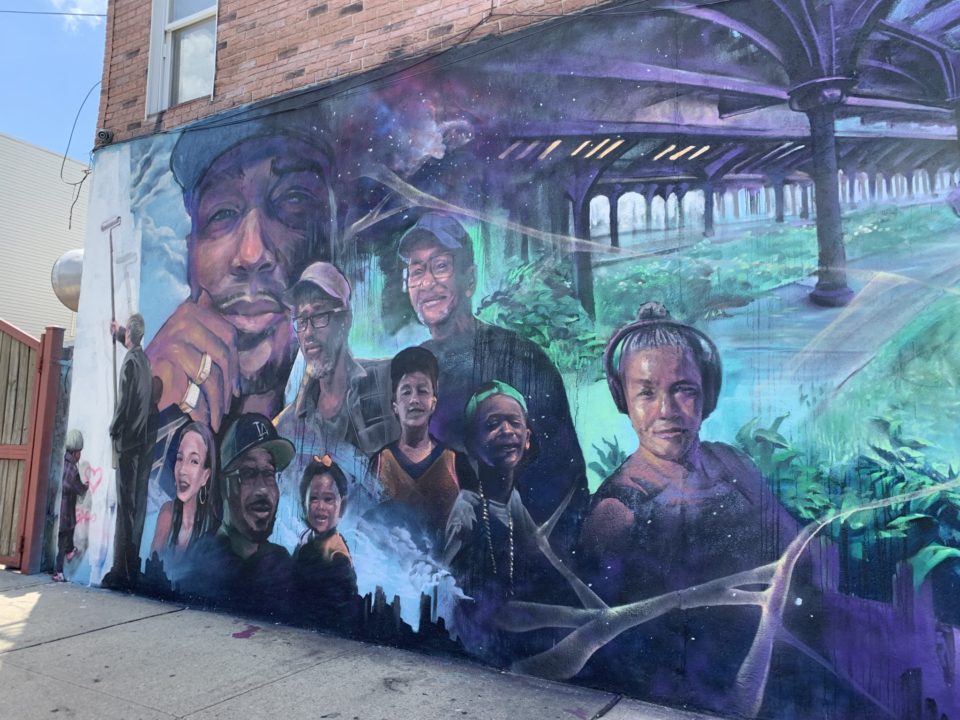 We interviewed Distort many years ago for the blog. Since then, he's done some incredible murals all over Jersey City, notably the massive one by the Holland Tunnel and his recent collaboration with T.Dee, a Jersey City legend. A few weeks ago, while we were driving down Pacific Ave, we caught Distort working on a mural, which portrays various members of the Bergen-Lafayette community. We stopped to chat with him to get some more info on this very special piece and its significance. He calls the mural Community Consciousness, and it's all about paying tribute to the very people who make that corner in Bergen-Lafayette special.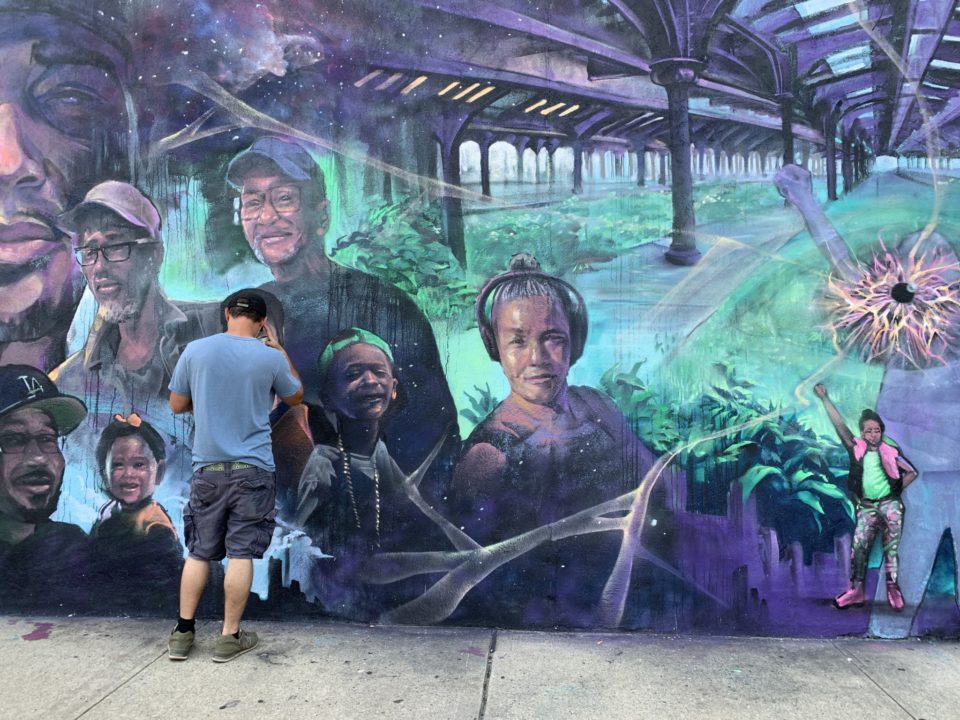 So, who is included this mural?
This is the father of the guy who owns the bodega. His name is Santos.
Let's back up. Any time you drive up, this corner is always very lively .There's always people out here talking, walking down the street. Getting to paint a mural here was kind of like, "What are you going to do?" You don't want to change the environment. I talked to ____, the current owner and this guy's son, and he said, "Do whatever you want but I want my father on it." His father was a staple of this block before he passed away, he was killed in the Dominican Republic. He was someone people loved and I didn't know him, but I know this because while I was painting it, everyone would tell me about him. I had a little plan for this wall, but the plan was to be out here and get the stories here and put them up. Brooke was awesome about having leeway with this because I usually get my sketch through and have to stick with it very strictly. Since I have a good rapport with them, they know I'll do the best job I can and they said it was cool to keep it open. While I was out here, I just talked to everyone who wanted to talk and learned a whole lot about what's happened here.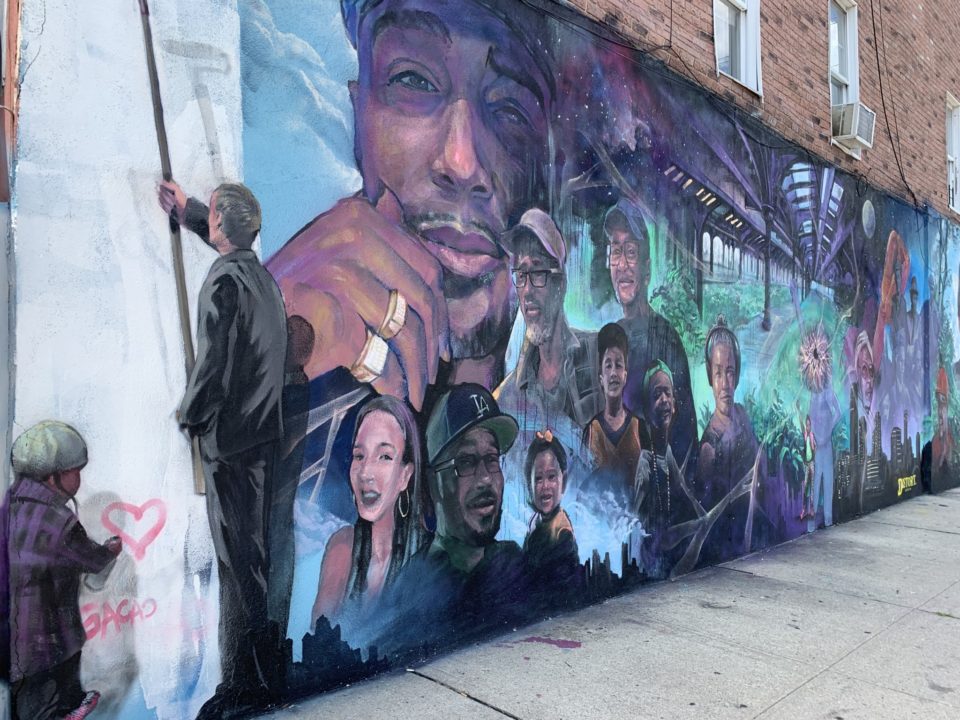 This guy, his name is Face or Freaky – people call him different things – was murdered in his backyard. People have amazing stories about him, too. Him and his brother barely liked people out here and had some issues with other people. That was crazy for me, too, because I was talking to his sister and brother while painting his portrait. It's a very intense experience. The next day, I come here and there's a woman with her window down. She stops right here and tells me she drove by it at 7AM and stopped for 20 minutes and was just crying, like, "How did you know? How did you know to put him here?" The emotional feedback of this one… I feel like it's on the wall. I'm not done with it, either. I'm still working on it and I'm trying to make it to the end, and then I'll come back to tighten everything up.
That's Kool and the Gang, that's a little more obvious. It did not take a lot of research. The baseball thing has a lot more to do with him and his family, where they have that strong connection to baseball and there's a baseball field over there that they played in. I'd say baseball is big with Dominican people and Black people here. This lady, I just added her yesterday. She was a crossing guard at this intersection forever and she passed away, so her family gave me that photo.
The more you stare at it, the more alive they come. It's the craziest thing. She's literally staring at me right now.
Here's the predicament: While these are all people from the past that have passed away, I wanted to include people that are still alive. This is the daughter of the guy who owns the bodega. I painted her too big at first, it was the wrong scale. I painted it smaller but didn't erase the mistake I made because it's almost like that's her and that's who she grows into. It separates the past from the present because it's bad juju to put dead people and living people next to each other, so this is my dividing line. There's also a lot of male figures so I wanted to at least put the women in the middle and hold it down.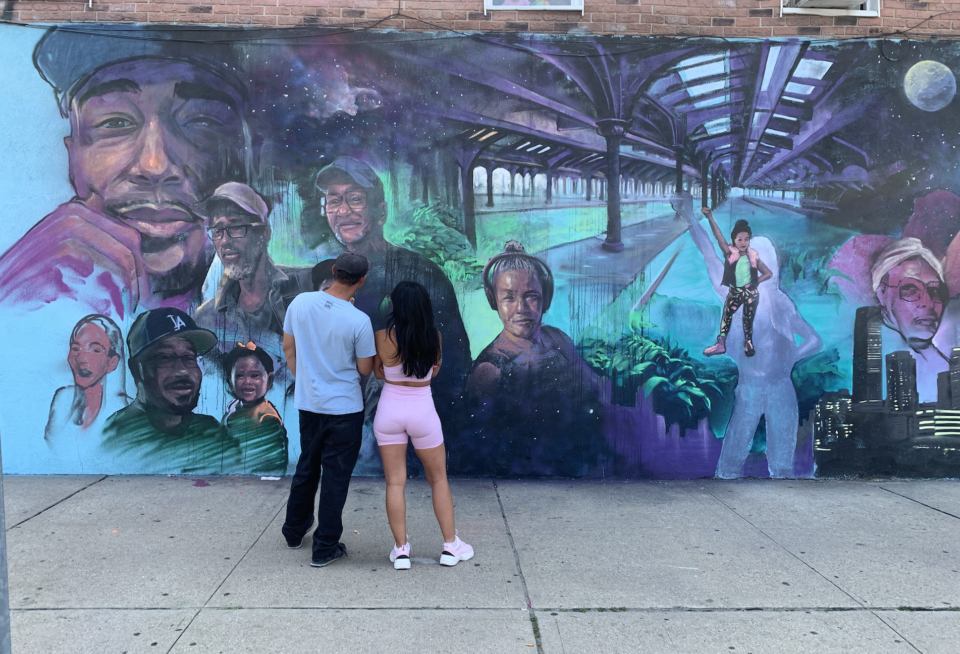 I love that. I saw this lady the other day!
I forgot her name, but she's an amazing and beautiful person. I met her when I was painting Mordi's, I did some little things and I met her out there. I took her photo – that was right before I did this – and put her up here. These two guys help out in the store – that's Barry and Junior – and they've been here for a very long time, everybody recognizes them. The minute I painted them, people were like, "Oh that's my uncle Barry!" Then these guys are their children who own this building. They're immediate family – the two sons, daughter, and wife. At the end – this is the only other part that I knew before I started – there's going to be a guy in a business suit, like life-sized, the shadow will be on the wall, and he's going to be painting white over the wall as if he's erasing the whole thing. Right here, there'll be a little girl with a spray can painting a heart right behind him.
What's the significance of that?
That they're going to try and whitewash the whole neighborhood. They're building 6 or 7 condos just on one street. People are like, "Oh, this neighborhood's coming together, it's coming alive!" If you talk to people from here, it's like the neighborhood died. Straight up dead. This is what this neighborhood is to me. I didn't even know until I stood here for a week and a half. It's under threat.
I drove by yesterday and came right back to see it. There's this energy, there's an attraction and when you look at their faces, there's life in them.
How do you feel about the mural program bringing people in?
Distort: I learn from it. We also have heavy competition. I know what the best murals look like and the time frame people get them done in, and also what we do different out here that makes us special. That's important. I want to travel and go everywhere. I hope that we can get artists from all over the world here, and artists from here can go all over the world.
It's been four years since I last interviewed you, and you've had a few awesome murals like the big one from the Holland Tunnel and the one with T.Dee. How have things evolved for you over the last few years?
It's been cool. It's been good, I think. It's a slow grind and I don't want it to go any faster because doing the one with T.Dee made me realize what we do takes a lot of thought. It doesn't have to, but it's an important ingredient and comes out a lot better when you put thought into it. I feel like I have goals and aspirations that I want to get to that are lofty ones. Where everything is right is at a pace where I always have something to devote myself to and I also have the mental space and time to be able to give it the thought it deserves. I would say things have been slowly getting dug deeper and need to spread.
What people don't know about you is that you're classically trained. You went to art school. They probably think you're just a kid who grabbed a spray can, but you also have the knowledge and history of art.
Somewhat, yeah. I think you've got to have knowledge on everything. Art and how to use spray paint are vital, but then I watch the news every day. There are certain things – you have to be able to say something if you wanted to, and you have to have something to say. Training skills are just being able to articulate your thoughts. Some people arrive them from training, some people can get all those same skills from no training. Maybe it influences your style.
I love it. What's your next project?
This is mural season, so I have a bunch of murals back-to-back in Jersey City, New York, Morristown, Philly. I'm working on some intense stuff in the studio right now.
---
While speaking to Distort about this mural, we ran into a few people in the community who were involved in the mural.
So what's your involvement in the mural?
I live here actually, right on Maple St. Most of the people here, I do know. He did an excellent job gathering the people from Jersey City and telling their history there. Along with Kool and the Gang, they used to live on this block.
That's awesome.
He did the Canal. The bridge, that's the canal. There's a history there. I love it. Did you see the job he did on Communipaw?
At Harry's Daughter, yeah! It's beautiful. Who's dog is that?
Distort: It's my dog. That's my boy Radar, he passed away when I was doing the big one by the tunnel. I get my coffee every morning from The Grind, best part of my day and I say, "What's up man." Then I start my day.
…
Here's Junior!
You're famous! How do you feel?
Junior: I feel pretty good. I've got my face on the wall. Never had that happen before.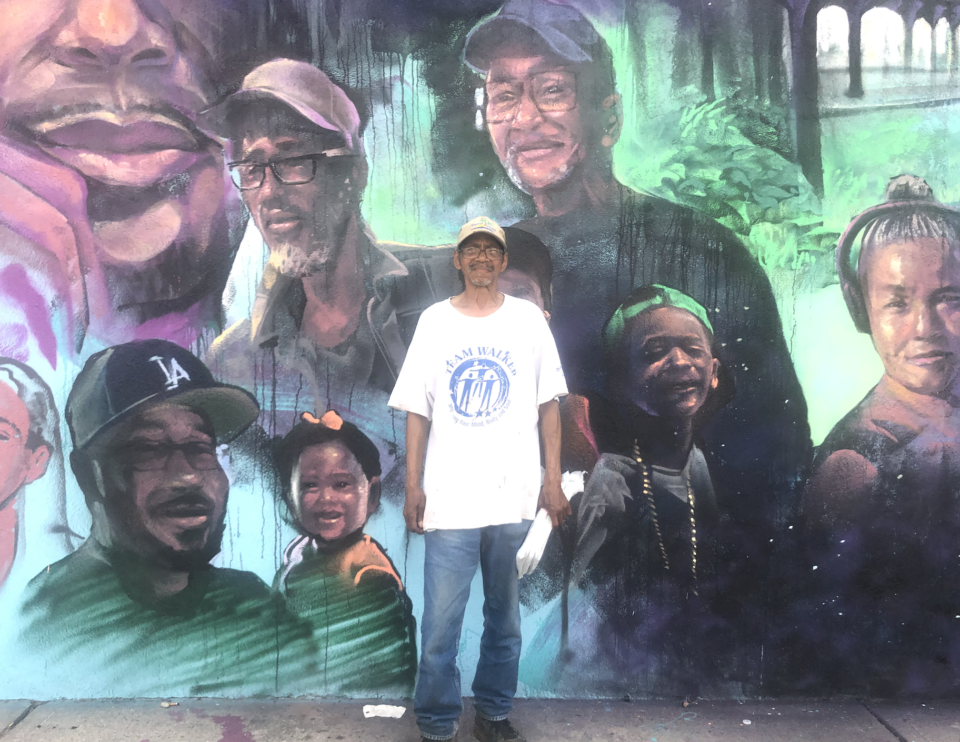 Did you grow up in Bergen-Lafayette?
Junior: Yeah, I grew up here for 60 years.
What's your favorite thing about it?
Junior: The neighborhood, the people.
How do you feel about the changes?
Junior: Some are good, some are bad. The problem is the bad. Other than that, it's ok.
Thank you for your time!
Check out this awesome video by Aymann Ismail.