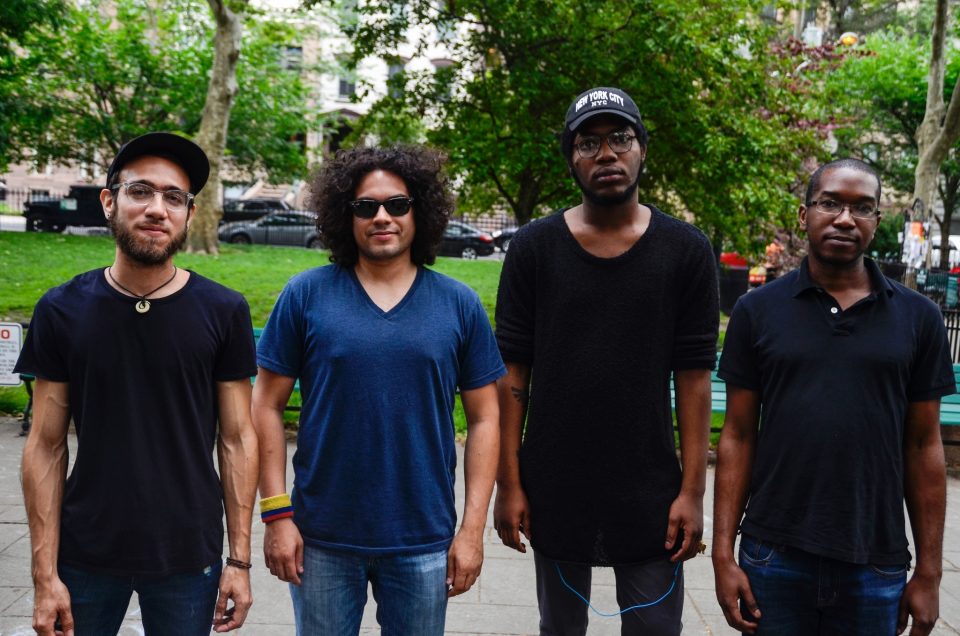 I first heard about Bodega Dream through Dancing Tony aka The Mayor of Fun when we collaborated on a special Hip Hop does Groove on Grove night a few months ago. When they went on stage, I couldn't do anything else but dance. They brought a huge smile on my face. I just loved their vibe. After Bodega Dream's set, I introduced myself to Sergio and Darion and told them I would love to interview them for a post.
The issue is, they technically do not live in Jersey City and to be honest, up until a few months ago I've been pretty strict on only interviewing people who live or work here. That being said, lately I've been meeting some really talented people who perform here often, they hang out here regularly and support JC culture and small businesses! so why not? Rules are meant to be broken.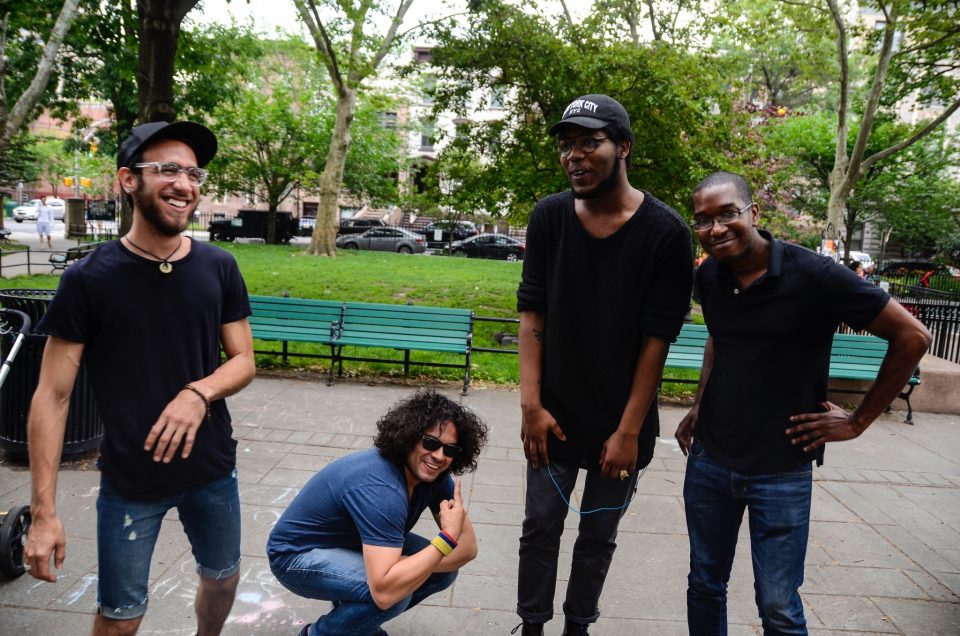 The guys came from Brooklyn to meet me in Van Vorst Park, we spent a wonderful afternoon together in one of the pretties parks in JC, and they even gave me my own private concert.
I am excited to also announce they will be performing at the Forever Young Festival this Saturday! You guys need to see them live!!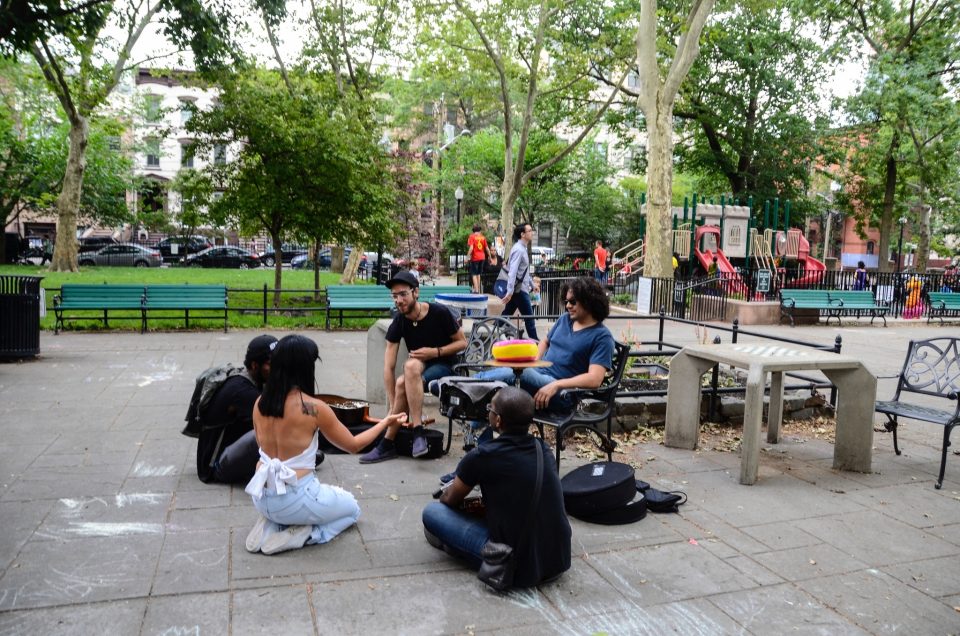 What are your names?
I am the vocalist; my name is Darion.
My name is Sergio; I play a bunch of things.
My name is Fernando, and I am the drummer.
And I am Craig; I play bass and guitar.
What is Bodega Dream?
Darion: We used to say experimental hip-hop for a while, but I think afro-punk fits us more.
Sergio: Yeah, it's like blending our surroundings and taking those influences and using that hip-hop pulse as the foundation.
Fernando: We're very influenced by where we live.
Craig: Nowadays, you have a sense of bands are exploring.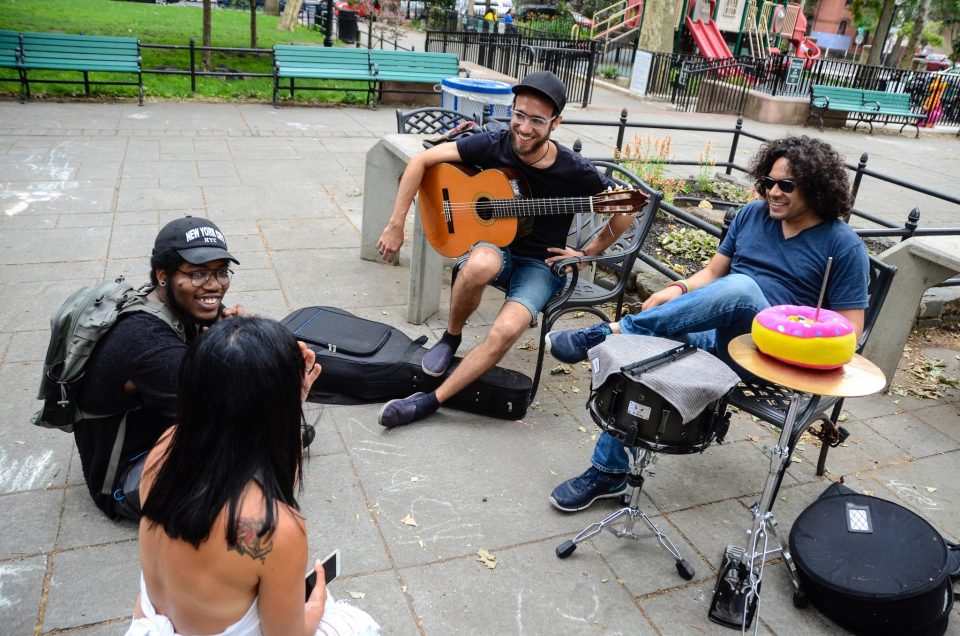 Right, it's not like one genre anymore.
Craig: Like Kanye West, you're not going to buy a Kanye West album and just expect hip hop. There's industrial, there's rock, there's fucking reggae samples, it's like a clusterfuck of things, and then you just give it out like, "Here's our art."
It's true. How long have you guys been together?
Darion: A year and few months, but me and Sergio have been working since 2012.
Sergio: Yeah, we started writing together in 2012.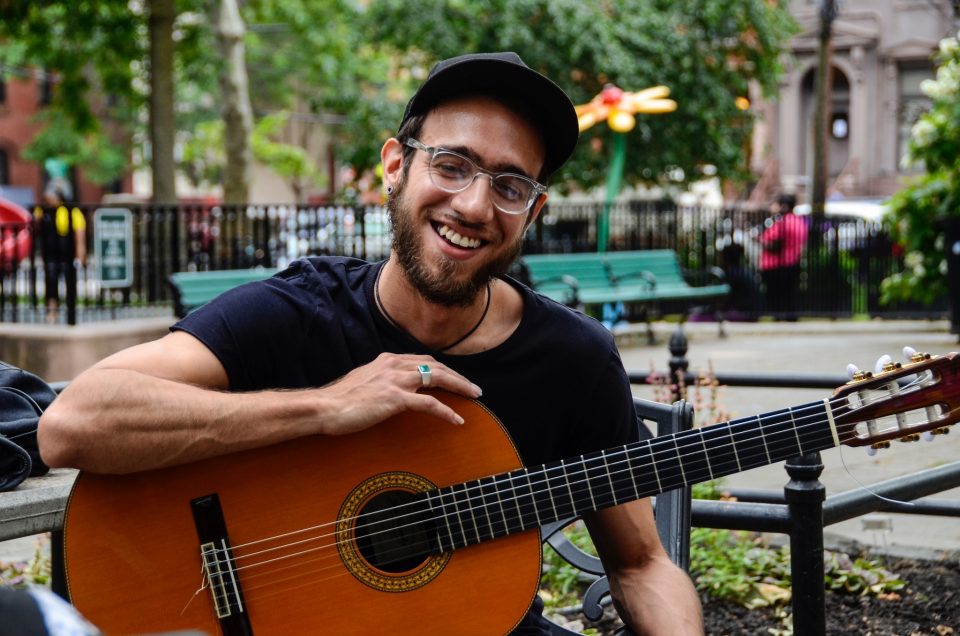 How did you guys meet?
Darion: We worked together in Miami.
Sergio: We were working at a café together, and I remember hearing Darion randomly singing shit. And then Craig—
Craig: They crashed at my house—they were there when I wasn't there. And then he (Sergio) was going into places he shouldn't have been. He stepped into my room, saw the instruments, and he was like, "Maybe you can be in a band. Do you want to be in a band?"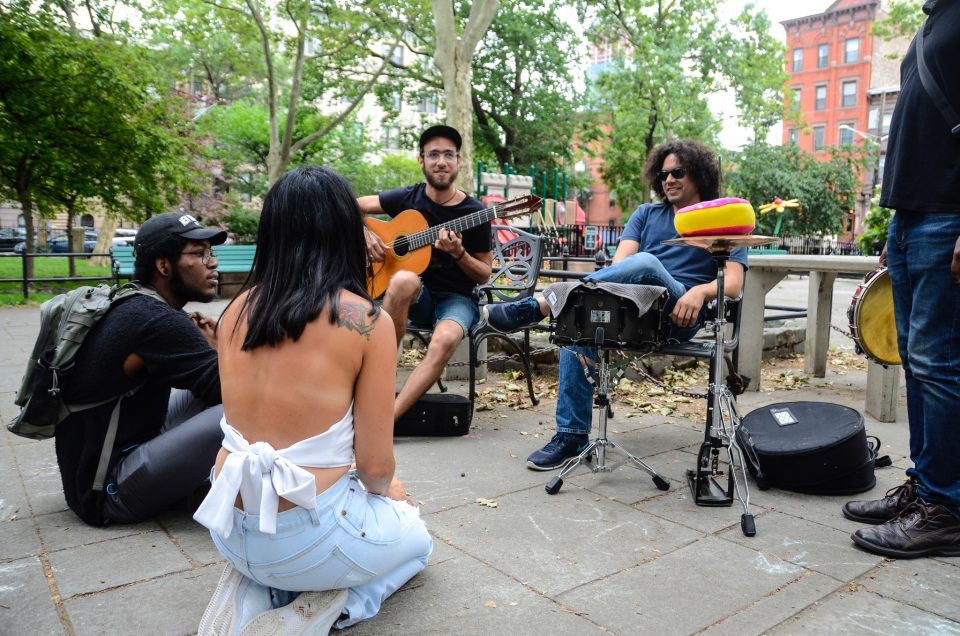 What about you?
Fernando: Any musicians' last hope—Craigslist.
That's hilarious.
Sergio: We had a spinal tap moment, and one of our drummers got deported, and Fernando came by, and he was like, "I'm ready guys."
I feel a family vibe between you guys. You guys are all very different but on the same wavelength.
Fernando: We've only known each other for a year and some change. I feel like I've known these guys all my life.
Why "Bodega Dream?"
Darion: Bodega Dream comes from—
Sergio: Miguel Pinero, he's a Puerto Rican poet.
Darion: And it's a book, too. We were thinking of band names and then he threw the book at me and I was like, "That's perfect." It comes more from the poem than it does from the book, though.
I love it. It's such a good name. So I saw you guys at Groove on Grove, but you're technically not from Jersey City—what's a Jersey City tie?
Fernando: I often come because I'm in another band. I'm always here; Jersey City is like a second home to me.
Do you guys have a favorite Jersey City hangout spot?
Fernando: All the time, Barcade, Lucky 7's, the Lamp Post when it was over there.
Sergio: We're not from here, but we want to move here.
A lot of people compare Jersey City to Williamsburg, how do you feel about that comparison?
Darion: Williamsburg is douchey.
I don't like the reference because I think Jersey City is special in itself.
Fernando: I think Jersey City has a little bit of everything—culinary, music, art, it's lovely. What I love about Jersey City is when you're walking around, you find something interesting to look at, and it's awesome. It's my second home; I connect with the people.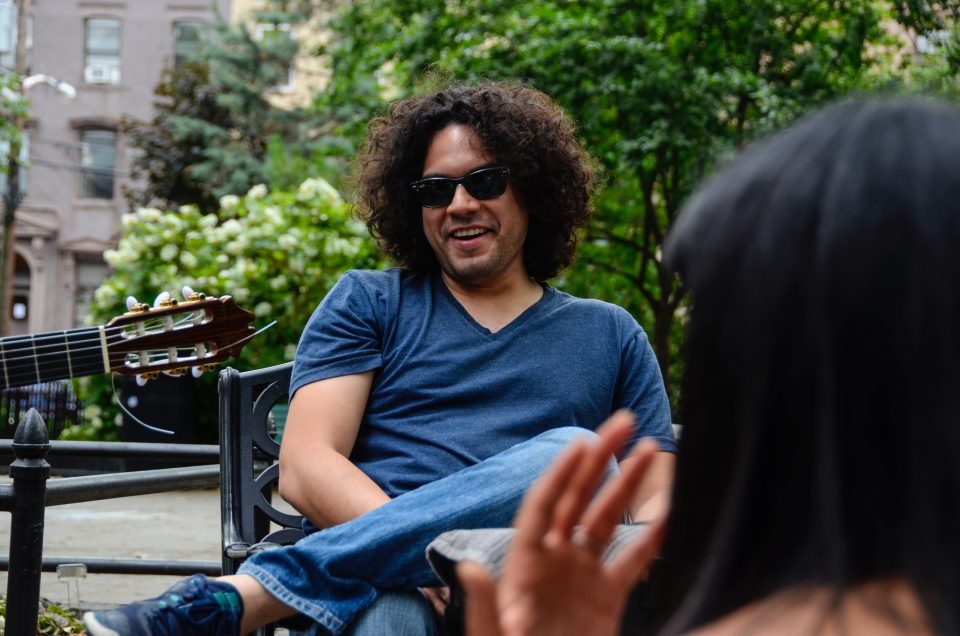 You guys should move here. So what is your creative process?
Sergio: We start off as bare as possible. Usually, Darion comes in, and he's like, "I have this one thing," and we find it and we bring it to Fernando and Fernando is like, "Let me let it grow!" He's watering the plants and then Craig comes in, and he's like, "Don't worry about it guys, get out of here," and lays on the bass.
Fernando: I've been in other bands where it takes two days to create a chorus where this always felt natural coming up with these beats. I value that a lot and the connection here is awesome and makes me want to work hard.
Do you have any future plans?
Darion: We have an EP coming out in the fall, there's going to be six songs on there. We're going to put out a video for two of the songs.
Sergio: We're going to try to release it by August with the video and the single. It'll be the first time where it's a full band because for our first EP me and Darian constructed all the beats and it was very electronic.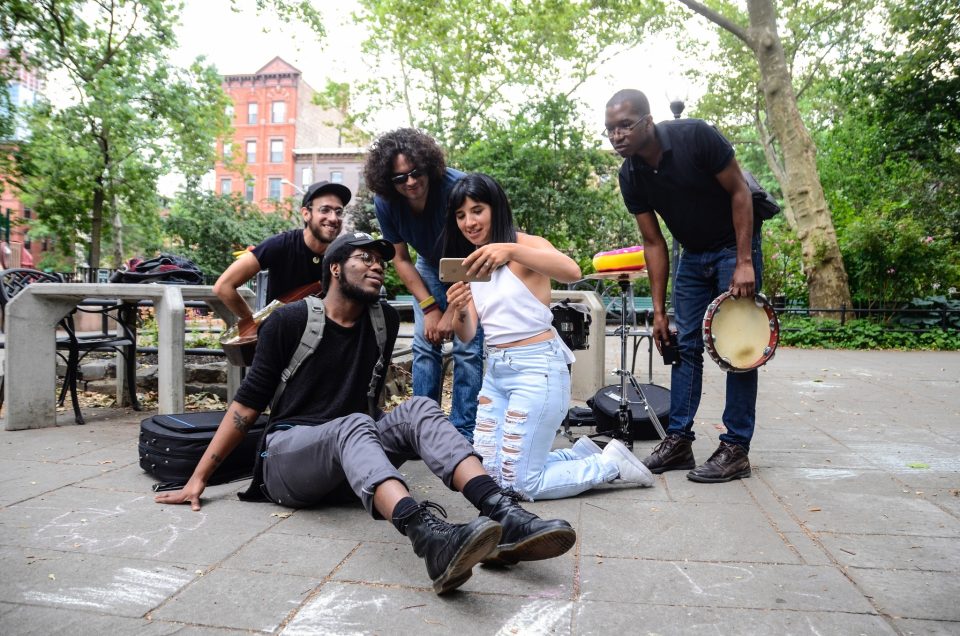 What are your musical influences?
Darion: I'm from the South, so I grew up listening to southern rappers like Lil' Wayne. But then on the other spectrum, I love David Bowie, I love Prince, I grew up listening to Erykah Badu.
Sergio: For me, it's very similar to Blood Orange and Prince, Radiohead, and Run the Jewels.
Fernando: I started out liking the rock from 2000. It just became repetitive, and I started branching out from that, and I started listening to the independent drummers like Dennis Chambers, Dave Weckl, and they're more of like the jazz fusion. Now I'm into IDM, Intelligent Dance Music. The artists like Slow Magic, Lusine, Chvrches is along the lines, but they're poppy too.
Craig: My first CDs were alternative rock CDs. Big bands were like Radiohead, Smashing Pumpkins, Portishead. Now I like bands that mix it all together.
I like that there's no genre anymore. How do people find you?
Sergio: You can google us.
Darian: We mainly use our Facebook if you guys want to contact us.