Asbury Park is Jersey City down the shore with many similarities, tons of cute boutiques, restaurants, and street art. As you know, we're big fans of the art community in Jersey City so we wanted to explore the same in Asbury. When you go to Asbury Park, you see a lot of art from Jersey City artists like Robert Piersanti and Dylan Egan.
On our last visit, we went to check out Parlor Gallery, which curates unique exhibits featuring work by many artists. If you've been to Wynwood Walls in Miami, it's like that in a gallery. When I'm rich, I'm going to Parlor Gallery and buying everything off their walls because the art is sick. I got to sit with Jen and local artist Pork Chop to talk about the gallery as well as the Wooden Walls project, which is the Asbury Park mural program.
What are your names?
Pork Chop: My name is Pork Chop.
Jen: And my name is Jen Hansen.
So Pork Chop, why Pork Chop?
Jen: That's the more interesting name.
That's your artist name, right?
Pork Chop: Yeah. So my real name is Mike La Valle. Years ago, I used to paint pictures of pork chops.
Why?
Pork Chop: It started off as a joke. I drew a picture of my brother-in-law as a hillbilly chewing on a giant pork chop. Then I saw it as a symbol of temptation of sorts because a lot of religions aren't down with pork.
Yeah, I'm Jewish but I love bacon. I fucking love that shit.
Pork Chop: Why wouldn't you?
I fucking love bacon.
Pork Chop: So that's kinda how it started. I started drawing pictures and doing paintings of pork chops symbolizing other things – temptations and a bunch of other stuff.
That's awesome. So how long have you been an artist?
Pork Chop: I started drawing when I was super little. My grandfather was an architect and a painter, and my aunt was a painter so it was kinda in the family. I'm the youngest of 5. My brother was an artist of sorts. Everybody was sort of artistic so it was kind of always around – I just picked it up.
That's amazing. And you run the gallery? What do you do?
Jen: So I own the gallery with another woman. Her name is Jill Ricci, she's an artist. That's actually her work right there.
Oh cool.
Jen: I've actually had a gallery in Asbury Park for 12 years. I started off in a gallery across the street called Cry Baby but at the time, I thought the need for Asbury Park was to have an erotic art gallery. I thought that would be an easy thing because it was like a very small niche community and I was like, "Who cares it's on the 2nd floor walkup? It's erotic art. Everybody collects erotic art, right?" It just kinda failed really fast, but failing in a sense that some of my friends in the gay community was like, "Why are you having a show based on bears? What are you doing? No one buys this kind of art." And I'm like, "That's not true." So very quickly, I realized that I should just curate for me and if other people like it, great; if not, I'll figure it out. I didn't really have a plan, and thankfully the woman I owned the gallery with – I had the gallery with another woman who was basically like, "I'm bored with my life. What should I do? I like art. I should open a gallery." But she didn't have any background in art, but she has a background in business and I had a background in art, so I thought it was a match made in heaven except she was one of my close friends so it wasn't.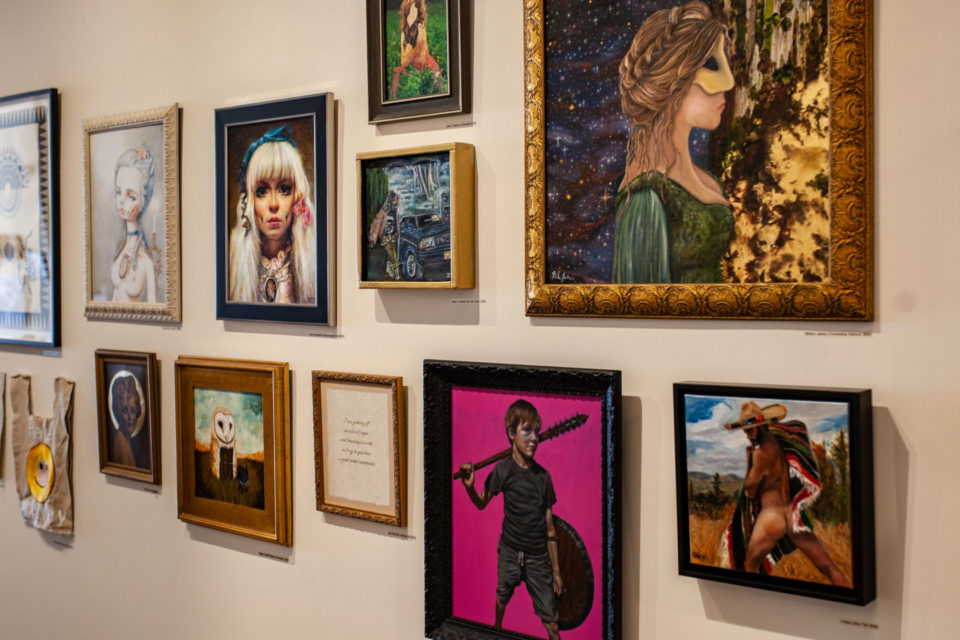 Oh yeah, I know how that ends up.
Jen: Everyone's like, "Oh, you shouldn't go into business with your friends." And I'm like, "Ah, that's bullshit."
Friends and family.
Jen: It's bullshit, but it's probably true. What's nice about the relationship I have now in the gallery is that, Jill was a woman who also moved to Asbury about the same time as me. She was from Chicago. She wanted to do a gallery, I wanted to do a gallery. I asked her if she wanted to do it together after my initial partner left and she was like, "Ehh" and I was like, "Okay, well I thought I would ask." But she had a studio space upstairs and we would meet out front to smoke cigarettes. I was like, "It would be great. You should totally do it." We took a 2-year detour and she decided to enter into the gallery about 10 years ago, so then we renamed it Parlor Gallery and we've been doing shows ever since.
When I walked in, right away I was like, this is so my type of art. I also grew up in a family of creatives. If you come to my home there's paintings everywhere, but it's naked people and gold. Very intense art. I think I have some sort of trauma from it, so I love more pop art and I recognize a few artists that I've actually interviewed. You have Dylan Egan, which is amazing.
Jen: You've interviewed Dylan? Isn't he great?
I've interviewed Dylan. He's amazing. He's so talented.
Jen: He's so interesting. His whole life story blows me away. Have you been to his space?
His apartment is insane. He was actually one of the first artists I interviewed.
Jen: He's great.
Nobody knew who I was and he opened his home to me and it was like a big deal.
Jen: He's a really gracious, nice person, and to think that he was raised by working artists in New York City and he left New York City to go to Jersey City – he kinda has your story. He didn't find it creative, he was raised there and he was just kind of, "Eh" and then ended up in Jersey City.
Yeah, he's the coolest guy. You always see him super well-dressed. He's like the cool guy, you know?
Jen: He is like the quintessential cool guy, absolutely. Super handsome, down to earth.
He's very cool. And also I interviewed Robert Piersanti.
Jen: He's fun.
He's so much fun.
Jen: Yeah – so he has a place here.
Yeah, I know. I know he splits his time. Then I recognize Joe, Reuben. It's just fun to see and you can tell their style.
Jen: Well, it's interesting; I feel like we love – I'm gonna say we, because I'm assuming we share some of the same aesthetic and what we like – we're very much the minority and I feel like especially in New Jersey, it's challenging. Thank God Jersey City has this Mural Arts Program, whether it's sanctioned or not sanctioned. Basically, it's taking that idea of art and bringing it this way. We're still in the shadow of New York City, so one of our challenges is people still like to buy in New York City because they think it makes it more valuable, as silly as that sounds. I like to think of Jersey City as our sister city, but we are little. We're like a little city in our art world.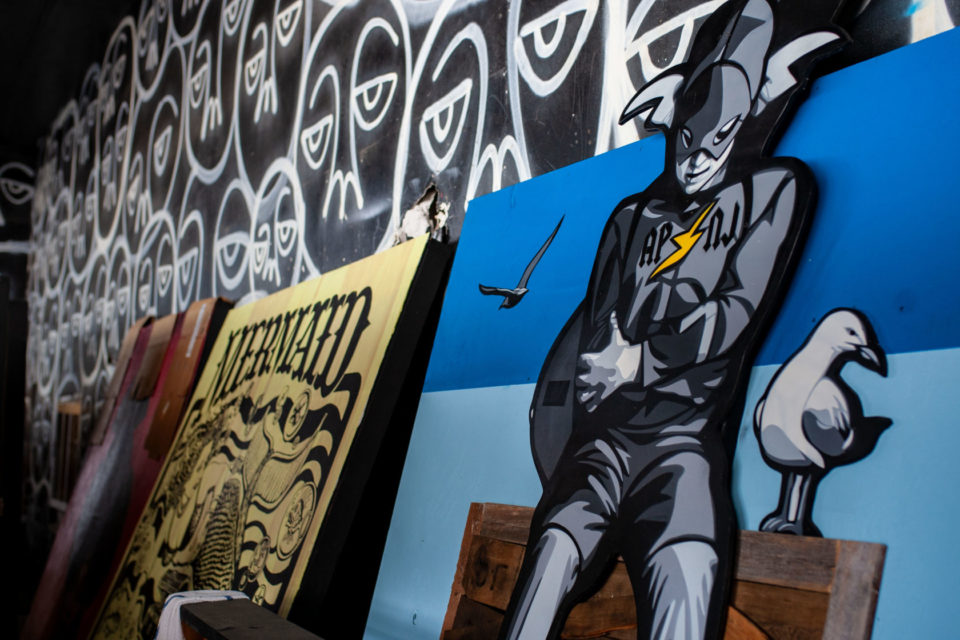 I feel like Absury is like Jersey City down the shore, in a way.
Pork Chop: Yeah, that's true.
Jen: I like to think that we are all collaborating indirectly to help these artists sort of define what New Jersey arts are.
Are all the artists here mostly from New Jersey or from all over?
Jen: Sadly, no. I would have to say that out of the 100 artists, there's probably 12 or 15 from New Jersey. That's one of our challenges and I think we're getting a lot of people coming into town being like, "Oh where's your local artists?" Pork Chop is a local artist, Jill is a local artist but when I tell them the price points, they're like, "Oh that's not really what I was…" You can see that they're looking for a silly face or a nice something by the ocean that they picked up while they were on vacation.
Pork Chop: Like a seagull.
Jen: Yeah, and that's not our jam so it's also challenging because I realize for us to be really, truly successful, and for me success looks like feeding artists, housing artists making artists be able to live, work, and grow in New Jersey that it's gonna be a bigger picture. It's not just having a gallery.
It's a struggle, I get it.
Jen: Yeah – because if there are not artists working here or living here, to me like… what's the point? This is just one part of a component. I love having a gallery, it becomes in Asbury Park a community place. People stop by and be like, "Oh, this is a cool gallery. They might know where to get a good cup of coffee." It's because I've put something on the wall that they can say, "Oh, I like this. I bet I like the pizza she likes, too." It becomes the first stop sometimes.
I always joke like I guarantee that Pork Chop and myself, through our efforts, and Parlor and other things have sold condos without us even knowing so it's that sort of thing. People, when they are buying property they will get the total and like, "Oh, that's the art scene like? What's this like? Oh, there's a contemporary art gallery." So then it makes it a little fulfilling.
It sounds like the same thing in Jersey City.
Jen: In Jersey City, it's the same. Dillon and I get really "urrggh" about it because he's really aggro.
Dillon is so passionate about the issues and we always talk about it.
Jen: You guys are facing some stuff and I always say we should learn from you guys because you're ahead of us.
But at the same time, I also like to compare it to other cities. Like if you compare it to Brooklyn or other parts. What's going on in Jersey City is not, as I would, as bad.
Jen: You mean gentrification?
Yeah. So there are good parts and bad parts of gentrification. The good part is you have restaurants to go to, you have things to do, it's a little bit safer. The bad parts are the condos and the influx of people that don't give a fuck about the community, so that's why I built the platform. It doesn't matter whether you just got here or you're born and raised, it's what you're doing with your time here. Are you getting involved in the community? Are you buying local art? If you come to my apartment, it's all local art.
Jen: That's awesome.
I go and I purchase the art. I don't buy Bed Bath and Beyond. Why would I want something that 300 people have in my apartment when I can buy something unique that's made by a local artist, that I know in my community.
Pork Chop: It's part of the community.
Jen: People don't understand what that means though. I think that the Average Joe, art is not a part of their lives and that's really sad to me. I'm thankful my parents made art a part of my life. I had an interview last year, ironically from a girl from Montreal, and she was interviewing me and she's so pretty. She asked me all these great questions and I stopped her. I said, "Do you collect art?" She's like, "I would never buy a piece of art." And I was like, "We're changing this interview right now, because I want to know why."
It's even to a point where I kinda refuse to buy anything. I won't buy anything, even though I see a cool poster. I'm like, "No, it's not local."
Jen: You're developing your own collection and your own collection is that.
And the best feeling in the world when you come home and it's yours. It's your stuff and it's quirky and it's you. I feel like art is such an important thing to invest in.
Jen: And you've also seen the other side of it. I think that a part of you feeling good about it is like, "I see that I'm attributing to this person's lifestyle and I'm enabling this person to live the dream that they have." And that's the same if you buy a ticket to see someone's show and they're a musician, or if you have a friend who is an actor. I think that a lot of people forget that you acting in that purchasing sort of platform changes someone's life. I often have debates with people. I can't tell you how many people of wealth have Bed Bath and Beyond and HomeGoods stuff in their house or nothing.
Horrible. They have no taste.
Jen: And that's the challenge of having a gallery.
So you guys have Mural Program here, as well. Do you want to tell me a little bit more about it?
Pork Chop: It started off about 8 years ago.
Jen: I guess it's how you look at it. Pork Chop has been working on the street here before there was anyone around because there was no one around looking. So me, watching what he did, I was like, "Whoa!"
So you started doing graffiti or…?
Pork Chop: Yeah, my friend had a gallery across the street called Asbury Art. Back then, there was nothing going on. You can have parties on the sidewalk. It was total lawless.
Jen: How many years ago? Like 20?
Pork Chop: Probably about 18 years ago. We would make stuff and hang it in the trees. Everything was boarded up, so there was tons of places to do shit. That's kinda how it started and as the town started evolving, I wanted to paint on one of the big buildings down on the boardwalk and they were like, "Oh, we don't really know what we're doing with that. We can give you the casino building." And I'm like, "What part?" They gave me the whole wall. I've never painted anything that big. I got my buddy involved, the guy had the art gallery across the street. We went down and he took one half and I took the other half, and that's kinda how it started. Then they saw everybody taking pictures in front of it and how many people were into it. I got an opportunity to do another piece and Jen was like, "We should be doing this all over" and she hooked it up with Madison Marquette and they allowed us to paint on the building down there. She started getting everybody to come down.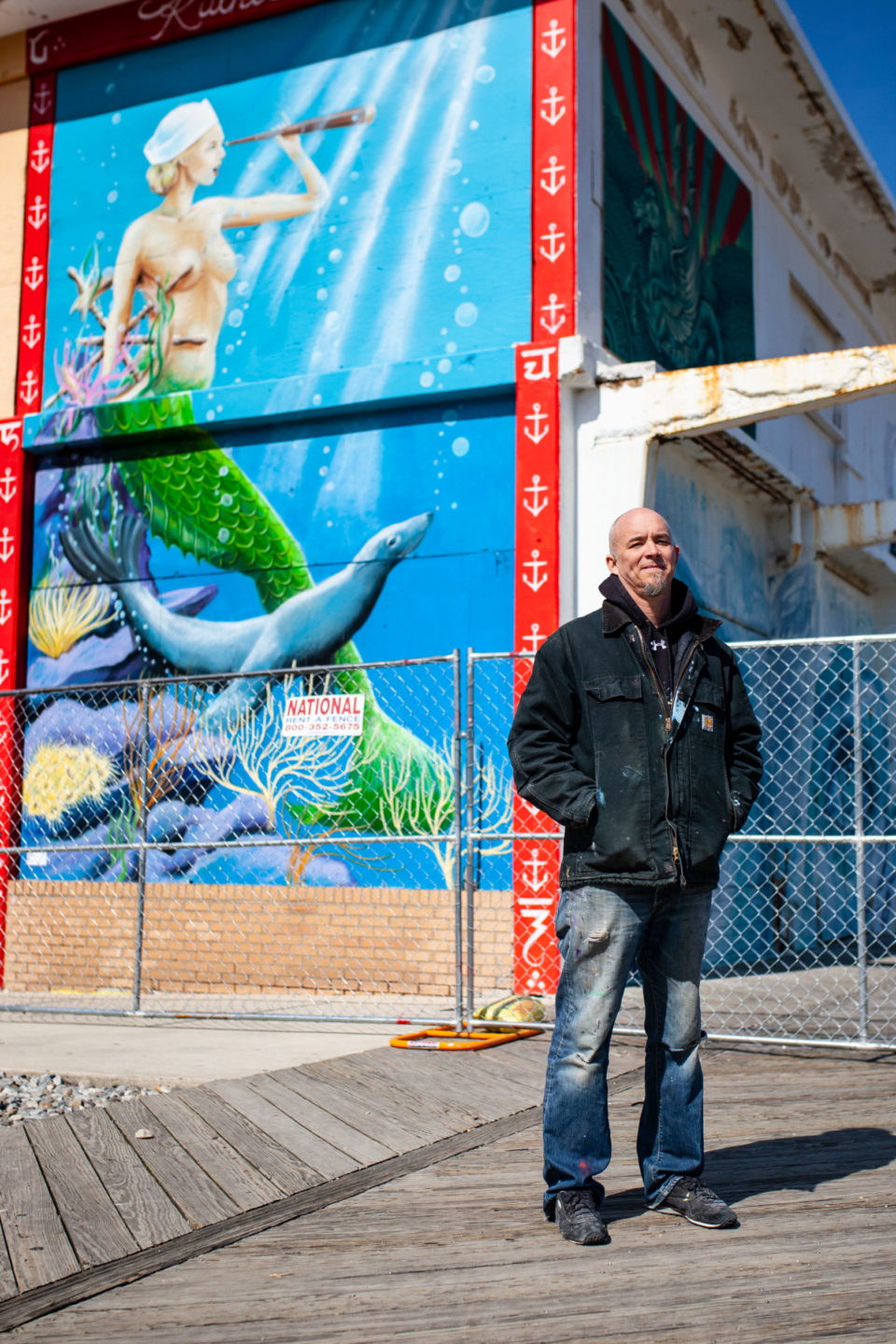 It's so funny because I've interviewed a lot of street artists and it's just funny because they started by illegally painting on walls. Some of them getting arrested.
Pork Chop: I got arrested.
I interviewed this guy. Do you know Distort?
Pork Chop: No.
He has the largest mural by the Holland Tunnel. He's amazing. The thing is when we're interviewing him, he can't show his face because he might get recognized. When I first interviewed him, he was like, "Let me show you one of my tags." We had to jump a fence. I almost got arrested and I was like, "Oh my god, this would be amazing if I got arrested." When the cop came I was like, "What's up? Yeah, we're not supposed to be here." In the end of the day, I don't care.
Jen: You'll be fine.
I have a good lawyer. It was just funny because I was like, "I'm here interviewing this artist that gets paid so much now to paint these murals, and he's showing me a tag in a train track." How do you feel about this? You have a studio, you do this full time but you started and it was frowned upon in a way.
Pork Chop: It was weird because I used to just go out and get drunk. Because of that and because I got arrested, and because of all these things, they allowed me to do these other projects. Now because more people are coming here, "Oh, we want that Asbury vibe and you're the guy that did the thing." So all of a sudden, I'm getting jobs from these people.
How do you feel about that? Doesn't that piss you off a little bit?
Pork Chop: Well, it's like a balance. Do I want all these people here that are assholes and drive me crazy and I can't find a place to park? Sure, but those are the same assholes that are getting me the opportunity to make money and not have a real job and be able to pay my means.
It's the struggle of being an artist. It's that middle, you know?
Jen: It's also weird watching his evolution because, I'm sure by interviewing other artists you would understand this, street artists happen just because they need to do it and they don't have studios, they don't have canvases and they're like, "That piece of wood is great." Watching Pork Chop, even like the building he got arrested on, fast forward 10 years later, they commissioned him to do basically the same wall that he got arrested on.
Pork Chop: It was probably like 5 years later.
Jen: It's just so weird to think, "Wait, you were the same cops that arrested the person…" It's just a strange thing when it happens and the evolution has been really cool. I mean, Pork Chop did this giant piece. You and Brad did it. How many feet was it?
Pork Chop: The Casino?
Jen: Yeah.
Pork Chop: I guess like 200ft.
Jen: So he did that and they did it for free. Obviously, because developers at that point were like, "We don't know what we're doing. I'm not paying for you to come." So they were like, "Can you buy us paint?" I don't even know if they did that, though.
Pork Chop: I think Brad got money for paint.
Jen: Long story short though, what happens is, I'm sure you know Jonathan Levine– he came here and curated a show with Shepard Fairey for All Tomorrow's Parties. Shepard, as a gift to the city, did a piece on this, which was really cool. He went around town and gave people that he met throughout the town wheatpastes and stuff. So I think the developers saw the engagement of that, which was just as important as the engagement of this music festival. People were coming just to see the art and they were like, "Is this what Pork Chop and Jen were talking about?"
Pork Chop: It took a while for them to realize that, "Oh, it's important and people are actually into it." They see it from a different angle like, "That's gonna sell some condos for me. Now we have an artsy, quirky town and it's gonna be fun and we're right by the beach."
Jen: It's a sales line that's the hardest thing to make peace with.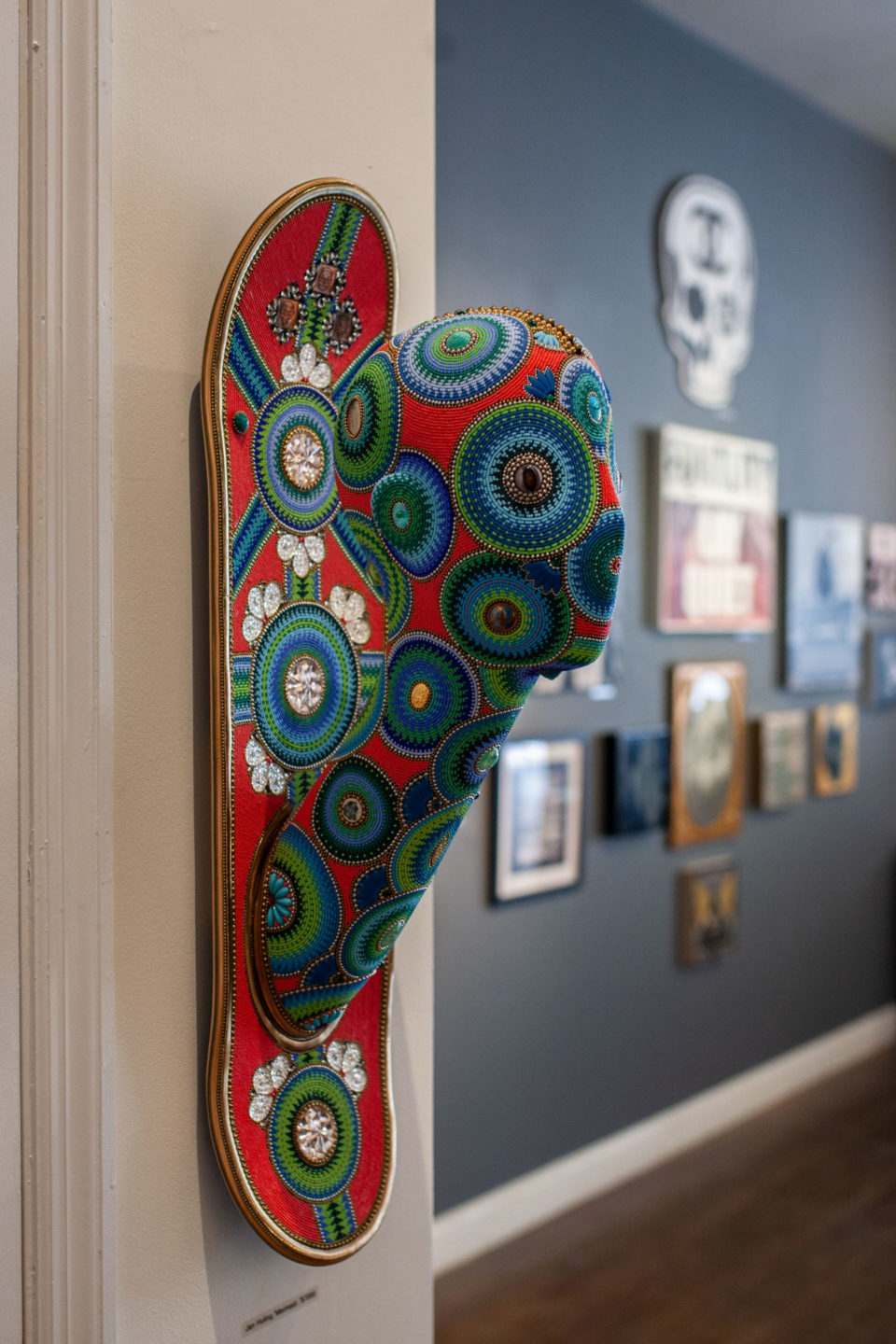 It's the same thing with being in Jersey City because on one side, this is great and we all have this amazing artists that are coming from all over the world. They're painting and here's the Bowie mural by Kobra, it's insane. Obey Giant did 2 huge murals. You walk out the PATH and you see his work. You have Pixel Pancho, you have also local artists. There is the sense like, does it mean these developers can charge more for rent? It's known that putting murals stops people from tagging them and it makes the city cleaner. There are different things about public art but at the same time, I think it's beautiful being able to walk around your neighborhood and seeing art is I think beneficial for everyone.
Pork Chop: That's true.
Jen: I think my motivation was there are so many people of all different socioeconomic paths that won't come in the gallery because they don't feel comfortable. It really has nothing to do with how much money you have, how much you don't have. People just assume, "Oh it's not for me" or "I'm just intimidated."
Because art still seem that it's something for the rich.
Jen: For the 1% and it's not.
People who have extra income that they can invest in beautifying their apartment, but it doesn't need to be like that. I have pieces of work that are like $75 that you get from auctions.
Jen: I think people overthink art. It's like people don't get that a stop sign is art, someone had to design that at some point in time. People don't get that the way they do power lines, there's an art to that. There's an art to a lot of things and development, so I think a lot of people overthink art. It's all around you, you live with it everyday. You go with different brands and logos. You pick wine based on, "I like that label." People do it but people overthink a gallery, which it could be the exact same thing.
So how do you feel like you want to bridge the gap and make a gallery a more open space?
Jen: We called it Parlor because we thought that would be a good indicator that it's chill, but that didn't work. We made it super chill in here, like we didn't do structural white walls. We just left it all open, and it's frustrating. It's been 10 years. 10 years ago it was, "How do you get people to Asbury Park?" to "Cool, people are coming to Asbury Park. Oh wait, how do we get seen in Asbury Park because now it's all just bars and restaurants?" The people change. In a business plan, you can't curate what your streets are gonna be. Our street was the first street that they developed in our downtown section. Now it's not. It's the oldest part of the downtown, which is like 3 blocks. So now we don't get a lot of walking traffic, which is so strange. The challenge for us and the mural program is part selfish because I think it's so sad that people don't walk into a gallery to have that experience. If you're not gonna do that, I'm gonna put it up here for you. Selfishly, my challenge is how do you curate a mural project for a town that doesn't know who it is and it changes who it is. It's constantly going through these growth spurts.
I think you guys are going through a beginning stage of changes and it could go either way.
Jen: We're at a tipping point where it could go either way. We're facing the same challenges in 1.6 square miles that Jersey City is. Now we have murals and now we have all of these things and we have people coming and there's a million people coming to the boardwalk, but the infrastructure can't handle the amount of people coming in. The artists are getting pushed out and musicians, and that's why people were coming here in the first place.
Pork Chop: You start to get a separation of that place on the boardwalk is gonna have a $6 million suite so those people are coming, and you still have the people on the West Side that are getting pushed out because everybody is pushing out. Everybody's snatching out all of these houses.
It's the same thing in Jersey City.
Pork Chop: There's a big economic rift.
Jen: And it's hard, because like you said, gentrification looks different for everybody. I'll say that to some of my friends and they think it's a good thing – that's a positive word because that means their investment and their house is gonna make them money someday. For me, it's challenging because we all live in 1.6 sq. mi. That means with somebody who's living in a $6 million condo, there's somebody literally 6 blocks away that can't afford to eat and that's living on the street. It happens everywhere but it's really crazy when it's in this small of a section, where you can go down Main Street and they're right there. I don't know how people don't see that. I think if you're buying a $6 million condo, that's fine but, like you said, how does that change our community? I'm totally cool with the $6million condo…
As long as he's coming here and buying all the art.
Jen: Right.
Pork Chop: Or at least supporting businesses.
100%.
Pork Chop: They're only gonna be there for part of the year. This is a beach town, so you have seasonal people. It's weird, yeah.
Jen: It's weird because it's one of those things where I can see the benefits. When we first moved here, everybody was a doer – everybody was doing something. "Oh, I wanted to move to Asbury because I wanted to start a band," "I wanted to do this…" They're all consumers now, so what do you do with a small community of people that used to be doers? You can't attract the doers anymore because they can't afford to live here. What if I can't afford to live here 10 years ago? I think about all the things that I did that wouldn't be here. Or all the things that Pork Chop did or my friend who opened this. And you start to think, what's gonna happen in the future when there's not a place where 20 year old Jen can live? That's what concerns me the most. How do you keep that creative energy going? I feel like you just have to protect it and keep feeding it.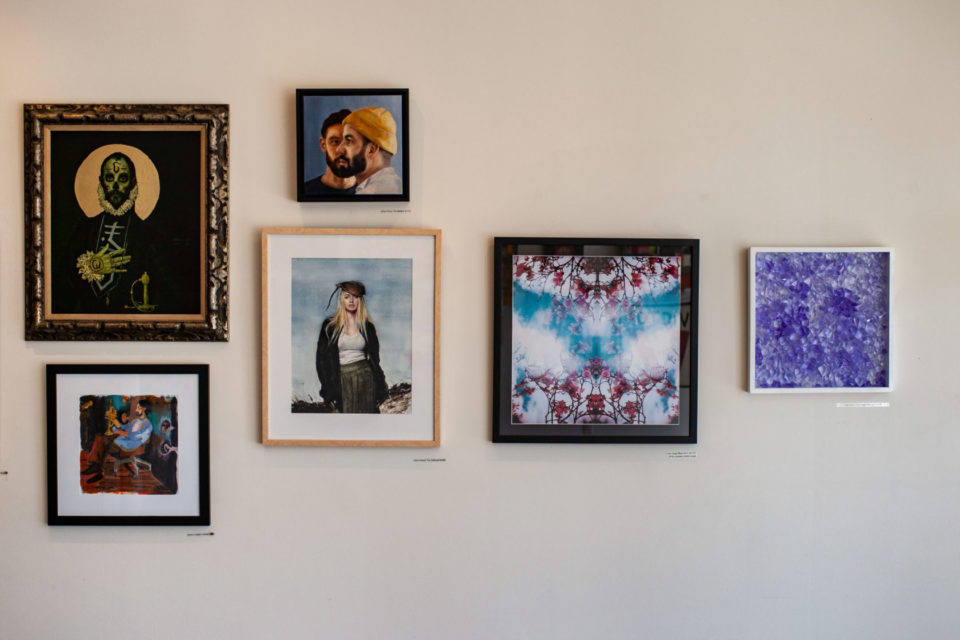 You just have to keep going.
Jen: Yeah, there's no going back.
You just gotta keep going and stay motivated and focus on the good that you're doing. It does affect people.
Jen: Some of these seasonal people, I call it the "Asbury Disease," they might get it and wanna get involved in the local community and wanna help. That's awesome. A lot of times what you see in these seasonal situations is people buy, spend so much money, have crazy property taxes and they complain about the town they ultimately fell in love with because the noise is too much. It's just weird and it's a strange thing to watch.
I'm like in it. The thing is, I'm a Jersey City blogger and I started it 5 years ago when things started to change and a lot of people were like, "you're the poster child of gentrification." But I'm like, "no, I write about arts and culture."
Jen: Why do they say that?
Because I'm a skeezy scapegoat. Because I do write about restaurants…
Jen: But you write about all sorts of stuff. It's not like you're writing about…
I write about everything but I'm an easy target because I'm the only Jersey City blog and I'm the biggest one and we write about everything.
Jen: But that's your job.
It is, but at the same time, it's a confusing middle because I do write about new restaurants. If there's a new bar, people wanna know about it. Even people born and raised in Jersey City are like, "I love that speakeasy bar that you wrote about and I don't have to go into the city." But on the other hand, there are some people who are born and raised and I totally…
Pork Chop: Like, "You're ruining it, now everybody is coming here."
It's giving one person way too much power. I try to explain that I don't make money. I interview artists and creatives and small businesses.
Jen: This is your passion.
That's my passion.
Jen: You're doing it for yourself:
I think it's important to engage in the community, to know who your local artists are, who your local creatives are, but I do have to make money so developers do have to pay me. You can't please everyone.
Jen: You just have to live your truth.
I really tell people, it's all about what you're doing for the community. Yeah, you can talk shit all you want about me but I write a blog, I have a non-profit organization, I hire all creatives, I pay photographers, I work with local people, I engage with my community. What are you doing?
Jen: We have the same problems here. I read a lot about Jersey City people complaining about how developers are bringing in established artists from other states and countries to do murals where there is a whole local creative community.
It's 50/50. I think it's 50/50.
Jen: It brings up a really good point. We have the same problem here; if you're a local artist and you're waiting until I come around to do your own project – to find you, you're not really doing your job as a street artist. You would've painted something way before. Pork Chop was painting here way before anybody was looking, he didn't care. So my whole thing is if you're a local artist, go paint.
Just start – do a show, contact your local blogger. Especially in Jersey City, there are so many artist events. If you just do a little research and find the key stake holders of the people who chose their murals – actually, just email me like, "Lynn, who in City Hall do I need to email to be part of a mural project?"
Jen: Do you guys have a mural ordinance?
I don't think we have an ordinance, but we have a board. At first I was like, "Why aren't they using all Jersey City artists?" Then I realized that no, it's kinda cool that Kobra has a piece here.
Jen: But I think I look at it like if you were an artist and you booked Kobra and Shepard, that's like booking a headliner. I'm gonna see this band that only come here once a year.
I was in Thailand and I started talking to this German backpacker and he's like, "where do you live?" and he goes, "I heard Kobra had a big Bowie." The fact that the German guy knew about Jersey City because of the art is pretty dope. He's from Germany.
Jen: Do you know why he picked Bowie?
I don't remember. It's in my blog…
Jen: I'm always curious how that guy works. I want him to come here and do Danny Devito's face.
That'd be dope. I fucking love him.
Jen: Right? Because Danny Devito is from here. Wouldn't that be hilarious?
That would be hysterical but I doubt he would do that.
Jen: I doubt he would, but I thought it would be really funny
I didn't know he was from here.
Do you guys have a favorite hangout spot other than the gallery?
Pork Chop: Bond Street, right around the corner. When it first opened, I did a bunch of work for them. The people who worked there are cool. It's one of the first bars. Years ago, it used to be a bar for the press room, where the newspaper and stuff was and the newspaper guys used to go in there. They used to go in at 7 in the morning because that's when they got off from doing the paper. It was a bar for a really long time, and it was closed for a long time. Then it reopened and it was like a neighborhood bar where the drinks are cheap and people are cool. That's changed, but that's one of my favorite spots.
Awesome. What about you?
Jen: I go to the beach.
What about when it's cold?
Jen: I don't like the bar scene here so it's challenging for me.
Food?
Jen: Food? I like Taka. Have you eaten at Taka? Yummy sushi – super yummy sushi. A lot of my friends own work places here so if I go see a show, I go down to House of Independents. If I wanna go have a yummy cocktails, there's a tiki bar that's pretty cool called Little Buddies. It started out as a secret, but now…
Pork Chop: It's not so secret anymore.
I like tiki bars. Can we add that to the list for next time?
Jen: Yeah, it's super cool.
I'm gonna do a blog post, "Getting Drunk in Asbury."
Jen: It's so easy. You can just throw a rock and…
Pork Chop: There used to be 3 or 4 bars, and there's 42 now.
Jen: In a mile.
Pork Chop: Because places that are restaurants have bars.
Other: Will you share Lynn some of the interesting artists that have come in to do the wooden walls?
Jen: Have you seen the wooden walls yet?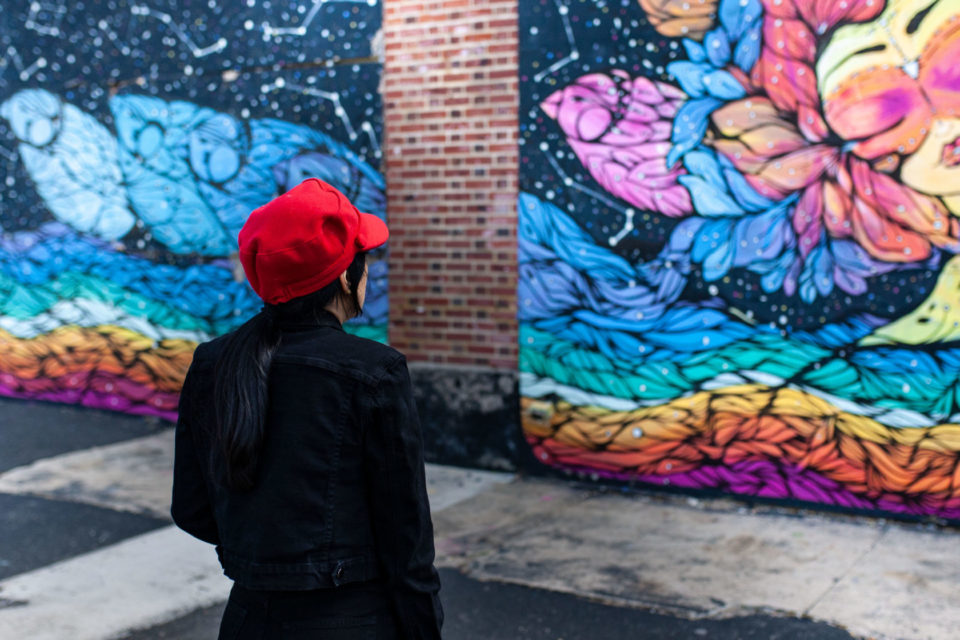 Not yet. We're gonna go now.
Jen: So we have about 30 now and we're going in to our fifth year. Every year, we try to balance it between women national, international, and local. With the budget, I have I only get about four in. Do you know who Fanakapan is? Oh you're gonna have fun. Fanakapan does these really cool… He taught himself how to paint photorealistically with spray paint and he makes helium balloons. I'm sure you've seen them.
Pork Chop: Like mylar, shiny balloons though.
I feel like it sounds familiar.
Jen: You're not gonna get to see anything though because it's all boarded up. I mean you can see it, you just can't get close to it, which sucks.
Pork Chop: You can see it. I was standing there the other day.
Jen: The idea is the wooden walls though is just that after Hurricane Sandy, there were all these wooden platforms and boards everywhere so I just kept saying "can I have money to share?." I just said it enough times that I think they got sick of me asking, so it took 6 years and then they finally said yes. On my first year they said, "you can paint on the wooden panels around the carousel because those structurally need to be in place because of damage from Hurricane Sandy." What was cool is they were all kinda uniform, so I can offer them out to artists.
The first year we had Logan Hicks. Logan Hicks is a New York based artist that does photorealism with stencils. His stencils can range anywhere from 4 to 25 layers of stencils. The one he did here was 9 stencils. He did the Bowery Wall. He's the one that did the Bowery Wall that someone tagged overnight. And his is like a crazy long process because he has to do the stencils. It was crazy that it got tagged because it was literally, probably one of the most labor intensive murals that they had on the Bowery Wall. Anyway, he's there and this is what I love about the wooden walls. It was all the people the first year that had some sort of organic connection to Asbury Park. Logan brought in Joe Iurato, who we had shown here but he had just started doing murals, so he did a picture of his son coming out of the waves like he was swimming in Asbury Park. Next to him was Jose Mertz, who is an artist from Miami who's really big. He does a ton of work. I think he's based in Miami so you'll see him all over the place. He was doing a residency with Liquitex painting. They brought him here to do a month residency, so he did a wall. Pao who is this artist. She just kind of travels around and if she finds out about a wall – her friend from Germany was painting here and said, "You would love my friend Pao. Can I have her come here?" I'm like, "Sure." It's kinda like 6 degrees of separation. Indie [184] came, I had shown one of her paintings here and she's like, "I do murals" and I was like, "You should come." And she goes, "You should ask this person" and it kinda turned into that. That was the first year we concentrated on the south end and then we ran out of walls very quickly. We thought, "What's the next building that we could look at?" and at this time it was Sunset Pavilion, which is an old building.
Pork Chop: It used to be a bunch of different things. At one point, it was a boxing gym.
Jen: In the 80s, it was wrestling and boxing and stuff.
Oh, nice.
Jen: But it's just kinda sitting there, sad. I didn't think they'd allow us to paint on that, but they were like, "Y eah, go for it." The second year, we had a lot of local artists. Pork Chop did a big piece. That guy Brad Hoffer, he was talking about used to own Asbury Art, has a piece. My goal was to also ask artists that haven't worked on the street before to see how they would work if you brought their practice out of the studio, so there's a couple of people that sort of fall into that category. One of them is Michela Martello, who's an artist from Italy and does a lot of conceptual based art work and sort of activist artwork. She did a piece, Mike Shine from California did a piece. You'll see he did a huge middle piece, which is a winged seahorse. Who else?
Pork Chop: Rubin
Jen: Dillon. Rubin's story is great. He came here to do one little panel and when he got here, he fell in love.
Where is Rubin from, because he has a lot of murals in Jersey City too?
Pork Chop: He's originally from Sweden, but I think he lives in Brooklyn.
There are so many of his murals.
Jen: His murals are so good.
Pork Chop: He's super busy these days.
Jen: I'm so happy I caught him when I did because now I don't think I could've got him. Lululemon had him do their flagship store.
He did a huge building in Jersey City.
Jen: Is that his biggest one to date?
I think so.
Jen: It's so good.
I don't know where it is exactly, but I saw a picture of it recently.
Jen: So I just emailed him like, "I know this is a long shot but…" and he's like, "Actually…" His whole idea behind his work is architectural, so when he saw some of the historic buildings in Asbury, he said, "I totally wanna come here" and I'm like, "Cool." And he was really excited. He's like, "I'm a music fan so I'm excited to learn about Asbury Park." I just assumed he meant Bruce Springsteen, so I let him do his work. We were hanging out with them and talking. I asked, "So you're a Bruce Springsteen fan?" and He was like, "No."
"You said you were a music fan" and he said, "I love Bon Jovi." I was like, "Excuse me?" He said, "Yeah, I wanted to come to Asbury Park because this is where Bon Jovi got one of their starts at this place called the Fast Lane." He knew the whole thing! I was like, "Are you kidding me?"
Bon Jovi, out of all people?
Jen: Well, because I think it's sweet that metal took a different role than it did here. Maybe Bon Jovi isn't funny there.
I kinda like him. Who doesn't like Bon Jovi?
Jen: I like Bon Jovi. But he named it after the best Bon Jovi album. That's what he named his mural, after the first Bon Jovi album.
So funny. That's love.
Jen: I gave him this one little panel. I came back the next morning, started at 5:00 in the morning… "Can I do 4?" and I was like, "I don't have the budget for 4." And he was like, "It's fine, I just wanna paint."
I love that.
Jen: And that's why I wanna work with people like that. The project is not super funded. Pork Chop donates his time, there's a couple of other people that just help upkeep the murals as a good deed for the community. Someday it will be funded, but right now it's still in the…
Yeah, it's a start. As an artist, I feel like it's amazing to see your art in a public setting where hundreds of people are walking by and they see it. I think that's satisfying.
Jen: Yeah. Our newest mural is by Squid.Licker. I think what's good, as to your point about having bigger artists come in, is the mentoring thing. It should be a mentoring thing for local artists. Artists that are coming here are nice people. They'll sit and talk to you if you're an artist and be like, "You should do this." And no one here takes advantage of that. How many local artists might we have if we…
You guys should start doing like a local program and maybe that could get more people in here as some sort of mentorship program for…
Jen: But I feel like if I were a musician, the coolest thing would be to work with somebody you look up to or somebody that's travelled all over the world to do this. How'd you do it?
Totally.
Jen: It's like old ladies who bring cookies. "Oh my god, thank you for making our Boardwalk so pretty." Yeah, that's amazing and that's probably one of the best compliments I've heard from artists. Coming from New York City and coming from bigger areas, people don't all like public art, people don't see murals the same way as we do. They're like, "People here are so nice. They bring you lunch."
It's the same in Jersey City too.
Jen: Is it?
Yeah. Whenever there's an artist that comes in. There was this one guy from California. His name was Nate. He painted this big mural and there were people all day taking pictures of him while he's painting. People bringing him pizza. I came by to talk to him. It was just so funny. It's like a celebrity for the day. Nobody knew him before, he was just some guy from L.A. painting this big ass mural in Jersey City.
Jen: What is your favorite mural in Jersey City?
Don't ask me. Hold on, okay. This Distort one is pretty epic.
Jen: Is he the one that made the longest mural in Jersey City?
No, not that one.
Jen: Is that gone?
Yeah, it's gone.
Pork Chop: All the businesses came in and they put new murals over it.
I have a few. It's tough. There's a Nelson Mandela one by Davo Art from Florida and it's on MLK Boulevard and I don't know if it's just nice and it gives you this feeling. Yeah, Distort is just epic like holy fuck, how did he do this? Mr. Mustart is one of my favorites. His shit is everywhere.
Jen: Is he local?
He's local.
Jen: That's why.
He's also one of the first people I interviewed. There's actually a wheatpaste of me.
Jen: No way! I love it!
There's a few of them in Jersey City. His name is Sean Lugo and he does wheatpastes so it's like a bear head. We did a photoshoot a few years ago and he posted a few of them in Jersey City. There's one at Wynwood Walls and there's another one in Long Island City. The fact that I'm so into street art and I'm immortalized as a bear. We did one recently because he had a show at a local gallery and he's like, "just take a few pictures. That dress you posted on Instagram, I want you to wear that and just take a few pictures." He did a mini series of me, which was really cool.