With the new year rolling in, the team and I were brainstorming new ideas for the blog and decided to highlight local artists in Jersey City.
Visual art is a big part of Jersey City's culture. No matter where you are, you're likely to see graffiti, murals, or galleries dispersed throughout the neighborhoods. We wanted to do a monthly spotlight on artists in the area to show more love to people who are adding to the creative culture in Jersey City.
Are you a visual artist interested in participating, or are there artists you'd specifically like us to reach out to? Let us know! 
---
Norm Kirby
What is your medium and why?
I use a variety of media depending on what I am working on. I use strips of fabric (canvas or synthetic silk screen material) when I create fence installations. Different colored thermostat wire or a thicker 14 awg wire are used for my sculptures. Various colors of micron pens are my choice media for drawing. When I paint, I usually use acrylics. I weave fabric through chainlink fences, I draw with ink on paper, I use wire to make sculptures that hang on a wall or from a ceiling, I make woodburnings with a soldering iron on pine wood, and I etch glass with a Dremel tool.
Throughout all these different mediums, I try to keep my line consistent. It all comes back to drawing. I almost always trace a drawing when I work with wire, wood, or glass. Also, I am very interested in the shadows that happen when I make things out of wire, glass, and with many fence installations.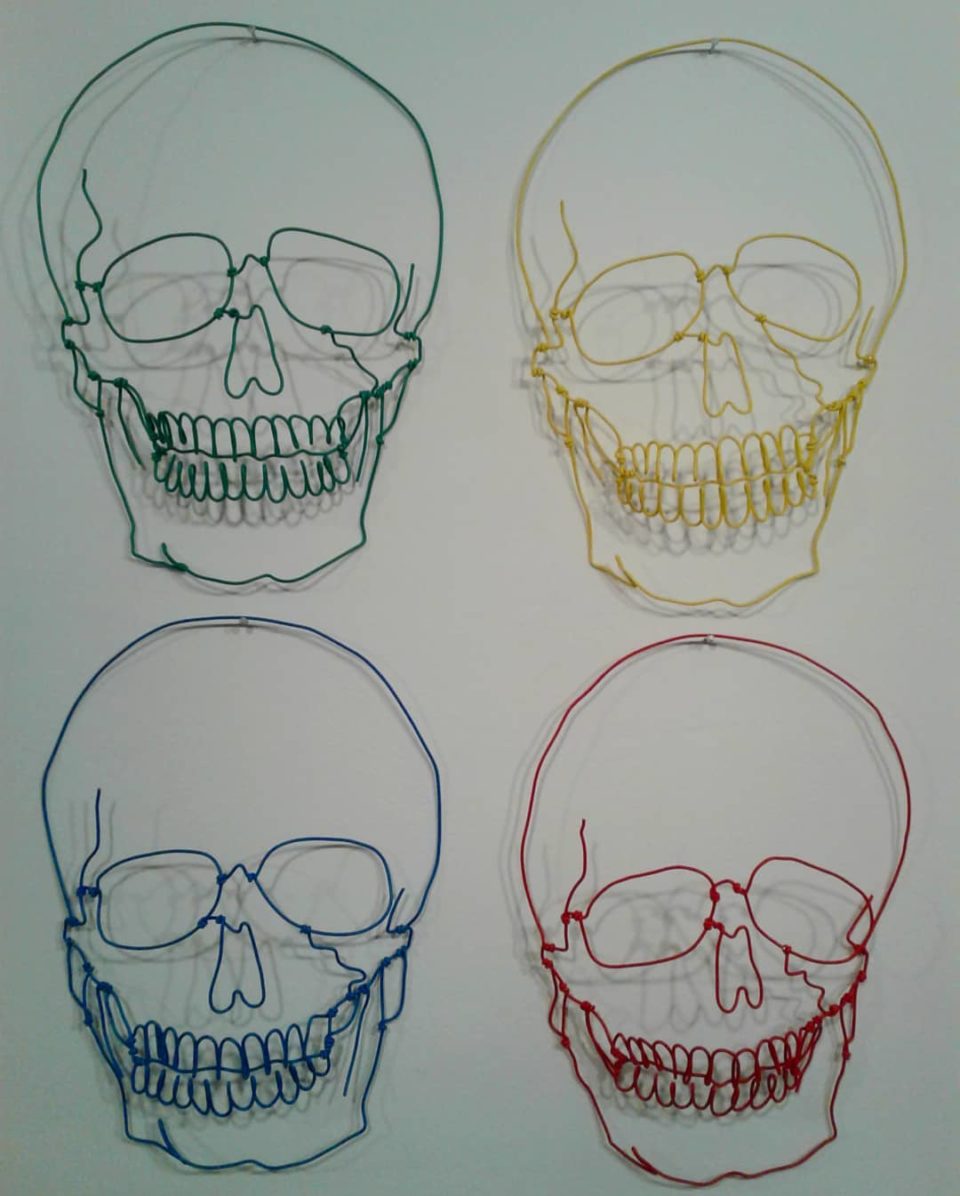 How did you get started?
I started drawing at a young age and was encouraged by my parents and my high school art teachers. I began making fence art after experimenting with spray paint and chalk. About seven years ago, I stumbled on an artist named Hot Tea while searching for street art on the internet. He weaves rope into fences in a graffiti lettering style.
What inspires you?
As far as visual art, I am inspired by Keith Haring because I tend to gravitate towards his style of making primitive figures on the streets and in my studio. Also, I am influenced by hip hop because I am fascinated with the idea of making something new out of whatever you have at your disposal.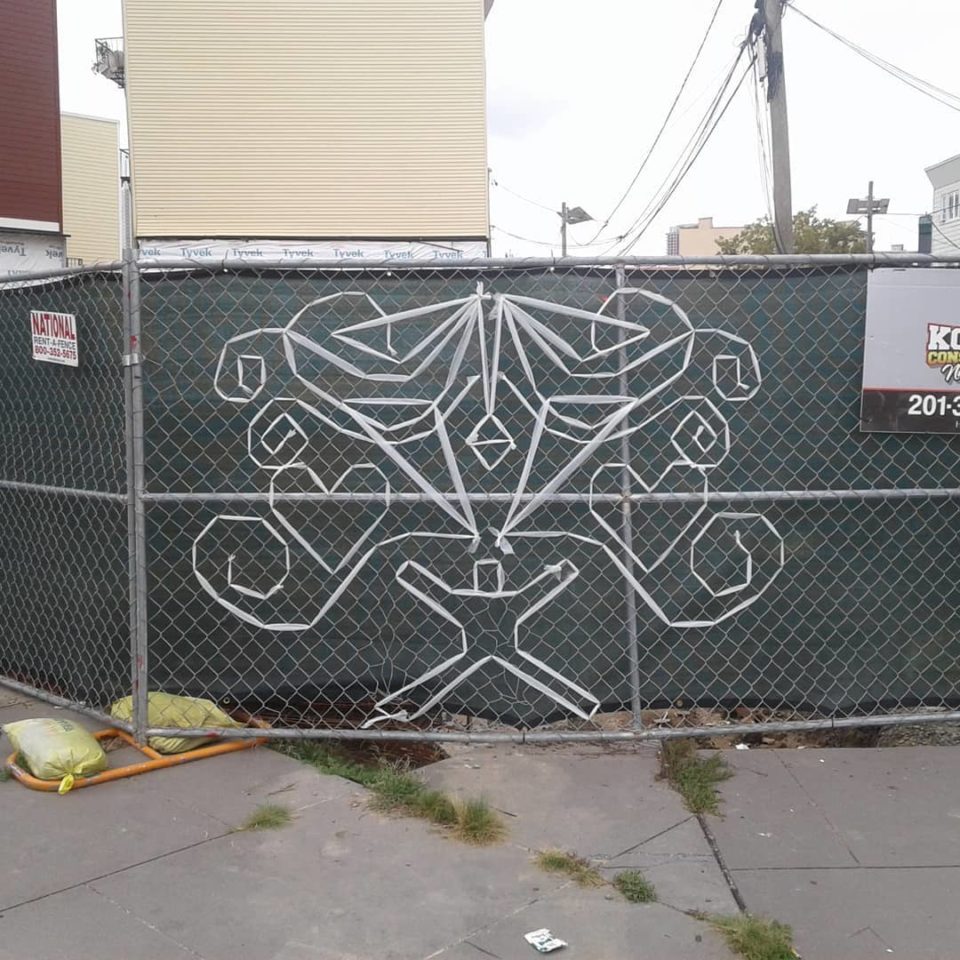 How do you feel about the creative community in Jersey City?
The creative community in JC is superb! I wouldn't be where I am today without it. I truly believe you are only as good as the people you surround yourself with.
Where can people find your work?
People can find my work on many fences throughout Jersey City and hopefully in many other cities in the future. Also, I have a gallery called Six Columns in McGinley Square where I curate group shows every month or so.
What's your favorite Jersey City hangout spot?
It's always good to check out an art show at a gallery or even a restaurant. I usually like hanging out at any cafe or bar with some pens and a sketch pad, especially if there is live music. Pet Shop is a good one!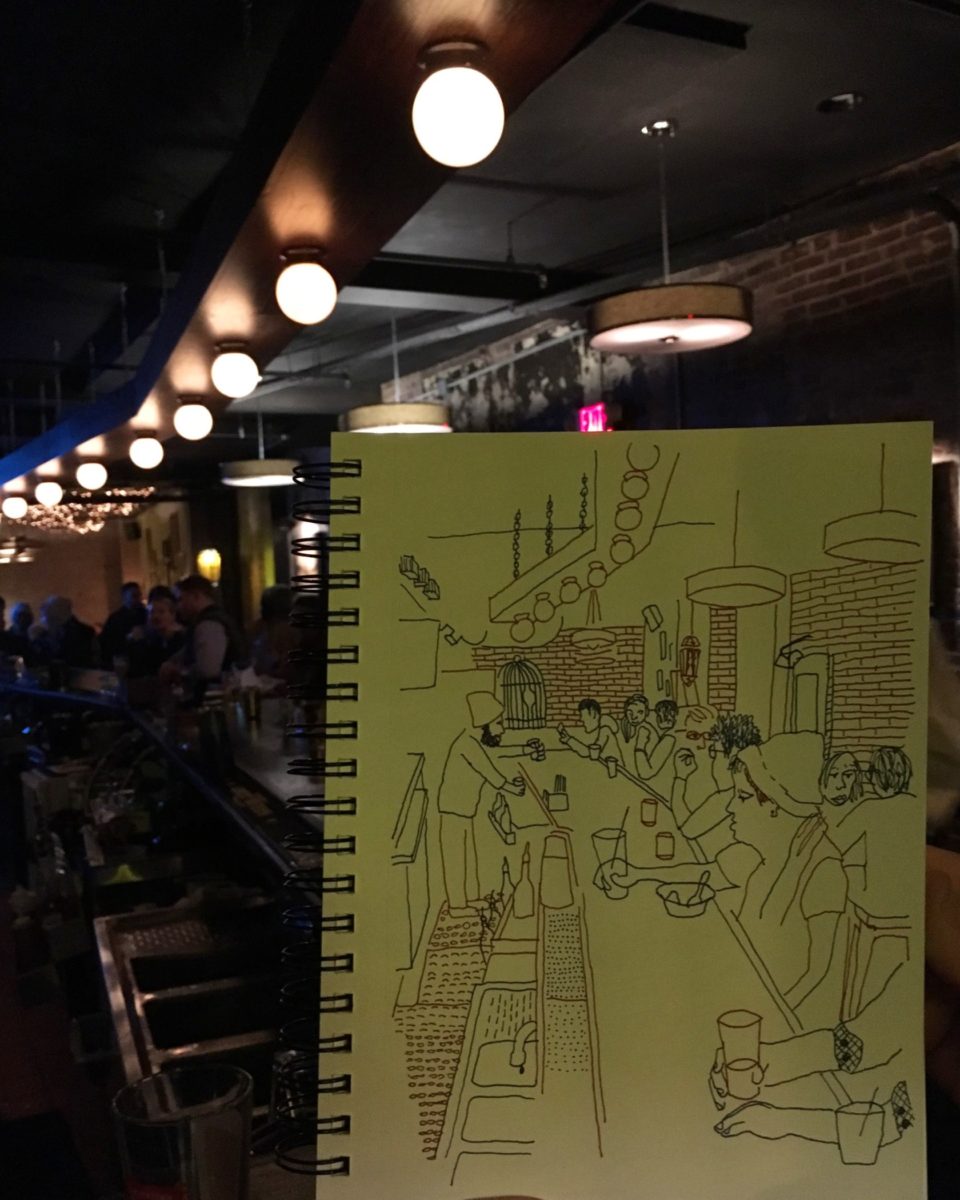 LingChen.Art
What is your medium and why?
I use a calligraphy pen filled with permanent ink and watercolor for sketches. When I do a larger painting of people in my home studio, I use watercolor only with pencil underdrawing. I also like using charcoal for figure drawing.
I realized that I like the art medium that is expressive and spontaneous. A calligraphy pen produces lines with varying thickness in one stroke, allowing me to capture a lively scene within minutes. And watercolor, when mastered, could produce such immediate and expressive results.
My sketch bag that I carry most of the time with me include: 1) a Sailor calligraphy pen for all sketches, 2) a mechanical pencil when I try to get the perspective correct in buildings , 3) a white gel pen for quick highlights, 4) a kolinsky watercolor brush, 5) a small watercolor palette, and 6), a watercolor pad.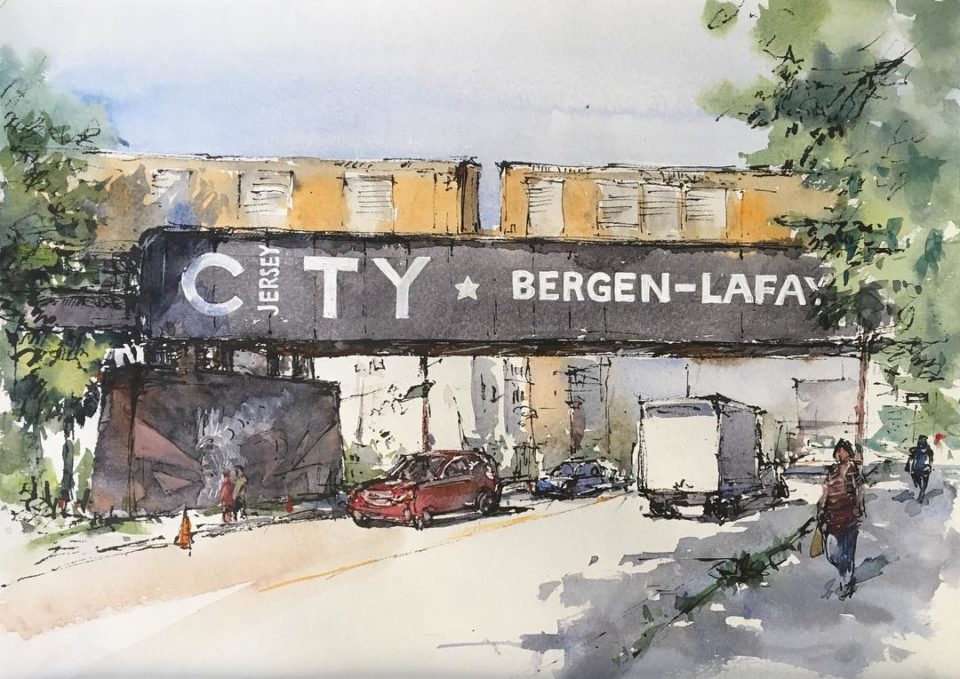 How did you get started?
I loved to draw when I was a child, spending many after school hours drawing still-life with pencils at a drawing club in my middle school. I stopped drawing in high school, and after Food Science/Engineering undergrad degree and MBA, I have been working in product marketing & pricing strategy in technology companies.
Four years ago, my two older children started taking art lessons with Jersey City artist Grigory Gurevich, who encouraged me to take up drawing again. I studies with Grigory on Saturday mornings for over a year, and have taken four workshops with watercolor masters to learn to paint landscape and people in watercolor.
I started sketching Jersey City with ink and watercolor in Spring 2018 and showed my work the first time at the Artist and Maker Market in May. The positive feedback inspired me to sketch more of Jersey City, taking a few hours of my weekends and an occasional day-off from my job.
What inspires you?
The energy of a place. Therefore I always sketch on location, trying to capture the moments and the energy.
I like to sketch people, such as the performers on stage at Groove at Grove, kids playing soccer, people having fun at a party, shoppers at a farmers market, dinners at restaurant. I have to sketch fast, and sometime succeed in capturing the moments when a camera cannot.
I like to sketch Jersey City because the energy it has – the eclectic mix of old and new and different cultures. I think I have sketched most of the buildings on Newark Ave Pedestrian Plaza so far. But then again, there's always another corner of the neighborhood that catches my eye.  
Also with the accelerating changes in Jersey City, I felt like I am on a mission to document what Jersey City looks like today before the new buildings and new restaurants wipe out those places that make Jersey City so unique and interesting. I often ask people "what to sketch next" at the art fairs, and now I have a long list of places to sketch!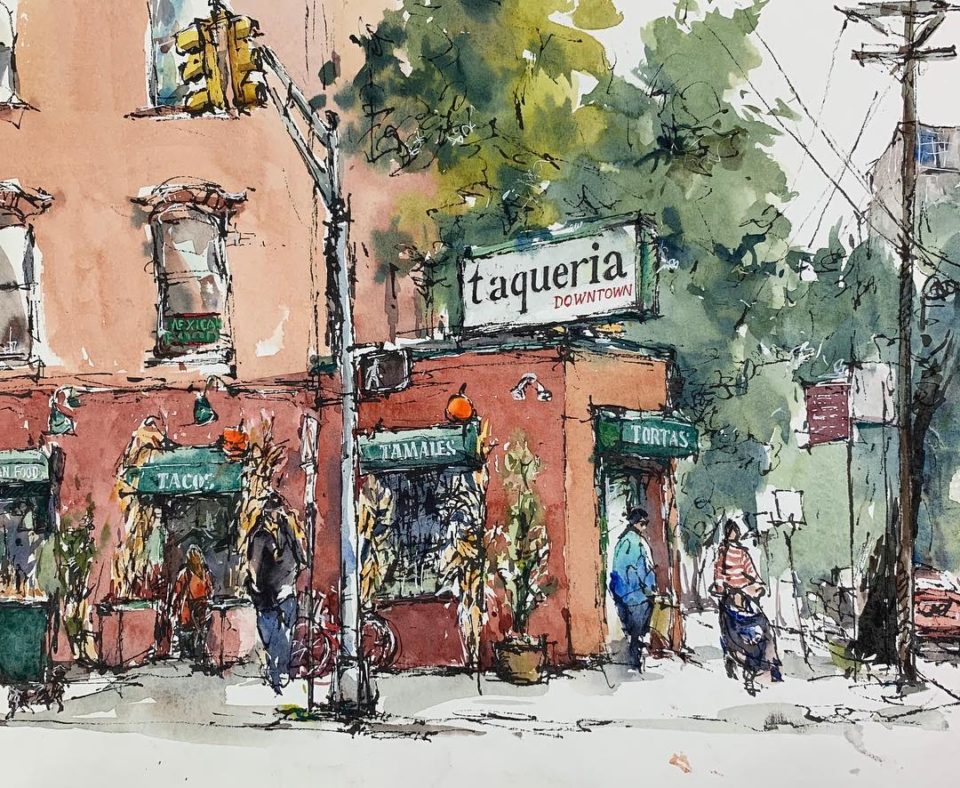 How do you feel about the creative community in Jersey City?
Jersey City has an amazing art community. I occasionally see other artists during figure drawing sessions and exhibits. Mostly I follow their work on Instagram – the photos and paintings. I love the work by the street artists in Jersey City – walking by the murals and seeing the artwork transforming the buildings makes me happy.
Where can people find your work?
You can find my latest work on Instagram: https://www.instagram.com/lingchen.art/
I have an Etsy store with prints of some of my Jersey City sketches: https://www.etsy.com/shop/LingChenArt
My website could use some updates when I get the chance: www.lingchen.art
I am planning to participate in the Artist & Maker Market at Grove Path Plaza starting in May, and All About Downtown Fair in September, 2019. Occasionally I have small exhibits at retail locations. Right now there are about dozen prints shown at Tea NJ until early March, and my work is part of a group show, "Jersey City: Images and Narratives" currently on display at City Hall 3rd floor Rotunda Gallery till end of January.
Sign up for my email list to receive updates on when and where I will have an exhibit or market: https://www.lingchen.art/signup
Favorite Jersey City hangout spot?
With a full time job and three kids, I don't usually hang out. When I wandered around, I ended up in downtown Pedestrian Plaza and the waterfront a lot. But thanks to sketching, I got tips from people of the places they love all over Jersey City, and I am planning to explore them.