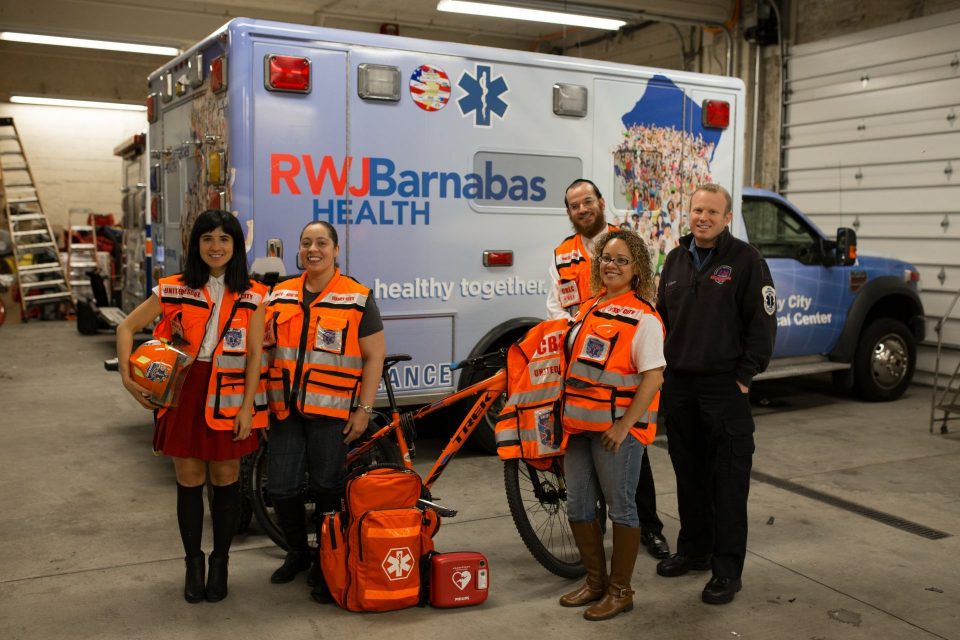 As some of you may know, I spent about 6 years of my teenage life living in Tel Aviv, Israel. During those formative years, there was a wave of terrorist attacks happening around me and the first people on the scene were usually civilians.
As a result, in 2006 United Hatzalah was founded. It is a volunteer-based emergency medical service. "United Hatzalah uses advanced GPS-based dispatch technology to identify the closest and most qualified volunteers to the scene of an emergency and routes those individuals through a mobile device application."
A little over a year ago, I got a press release from the Mayor's office announcing the launch of United Rescue in Jersey City. The first ever initiative in this nature in the United States was brought here to Jersey City by our progressive mayor, Steven Fulop. I was so excited about this, I went to City Hall for the first volunteers' graduation ceremony. I already felt an intense connection to this organization.
A few months ago, United Rescue celebrated their one year anniversary. Mordy Rubin, a volunteer for UR and all-around awesome person who runs their social media, helped me get an interview with Paul, the program manager, as well as a few of their volunteers. I have to admit, these are the interviews and posts I live for – writing about people who truly make our world a better place.
These volunteers are selfless. They  dedicate their free time to saving lives. It's really amazing and I am humbled to have had the opportunity to spend an afternoon with them. The cherry on the cake was when Paul gave me a United Rescue vest, which according to him, the only other person who got one that wasn't a volunteer was the Mayor. #blessed.
"Victims of trauma (choking, bleeding, heart attack, stroke) often need medical attention even before the ambulance arrives. Using GPS technology, United Rescue volunteers are able to respond to 911 calls immediately, in the moments that separate life from death."
What are your names?
Mordy Rubin, Angela Ramos, Paul Asosman, Paula Hollenback, and Sherifa Abdalla.
What do you guys do?
Mordy: I work here in Jersey City at a real estate investment company. I also volunteer at United Rescue as a volunteer and as a coordinator.
Paul: I am the program manager for United Rescue in Jersey City. I'm also a paramedic. I've been with JCMC for ten years, and have been working side-by-side with the volunteers since the inception of the program last year.
And you're one of the volunteers, right?
Angela: Yes, and I'm also a North District coordinator and volunteer.
Awesome. So what is United Rescue?
Paul: United Rescue is a pre-ambulance citizen response team within Jersey City. Our goal was to reduce response times from an already impressive time of five minutes. With the help of these Community Based Emergency Caregivers, we've reduced our response time to two and a half minutes.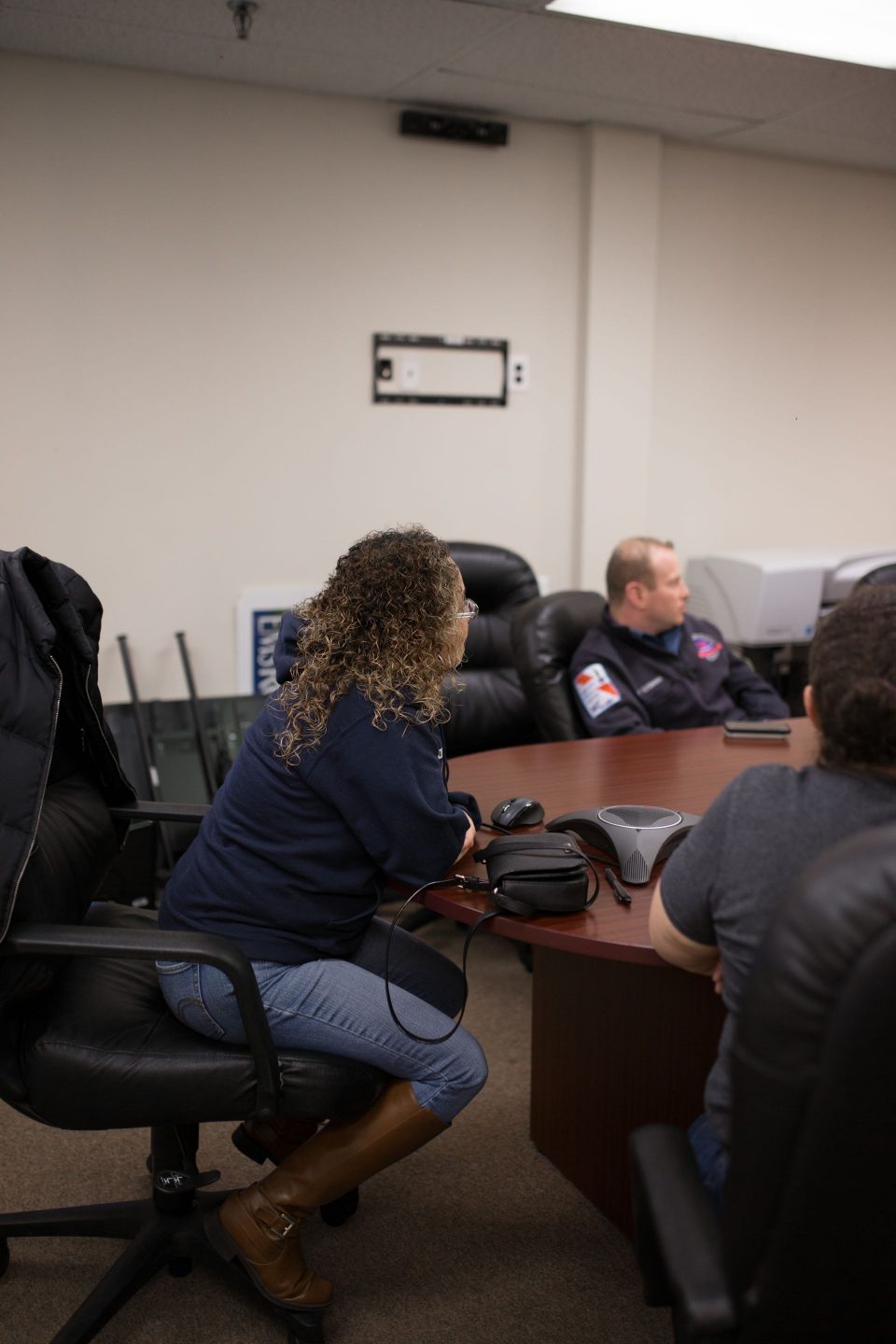 This comes from Israel, right?
Paul: This program is based on the United Hatzalah model in Israel, somewhat different from the traditional American Hatzalah model. The goal is pretty simple: getting help to people faster.
How did you get involved with this?
Paul: I was approached by the mayor of Jersey City, in addition to the President and CEO of JCMC Joe Scott, and the Director of EMS Robert Luckritz. They asked if I'd be interested in taking on this program. We started from the ground up, grassroots effort and recruitment, and we've grown quite successfully over the last year and a half.
So I want to go back a little bit. You started this, but how did you recruit people to volunteer at United Rescue?
Paul: We started by hitting up schools, places of worship – synagogues, churches, mosques – businesses, basically every street event that Jersey City has, neighborhood associations – of which there are approximately fourteen in Jersey City. We went with a table, chairs, and some flyers, and had to explain to people what this was. People in Jersey City are accustomed to having paid professional EMS service for the last hundred years, and when we approached people such as Mordy, Paula, and Angela saying, "How would you like to be a part of something revolutionary?" it caught on. We kind of established that volunteering is a noble thing to do, but you could actually save a life and make a difference.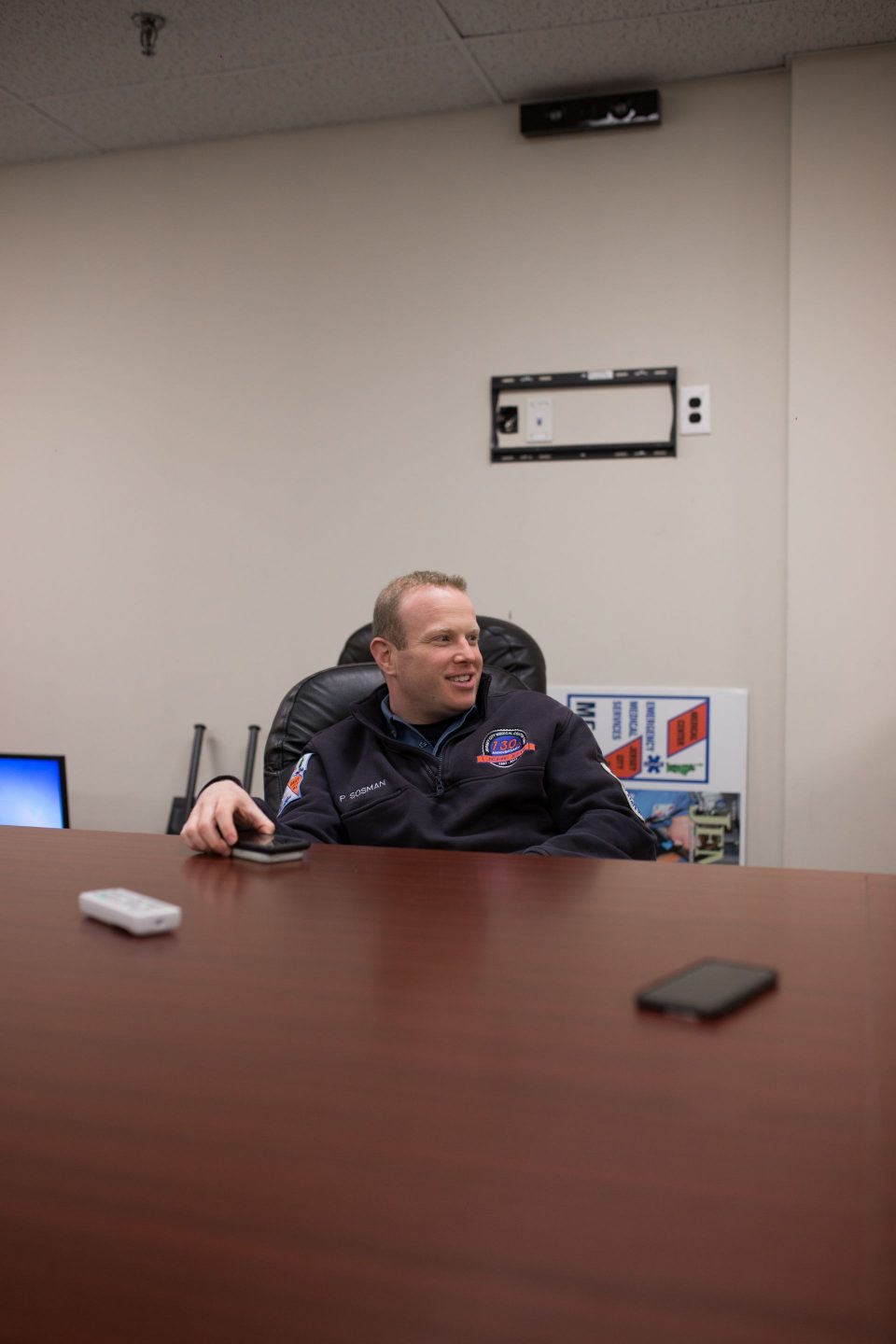 It's a huge responsibility. 
Right, and the reason we're here today is because of people like them.
Right. So you guys are volunteers, right? How did you decide that you wanted to volunteer for this?
Paula: It was easy for me because I had a family member that had a severe disability and I wanted to be able to help more and be a little bit more active in the treatment so that just seemed like a win-win: help the community and know what I'm doing at home.
I love that. 
Angela: It's just a passion to help people. I'm a health-certified educator also, so with helping the community I felt that this was a way to get out there more and help people, whether it's medically or just needing to talk to somebody.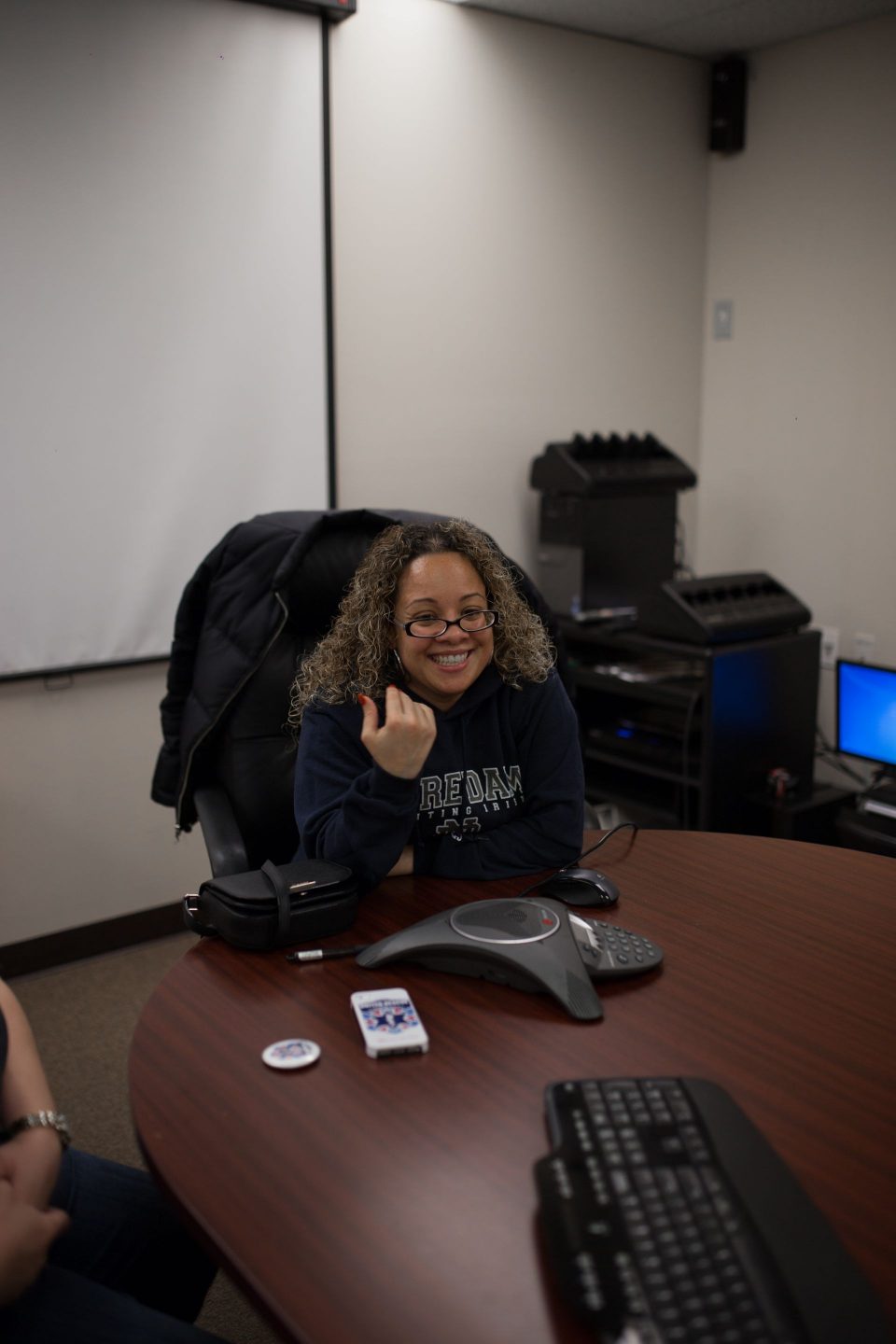 I love it; you're a saint. 
Mordy: I had my EMT license before, which I got a few years ago, and then I heard about this program. I heard about it from the mayor's weekly email. He sent it out and it sounded exciting, so I signed up.
That's amazing. What is the training process?
Paul: The training process is quite comprehensive. Everyone goes through a criminal background check, passes a medical physical, an interview, and approximately 75-80 hours of an in-class portion taught by EMTs and paramedics from the Medical Center, of which they have to demonstrate proficiency and numerous life-saving skills. Then they spend time on an ambulance with EMTs and paramedics from the Medical Center. They also spend time in the communications center and, after approximately four months of in-depth training, they're essentially released onto the streets of Jersey City.
That is intense! So it's a total of 80 hours?
Paul: Well, it's 80 hours in class, and then they spend about another 30 hours in the field, kind of like an internship.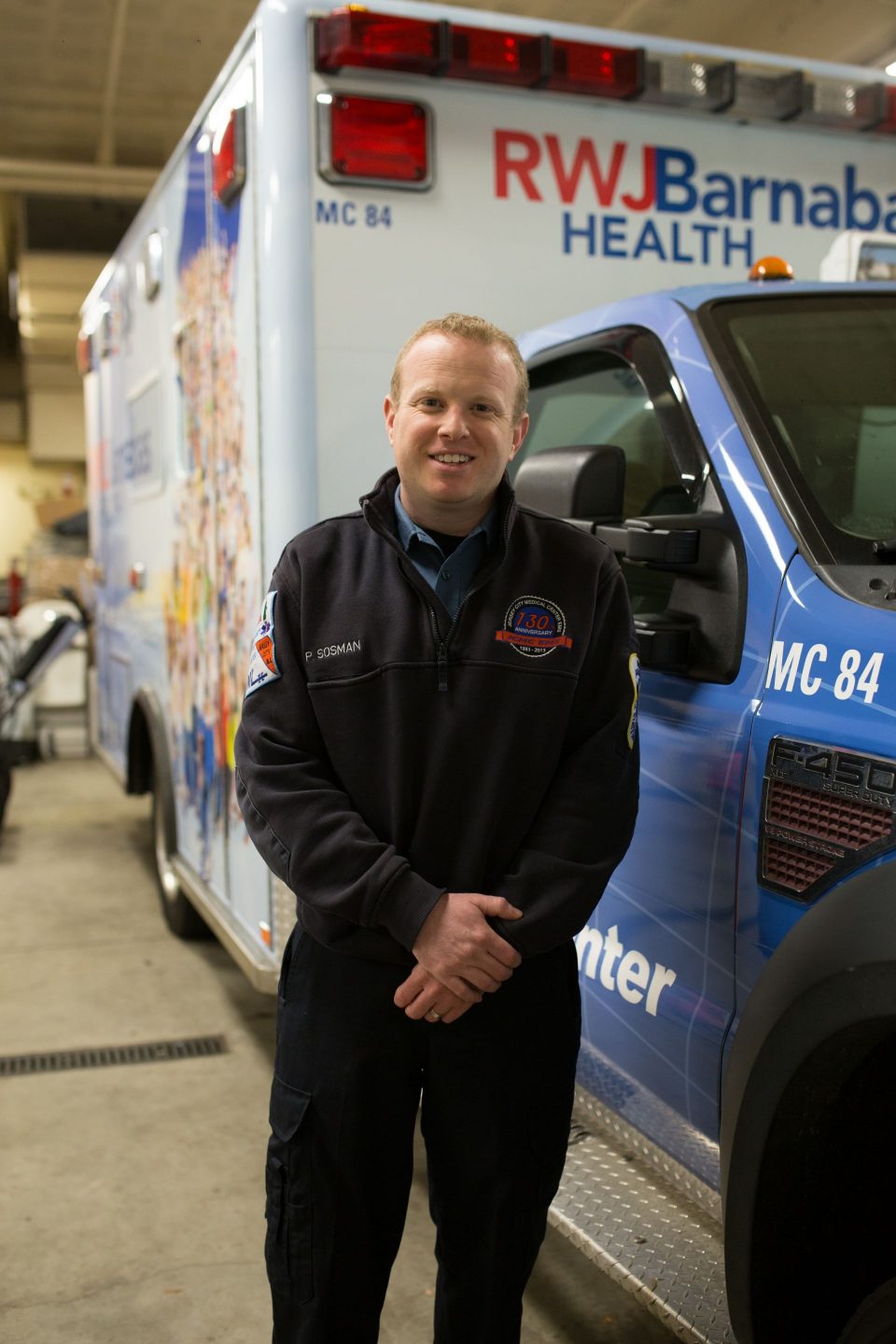 How often do you have to volunteer? Are there time requirements?
Mordy: Typical volunteering for an organization is for an event or on a specific date. Here, it's being on-call. That's what is amazing about it. Someone like myself: I have a job, I sit at my desk and work, and a call comes in. I see the call, and if I see that it's a priority or any serious life emergency, I drop everything, run down, try to stabilize or do whatever it takes, which is about 15-20 minutes until the patient is in the ambulance, and then I'm back to work. So a minimum of hours? It's hard to say. Everyone depends on the number of emergencies happening nearby.
So you go about your day and get a call, and then you can take it or not?
Mordy: That's the concept, yes.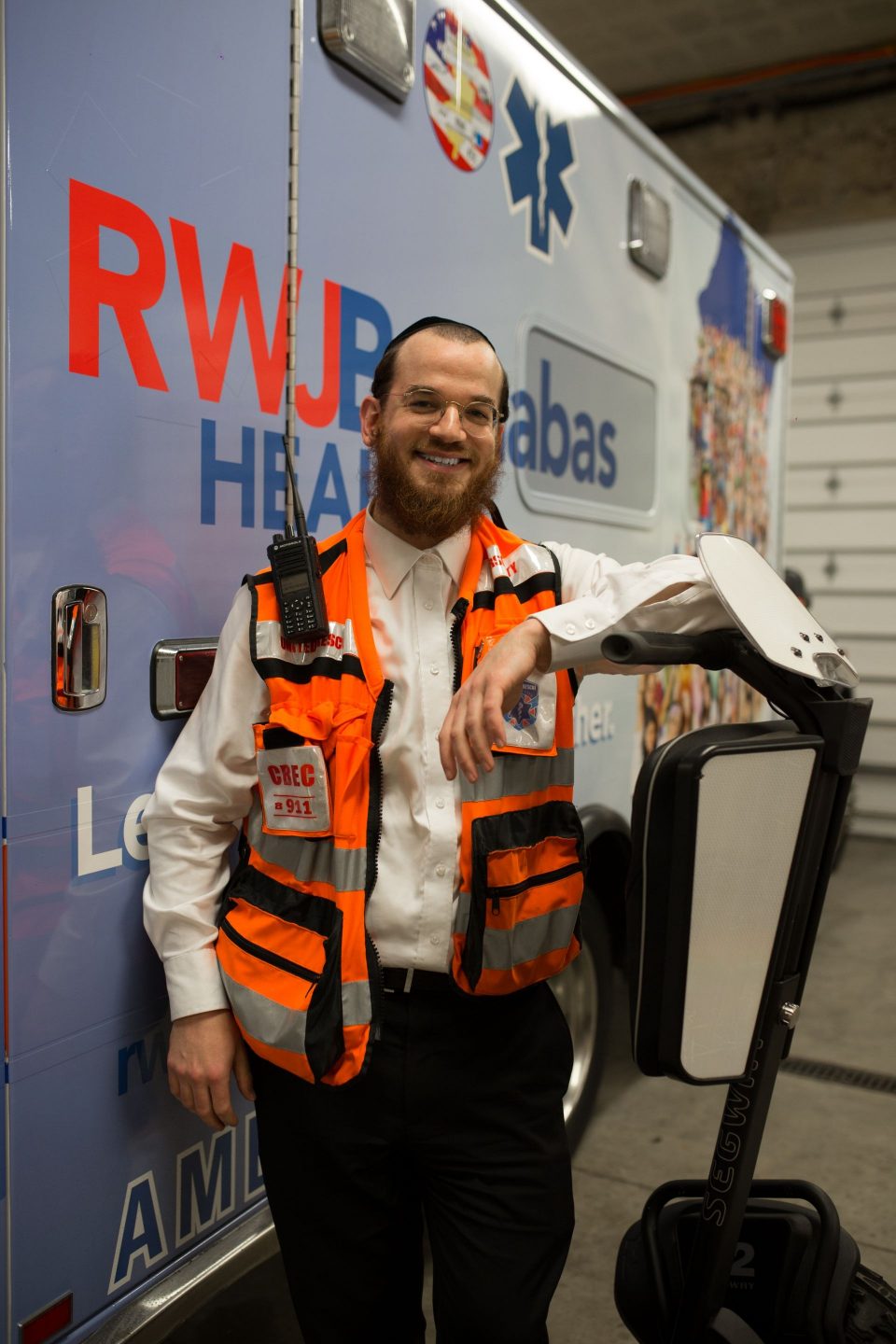 Let's say you're at home in your pajamas…
Angela: You run out, and you take the call.
Do you go in your car?
Angela: Mostly, we're on foot or on bicycles. The cases are in the vicinity of where you're located.
Wow! It could be a Saturday night, you're watching TV, and a call comes in, and you're out the door. And you're trained for any situation?
Angela: For the most part, yeah.
Paul: They're trained in dealing with basically any type of cardiac emergency, respiratory emergency, how to deliver a baby, CPR, choking. This is not your run-of-the-mill community first aid course; this is a true in-depth program.
Mordy: When I got my EMT license, it was more hours and testing, but compared to their knowledge and their ability, we're pretty much the equivalent. We have the same equipment.
That's amazing. Are there any stories that stick out to you the most and represent why you do this?
Paula: At the moment, I don't take very many calls. I do a lot of the administrative work – I'm Paul's assistant – like helping everyone get through class and making sure everything in the background is ready for them to go to the streets. My calls were early on in the program. It was anything from helping a child who might have fallen to somebody with severe distress. It was very different for me versus a lot of our volunteers who are constantly on the streets.
Angela: I had a call for an elderly woman who had fallen and broke her femur. While waiting for the ambulance to come, I was just trying to keep her comfortable. Just seeing the anguish that she was in was intense. Trying to get her comfortable and getting all the information that EMTs needed on their arrival made it that much easier for the patient and me.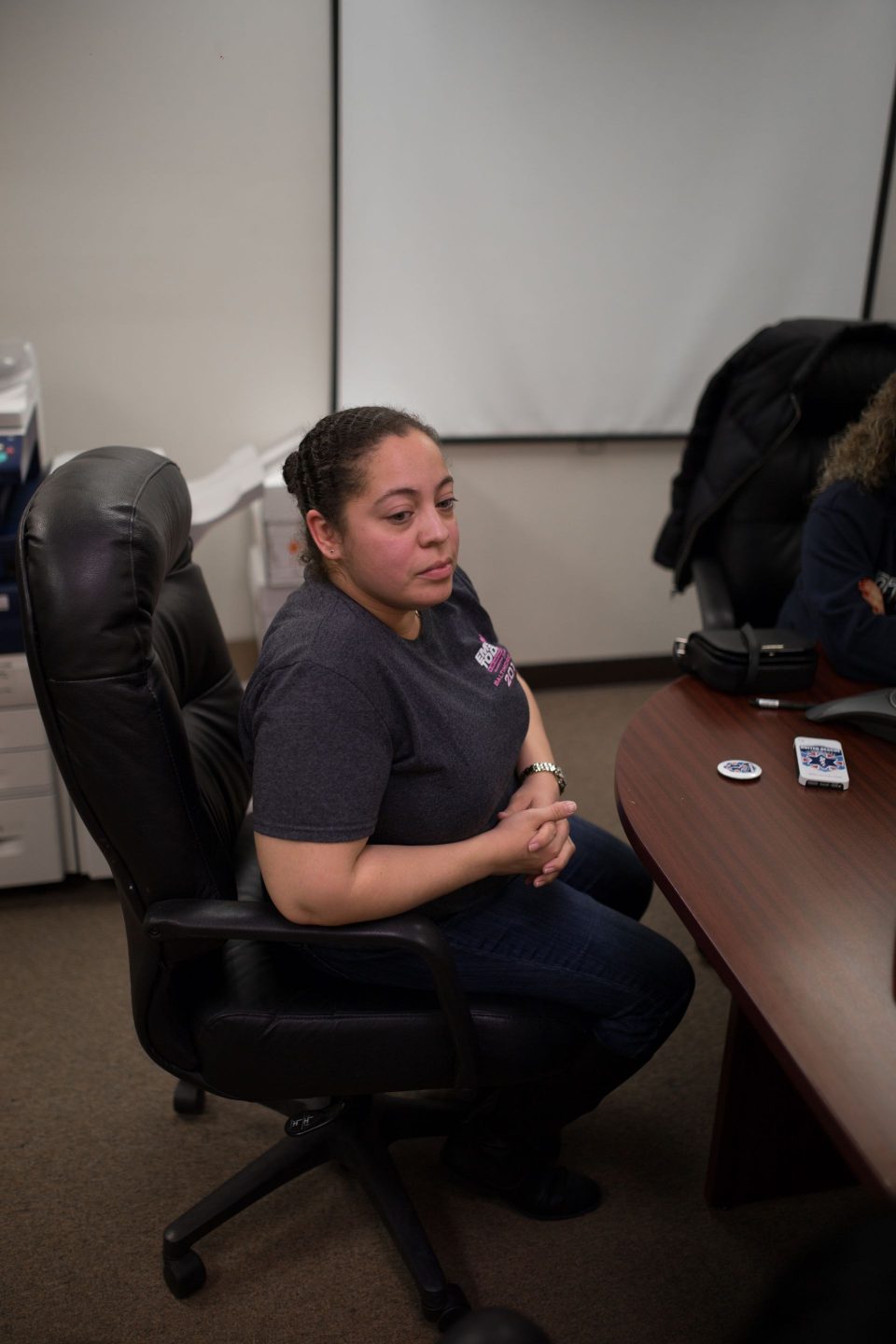 Paul: I've spent a lot of time with them and going on calls with them. My personal satisfaction is standing back and seeing them do the work and having the confidence to do what I do. It's been pretty gratifying seeing that evolves over the last few months.
Mordy: I've had a few calls. I once had a call for a cardiac arrest, and I showed up first on the scene, and I was pretty scared. Sometimes you could have a call come in as a life emergency of a little girl who fell and is bleeding when it's actually a very simple cut, but at the end of the day, the mother was nervous, and she feels like this is a life emergency from her perspective, besides treating the patient by stopping bleeding or taking the vitals, just being there makes a difference.
Now with you specifically, Mordy, you were trained with EMS before United Rescue. Why did you decide to do that?
Mordy: I had a passion for it. I didn't plan ever taking it as a career. It was just a great opportunity to utilize it and practice it.
So how come Jersey City? Do you know why the mayor decided to bring this here?
Paul: Fortunately, we have a very forward-thinking, progressive mayor who's into new ideas and loves technology. Honestly, who would want to turn this down? This is something generously funded by philanthropists and comes at no cost to the city or taxpayers. It was simply an idea that was going to be a pilot program, and if you ask people in Jersey City, a lot of them were skeptical including me.  I knew there was a chance for failure, but after a few months, the idea exploded, and before we knew it, we had a waitlist of literally hundreds of people who wanted to volunteer.
Is it actually hard to be a volunteer? 
Paul: Yeah, we go through an interview process, and we select the people that we feel will fit the program ideally, and then we work off that list and try to find people from all quadrants of the city.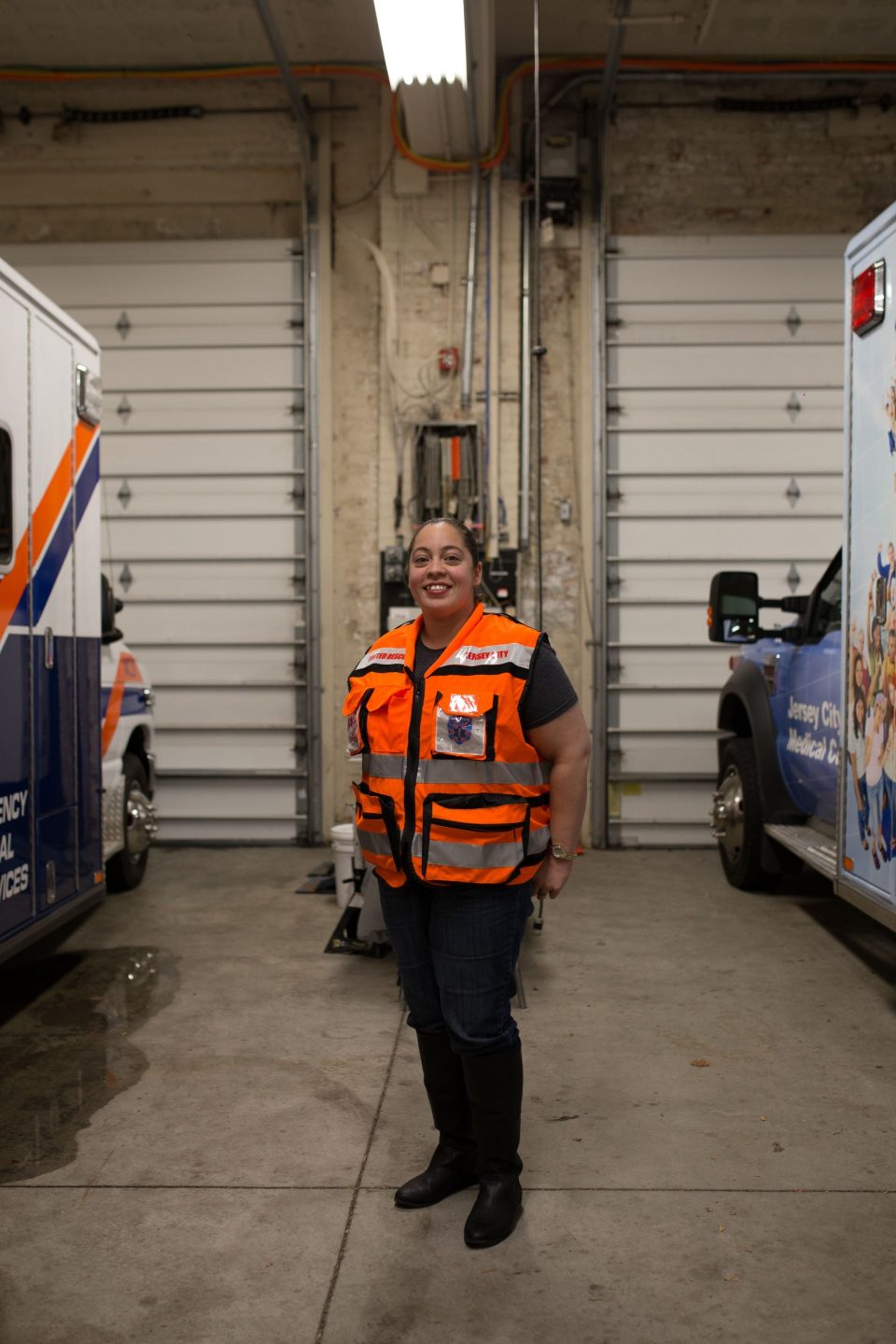 That makes me so happy. I feel like in Jersey City; people do want to help and give back. People always ask me if I know of any volunteering opportunities, especially around the holidays, and it's nice to see that there are good people who want to help.
Mordy: Right. And we're talking about an age range up to 65+ all the way down to 18, which is the minimum age. There are college students or people like myself.
Do you think the driving force for some of them is just to get the skills and want to help?
Mordy: With the 80+ hours they have to put in, they really have to be committed. Maybe they'll start volunteering and go on calls, but they start the moment they sign up. It's very serious. There are hard tests, studying, going on the ambulance, taking the courage to go out there. I can't see any other reason than wanting to help.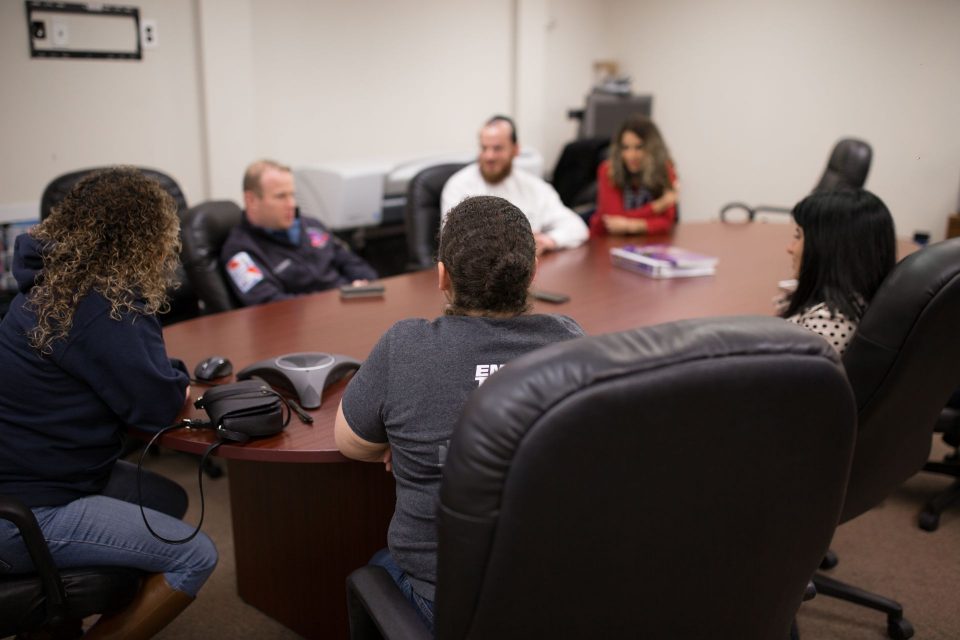 That's amazing; I love it. Do you all live in Jersey City?
Angela, Paula, Sherifa: Yes.
What's your favorite Jersey City hangout spot?
Angela: There are so many! I grew up and lived in Jersey City my whole life, so I think I've been to every single bar and restaurant in Jersey City. The one place I like to go to a lot for a quick dinner and some sangria is Europa on Newark Ave. up by Dickinson High School. It's a nice little area for a quick meal with a friendly staff, and the food is really good there.
Paula: I have kids, so I'm forced to be a mall rat. Downtown is definitely the place we hang out in the most because it has the most options. Anywhere you want to go to eat; you turn in a circle, and there are all types of food available at your fingertips. I grew up in New York, so that makes me most comfortable because it's really populated there with different shops, and that's where I feel most at home.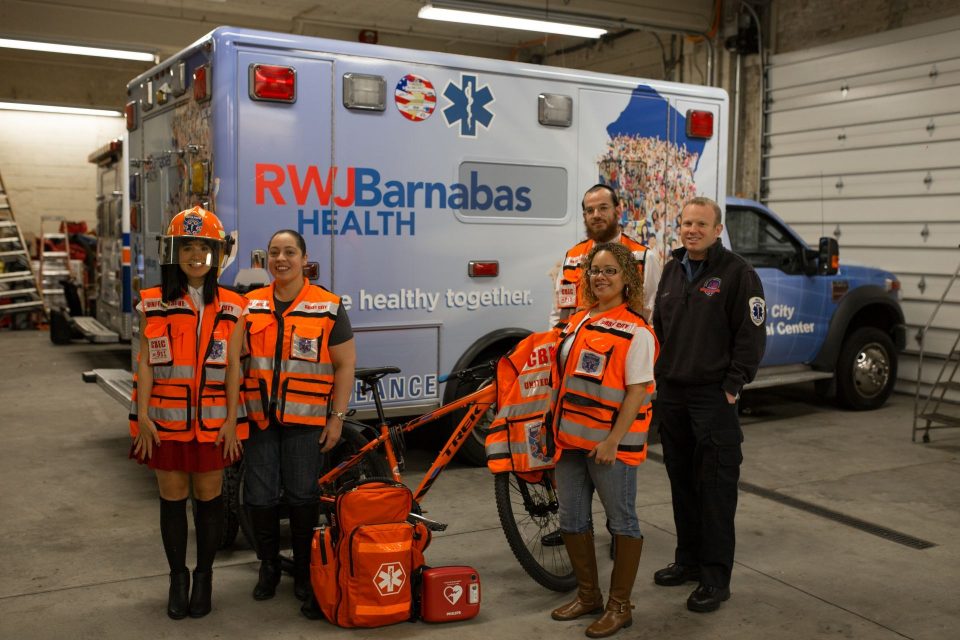 Paul: I could probably tell you places in every neighborhood that I like to go to because I've been working here for almost 11 years. Jersey City was foreign to me before I started working here. I like any bar on Newark Ave. Laikos is a phenomenal restaurant. Jersey City has great food and great places to grab a drink. It's like a microcosm of New York City, just more convenient and more community-oriented. There are so many neighborhood associations. I thought the city was only split into four sections, and then I learned there were four associations just in the Greenville neighborhood, so getting to know people from each district has been amazing because you get to hear from so many different walks of life.
What were you doing before United Rescue?
Paul: I worked as a paramedic supervisor. We're a huge department of about 300+ employees, and we represent 10% of the entire hospital workforce. I was a supervisor. Obviously, we're a 24/7 business, so I'd oversee 30-35 EMTs and paramedics, and then I moved into this new role once United Rescue came into being.
How do you like it?
Paul: I love it. It's very time-consuming, which is a good thing because I think all good things take time. We certainly have things that we need to work on, as all startups do, but I think that everyone is amazed by the amount of success we've had in such a short period. I think we have a lot of room to grow. We're still developing relationships, meeting new people, putting changes in our curriculum and how we deploy our resources, but it's just something that will take some time. Not to toot our own horn, but these guys won the EMS 10 award, which is kind of like the Academy Awards of EMS. It's typically an award people would get after spending an entire career working toward something, and we got it within one year of being in existence. This is something due to the hard work of the volunteers. This program is the only one of its kind in the entire country. If we talk to our friends in Israel and elsewhere, they will be dying to get this off of the ground in America. We were the first ones to be able to do it.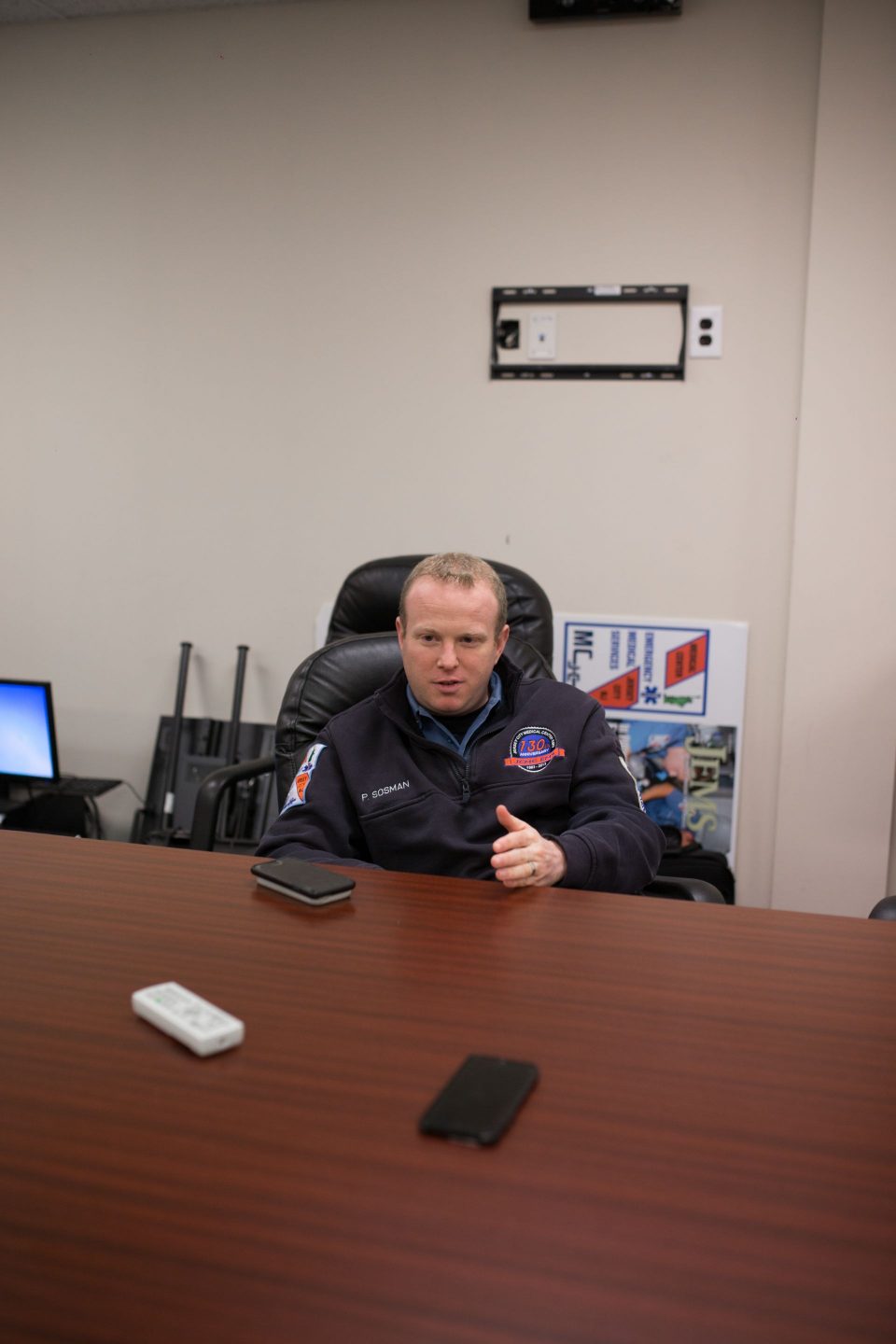 Do you think it's going to go to other cities?
Paul: I think that, if it's portrayed the right way, it's developed, we speak to other cities, and base it upon how the EMS landscape works in America, it could be very successful. I just think it needs to be portrayed in the right way. We're simply here to add another layer to the EMS structure, not to replace anybody. Our sole goal is to reduce response time, get help to people faster, and return to our daily lives.
I don't get how anyone else wouldn't do it! Especially New York City or big urban cities. Things happen. 
Mordy: NYC is known for paramedics getting to a scene of cardiac arrests just to pronounce.
Paul: It's over 10 minutes.
Mordy: And after 5-7 minutes, there's basically nothing to do.
Paul: No chance of recovery.
Mordy: Everybody tries to improve their performance in a business, but here we're talking about life and death. With any mayor who looks at this, you have to have a little courage or guts. Eli Beer said that, when he started bringing the program here, he learned a new word in English – liability. That's why people would rather not do it, and people aren't always comfortable sending volunteers to certain areas, so it takes courage but you have to take the risks. Safety is the number one concern. The mayor was the first one to decide he wants to go with it, and he is very involved with us. After the cardiac arrest call I took, I had a voicemail the next morning from Steven Fulop.
Paul: He's one of our biggest supporters and a huge proponent of this program.
Amazing. Angela, you mentioned you were born and raised in Jersey City. How do you feel Jersey City has changed in the last few years?
Angela: It's changed tremendously. I live Downtown, so seeing how it was back then to how it is now is a big change. The Pershing building on 95 Christopher Columbus used to be a ShopRite back in the day, so I remember being in the parking lot during the snow storms in shopping carts just playing around. Then I worked there for 16 years once. It's changed a lot.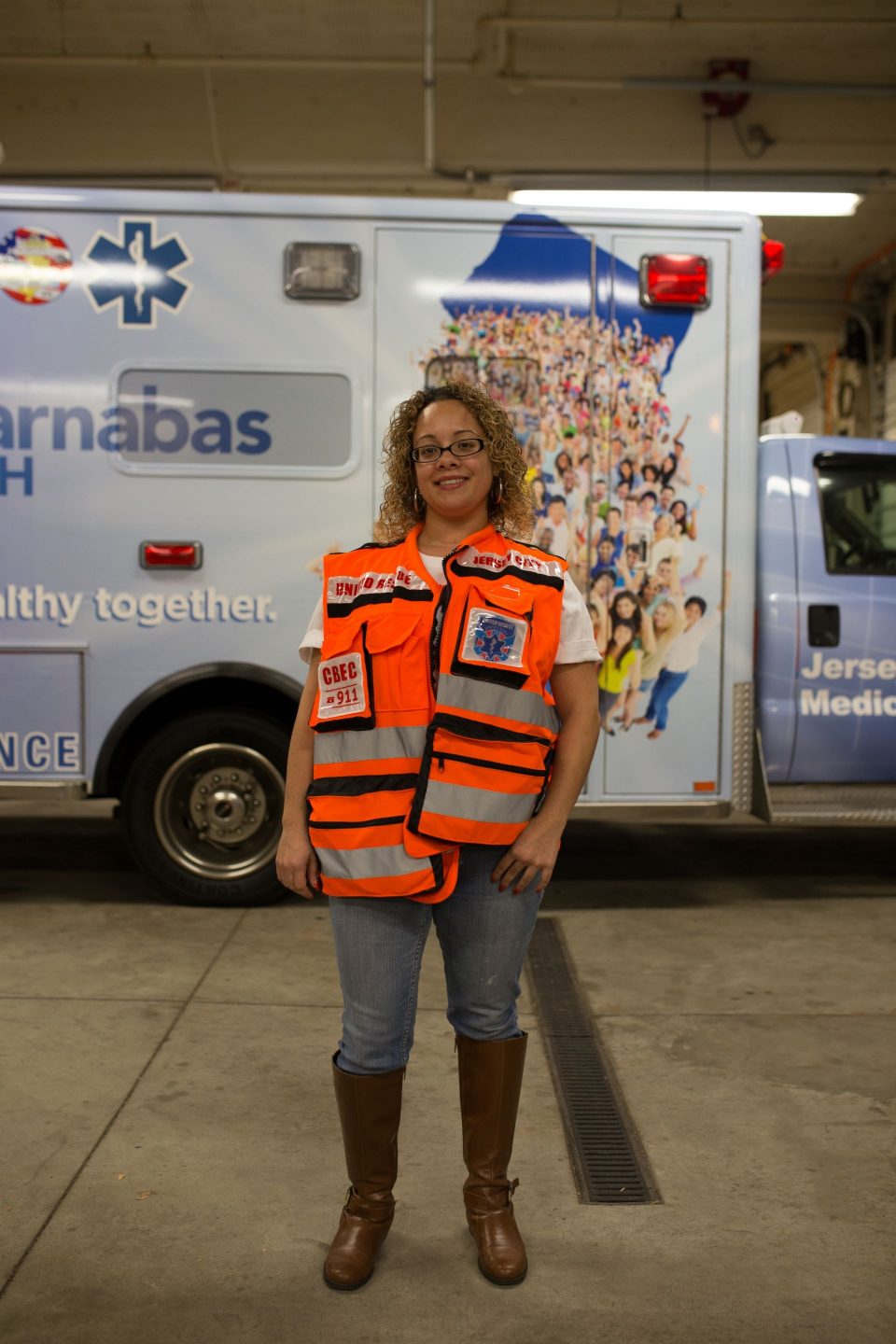 How do you feel about the change? 
Angela: I think the change is good. Back then, no one really wanted to come to Downtown Jersey City. People thought it was too violent and that there was nothing here. We had warehouses, and now they've been converted to lofts and condos. I think the change is good. It's a different mentality for people coming into Jersey City now. You always had the "bad vibe," but seeing how it's evolved, I think it was a good change.
Definitely.
So back to United Rescue – how does it get funded?
Paul: It's funded through philanthropic means, through generous donors. It's also been funded through grants that we've received. We received a very generous grand from the New Jersey Homeland Security. Between private donors, corporate donors, and grants, that's how we're essentially funded.
What's next for you guys?
Paul: Every day changes. Further expansion, more volunteers, more calls, continue to get our name out there. I hope that some time in the future, we'll get to expand to other cities. When the time is right. Most importantly, more life-saving. When you break it down from all the complexities, our goal is just to save lives. That's what we try to do every day, whether that's taking care of someone with a toothache or taking care of someone like one of our volunteers, who had someone literally drop dead and saved their life.
That's insane!  Have you ever had to improvise?
Paul: We're able to do that as paramedics. We try not to, but we are allowed to improvise if needed.
If people want to find you, where should they go?
Paul: Mordy's our technological genius. We have Facebook, Twitter, Instagram, and our website. Our best of contacting us is social media and our Rescue email addresses. If anyone wants to become a volunteer, they should go to our site.
And people can donate, as well?
Paul: Yes. Hopefully, in the next few months, we're going to amp up our fundraising. We haven't done any fundraising events yet, but that's our next step once we have everything situated.
Any thoughts on doing something for youth or kids? Maybe a class to get them into volunteering?
Paul: The Medical Center runs a great program that's CPR at a more basic level. Our EMTs and paramedics are able to teach, but for this specific program, all volunteers have to be 18. We have been in numerous schools around the city, speaking with them. We just had the daughter of a husband and wife pair of volunteers go through the course. We're trying to encourage more family members to join the program.
Wow! Amazing. 
For more information go to http://www.unitedrescue.us