Crazy weather aside I think it's time for all of us to grab our calendars and check our event reminders. If you don't have anything planned for your weekend, then you're in the right place. This week's top fifteen events are intertwined with art, a ribbon cutting, parties, and jamming the right stuff at the right time.
Can't find any events you're interested in? Our Event Calendar has nearly forty events this weekend so if you're looking for something more festive, check there!
Thursday
1. Art and Soul: Food, Art, and Wine with Dress for Success
May 19th @ 6:30 PM – 9:30 PM
Mana Contemporary, 888 Newark Ave., Jersey City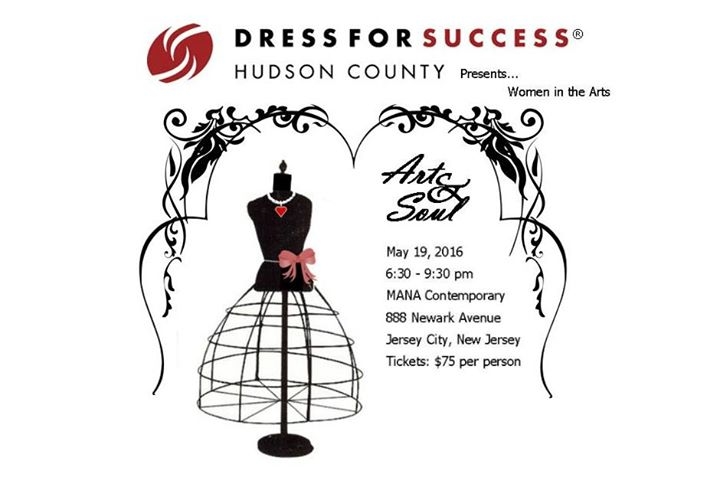 Dress for Success is having their first annual Women in The Arts Fundraiser and Cocktail Reception tonight, and you don't want to miss it! Art and Soul is an event solely to celebrating the diverse and artistic accomplishments of art by women.
Friday
2. Tiger Flowers, Binary Code, Torrential Downpour, and Pink Mass at The Funhouse
May 20th @ 8:00 PM 
The Funhouse, 32 Center St., Jersey City
$8
18+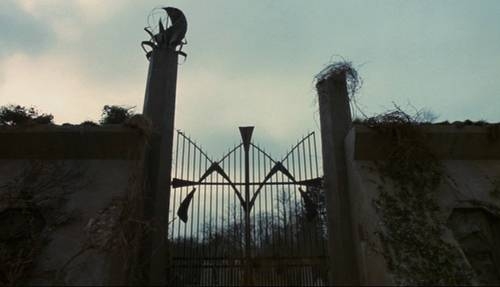 Jam it out this Friday at The Funhouse! Join Midian Productions for live performances by Tiger Flowers, Binary Code, Torrential Downpour, and Pink Mass. It's going to be a fantastic night full of music to keep you on your toes.
3. Just 4 Kickz
May 20th @ 9:00 PM – 2:00 AM
496 Communipaw Avenue, Jersey City
$8 in advance ($10 at the door)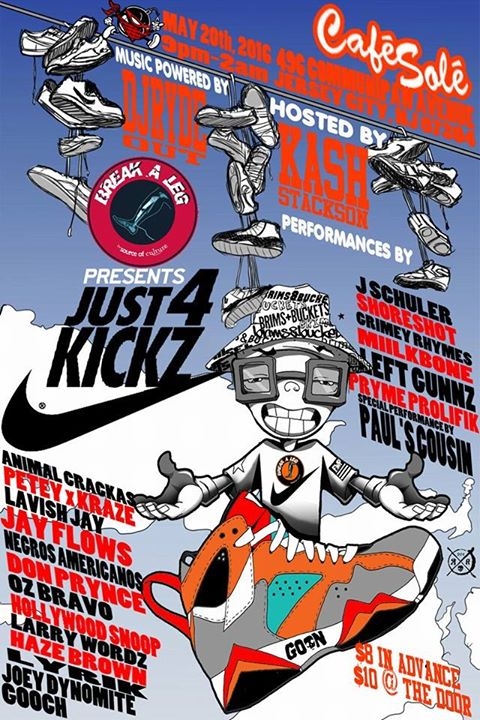 Make it to Break A Leg for Just 4 Kickz! Join them for an evening of performance as they kick off with their Sneakerhead edition of Break A Leg, which will feature "Exclusive Kicks" for display and purchase. With performances by J. Schuler, Shoreshot, Grimey Rhymes, Miilkbone, Left Gunnz, Pryme Prolifik, special guest, Paul's Cousin and more.
Saturday
4. ClearPort Grand Opening Ribbon Cutting
May 21st @ 10:00 AM 
Join us for a ribbon cutting with Mayor Steven Fulop, treats by Milk Sugar Love and Drinks by Chickologist
Party 11:00 AM – 7:00 PM
Congratulations to owner and ChicpeaJC friend, HayOner! Join ClearPort for their grand opening and ribbon cutting Saturday morning and party it up until the wee hours of the night! Read the background story on this dope new shopping experience in McGinley Square here!
There will be DJ's all day and a few surprises! so come on by, shop local and experience The Clearport "Wear you fly"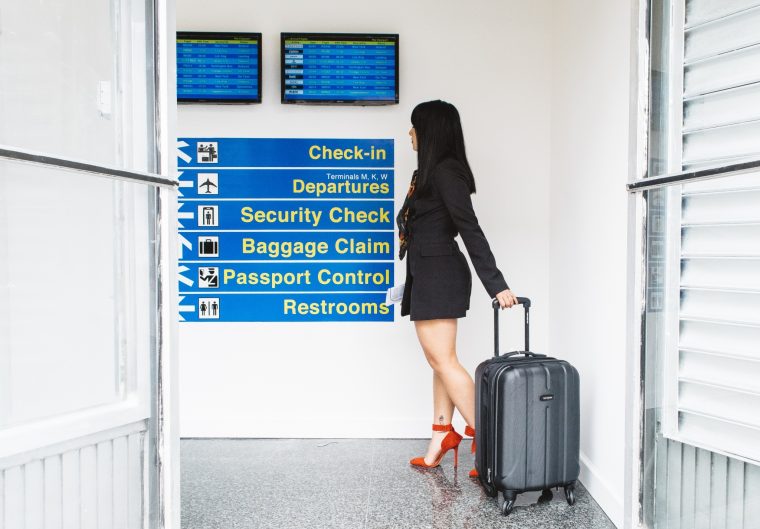 5. Grand Opening After Party
May 21st @ 10:00 PM
Transmission, 150 Bay St., Jersey City
$5 RSVP ($10 at the door)

Your flight is now departing. Ascend 30,000 feet into the sky and enjoy your experience! You've heard about it all week and now is your chance to join in on the fun. Scrap the luggage and bring yourself and positive vibes to the ClearPort Grand Opening After Party. Vibes by Stadium Status, DJ Robcast and special performance by Jay Hype. 
6. Central Avenue Auto and Music Show
May 21st @ 11:00 AM – 6:00 PM
Central Avenue Shopping District, Jersey City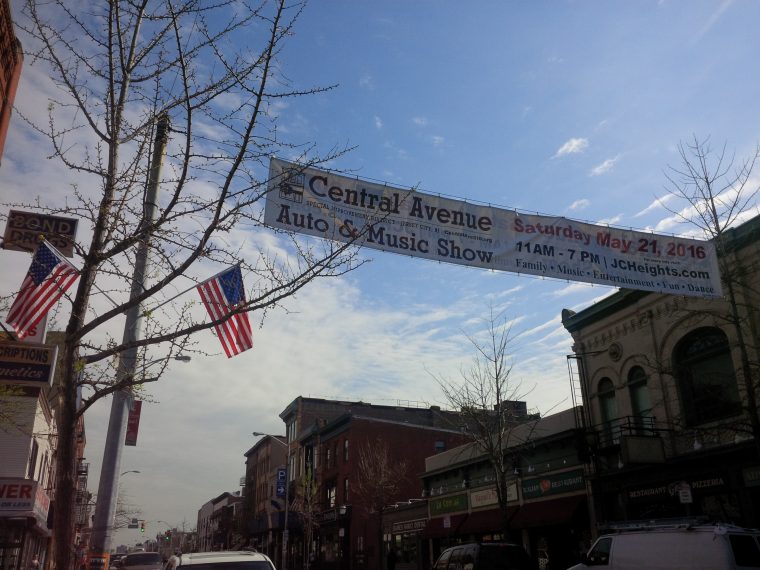 We covered this event last year and had a blast!! Head to the Central Avenue Shopping District for an afternoon of exotic cars and live performances through the day! and catch ChicpeaJC there if you can!!
7. Soled Out JC Grand Opening
May 21st @ 3:00 PM
Soled Out JC, 633 Newark Ave., Jersey City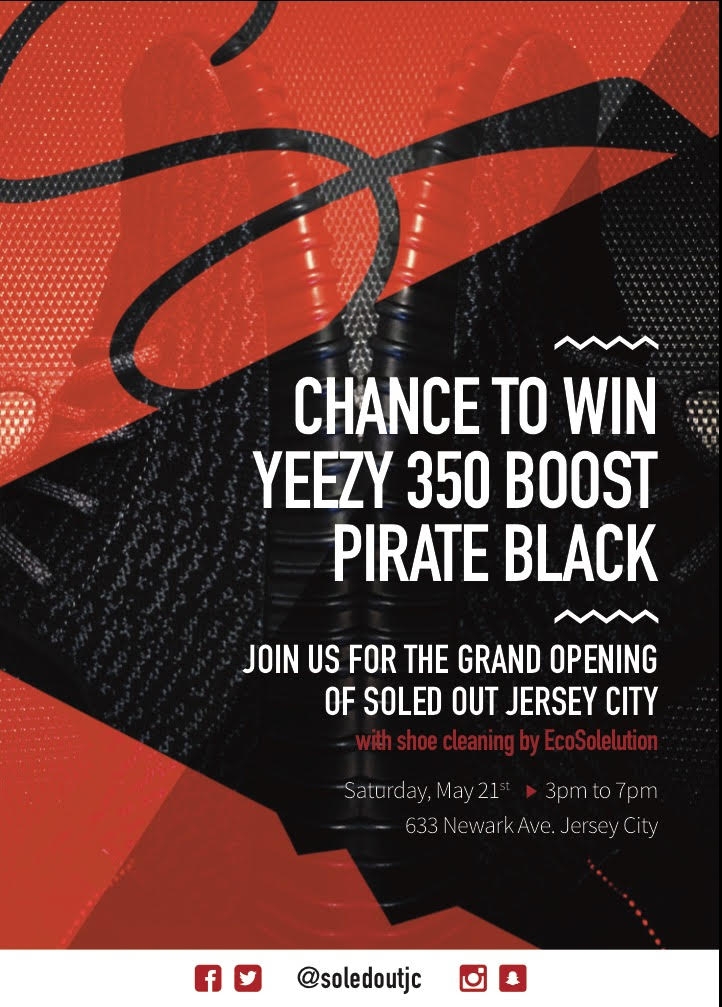 Bring in the cheer for Soled Out this weekend at their grand opening! Participate in their raffle for a chance to win a pair of Yeezy 350 Boost Pirate Black, grab some ice cream from Luigi's Ice Cream and nab a drink from Rockstar Energy Drinks!
8. High Tea and Staged Reading of Henry IV Part I
May 21st @ 3:00 PM
St. Paul's Episcopal Church, 38 Duncan Ave., Jersey City
$10 Suggested Donation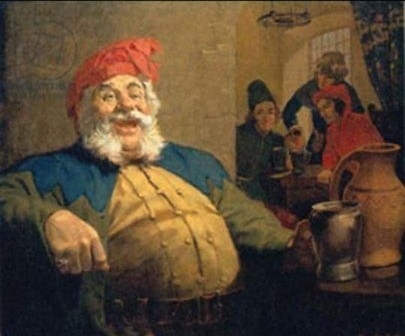 Have you your cup of tea? Join St. Paul's Episcopal Church this Saturday for Henry IV Part I and high tea, the fourth event in their Stratford-upon-Duncan series.
9. Vogue Ball
May 21st @ 6:00 PM – 9:00 PM
Art House Productions, 136 Magnolia Ave., Jersey City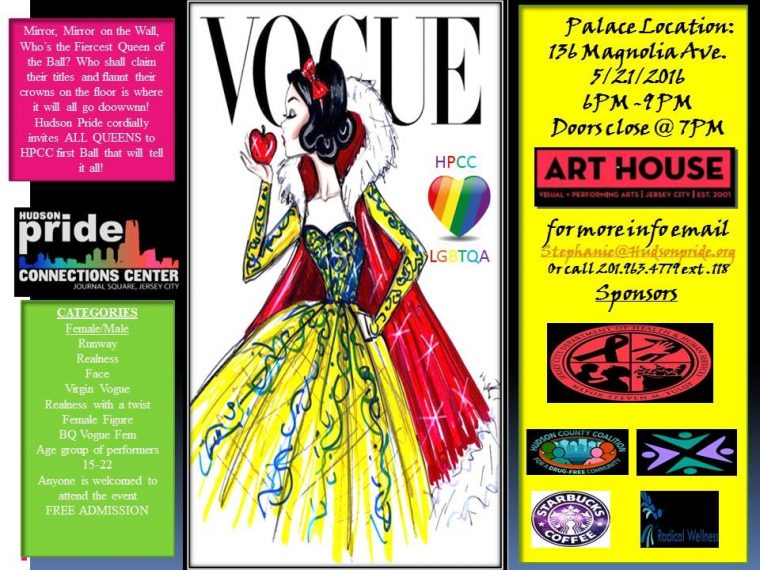 Where have all the queens gone? To the Vogue Ball of course! Join the Hudson Pride Connections Center this Saturday for their first annual Vogue Ball! Everyone is welcome to the ball. This event is geared towards 15-24-year-olds and there will be a DJ, dancing, a mock bar and more! You may even catch ChicpeaJC's very own LGBTQ Contributor, Charles on the dance floor!
10. Dan O'Dea and Eagle Ridge: Live in The Parlour
May 21st @ 10:00 PM
Fox and Crow, 594 Palisade Ave., Jersey City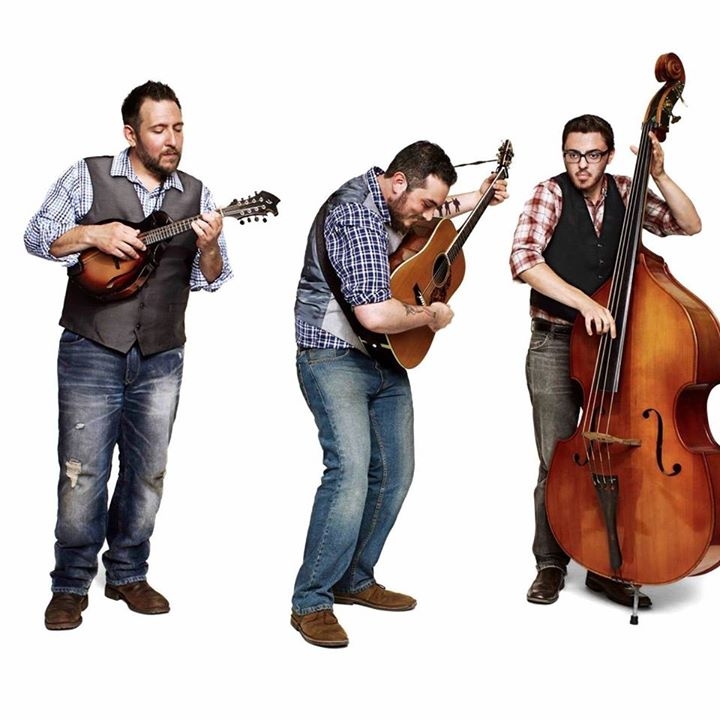 Spend a night in the Parlour at Fox and Crow with Dan O'Dea and Eagle Ridge. Come down from your week of highs and bring it real low as they jam out for a night of strings and vocals.
11. 10:15 Saturday Night
May 21st @ 10:00 PM – 3:00 AM 
Lucky 7's, 322 2nd St., Jersey City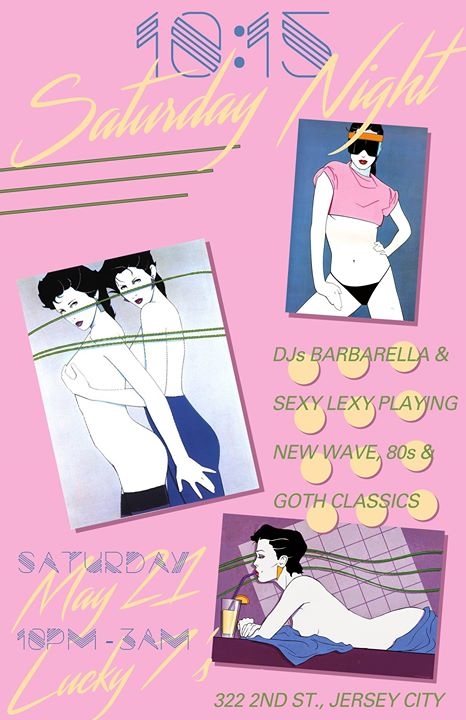 Kick back your heels, grab an ice cold beer. It's 10:15 on a Saturday Night and you'll be here. Join Lucky 7's as they send off their bartender Audrey and bring in some birthday cheer for Sasha/Barbarella!
12. Kids Caring for Shelter Animals
May 22nd @ 10:00 AM – 12:00 PM
Korean War Memorial, 122 Washington St., Jersey City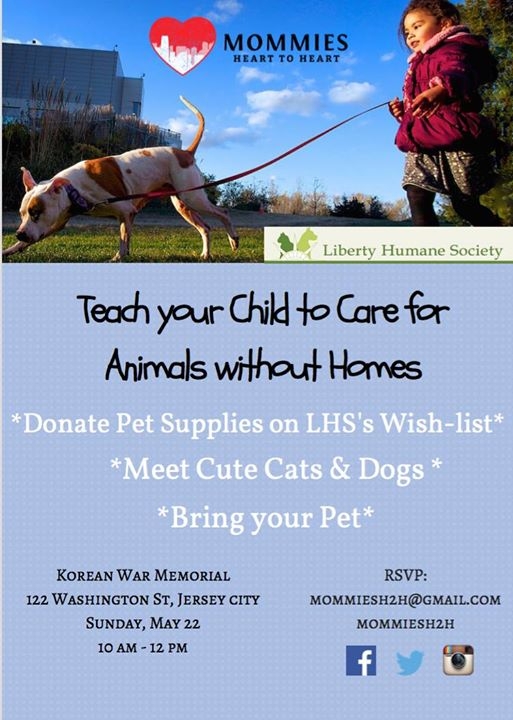 Bring your kiddos out this Sunday for some one on one time with some of the Liberty Humane Society's amazing animals (from personal experience, our family's newest kitty addition, Louise is awesome). You are welcome to bring your pet some treats, to make donations to LHS's wish-list, and even to adopt your pet! Check out the event details for LHS's wish-list!
13. Lincoln Park Yard Sale
May 22nd @ 10:00 AM – 4:00 PM
Lincoln Park (Streets surrounding Lincoln Park), Jersey City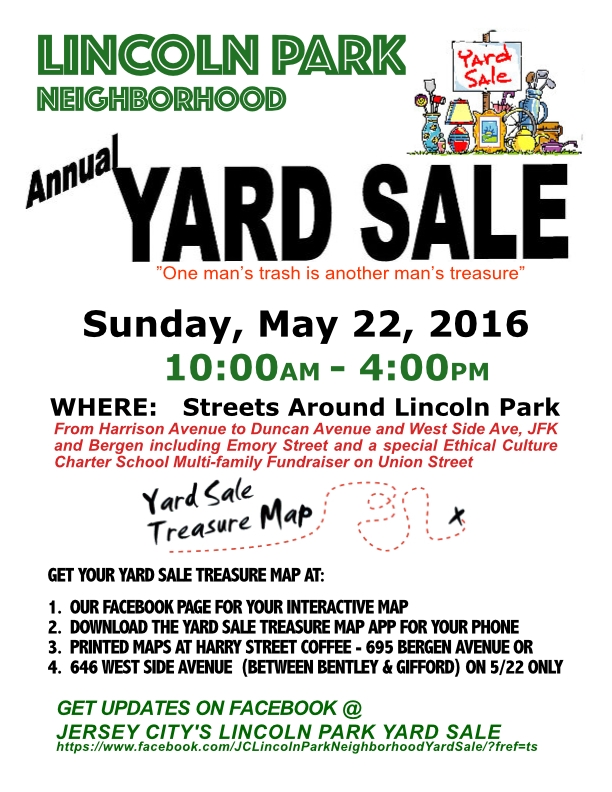 What other man's treasures have you been missing out on? Now's your chance to find out! Head out this Sunday for the Lincoln Park Yard Sale and find something you never thought you could live without and don't forget to print out your map! As they say, "One man's trash is another man's treasure."
14. Yom Haatzmeut Family Picnic
May 22nd @ 1:00 PM
Hamilton Park, Jersey City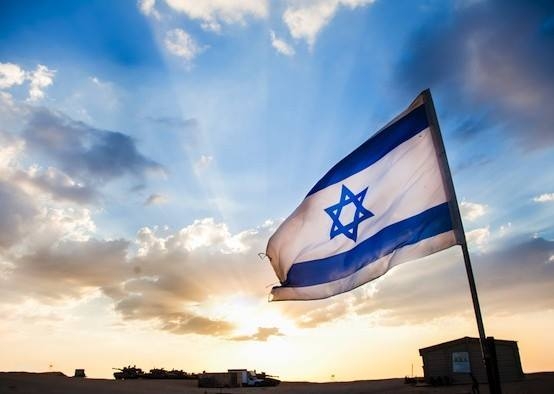 Potluck picnics are always the best! JC @ JC invites you to celebrate Israeli Independence Day in Hamilton Park! Bring a dish and the whole family and enjoy an afternoon of fun activities and great food.
15. Rooftop Brunch at Porta
 May 22nd @ 1:00 PM – 4:00 PM
135 Newark Ave, Jersey City, NJ 07302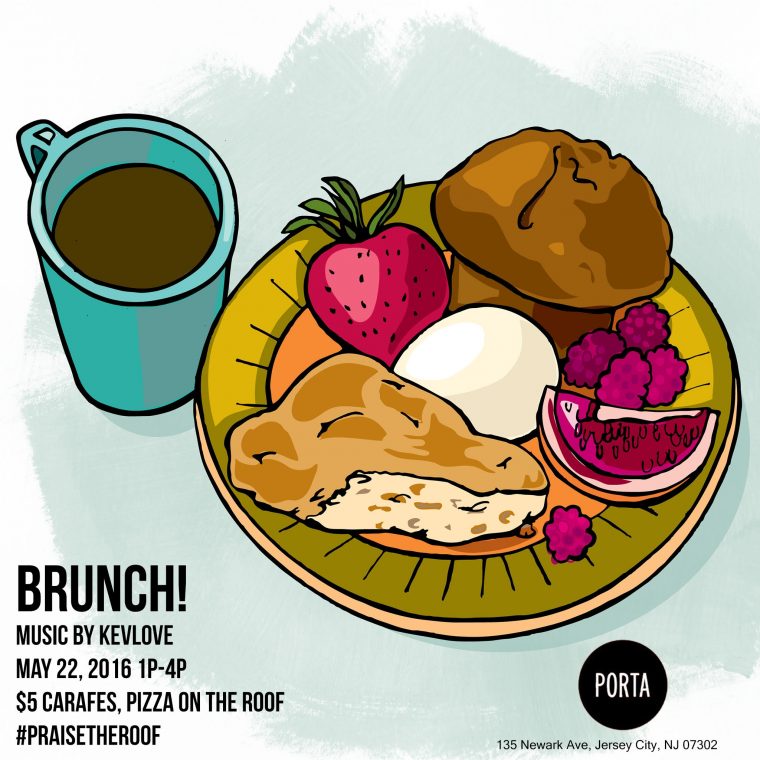 What a great way to start the week with a rooftop brunch at Porta. $5 Carafes and pizza on the roof! Music by Kevlove (www.kevlove.com). #PraiseTheRoof
16. JC Youth Foundation and JC Theater Center Fundraiser 
May 21st @ 3:00PM – 6:00 PM
Jersey City Theater Center, 339 Newark Ave., Jersey City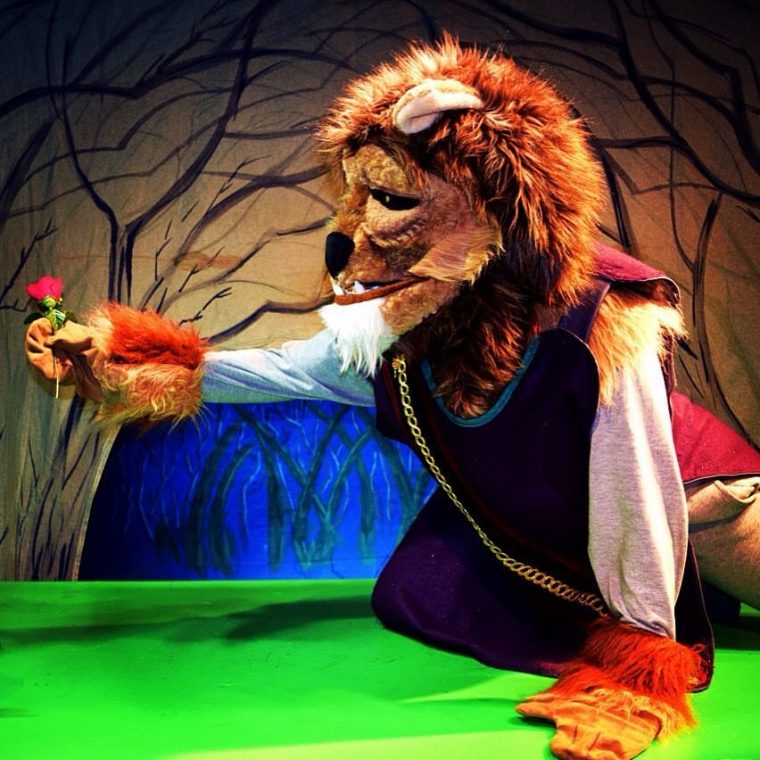 Join the JC Youth Foundation and JCTC for a special fundraiser to benefit the growth of youth art programs in Jersey City.