New month, new ways to give back in Jersey City! Mallory from Jersey City Volunteers back again with the rundown of some awesome events happening around JC this month. And new for this month: a roundup of ongoing volunteer and donation opportunities that will continue to grow throughout the year!
---
WomenRising's Women's History Month event – March 28th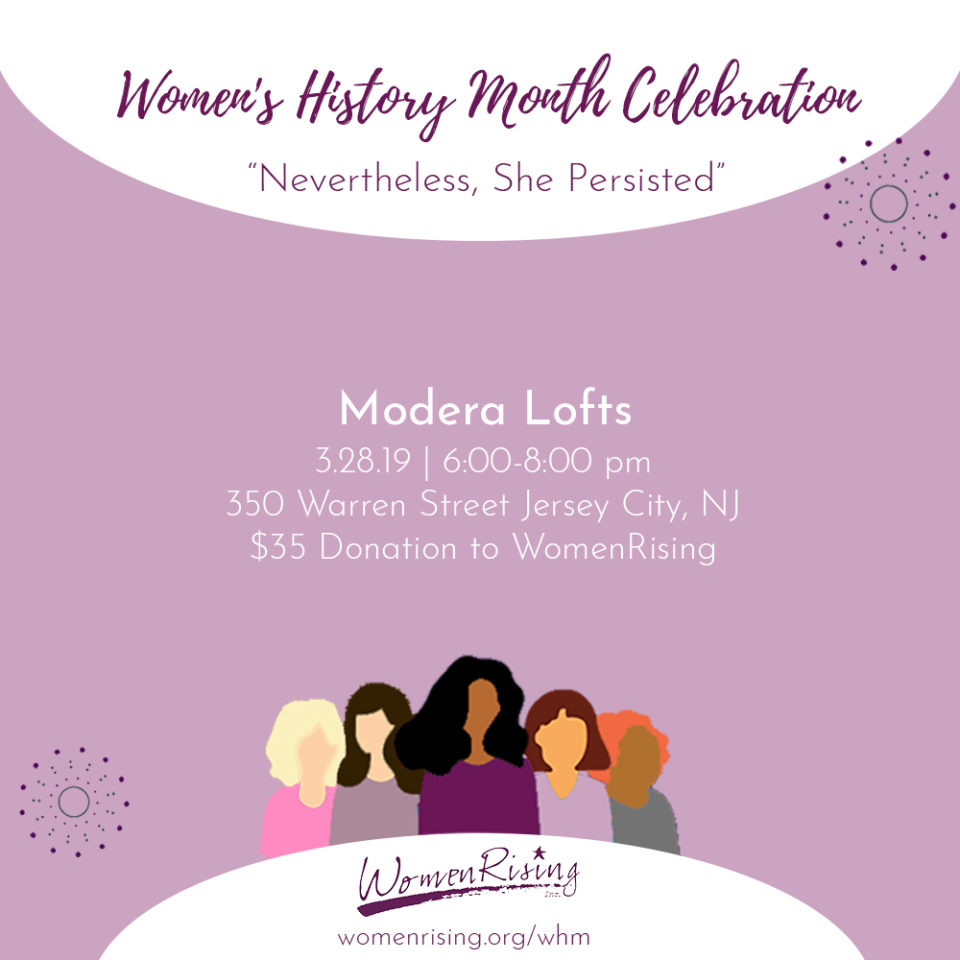 In honor of March being Women's History Month, one of our favorite organizations, WomenRising, is hosting their second annual celebration at Modera Lofts from 6-8pm. Enjoy hors d'oeuvres and beverages all donated by women-owned businesses throughout Hudson County!
All proceeds from the event will be donated to WomenRising, an organization dedicated to helping women and children across Hudson County achieve self-sufficiency.
For more information on how to donate and to get tickets, please visit https://www.womenrising.org/whm.
Hudson CASA Annual Wine Tasting – March 29th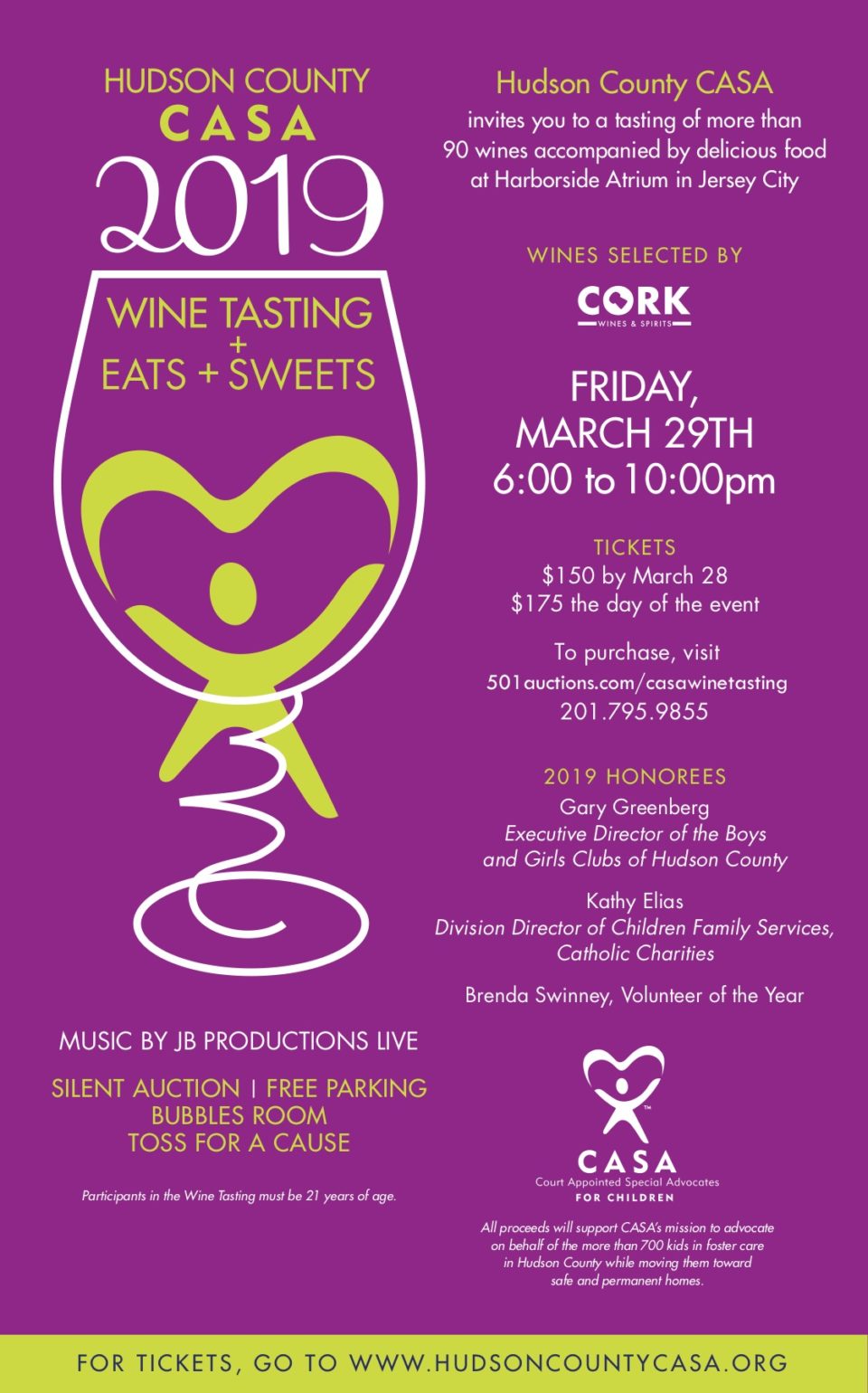 Hudson CASA (Court Appointed Special Advocates) is hosting a wine tasting at Harborside Atrium from 6-10p to benefit all the wonderful work this organization does in advocating for Hudson County children in foster care.
Ticket prices include food by Piggy Back Bar, unlimited wine and spirits tasting, open bar with beer, wine and soft drinks, DJ entertainment and the opportunity to help children via a silent auction and donating to camp and birthday funds!
Tickets are $150 until 3/28, and go up to $175 at the door. To buy tickets, visit https://www.501auctions.com/casawinetasting
Hoboken Girl 3rd Annual Formalwear Drive – March 30th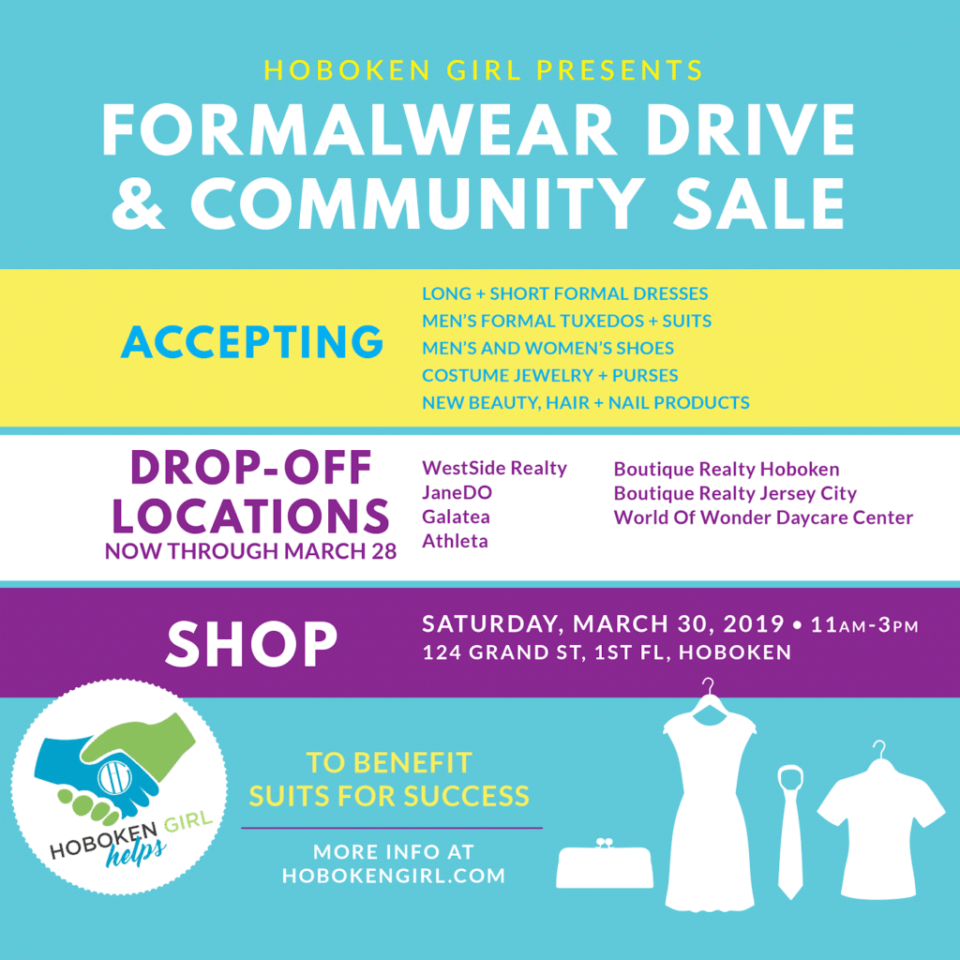 Clean out your closet and do major good for the community? Win-win! Hoboken Girl Helps is back with their annual formalwear drive benefitting Suits/Dress for Success! From now til March 28, drop off formal dresses, men's tuxedos and suits, formal shoes, costume jewelry and purses, and new beauty products at designated drop off locations around Hoboken and JC. On the 30th from 11am-3pm, there will be a community sale of these items all benefitting Suits/Dress for Success.
For more info on where to drop off items and the community sale itself, visit https://www.hobokengirl.com/hoboken-girl-formalwear-drive-community-hoboken-jersey-city-2019/.
Gardening at Liberty State Park- Every Saturday!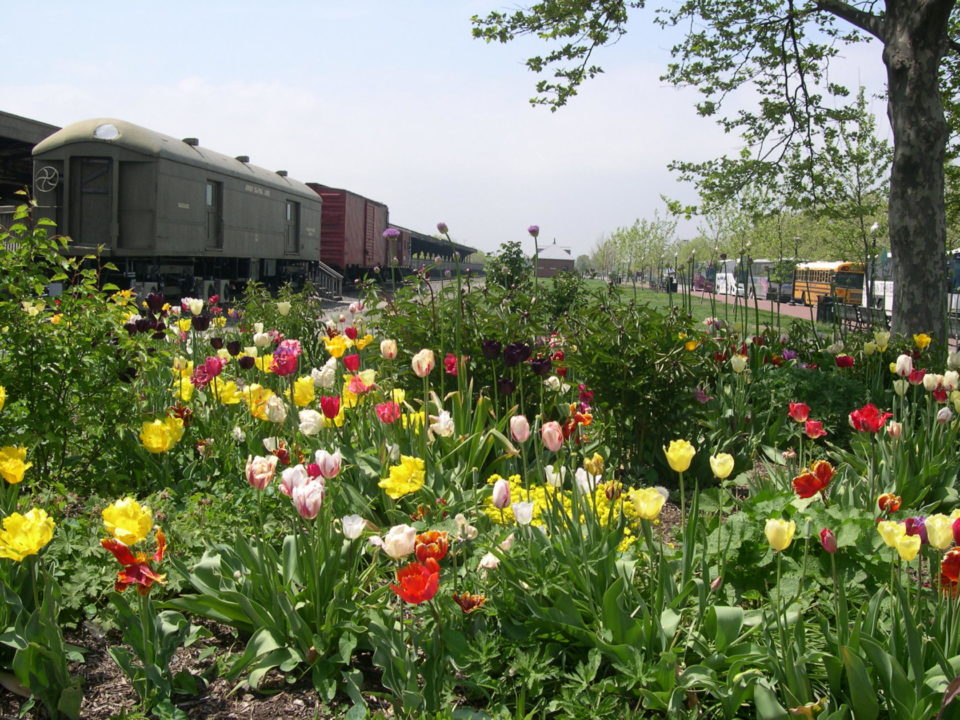 Every Saturday year-round, from 9am-12p, The Friends of Liberty State Park meet up to plant and take care of flowers, trees and other plants. No experience is necessary to volunteer and all are welcome including individuals and groups!
For more information on volunteering with the Friends of LSP Volunteer Garden Program, visit https://www.folsp.org/volunteer/gardening.html.
The Nurturing Place/York Street Project – Ongoing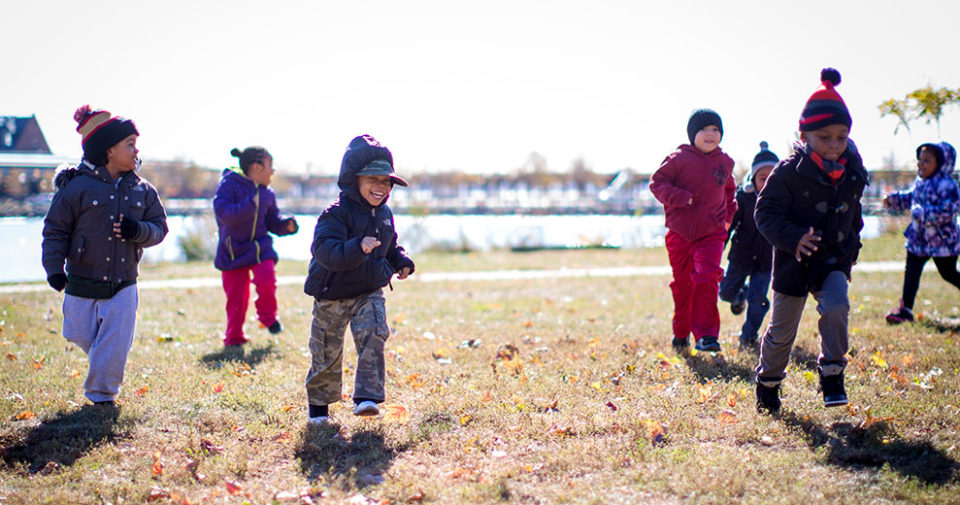 The Nurturing Place, part of the York Street Project, is a childhood development center for homeless and low-income infants and children. They provide children, many of whom live in the on-site transitional housing facility, St. Joseph's Home, with an educational and supportive environment while their mothers are working or in school.
They are actively looking for adult volunteers with a consistent schedule looking to donate their time on a weekly basis, particularly some extra adult hands Monday – Friday, during the hours of 8am – 2pm, for the infant and toddler groups.
All adult volunteers must submit a background check and complete a fingerprinting process. Interested volunteers should contact Nikki Sherman at dsherman@yorkstreetproject.org.
For more information about the York Street Project and the Nurturing Place, visit http://yorkstreetproject.org.
Historic Jersey City & Harsimus Cemetery – Ongoing
The Cemetery on Newark Avenue is loaded with historical significance, dating back to the 1700s as the site of Revolutionary War fighting. The active ammunition bunker from the War of 1812 still stands on its grounds, and is the final resting place of thousands of soldiers from the Revolutionary War, Civil War, War of 1812, Spanish American War, World War I, World War II, and more.
Abandoned in 2008, the Cemetery is now being preserved entirely by volunteers, led by a board of trustees. Volunteers are needed to help with the cemetery grounds and caretaker house maintenance and repairs, assisting visitors, database entry of the historic cemetery records, and fundraising activities. Other big projects include the development of a Historic Museum & Learning Center to provide historical education, and increase public knowledge and appreciation of the Cemetery's historical significance and natural beauty.
For more information on how to volunteer, visit http://www.jerseycitycemetery.org/volunteers.html
Deliverance Children's Ministry – Ongoing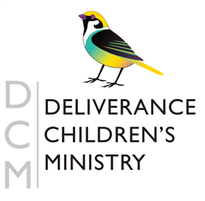 Deliverance Children's Ministry is a Jersey City-based organization dedicated to helping youth in all the communities they serve. They offer academic tutoring and career building workshop programs, all designed to prepare youths with real life skills and scholastic excellence.
For more information on Deliverance Children's Ministry and how to volunteer, visit https://dcmnonprofit.org/about-2-3/join-us-2/become-a-volunteer/
NJ Shares – Ongoing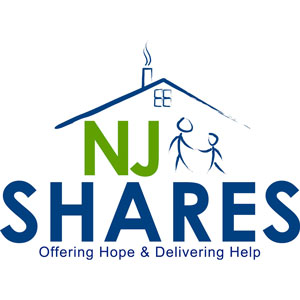 NJ Shares is an energy and utility assistance safety net for households in an emergency or crisis situation who may not be eligible for other methods of assistance. Through the generous donations of neighbors, this program has helped more than 185,000 families over the last 20 years! All donations are tax-deductible and may also be eligible for company match.
For more information on NJ Shares and to learn how to donate, visit http://www.njshares.org/howYouCanHelp/index.asp
---
There are also plenty more ongoing opportunities featured in previous roundups on ChicpeaJC, including:
JC Food Not Bombs – free food distribution every Sunday in JSQ
Welcome Home Jersey City – Weekly Fun Clubs three Thursdays/month
John's Food Pantry – Every second Saturday 10-12:30p
The Sharing Place at St. Paul's Lutheran Church – last two Saturdays of every month 8a-12p
Family Promise Hudson County – ongoing volunteer needs
Angela Cares – ongoing volunteer needs
Dress for Success Hudson County – ongoing volunteer and donation needs
See Spot Rescued – ongoing fostering needs
Jersey Cats – ongoing foster needs
Jersey City Medical Center – ongoing volunteer needs
If you ever have a question about a volunteer opp listed, want to know more about ways to give back, or want to let us know about an upcoming charitable event, please contact us at @jcvolunteers on Instagram or shoot Mallory a note at info@jcvolunteers.org!