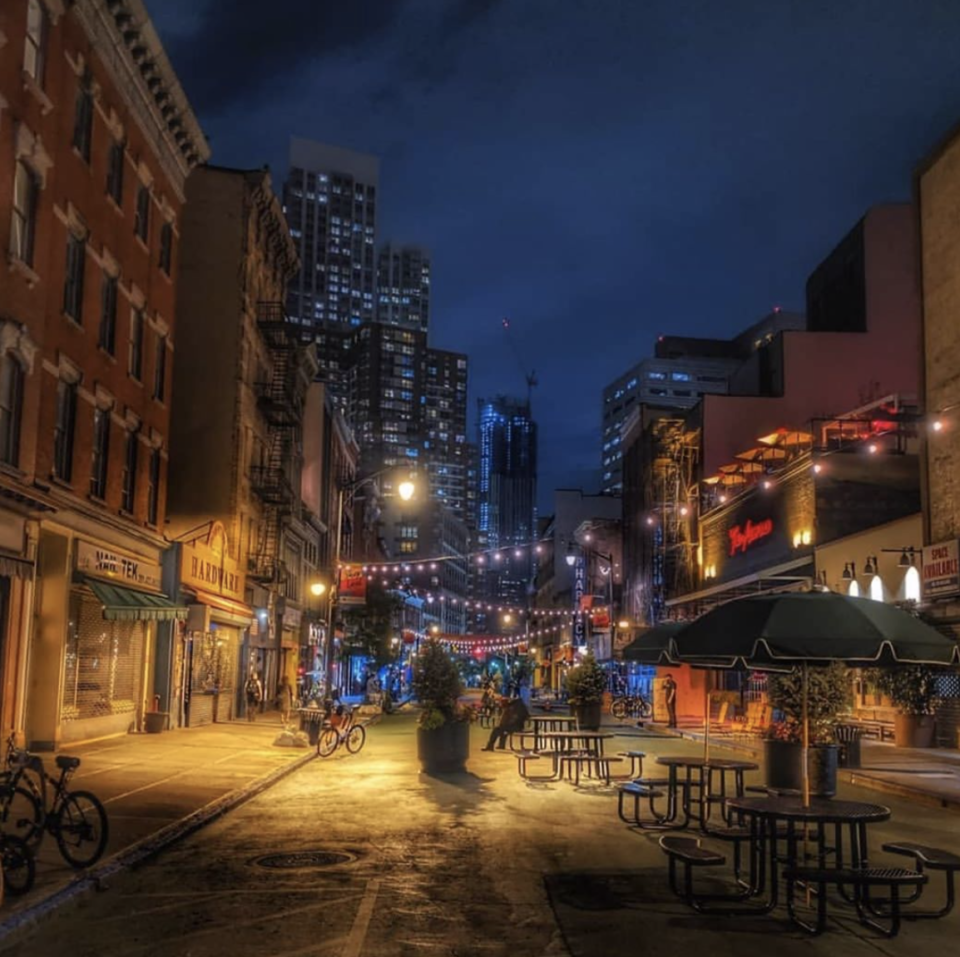 Councilman Solomon is proposing a noise ordinance and limiting entertainment licenses in Jersey City. 
What we know
He's proposing changes to the pedestrian mall to place limits on "clubs" (through entertainment license restrictions); a loading and unloading zone on Columbus Dr; and increased rooftop restrictions. These changes include –
Limit Entertainment Licenses (i.e. Clubs) in the Historic Downtown Special Improvement District (HDSID)

Would limit new entertainment licenses from opening within 250 feet of an existing entertainment license, not affecting businesses with entertainment licenses granted prior to June 30, 2019.

Strengthen the Noise Ordinance and Nuisance Code

Allow for police officers to enforce a "plainly audible" standard in which citations can be issued on the spot.

Create a loading and unloading zone on Christopher Columbus Drive

24-hour loading zone on both sides of Christopher Columbus Drive between Grove and Barrow Street for loading/unloading and ride-sharing drop-off/pick up

Restrict Rooftop Entertainment

Rewriting the entertainment license ordinances to clarify that rooftops are "outdoor" spaces, subject to strict restrictions outlined in the ordinance
He doesn't want to stop the nightlife, but would like to find a happy medium between both of those worlds. Police call data shows an overall increase in calls on the Pedestrian Mall from 2013 to 2018. The biggest increases were interpersonal conflicts up 194%, loud music up 450% and street fights up 177%. Calls reporting intoxicated people also increased during this time.
I normally shy away from injecting my own personal opinions when it comes to these posts, but I am pretty passionate about the nightlife scene in Jersey City and I am against this proposal and I will tell you why.
10 years ago, when I moved here there was no nightlife, I would go to the city to "party." In the last 10 years with spots like Porta, Talde, FM, Pet Shop, The Ashford, etc there's a lot more for us locals to do locally. And honestly, these places are not even really NIGHTCLUBS. In my eyes, Jersey City could actually use a few more good places for us to party! We have a way to go before we have something for everyone TBH.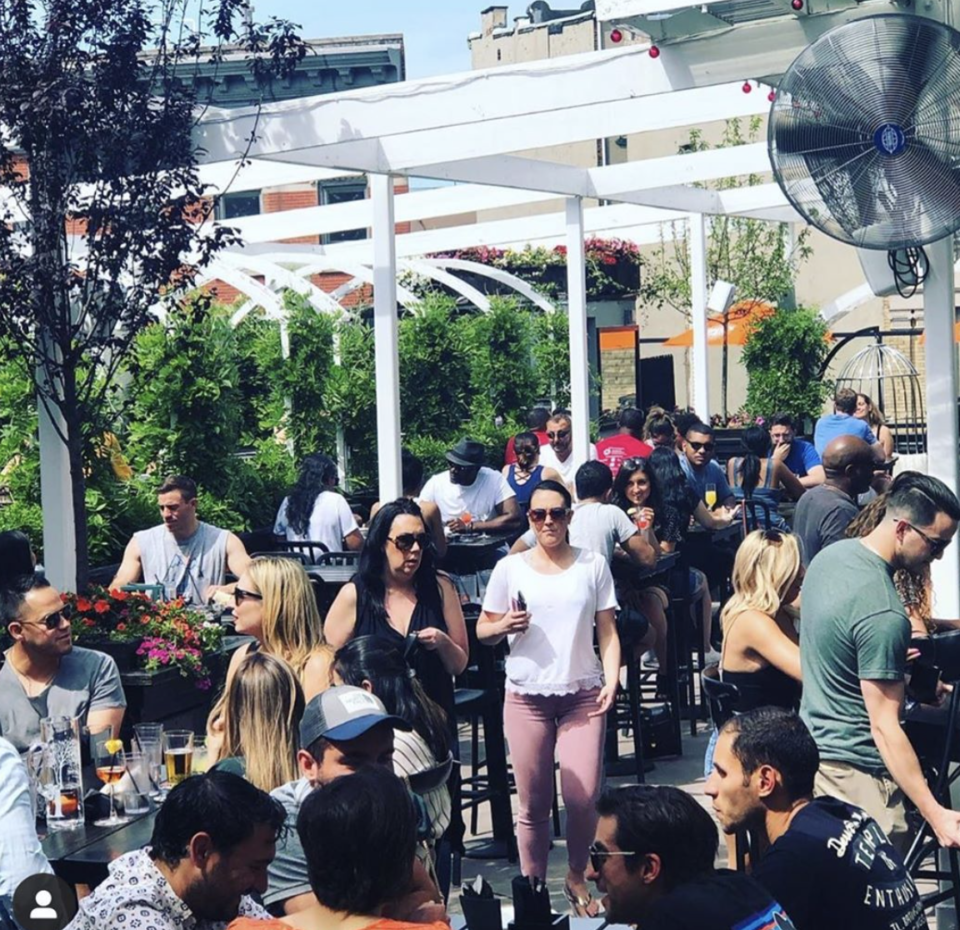 OH but it's noisy? Can I remind everyone we live in a CITY. Noise and action is part of living in a CITY! I live downtown and get woken up ALL the time, I make a mental note and suffer a little FOMO and go back to sleep. Because this is what I signed up for.
Nightlife is good for local businesses, it's good for residents, it provides jobs for locals, it creates this awesome energy and attracts new people from everywhere.
The residents who want this to happen, one of their concerns was that Jersey City would turn into "Hoboken." This is nonsense. Jersey City is the most diverse city in the country, having more options for us to hang out with friends does not make us like another city. Having more options makes us want to stay here! Adds to the diversity and the fun. While we are on this, city council should actually vote on extending the rooftop times from 12 to 3am cause it's summer!! We only get to enjoy it for 4 months out of the year. Let us have nice things.
There are so many more issues in this city then noise and a few drunk people acting stupid after a night out.
We spoke to the owners of The Ashford/Six26 and the manager of Porta, who have rooftops and encourage a lively nightlife scene, to get their perspective on the proposed changes.
Dan Biroc – Porta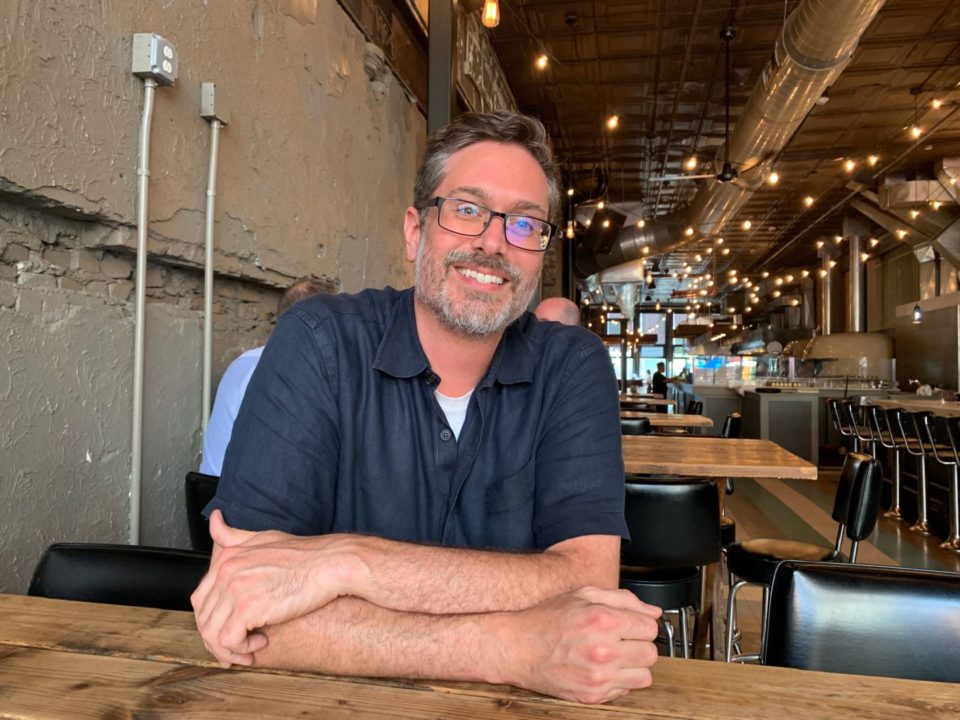 We're hear to talk about this ordinance. Tell me more about it and how you feel about it.
It basically regulates sound coming from rooftops in Jersey City. I'm very much interested in being a positive part of the community; I don't want to be a nuisance to our neighbors, I don't want to be a nuisance to anybody. We're interested in making sure the quality of life meets certain standards here in the Downtown area. What we are concerned about is running our business and being able to provide services that we've provided since we built them. What I asked of Solomon and his assistant is to give us the opportunity to show them what the sound is like from the ground when you're walking around on a night we have music. They came in and we had our sound guy walk around with Laura around midnight to get a feel of what it's like without music. They were able to realize there's almost no sound pollution from normal conversation on the roof to anywhere in the surrounding area. We also talked about amplified music on the roof, since we have bands and DJs. We wanted to discuss with them how we could work out keeping it at our reasonable level. We make sure we meet the cutoff; at 9:59PM, we're waiting by the DJ or the bands to make sure they cut at 10PM. We've never done a minute past 10PM, and we want to make sure the sound isn't too much. He asked if we could have music focused on the center of the roof so it's not bleeding out of the sides and to keep it at a reasonable level, and to allow us to fix it rather than just cutting it off.
I don't want to cause problems or be the bad guy, or for people across the street to hate us or wish we weren't here.
Are complaints coming from neighbors?
There was a situation a couple of years back where people across the Newark Ave side were having issues from our front door being open too often. We addressed those issues by moving the speakers from the front of the restaurant and we barely keep the doors open unless for entry. We've addressed those issues and haven't heard complaints since, and that's why I was asking the council to give us an opportunity to fix it first. I think it's people from Columbus Dr, and there may have been situations in the past where people do get too loud, but we've fixed it since then. This is over years since we made sure we're super vigilant. DJs want to keep pumping up the volume, but we make sure to keep it at a reasonable level and have someone full-time who makes sure they're not exceeding certain levels. I feel like there are many other solutions. What worries me is that their solutions always seem to be focused on the business and to reduce the amount of business we can do. Closing the roof at midnight is a huge financial burden for us in the summer. We only have the roof for four solid months. It's only part of the year and to lose that translates to hundreds of thousands of dollars a month of revenue not being seen. Another thing that makes me nervous is if it's midnight and someone still complains about the noise, does it go back to 10PM? And then does it go back to 8PM? Or make it so we can't have a rooftop at all? Huge investments were made to make that possible, now we're not able to use it in the manner in which we were told we would be able to use it originally. Same with the music. We have music here at the moment, make sure it's inaudible from across the street, we have a guy with a sound meter to make sure it's OK. We're very concerned with doing what's right for the neighborhood and it's disheartening that it seems like the solution is, "Don't allow them to do this anymore, remove that source of revenue." It scares me, I don't know where we'll end. Especially now that one of the laws allows the police to deem what is too loud. That's open season on us. They cut off the science from it and allow human error to judge what is too loud. That makes me very nervous because that opens the door to harassment. We're already harassed by the police. We've had nights where there's literally a line of police officers in front of Oliva with their arms folded, waiting.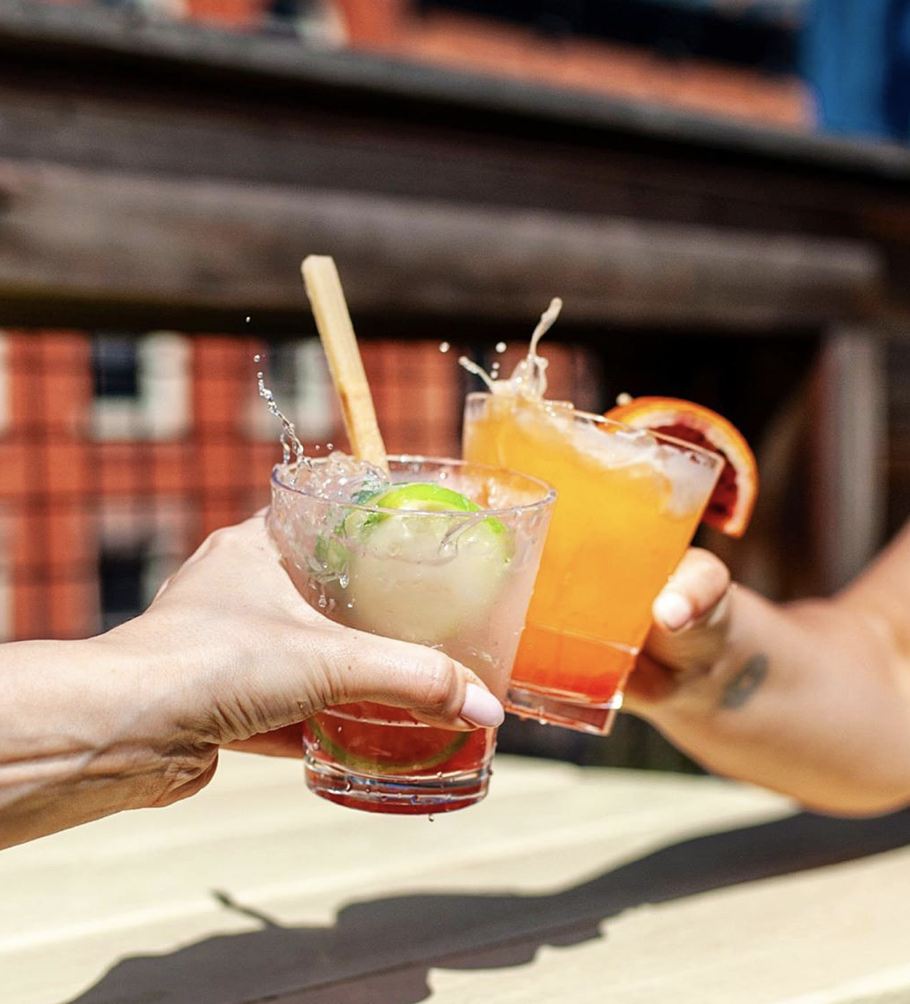 Why are the police harassing you guys?
I'm not exactly sure. It has been a question. When they passed last year's ordinance about not being able to leave during certain hours, no re-entry, we were delivered that by a team of police officers. The only restaurant on the block who had the notice delivered personally by police officers. That seems like it's meant to be intimidating. We've had teams of police officers, half a dozen officers standing across the street with their arms folded, looking at our door. We've had police officers stationed with a naked man harassing our guests trying to get into our restaurant, and when we went down to tell them, they said, "Eh." People drinking from open containers on the Pedestrian Plaza, they're not addressing it because they're standing in front of Porta. I don't know what it is about us.
Have you complained to the city about it?
I have not. I don't know how to make that happen without it being more of a burden on us. I don't want to call someone out on something and then have even more aggression toward us.
You guys are great and most of the people who come here are locals. One of my employees works here, I come here once or twice a week. You guys do fundraisers and community events.
That's our thing. We're interested in the community, we want to be a part of the community.  120 people work here and 90% are from the area. We're interested in supporting local artists and organization like the Honey Bees. Everything that we can do, we try to do it. We try to be good neighbors.
It sounds like you're being bullied.
It's hard not to feel like that. When the issue with sound came out, we were told we weren't allowed to have DJs. Every other place on the block were able to have DJs, and some actually started having DJs after we were told we couldn't. It's hard to not feel singled out. I know we're bigger than most places, but…
Now we have the Ashford, too.
That's relieved some of the pressure. Now there's two of us. They're teaming up against both of us. I was talking to Kenny last week about how we're both interested in the community. We know our customers are from the area and we're not going to get anywhere if we're harassing or making everyone's lives miserable. No one wants that for their business. Our goal is to find a halfway point.
Kenneth Caulfield and Jeff Lam – The Ashford and Six26.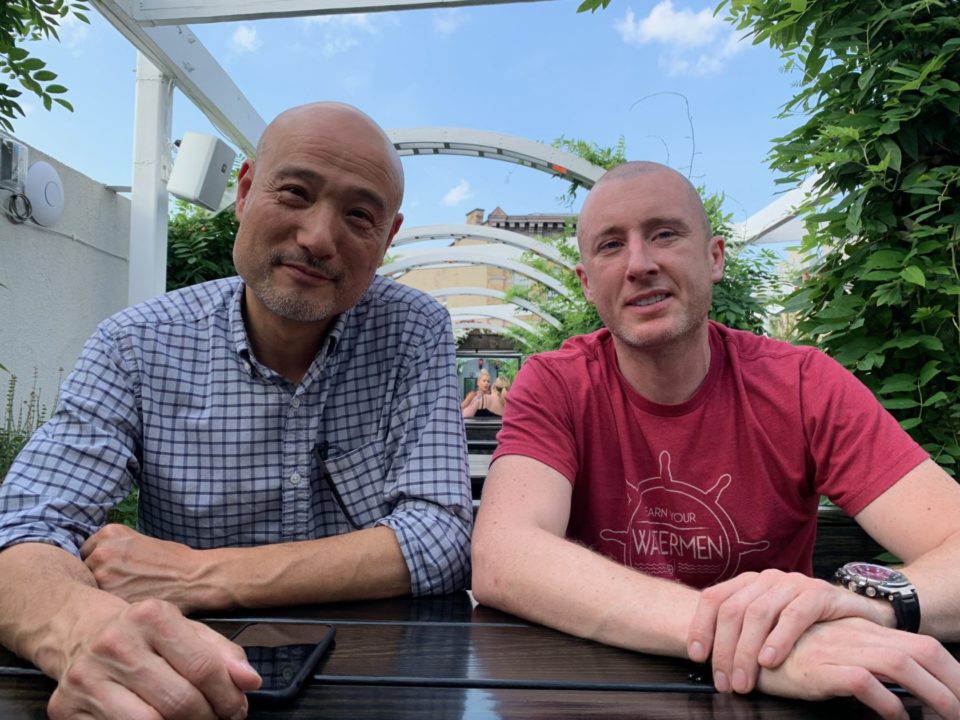 Tell me a little bit more about the ordinance and how it would affect you guys.
Kenneth: Rooftops, restaurants, bars, and lounges are all intertwined. It affects everybody, it's a chain reaction. We feel that we've invested a lot of time, money, and energy into building something like a home. A lot of people don't always want to be inside, and we provide a different service. We're always trying to provide a different service.
Porta's been around for a while and they've had the issues with noise. Did anybody warn you guys that some people in the community have complaints?
Jeff: No idea, not at all.
Kenneth We can say that when we originally started investing, there was a change in the ordinance.
Jeff: When we started, what we saw was the Pedestrian Plaza had been a hub of Downtown business. That's why we really love the plaza here, it provides a great service to the community. It brought us to invest a lot of money and energy and efforts to create something that's special for everybody.
The interesting thing with Ashford is, before you guys came, there was this big community outburst of negativity. Now, some of those same people who complained it would be like Hoboken hang out here and realize they were wrong. You guys came in and you do events, you're part of the community, you've provided a LGBTQ space and rooftop.
Kenneth: We wanted to provided a home, and people fear the unknown and react without knowing how things will play out. We do everything. If anybody has an issue, we're here to resolve it.
So how will the ordinance affect you if it goes through?
Jeff: It'll affect us tremendously. It's vital to have the rooftop be part of our business. Even in NYC, the rooftop is open till 4AM. Right now, they scale it back to 12AM and we're fine with that. If there are any more changes, it'll hurt us.
Have you had direct noise complaints?
Jeff: None. Zero.
Kenneth: We've had no problems. I personally give my number out for anyone who has issues.
I don't even know who would complain. You live in a city. I live Downtown and sometimes I hear drunk people in the street, and I know they're having a fun time and I just go back to sleep because I live in a city. 
Kenneth: Even though it's a city, we try to bring a local hometown feel to it. That's why you see a lot of people here. I call Jeff the Dalai Lama. Very peaceful, very kind. That's across the board.
Jeff: I love the rooftop. I always come in at 7AM and look at my plans. I love it. We're not open, but we have a person who waters the plants and I want to make sure they're watered right and grow well. All the community people come here and love our rooftop. It's an important part of the community.
Kenneth: It's also a part of the economy. The bars, the rooftops, the restaurants, the lounges, they're all intertwined and businesses attract businesses. What it does is make other people nervous.
Jeff: More so in the future, businesses coming in are going to feel that something has changed. It's about providing a good environment for businesses who give back to the community, as well.
Ten years ago, there was nowhere to go. Now, people are also spending their money in Jersey City instead of going to New York City. They're safe and can go home easily. They're not driving in. They're investing their money here. People who work here live here. It's all good.
Jeff: The Downtown area's Pedestrian Plaza actually creates an economy here and provides jobs for the local community. We need all the businesses to work together.
Kenneth: With the rooftop, for people who come in and stay at these hotels, they want the same amenities as they'd have in Manhattan. People don't want to be inside, so the outdoor space is essential for the whole thing to work. We should have the same amenities as Manhattan, like rooftops.
I read some of the notes on the ordinance and people are concerned with Jersey City becoming like another Hoboken. What's your argument for that?
Kenneth: They're different places, completely different. Jersey City has a financial district. You can't compare the two, it's like apples and oranges. To answer the question of noise, we do everything to make sure there's no noise. We make sure we keep the noise in. We always say to prevent is better than to cure.
I'm curious to see the complaints and how many there are. It could be like a needle in a haystack.
Jeff: If they do, they for sure could call us. We've never had someone approach us to say there's a problem. We have a morning person who comes to clean the sidewalks in the front and back, and no one's approached them to say there's a complaint. We don't get complaints. It's important to know that Jersey City is very different from Hoboken because it's diversified. The businesses are diversified.
Kenneth: What works in one location will not work for another. This has been very tailored to what Jersey City is. We try and create a home. We're about making sure people are taken care of, it's about building a community.
Jeff: Ken and I spent two years on details and doing it ourself to make sure everything meets our standards.
Kenneth: We wanted to be an addition. Everyone has a different style even with their food. There's something for everyone with different options.
Jeff: It gives people more of a reason to move into Jersey City. You have a lot of developments here, but they need services here.
---
In order to truly understand the ordinance and what is expected, we spoke to James Solomon to get the full picture.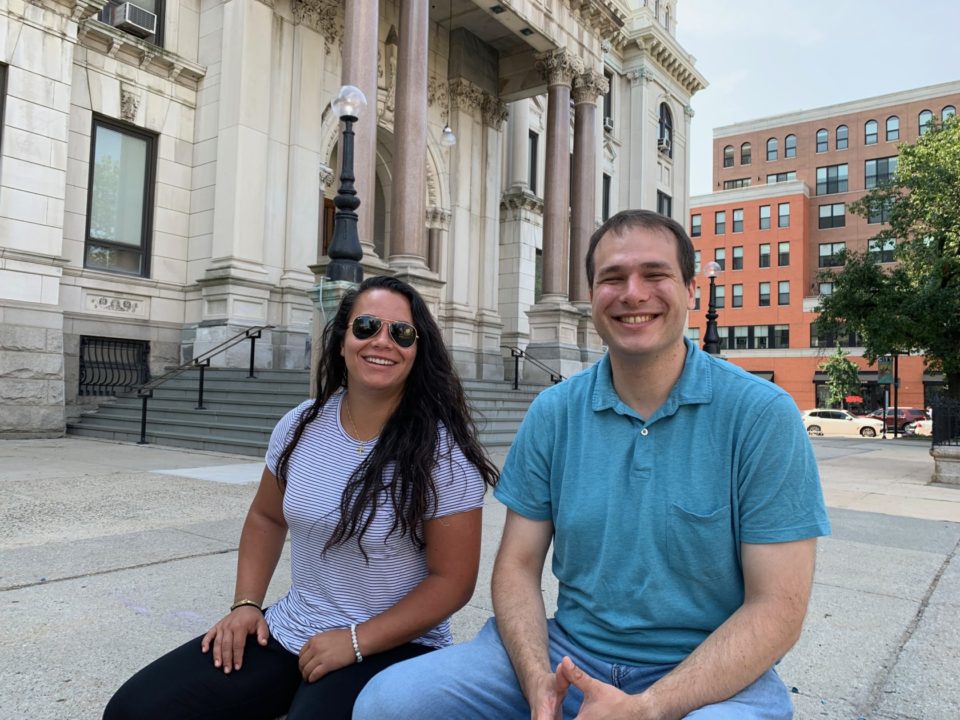 Can you tell me what's going on? I just heard about it yesterday, can you give me a run down?
We're going to propose for the city council to vote on – an initial vote in July and the main vote sometime in August – some changes to the way we handle nightclubs on the Newark Ave Pedestrian Plaza and that area. It's going to start by saying that it wouldn't affect anything that currently exists. If you're there today, this operation has no effect on you. What I'm trying to do is balance concerns from the neighborhood and nightlife. We still want a vibrant nightlife scene, we also want to make sure the surrounding neighborhood still feels like a neighborhood and a community. What the proposal would do is basically limit future nightclubs coming into the area. It wouldn't ban them, but it'd say you can't put a nightclub in if it's within 250 feet of another one. You do that through a process called Entertainment Licenses. The reason we decided to do that is I had a number of constituents reach out and say, "Hey, we have some concerns. Quality of life issues are getting worse." We went and looked at the data and looked at calls to police. We compared 2013 – before any of the clubs opens – and 2018, and there was a 78% increase in people calling police for quality of life issues. Drunkenness, assault, disorderly conduct, that kind of stuff. We felt like there were concerns and we want nightlife, too. We have what we have, but let's not create many more clubs that could create even more quality of life concerns. The last thing is, a lot of folks reached out and said, "Hey, we feel like Downtown Jersey City has a unique culture and character, and we don't want to become like Downtown Hoboken (with all due respect)." That's part of what we're trying to do with this, too – ensure the types of businesses coming in have a diversity of uses and not just a set of businesses that all look the same.
I spoke to Dan from Porta, and Kenny and Jeff from Ashford to get their opinion. They feel strongly that this does affect business in the Downtown area. My stance on this is that I moved here ten years ago and there was nothing to do. I would always have to go to NYC to go out and it's nice to be able to have a rooftop and nightlife here. I understand that there are noise complaints, but it's a choice moving to a city knowing there'll be noise. I asked Kenny if they ever got complaints, and they said they never got complaints. Is there a list of where the complaints are coming from, is it the same people?
I think it's fair, that's why we're trying to go for a balance. It's not "get rid of it." There are people who tell me, "No more liquor licenses, no more clubs." They want it shut down and I don't want to do that because it's great to have establishments where you can have fun. With Dan and Kenny, we had initially proposed in May and June a couple of changes that would've impacted them. In conversation with them, we feel like we can work those things out ideally just working together. I reached out to them to say, "These current proposals won't affect you." There was just some miscommunication there.
Dan mentioned that one of the proposals was that the police could determine whether the sound was too loud, and they're apparently being bullied.
That is a concern. There's an issue with the noise ordinance where we want to give our officers some ability to issue noise summonses. That's important because when someone calls for a noise complaint, we have to bring someone out with equipment and it takes a multi-hour process. I know Dan feels like they're being targeted, and that's wrong if that's happening. We can have the conversation with JCPD to enforce the rules equally for everyone, not to take one business and go after them, but we're not changing the hours of operation or how they do business. I feel that. It's about balance. There was a neighborhood there, people lived there prior to this district popping up, and they reach out. We measure complaints through calls to the police. We hear people call the police and say, "Hey, there was disorderly conduct."
So why live next to a Restaurant Row?
These people were here before that. That's the balance. I agree that if you move to Newark Ave today, you know what you're moving into, but if you lived on the block next to it and lived there 20 years ago…
Another thing is the zoning, the rules on what's allowed, technically don't allow for nightclubs to open there. It's only restaurants and bars. When those people reach out to me, they say, "When we approved this, it only said restaurants and bars, it didn't say nightclubs. The rules don't even allow for this." That's the important thing about that balance – how do you respect nightlife and the folks in the neighborhood?
I heard this was added to the agenda at the last minute without it being known.
I don't think that's accurate. What happened was, we proposed it publicly on social media. I had meetings with SID businesses and the two nearby neighborhoods – Harsimus Cove and Van Vorst. I said at all those meetings that we'd take the feedback, hear what people had to say, and come towards a council vote at some point. It was added to the agenda through the normal process and the next step is to reach out to everybody to say, "We've concluded those conversations, I've heard your feedback, and here's where we're going." That's where we did change the stuff on the rooftops. Again, some of the neighborhood folks want these rules to be tougher. It's hearing that feedback from different voices and then deciding how to move forward.
What's the next step in this process?
There's an initial council vote at the July meeting. That's just to introduce it, then you'd have a formal vote in August. I'm still interested in hearing from people and getting feedback, hearing things one way or the other. We have listened to folks and had a lot of community outreach. My goal is to be able to pass these changes in the August meeting and again, it wouldn't affect what currently exists.
If people are against this, they can come in.
Right. If you oppose, August's meeting is the chance to share. You can also reach out to me. We got people on both sides when we put it on social media, Facebook and Twitter. The feedback was about 4 to 1 in favor, but there were people who were opposed and felt strongly, and you get those different perspectives.
I remember before the Ashford opened, there was a big controversy around them coming from Hoboken as a large space. A lot of people signed the petition. What's interesting is after they opened and got involved with the community, started throwing events, a lot of people that I know signed it go there now. Can you comment on something like that? People are against change. The advantage living in a city like this is having these new spaces.
It's all about going back to that word "balance." There've been some complaints about the Ashford and their dress code issue. For the most part, people have said they're good community neighbors and have been responsive. We went to discuss rooftop issues and they were very responsive, which is why we're working with them on individual concerns.
You have Ashford come in, you have Porta come in. You have a few other spots – Talde, Bistro. Imagine if that doubled. 5, 10 more of those spots on one block. Then that's double the amount of people coming out at 2AM, 3AM and they get into the surrounding areas. And we see it with the 78% increase in calls to the police about these issues. We're just trying to find that balance. We want to keep the Ashford, we want to keep Porta, but we don't want the entire neighborhood to change. We don't want it to be what Downtown Hoboken looks like on a Friday night. We want to have that balance where it feels like a mix of restaurants and evening establishments.
What would the limit look like?
It's 250 feet between a spot. The issues come from concentration. If you have 5 places all next to each other that close at 3AM and everybody lets out on the Plaza, they can stay there because it's a public space but that's where we get a lot of the problems coming in. If you look at the map of the whole Downtown SID and where the current entertainment licenses are, we calculated that about 5 more spots can come in within that 250 ft range. You'd have them spread out. If you imagine roughly 5 more given the rules, that's where we're at. But we can come back to it if people say, "Instead of 250 feet, it should be 200." We're happy to have those conversations.
Anything else you want people to know?
Laura: We're also working on an Uber and Lyft drop-off zone. We feel like it'll work similar to how it is in airports, where we will work along with businesses to advertise it as much as possible so when it's last call, people are able to leave and find their ride easily. It would help businesses when it comes to delivery times, you'll see those zones on Columbus Dr. Hopefully that'll be an easy way to reduce the noise.
James: It's also a safety issue when you have cars double-parked at 3AM. This would be a specific space for them to go.
Laura: Our office has also worked alongside Ashford and Porta. I myself have gone out at 1AM and met with the managers to work on what works for them.
If people want to email you, can they?
Yeah, it's jsolomon@jcnj.org. The office number is 201-547-5315. We do want to hear from folks and get as much feedback as possible.