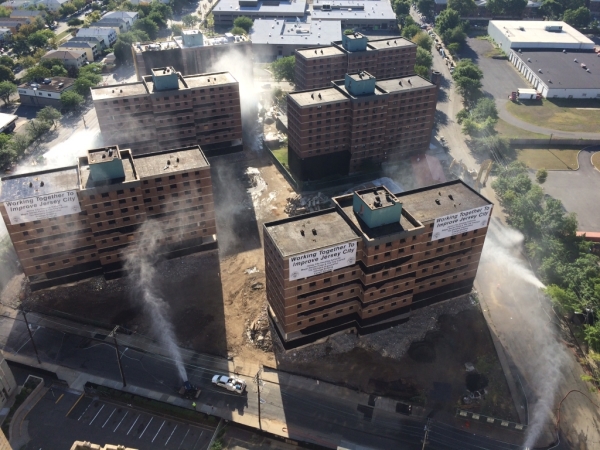 This morning marked the demolition of the Montgomery Gardens in Jersey City. The morning was quiet with the sun rising over the New York skyline. Directly below stood mere carvings of what the Montgomery Gardens used to be. Tensions have been running high since a thundering roar echoed throughout the streets. As the dust settled a range of emotions covered the faces of many. From atop a building in the Beacon complex stood numbers of newscasters and cameramen to capture it all on film.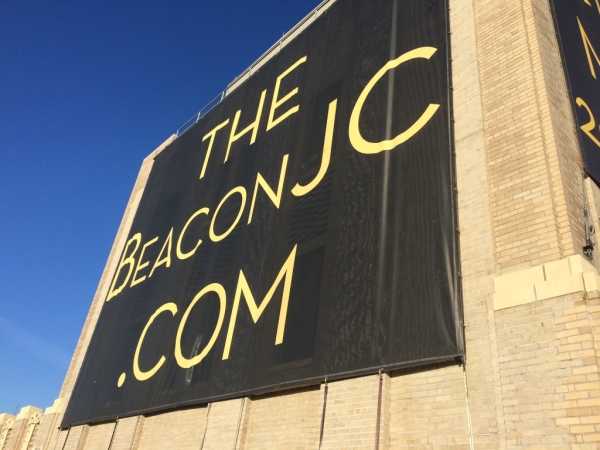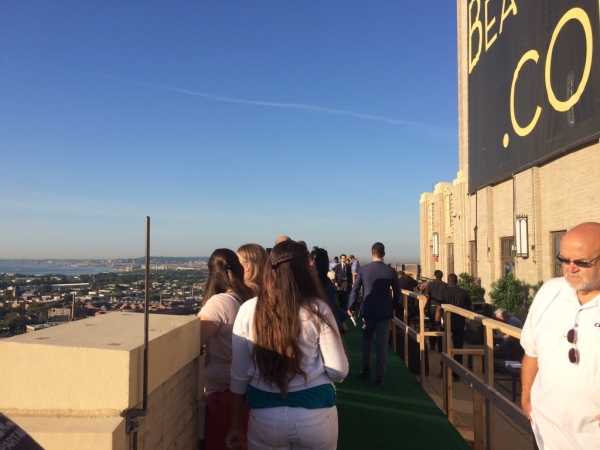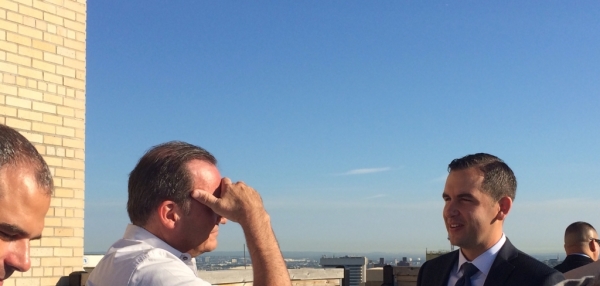 Here is a bit of history on the housing complex:
"The Montgomery Gardens public housing complex, in the heart of Jersey City, not too very long ago housed 1,200 tenants. Montgomery Gardens was completed on November 1, 1952  next to what was then the Jersey City Medical Center.  It was built on the site of the Boyle's 30 acres arena which was the location of the famous July 2, 1921 boxing match between Jack Dempsey and Georges Carpentier of France.  This fight grossed over $1,789,238, well over twice as much as any previous fight and was the first broadcasted sports event in history.  Dempsey ended up winning the fight.
Montgomery Gardens was completed during the John Kenny administration and at the time was the largest multi-storied low rent project in the history of Jersey City and the first to be completed under the accelerated housing program plan.
In 2008,  MetroVest put itself forward as a possible redeveloper for the Montgomery Gardens site. "We feel we have a real vested interest in the area," said MetroVest's president, George Filopoulos at the time.
Three other companies had also made proposals for the Montgomery Gardens site, with different approaches involving a mix of lower-priced and market-rate housing and retailing.
As of 2013, 130 tenants lived in 80 apartments at the sprawling six-building, 434-unit complex on Montgomery Street, just down the road from the Beacon condo development, the lavishly renovated old Jersey City Medical Center.
"It is obsolete," Housing Authority Executive Director Maria Maio said of the complex, which was built in 1957 with federal funds. 'We don't have enough money to maintain properties like Montgomery Gardens, and we think mixed-income developments has proven to be the best way to develop affordable housing.'"
More photos and a video of the demolition will be posted in the gallery below: