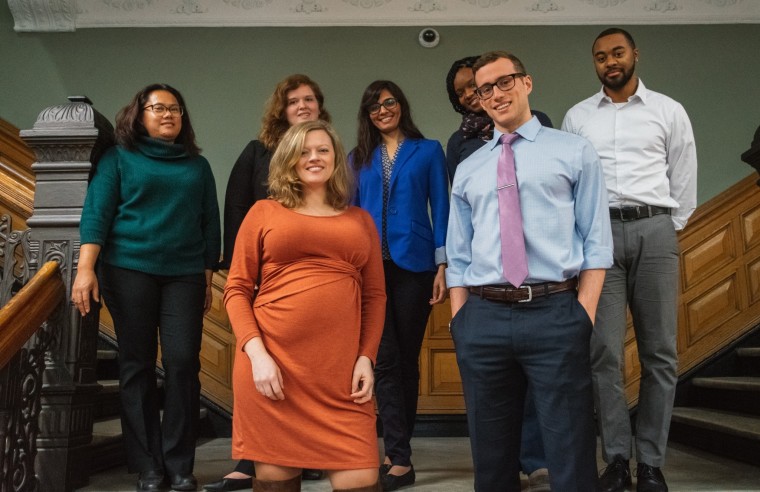 Whenever someone emails me with a small business related question I forward it on to The Office of Innovation.
What is The Office of Innovation you ask? "Jersey City was one of 12 U.S. cities selected in 2014 to participate in Bloomberg Philanthropies' Innovation Teams program. Innovation teams (i-teams) function as in-house innovation consultants, moving from one mayoral priority to the next. City governments tend to focus most of their limited resources managing day-to-day operations and responsibilities, with limited capacity to develop and implement the organizational changes and strategies that can solve the most complex urban challenges. The newly created Jersey City Office of Innovation is an i-team that will address these challenges head-on by generating bold, forward-thinking solutions to improve the lives of our community members and advance our dynamic and growing City"
They've become a huge resource for all Jersey City entrepreneurs, even myself. Whenever I have any questions I email them! They always seem to have an answer! I got a chance to get to know the team a few months ago when we worked together on providing a free social media seminar to Jersey City small business owners and entrepreneurs. I had so much fun working with them, they are all so on top of things and truly dedicated to helping the Jersey City community navigate the different challenges they face as business owners.
They are really awesome, I love them. I look for excuses to go visit their office which is by the way the most colorful and welcoming spot in City Hall.
I've also become BFF's with Brian Platt who is the Director of the Office of Innovation, I also joke and call him the next Mayor of Jersey City (he will kill me for writing this).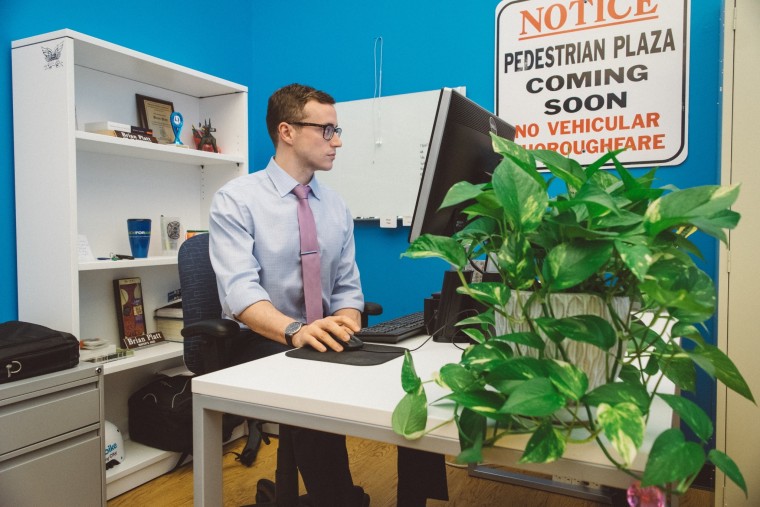 What are your names? Jennifer Santos. Brianna Lawrence. Jasmine Wade. Brian Platt. Annie Burtoff. Aaron Wade. Shreya Amin.
Who are you?
Brian: We are the Office of Innovation. It is a small office within the mayor's office. We were formed as a result of a $2.25 million grant of Bloomberg Philanthropies. The mission and objective of this office are to serve as an internal consulting team for the city, addressing a variety of quality of life issues that our residents face. Our first big priority area is providing better support small businesses but also rebuilding and revitalizing commercial corridors throughout the city outside of Downtown. We are focusing on areas outside of Downtown, such as West Side Ave, Monticello, MLK, Central Avenue, and Ocean Avenue. Those areas that have that foundation and the structure of a business district but are not yet meeting the needs of the local neighborhoods.
How long have you guys been around? 
We were awarded the grant at the end of 2014 and we officially started in April of 2015, but we all started at different times.
I get emails a lot from people who are like, "I want to open a business, where do I start and what do I do?" What do you guys do for those people? 
This is a major challenge that our small businesses face, there is no single place for them to go for information or resources for questions. We are beginning to build this for the city: we're starting an office of small business and we're actively hiring for this position now. We're building an online small business web portal that will be a single place where small businesses can go to find information on resources available, funding opportunities, rules and regulations on how to operate a business, where there might be openings for space for their business, and any other information that the business would need to succeed and thrive in Jersey City.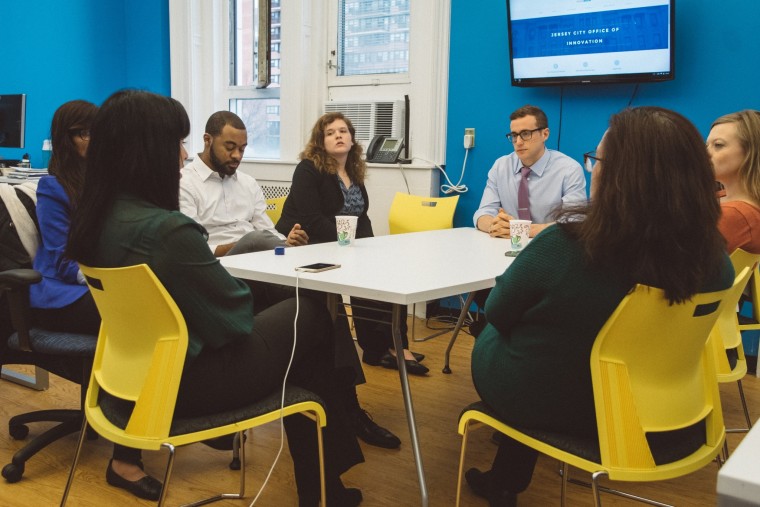 What are the biggest challenges that business owners in Jersey City face that you guys address? 
We're identified several key challenges—the first is funding and access to capital, it's hard for businesses to find sufficient financial resources. What we've done in response to that already is launch the Jersey City Fund, which is $10 million of seed money to provide loans anywhere from twenty-five to two hundred fifty thousand dollars but only to small businesses. We have also launched two microloan programs including a location based forgivable loan program that reimburses payments over time for small businesses in certain higher need areas of the city.
Briana: the next challenge is the unclear and cumbersome permitting and approval processes and unclear rules and regulations to operate a business. we've actually hired a consultant to come and work with HEDC (housing, economic development and commerce) to help streamline processes and help us create an online, automated application process. that's one of the first things that a person who wants to start a business is looking for is "where do I go?" and there's nowhere to point them.
Brian: we currently have a variety of paper-based processes to start a business and it is difficult for applicants to know what the status is, what's next, what they're missing, what else they should be thinking about. We want this to be all automated, we want it to be very user-friendly, and we need an online electronic program that walks you through this process, step by step.
So these are all the things you're working on to help with these challenges. 
We hired a consultant to perform an audit of all these permitting and licensing processes relating to small businesses, and this team started in the middle of March.
What's the next challenge? 
Aaron: Locating space, the thing about locating spaces for businesses is that there's no one place that you can go for this information. A lot of the business owners are holding on to their properties not doing any type of maintenance or looking for people to rent it. When someone is looking forward to renting a property, it can sometimes take weeks or months just to find the actual owner of the building just to rent it out and then they have to negotiate the price and go through all the repairs. A lot of things we're working on is finding out what spaces are available for rent. We're working on trying to figure out what's the level of repair that the stores need, and then how can we better work with not only the business owner, but the property manager to get these buildings back up to code, get someone into these spaces so it can be a vibrant neighborhood like it used to be.
We are also working to improve the streetscapes by focusing cleanups in these areas, using art to make vacant storefronts more welcoming and to give some exposure to these areas, and then simple things such as repainting crosswalks and fire hydrants, installing planters, and planting trees.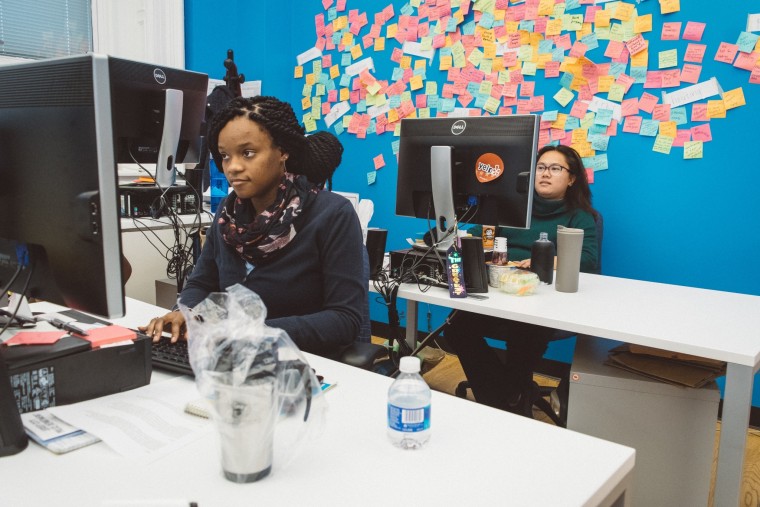 In the short amount of time you guys have been around you guys have accomplished a lot. Do you want to talk about that? 
Jasmine: One of the first things we did was Holiday Mart at the Hub which was a pop-up mart to bring some energy to the area.  It was  on Martin Luther King right next to the Extra. This was our first time getting out feet wet and moving forward with an initiative from top to bottom and working with owners and sponsors, we did it with Jackson Hill-Main Street and with a lot of the heavy lifting done by their director, Michelle Massey. It was really interesting, it was as successful as we could've hoped for in the time frame that we had to do it. In moving forward Jackson Hill-Main Street has taken that over and they intend to do it this year as well.
Brian: This ties into one of the other challenges that we're seeing is that some of these business districts lack that attention and awareness from the community and from potential customers. So we're trying to build some energy and excitement around some of these other districts. we're trying to do events in other places, we're trying to build marketing and branding campaigns for some other business districts to help them feel more ownership and feel more responsibility for their neighborhood, but also so the local residents will know what's going on.
Annie: Another thing I think we've been successful at since May-June, we've really done a lot of community outreach. We've held community meetings in all of the wards, we've talked to as many stakeholders we can in the neighborhood, we've had pop-up idea lounges in places where people already go, we've had focused feedback groups in all of the different neighborhoods, we've had co-creation workshops where we've allowed people to come and share their own ideas. That's been something that's been really successful for us and it has helped give people a positive image of what the Office of Innovation is working on.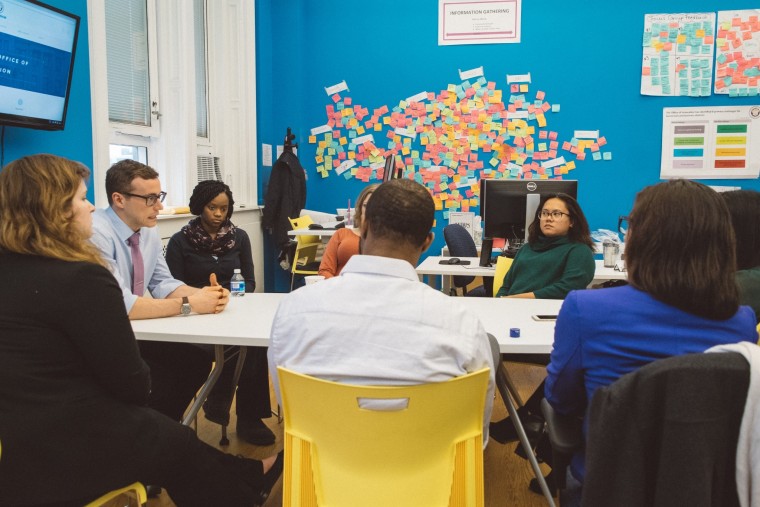 So what about the workshops? 
Brian: What we're understanding also is that businesses have a tough time learning the skills and building the knowledge that they need to be a successful business. So one of the things we're doing is providing free professional development classes for small businesses. Anyone is welcome to attend, we are having one or two a month, and the topics range from learning how to use social media with Chicpea, whoever that is, to bookkeeping, to property maintenance. We built an entire curriculum thinking about all the things that a business would need to know about to run their business.
Do you have any upcoming ones? 
Aaron: We just held a website design class on March 8th, we also had a funding class with the economic development corporation on March 23rd, and our next class is search engine optimization which will be on April 7th.
Brianna: Another good way that we're trying to support the community is other city offices that want to host meetings in the community are starting to involve us because we've been able to break into a lot of the neighborhoods and community groups. We co-hosted the Central Avenue Visioning Summit, we helped co-host the Jackson-Hill redevelopment plan meetings. There's a lot of community meetings that don't necessarily involve our work, but that we're trying to help create a consistency in collaboration.
Brian: What's important is, as Briana was saying, we're not coming in with all the answers. We're looking to the community to tell is what they think and where we should go with things. We are in many cases just merely moving the ball forward with the ideas the community tells us.
How does the community reach out to you? 
Aaron: We get a lot of phone calls and walk-ins. Most people email us or come up to us at events.
Brian: Our website is a great place to start, innovatejerseycity.org. We give our business cards out everywhere we go, we're very accessible.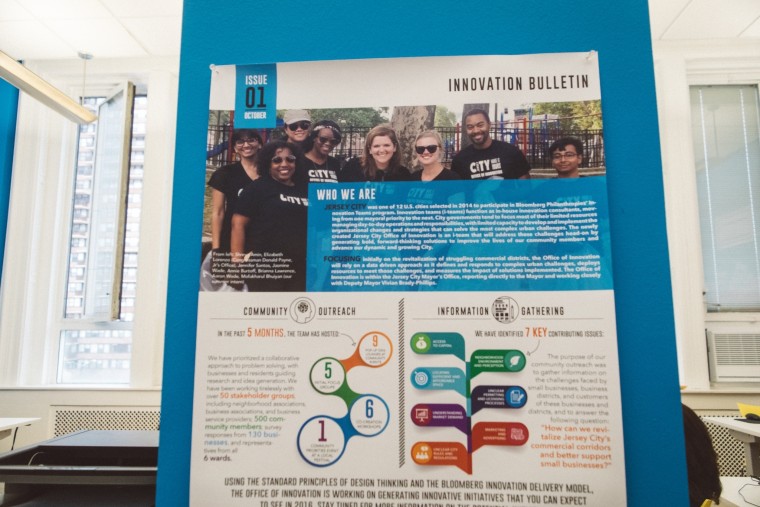 Do you guys all live in Jersey City? 
Jennifer: Yes, all of us do. I was born and raised in Jersey City, I live in the square.
How do you feel Jersey City has changed in the past couple of years? 
It's insane. I can't even describe it.
How do you feel about the changes? 
I love it. It's really different, I never thought it would change so fast but it did. I love the diversity, I mean I've tried every food you can imagine in Jersey City alone. I like the fact that we have festivals.  I'm all about shopping locally, meeting new people, and just enjoying Jersey City.
What's your favorite Jersey City hangout spot? 
I like hanging out in the square and coming to the waterfront Downtown. Wherever there's a bike lane, I'm usually there biking around, getting lost.
Brianna: I live in the Heights, I have lived there for three years, so pretty much anywhere up there.
What's your favorite hangout spot? 
I cannot wait for the 942 co-ops to reopen at Bloomsbury Square and Choco-Pan.
Jasmine: I live in the Greenville section, I was also born and raised in Jersey City so my hangout spot is a little different. Since I've moved back, I didn't necessarily have one but when I was here my favorite hangout spot was Lincoln Park.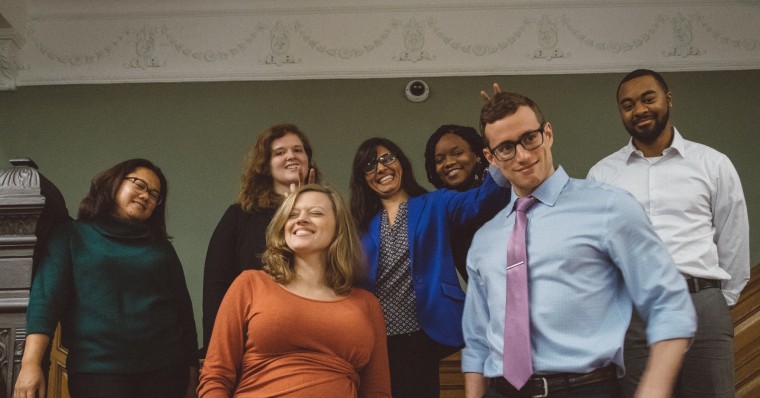 How do you feel Jersey City has changed in the past couple of years? 
It's completely different. Leaving for four to six years and then coming back to a place that I barely recognize in terms of Downtown development. Some of the places in the Greenville section have gone through a well-needed change.
Brian: I live in Downtown, I've lived here for several years. I live in Liberty Harbor now which is thankfully or, unfortunately, six minutes walking from city hall. My favorite hangout spot is CrossFit Jersey City.
So you're a coach there too? 
Olympic weightlifting coach.
So cool that he's a weightlifting coach!
Annie: I live near McGinley Square. One of my favorite thing about Jersey City is that I can walk to work so not having to get on a train, or get on a bus, or get in a car is amazing. It's longer than a six-minute walk but it's really good because by the time I get here I've already been outside for half an hour.
Do you have a favorite hangout spot? 
My neighborhood has a great mix of really old businesses and some new businesses. Some of their great old ones are Lee Sim's Chocolates and Stan Square Records.
Aaron: I live in Jersey and eighteenth, I think my favorite hangout spot would probably be between Hamilton Park or Liberty State Park wherever I can longboard to or take my dog out.
You're a longboarder? That's so cool! How long have you lived in Jersey City?
I this is my second year now.
And what about you? 
Shreya: I've been here for a year and a half and I live in Journal Square.
What's your favorite hangout spot? 
I like the Beechwood, I've been working there for several weekends now. I love that we have Zepplin Hall, I'm a huge beer fan.
I love that you guys are from all over Jersey City and a combination born and raised to newbies. You guys bring in a different perspective of the city. What are your future plans? 
Jennifer: We have three main initiatives—the "business district reboot" which really focuses specific sections of commercial corridors and fixing up streetscapes and working on businesses as a whole. We have the "business brush up" which is focusing on the individual business and the individual business owner which is where the classes fall into. We're hoping to work on some façade revitalization programs and then we have the B.O.S.S which is our "Business One Stop Shop" that will help all businesses throughout the city. And we've talked about it already but sort of having an in-person and online place to go.
A lot of people are wondering what the cash mob is. 
Aaron: A cash mob is basically a group of people getting together to support a local business just trying to bring awareness to the business and trying to give them extra customers. For us when we're doing the cash mob, we're focusing on newer businesses that need some attention and love. We promote them with a ribbon cutting grand opening ceremony combined with a short-term deal to bring people in the door, often for the first time.  It's just something to get people excited about the new businesses that are coming up in the city and just trying to get more of a grassroots level engagement for the neighborhood.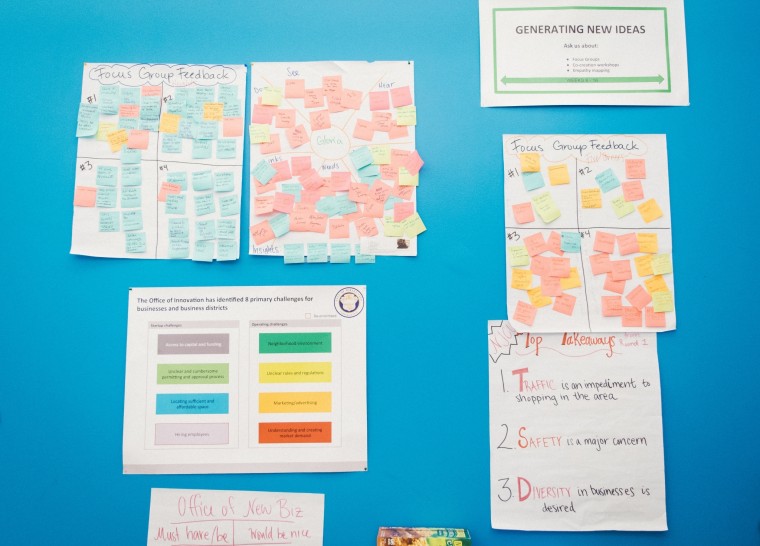 Do you have any planned for the future? 
We have a few in the works, nothing more officially planned for now.
What if I was a business owner and I wanted a cash mob? 
Brian: Any business that wants a cash mob can reach out to us anytime.
What's the loan process? 
For this ask us as well and we'll connect you to the right people at the Economic Development Corporation and we have plenty of funds available and we are targeting small businesses with these funds.
Anything else that we haven't covered that you'd like people to know about the Office of Innovation? 
Jennifer: We have the coolest office in city hall.
It looks like you guys have a lot of brainstorming sessions. 
Brian: Oh Yes. There's a lot of including the community and brainstorming.
Jennifer: On thing that's interesting is the innovation approach method—so the four stages are information gathering which is that big community outreach piece which is why we really try to frontload a lot of that. Generating ideas is the brainstorming and using the community to help us brainstorm as we have been moving in to prepare to deliver. We actually have created initiative drafts and plans and targets and data and delivering and adapting is the final stage.
What's the mayor's involvement in all of this? 
Brian: We receive our guidance and direction from Mayor Fulop and Deputy Mayor Vivian Brady-Phillips. They are overseeing us, we report to them, they give us the power to move forward on whatever initiative we want to move forward with, and it's in collaboration with other things that are going on. We're not the only group thinking about how to help small businesses but we are becoming the point-people for that.
Can people just come and show up? 
We are a very welcoming office, we get a lot of visitors on any given day.
Cool. See you guys tomorrow!