Yes, this is a Jersey City blog! But as of late, I've been setting out to explore people and places in the area, particularly with things that could have a direct, positive impact on our community.
Our community here is growing tremendously, and there is a huge amount of entrepreneurs and creatives doing their own thing. The only issue is always space. Rent is expensive downtown, and some of the co-working spaces in Jersey City aren't necessarily flexible for people who are makers or aren't interested in necessarily committing to a space.
A few months ago, the wonderful people at Kearny Point contacted me and invited me over for a tour. I wasn't really sure what to expect. But when I arrived, I was completely amazed… I will let the interview and photos speak for themselves.
Kearny Point used to be a shipyard during World War I and has been redeveloped to be a hub for creatives and entrepreneurs to not only create, but also to grow. Kearny Point offers tenants inexpensive work spaces that cater to companies in diverse industries.
It's located in between Jersey City and Newark, and it's around a 10-minute drive from Downtown JC. The vision for Kearny Point is for it to become the heart of innovation in New Jersey.
Interested? Kearny Point is giving away 1 free month of co-working space! The entry deadline is February 28th, so click the link now to enter – https://kearnypoint.typeform.com/to/pXcQml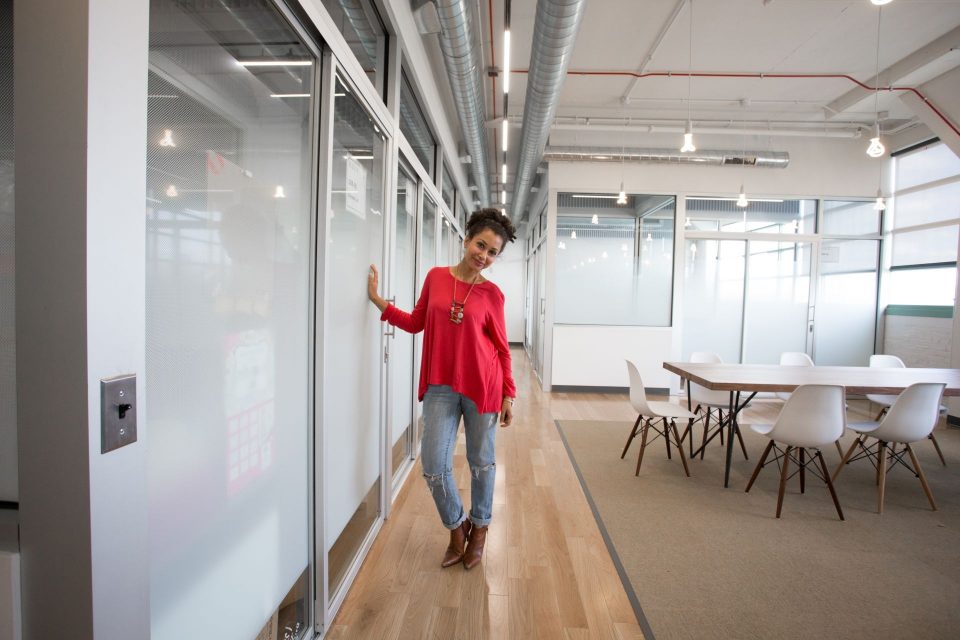 What's your name?
My name is Ashlee Sullivan.
What do you do?
I'm the building manager at Building 78 at Kearny Point and a Leasing Associate for the building's flex spaces. We're located at 78 John Miller Way in Kearny, NJ. We have been open for a little over a year now, and in that time we've welcomed nearly 100 tenants, mostly small businesses and entrepreneurs, to the building. When I started working here in December of 2015, we had five tenants.
We've grown exponentially over the past year, and one of our major attractions is our co-working space, Kearny Works. We have a co-working space here at Kearny that I think is unmatched and is really cool. It's equipped with super-fast internet, dining and communal areas, private conference facilities, and more – and it's in what is truly one of the most unique, evolving waterfront settings in the region.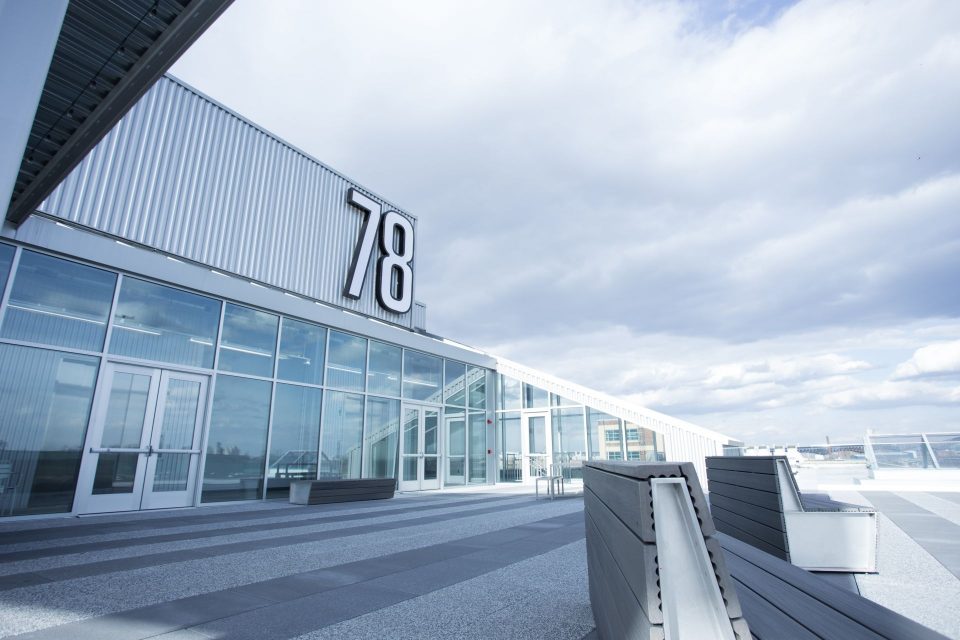 So it's mostly a co-working space?
Well, we have a mix. The building itself is a converted warehouse, so we have very clean and modern industrial spaces, 13.5-foot ceilings, floor-to-ceiling windows, and a ton of natural light – it's really awesome stuff. Much of what we offer is what we call flex spaces, which are private offices with flexible lease terms with flexible uses. We've seen a wide variety of businesses utilizing those spaces, for things like everyday office operations, production, and even design studios.
The other space option we have is our co-working space. By a co-working space, I mean that we have space for individuals to use – start-ups, solopreneurs, people with passion projects, things like that. These are tenants that might be working from a home office or a much pricier shared space in New York City, and don't have an everyday need for a big, private office right away, but want access to a variety of different facilities on an on-demand basis.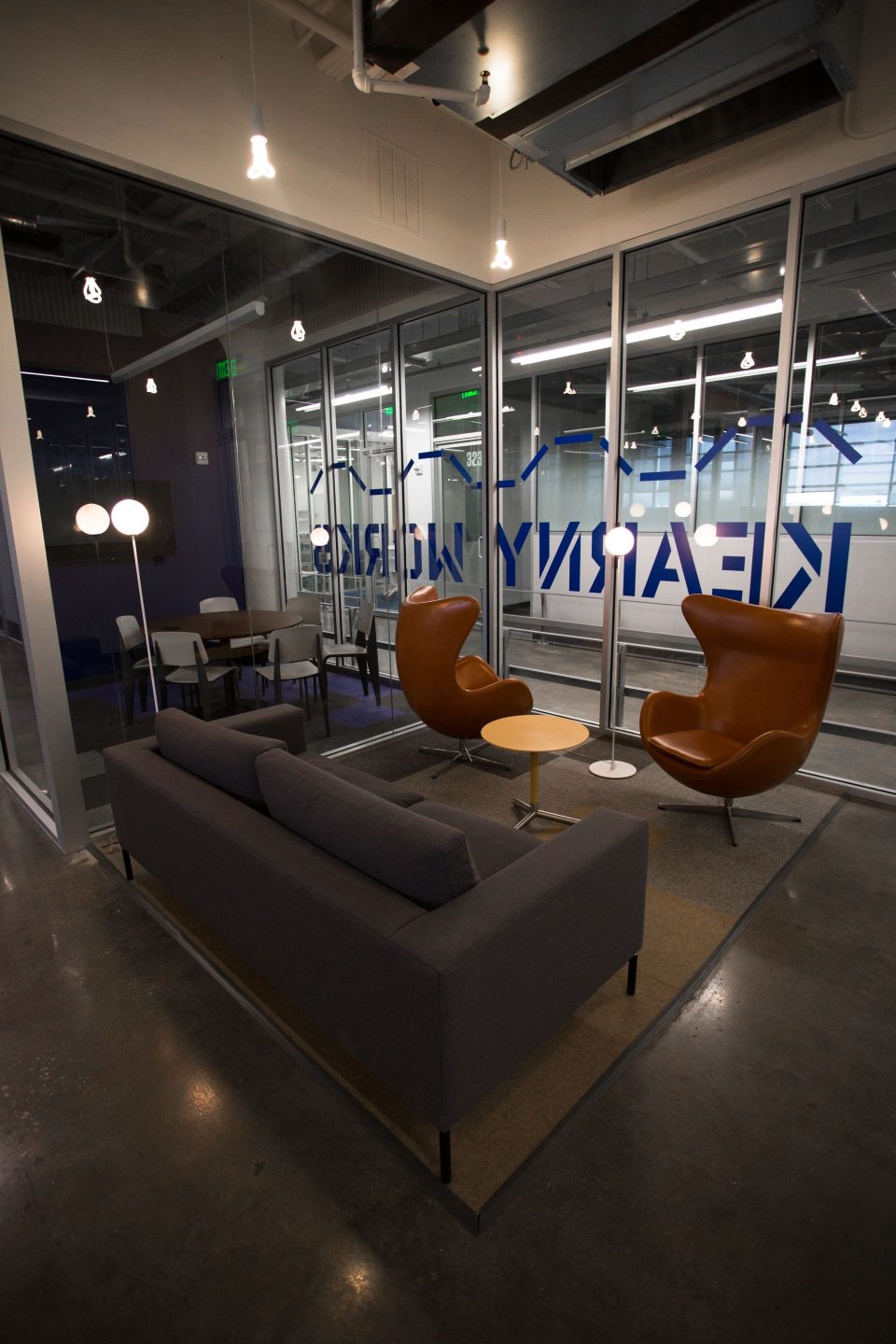 My readers are mainly in Jersey City, so how do we convince them to come rent out a space here?
Honestly, you have to see it. You really have to come here for a tour. It's truly unique in terms of its quality, value, and overall feel. I'm a Jersey City resident, born and raised. I live in and love Jersey City. We practically border the Jersey City West Side, and we're literally across the first bridge on the way to Newark.
But what makes Building 78 really special is that it's part of a much larger master plan for the new Kearny Point, which was formerly an industrial park. This is really just the beginning, and I encourage people to come and see it because it's for your benefit to get in on the ground floor and watch the development in front of your eyes. Aside from our café and rooftop event space, we're going to be transforming the entire Kearny Point waterfront. Everyone that works here will have access to amazing green waterfront spaces and common areas while an even larger business community grows around them over the next few years.
We also just finalized a partnership with Uber, so folks that work for companies here that currently take public transportation can get a $50 in Uber credit.
Oh, cool! That's a good incentive. So where's everything going, what's the plan for the future?
The master plan for the entire site includes the development of the surrounding 130-acre industrial park. The main mission of Kearny Point and Hugo Neu Realty Management, who's the owner and operator of the industrial park, is to rebuild the industrial community that once thrived here. At one point, this area post-WWI and WWII saw 35,000 workers. Do you know what that means for commerce and business, and just the overall energy of the region? What we're really trying to do is reimagine a lot of our older warehouses and turn them into centers of light industrial warehouse and distribution, a space for artists and makers, and more large-scale office space. As it looks right now, it looks like your standard industrial park with the exception of this phenomenal building. Very soon, you'll have open spaces, green areas, a developed waterfront with a marina, a restaurant, just an overall hub for creativity, industry, commerce, some retail, and most of all a revived community. And all of this will be done in a way that is sustainable and environmentally advanced.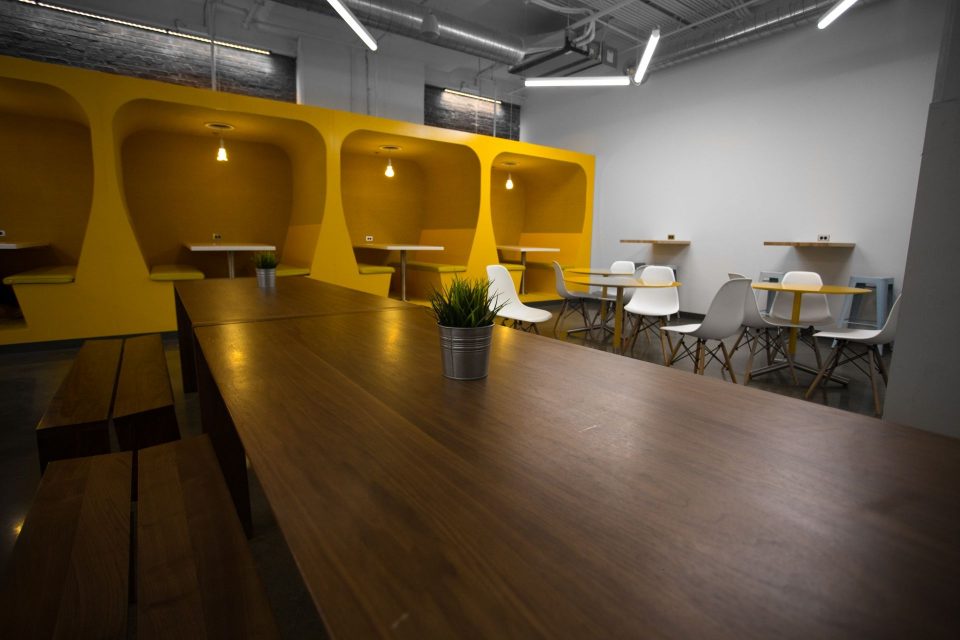 Great! And what are your prices for rentals and co-working spaces?
They're very nominal. You can basically become a co-working tenant in the building for as little as $150 a month. With that, you get what's called a "hot desk" membership to our co-working space and you also get the benefit of the other amenities that we offer in the building. We offer five free hours every month of conference room time in our Smart conference rooms. As a hot desk client who doesn't have a physical space, as you're building your business, you'll be able to bring your clients here and interface with them in our conference rooms. You can do live video conferencing, and there are Smart TVs, glass dry erase boards, everything you need. It's really clean, professional, and state-of-the-art. We also have what we call "huddle rooms" in our co-working space that are very small, intimate conference rooms that work with a system called Solstice, which is an app you can put on any wireless device and mirror or create presentations on our large television in those spaces.
$150 for all that is not that much.
It's not! It's really inexpensive, especially when you compare it with comparable co-working facilities in New York or even elsewhere in New Jersey.
What about for people who want their own space?
For people who want their own space, we have single-person offices that start as little as $300 per month. If you sign up for three months or more, there are incentives involved.
Wow, $300 is even amazing.
It's amazing!
What about if you want an office for 5 or 6 people?
If you wanted an office for about 5 or 6 people, we have 6-person offices for as little as $800-$1200 a month. That's all inclusive of your internet services, too. Each individual office, whether it's a hot desk or multiple-person office, has dedicated internet. There are also furnished team spaces, so you wouldn't need to do your own shopping for furniture.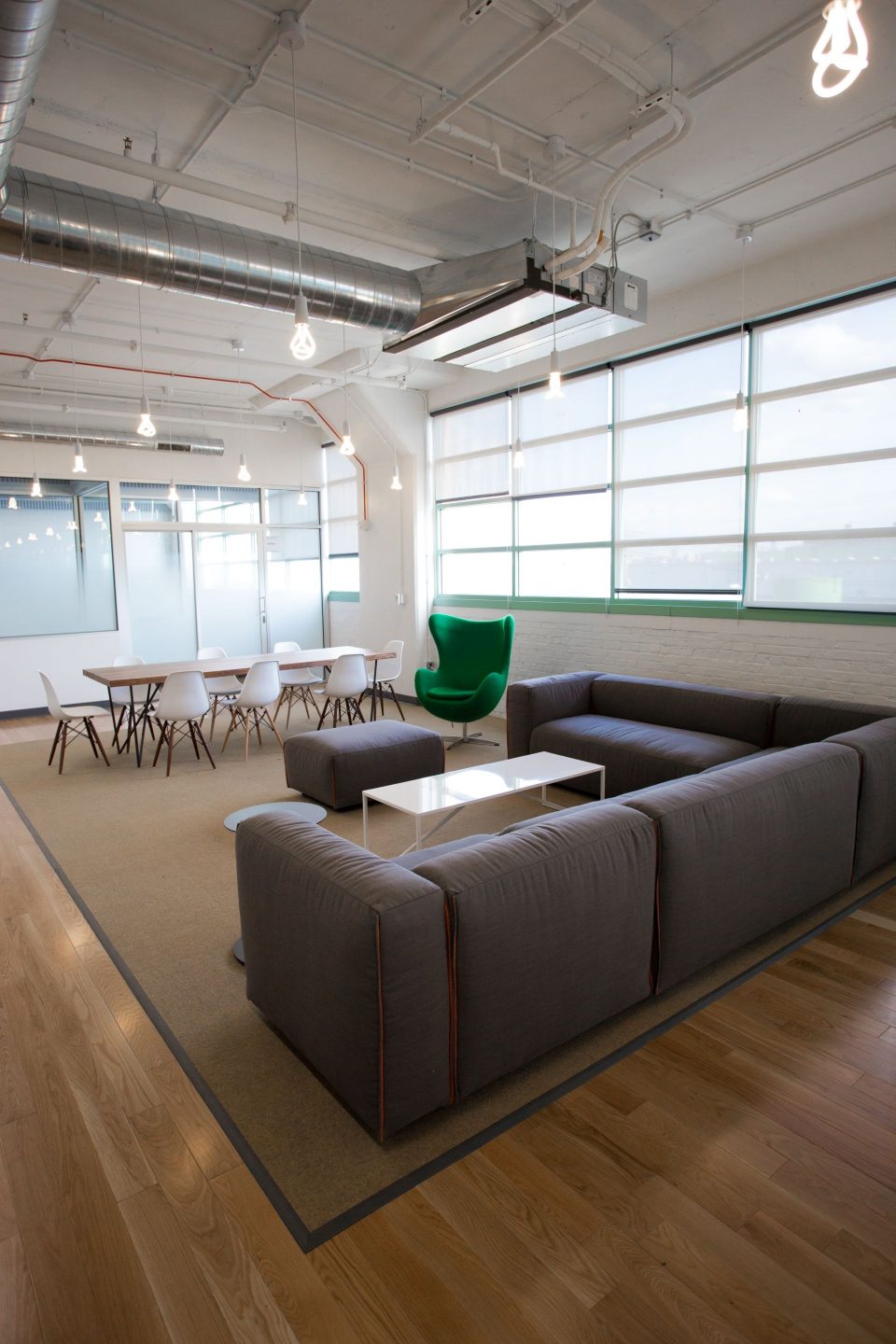 Any other bells and whistles?
Where we're sitting now is our Dry Dock Bistro. I love it. It's a part of the growing list of amenities in the building. Here, tenants can come out of their offices, entertain clients over lunch, have a drink and or just grab a delicious lunch to go. And this isn't your everyday office building cafeteria – it's a super high-quality New American bistro with sandwiches, salads, grab-and-go, prepared foods, and wonderful pastries. One of the ladies back there is actually an experienced pastry chef. We also have a bar with a huge selection of craft beers, and it's a full bar.
Wow! I love it. You mentioned earlier that this used to be a shipyard.
This whole site is an ex-Navy shipyard. During WWI and WWII, pieces and parts of the ships were constructed here in this building. That's why you see these huge columns and high ceilings. Then we have two buildings that we call our craneway buildings. In those particular buildings, that's where the ships were assembled, hoisted up, and craned out into the water. The development is actually flanked by two man-made basins, a north basin and a south basin, that feed into the Hackensack River and all that. Not everyone knows, but Kearny Point was one of the region's major economic drivers for decades in the 20th century – it's really cool.
I can't wait to see it! You also mentioned you have an event space here. 
Where we're sitting right now, the Dry Dock Bistro, also doubles as an event space. It's another amenity for our tenants. They don't really have to go anywhere. We've had several tenants hold events right here in the building, and we offer them a discounted rate if they initiate a deal with us to do events here. On our fourth floor, we have an event space under construction, as well.
How big is that?
That event space is close to 4,000 square feet – enough for over 300 people.
I know a lot of Jersey City people ask me all the time for event spaces. How much would that be?
It's still under construction, so we don't have all of the pricing worked out, but it is a beautiful space and we'll be able to welcome and host events here soon. In some cases we'll also help subsidize events for businesses or entrepreneurs who add value to our community.
Is there anything else you want people to know about the space?
One thing we're doing here is we've developed our own event series to both feature our tenant companies and also surrounding entrepreneurs. We just recently had a very successful start-up demo night with multiple companies. Four of those companies are global, two of those are Jersey City.
We have three different platforms: our Coffee and Donut series, which are usually events for the morning and usually marketing-based or networking-based; Building 78 Presents, which is where we highlight our own tenant community; lastly, Outside Voices, where we bring in folks from the outside to talk to our tenants and network.
It's like you're developing an entrepreneurial community.
Yes! It's not just an office building, it's a full-circle sort of place where your business can grow. That's what the mission is here.
---
You can keep up with Kearny Point on their website, on Facebook, on Twitter, and on Instagram.