Over the past few years, it seems like people have tried to get more involved in helping the environment and taking steps toward reducing the amount of waste they accumulate. "Zero-trash" lifestyles have gained a lot of traction between Trash is for Tossers' growing popularity and BuzzFeed's countless videos showing how you can live a zero-trash lifestyle. Part of the efforts include being conscientious of the amount of trash we put out into these landfills. What steps can we take to minimize the amount of waste? Where can we start?
Enter composting.
What is composting?
Composting is when you put food waste, dried leaves or wood chips, and specific paper products together to decompose, eventually becoming a natural fertilizer. In essence, it's taking what comes from the earth and putting it back in to be reused.
Why should I compost?
Decomposing food waste in landfills releases methane, and methane is one of the leading greenhouse gases that contribute to climate change. Composting minimizes the amount of methane produced, and it also helps you reduce the amount of food waste that takes up space in your trash and makes its way to landfills.
Composting seems complex. How can I have this be simplified?
Luckily, we have a service in Hudson County that can help take the stress away from composting.
Community Compost Co. started up six years ago and has been in Jersey City + Hoboken for four years. They currently have approximately 300 residents and businesses altogether that use their compost service in Hudson County. Their Jersey City businesses include Subia's Vegan Cafe, Bucket & Bay, Lush, and most recently, Barcade.
I had the chance to sit down with Andrea of Community Compost Co to understand how the process works.

What is Community Compost Co?
Community Compost Co. (CCC) takes the complexity away from composting. The company helps residents reduce their food waste by collecting this waste in Jersey City, Hoboken, and areas of the Hudson Valley (NY) and recycling it. You could even use the compost yourself – the finished compost is available through Hudson Soil Co., their soil products division.
Founder Eileen Banyra was a city planner for 30 years and worked on Community Compost Co. on the side for five of those years. She saw the need for a food waste pick-up service in Jersey City and Hoboken, especially because of the limited access to natural outdoor space to compost on our own.
How does it work?
CCC provides a 5-gallon bin for you to use,  you leave it in a designated pick up area, and they'll pick up your waste and bring you a clean bin. Reminder texts are sent the day before pickup, or you can opt to skip the pickup for that week. Your completed compost is given back twice a year, or you can have your portion donated to a local organization.
All you have to do is sign up!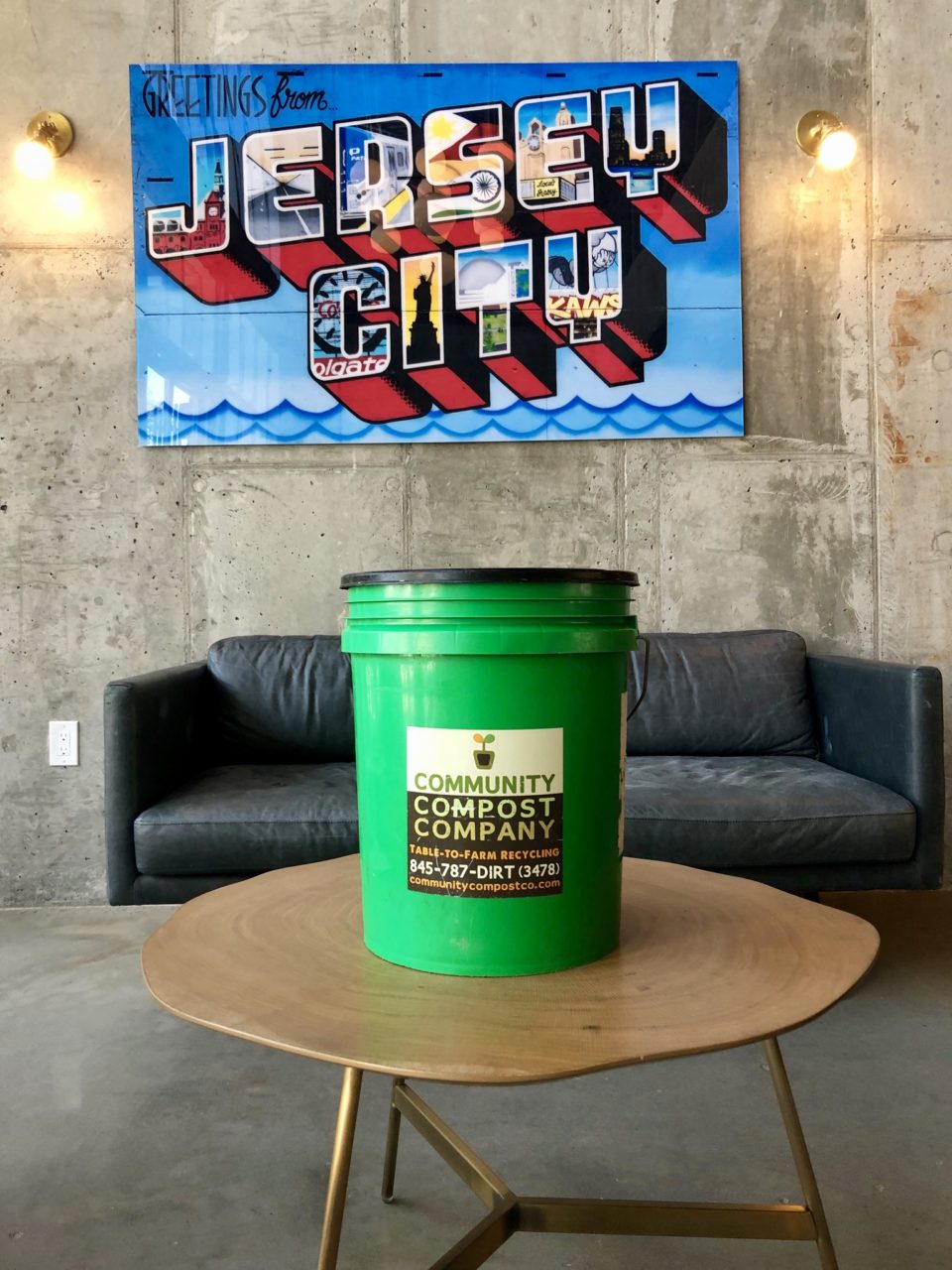 For Hoboken residents, CCC and the City of Hoboken provide a designated compost dumpster for free drop-off.
What can I compost?
All foods can be composted along with coffee filters, food-soiled paper, uncoated paper plates, tea bags, and paper towels. There are items that cannot be composted, and CCC provides a list as a guide of what you should or shouldn't add to the bin.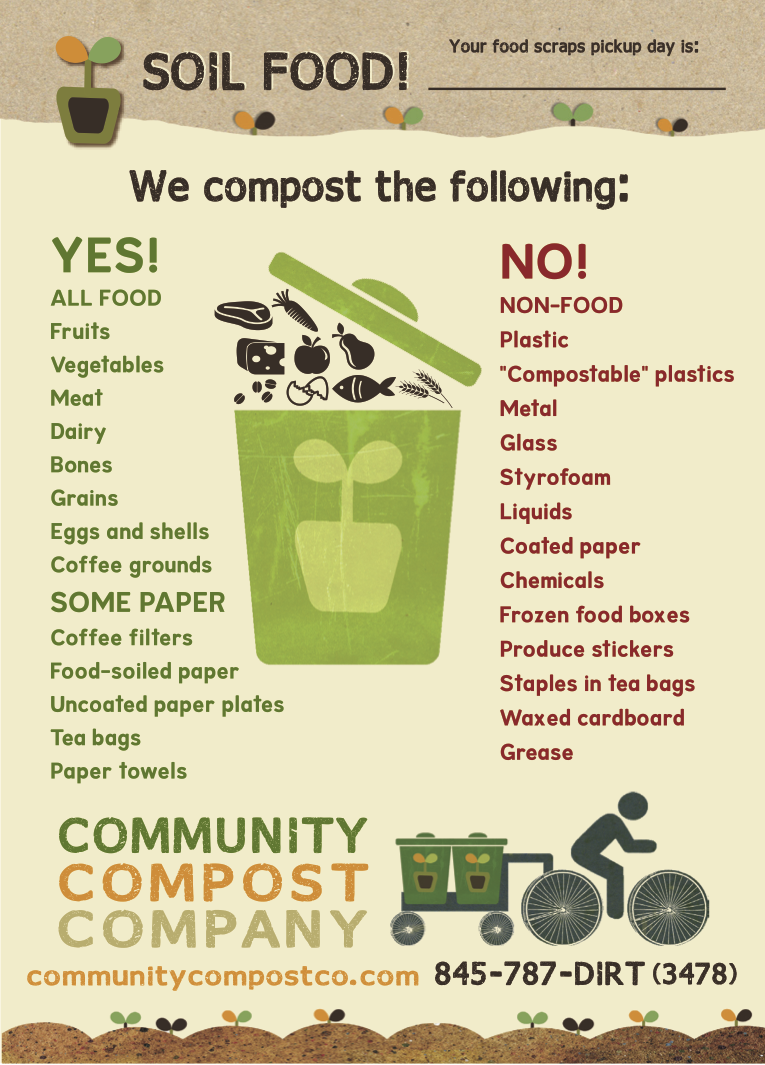 What about the smell?
The food scraps and recyclable items are all kept in an airtight sealed bin provided to you by CCC, so there's no lingering smell! You don't have to worry about your compost stinking up the place. If you're still worried about a smell, here are a few of their tips:
• Keep your food scraps in a reusable container in the freezer. The night before service, transfer them over to the bin.
• Add food soiled paper. Paper bags, napkins, paper towels, and even torn up pizza boxes can help absorb moisture from the scraps.
• Add a few sprinkles of baking soda to your bucket after each fill.
How much is it?
It's $29 a month for weekly pick up and $19 a month for biweekly pick up.
Where do I get more information and sign up?
For more information and to sign up, visit communitycompostco.com.
You can also find Community Compost Co. on Instagram (@communitycompostco) and Facebook (@communitycompostcompany).
If you live in Hoboken, you can find more information on the city's compost program here.