From the Mayor's Office
Jersey City "Snow Team" Rolls Out Snow Prep Plan
With Winter Storm, Jonas quickly approaching Mayor Fulop and the Office of Emergency Management have coordinated with the Jersey City Incinerator Authority and the Department of Public Works to assign a "Snow Team" and winter storm prep plan in advance for the impending storm.
Members of the community are encouraged to register as a volunteer for JC Shovels to help seniors shovel out of the snow!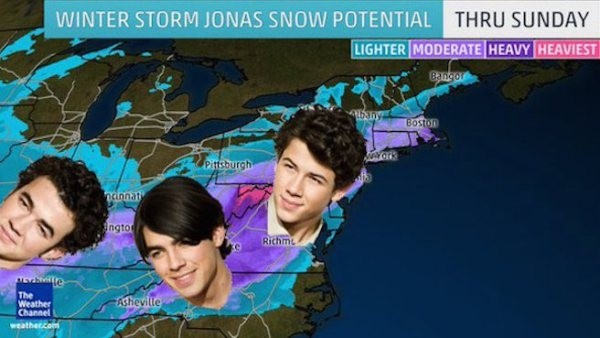 Launch of 'Serve Jersey City'
This week, the Fulop administration launched a new website called Serve Jersey City which helps residents connect with volunteer opportunities at local non-profits. The site will serve as a platform for Jersey City residents to find opportunities based on their interests, skills, and schedule availability.
Participating nonprofits and other community organizations include the Jersey City Parks Coalition, Boys and Girls Club of Hudson County, The Sharing Place, Hudson County CASA, Liberty Humane Society, Team Walker, Big Brothers Big Sisters of Hudson, Bergen and Essex Counties, and New City Kids.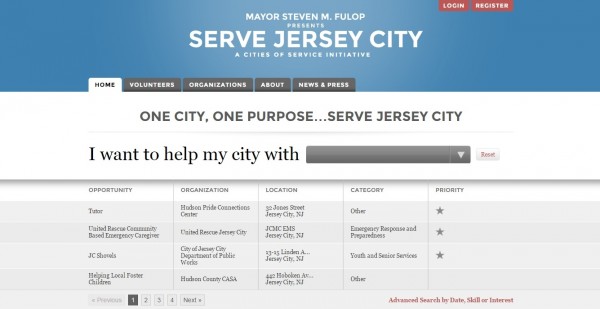 Liberty State Park Privatization
On Thursday, January 21, 2016 Friends of Liberty State Park, Sam Pesin, FOLSP president, NY/NJ Baykeeper, alongside Jersey City Mayor Steven Fulop, Senator Sandra Cunningham, Senate President Stephen Sweeney, and Senator Loretta Weinberg, and Assemblyman Raj Mukherji, met to discuss and denounce the Christie Administration's commercialization and privatization of Liberty State Park.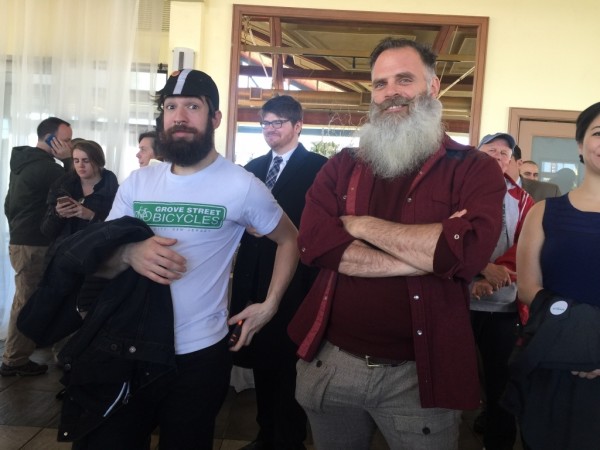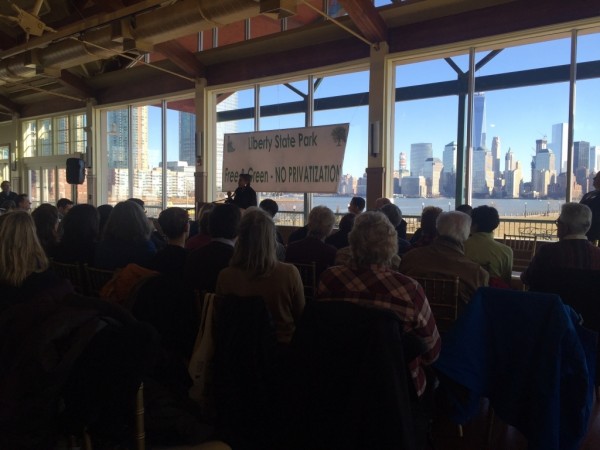 Sign the petition now against the privatization of the park. www.savelsip.org
Jersey City Awarded $1.17 Million for Pedestrian Safety Improvements 
On Wednesday, January 20th Mayor Fulop announced that Jersey City had been awarded $1.17 million in grants from the North Jersey Transportation Planning Authority. The awarded grants will help with the improvements to enhance pedestrian safety in the Heights and Downtown. Planned improvements include "speed humps, new traffic signals, and stop signs, as well as increased enforcement."
---
Around Town
JC Fridays Call for Listings
JC Fridays is right around the corner and there is a call for venue listings! JC Fridays is a FREE citywide arts festival where the art world and the community collide. The next JC Fridays is on March 4, 2016, and the deadline for listings is on January 29, 2016, at 5PM. Interested in submitting an arts-based event? Click here.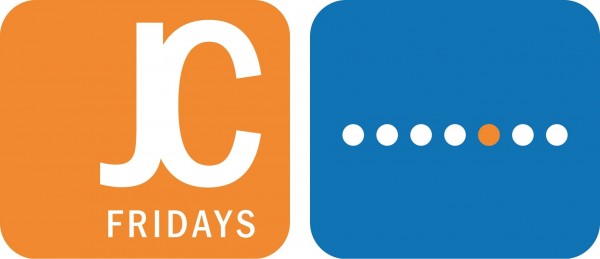 Nimbus Dance Works Nominated as New Jersey's Favorite Dance Company
On Thursday, January 21, 2016, Nimbus Dance Works was nominated as one of New Jersey's Favorite Dance Company in the 2016 Jersey Arts People's Choice Awards. Nimbus has expressed their excitement and gratitude for the people having nominated them for the award. Public voting will continue through February 11, 2016, and winners will be announced in early March. Interested in voting for the arts organization you love the most? Click here.
---
Events
Modern Cup of Sole Launch! 
Join Departed Soles and ModCup Coffee today for a sip of beer that tastes just like the coffee we love! The two vendors have teamed up to serve something both delectable and cold. Departed Soles and ModCup Coffee will be presenting the ModCup Cold Brew, presenting a well-rounded, black coffee-esque beer with tropical nodes.
Friday, January 22, 2016
Departed Soles, 150 Ste. 2A Bay St., Jersey City | 4PM-8PM

Stratford-Upon Duncan: Shakespeare Reading & High Tea
Are you looking to spend a chilly afternoon with a cup of tea and your pinky in the air? Join St. Paul's Episcopal Church Saturday afternoon for a reading of Shakespeare's "The Winter's Tale" and High Tea, catered by Harry Street Coffee! To make reservations, please email Stratforduponduncan@gmail.com.
Saturday, January 23, 2016
St. Paul's Episcopal Church, 38 Duncan Ave., Jersey City | 3PM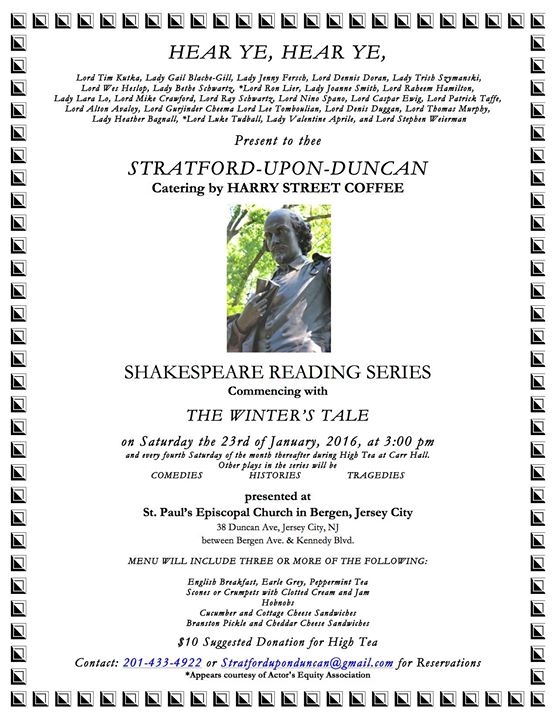 Art House presents the 10th Annual Snow Ball
The wait is over! This Saturday, January 23rd, 2016 marks the return of the 10th Annual Snow Ball Gala. Put on your gowns and tiaras, bowties and fairy wings because it's going to be a great night! Although Winter Storm Jonas is heading our way, Art House plans to keep everyone warm and magical. Besides, it wouldn't be a Snow Ball without a little snow now would it?
Saturday, January 23, 2016
Art House Productions, 136 Magnolia Ave., Jersey City  | 8PM-11:55PM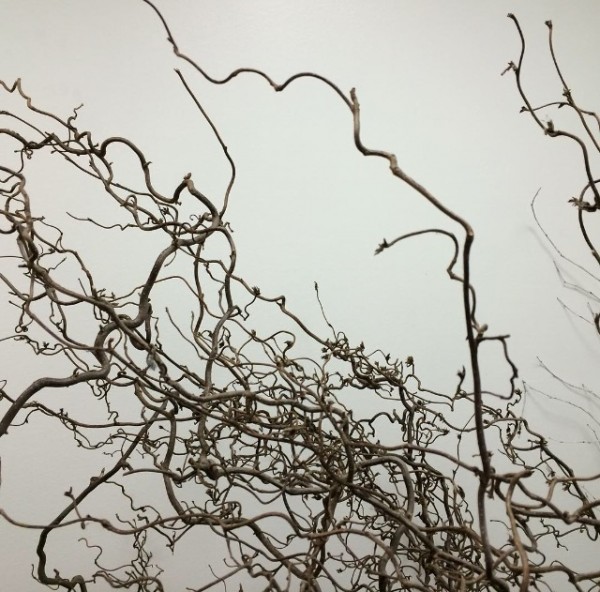 To Eat Meat or Not To Eat Meat, That is the Question
Are you or someone you know interested in taking the next step in excluding meat from your daily meals? Then head on over to Art House Productions and join Modern Sage for a great discussion. The special event will take place on Sunday, January 31st from 1:30PM – 2:30PM. Leah Guy will moderate the topic of animal consumption as it relates to the environment. The speakers that will be present are Kristia Reisinger, Ron Mirante, Michael Ferranti, and Scott Rowe.
Sunday, January 31, 2016
Art House Productions, 136 Magnolia Ave., Jersey City | 1:30PM – 2:30PM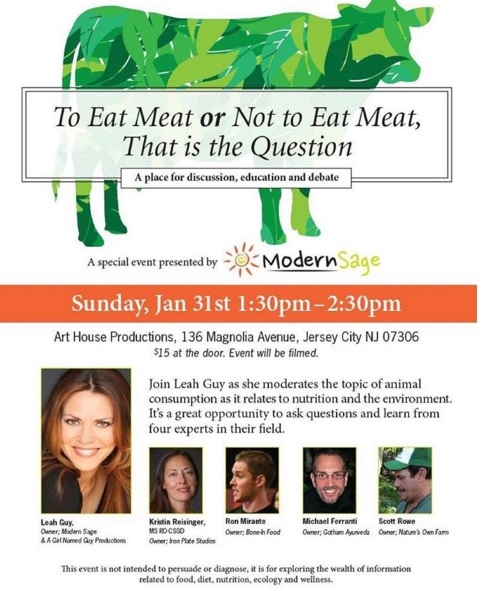 Many fun events are also happening this weekend! Check out our event calendar for more information! http://www.chicpeajc.com/events/