As of 2016, the rate of residents 25+ with at least a high school diploma is 85.9% and residents 25+ with at least a Bachelor's degree is 44.1%. However, it's important to note that due to particular circumstances, there are several people in Jersey City who may not have had the chance to finish high school or obtain their GED. Given the cost of post-secondary education and the different factors that play a part in one's ability to attend college, many residents haven't obtained an Associate's or Bachelor's degree.
In Jersey City and the surrounding area, there are adult educational programs for anyone looking to obtain a degree for either high school or college, as well as fun programs for hobbies and creative learning!
---
GED and ESL Programs
All Jersey City Board of Education Adult Education programs are free of charge. JCBOE offers programs for GED (renamed TASC) preparation, pre-GED learning, and ESL classes at Adult Learning Centers. You can take classes at the following locations:
Daytime TASC/ABE/ELL classes – Adult Ed. Center, 373 Communipaw Ave
Evening TASC/ABE/ELL classes – Adult Ed. Center 886 Bergen Ave
Adult Diploma Program – Dickinson High School, 2 Palisade Ave
You can find more details such as hours on the JCBOE website.
JCBOE also works with the Jersey City Employment and Training Program to offer career services to students in these programs. The One-Stop Career Site is located at 438 Summit Ave and they provide vocational counseling, referrals, classes for job-seeking, access to computers, and review of an individual's qualifications and readiness.
Continuing Education and Technical Programs
HCCC Community Education/Non-Credit Programs
At Hudson County Community College, they offer non-credit courses, trainings, and sessions through their Continuing Education Program. Programs are offered during the days, nights, and weekends. You can find courses for Language, Business, Hospitality, and more through the HCCC catalog. They also have an event calendar and the ability to register online.
If you're looking to stay within a certain budget, you can look into their Tuition & Fees rates and discuss financial aid options by contacting the Financial Aid department at 201-360-4200 or via email.
NJCU Continuing Education
NJCU offers several programs through their Continuing Education department, including Adult Skills & Enrichment and Career Development. You can learn how to use Microsoft Suites, Adobe Photoshop, CPR, Real Estate Salesperson and Broker development, Intro to Teaching K-12 and PreK-3, and more! You can register on their site now. Once you look for classes through registration, you'll be given the price and you can determine if it works for you.
Online Learning Programs
If you're looking to get your degree while working, especially if you'd like to take courses to expand your knowledge to grow in your current field, there are several schools in the area that offer Online Learning. To name a few:
Hudson County Community College 
Saint Peter's University (also offers evening classes)
New Jersey City University
Rutgers
CUNY School of Professional Studies
Online learning may not work for everyone, especially if you prefer a traditional classroom setting, so consider contacting the schools you're interested in to make sure it's a right fit.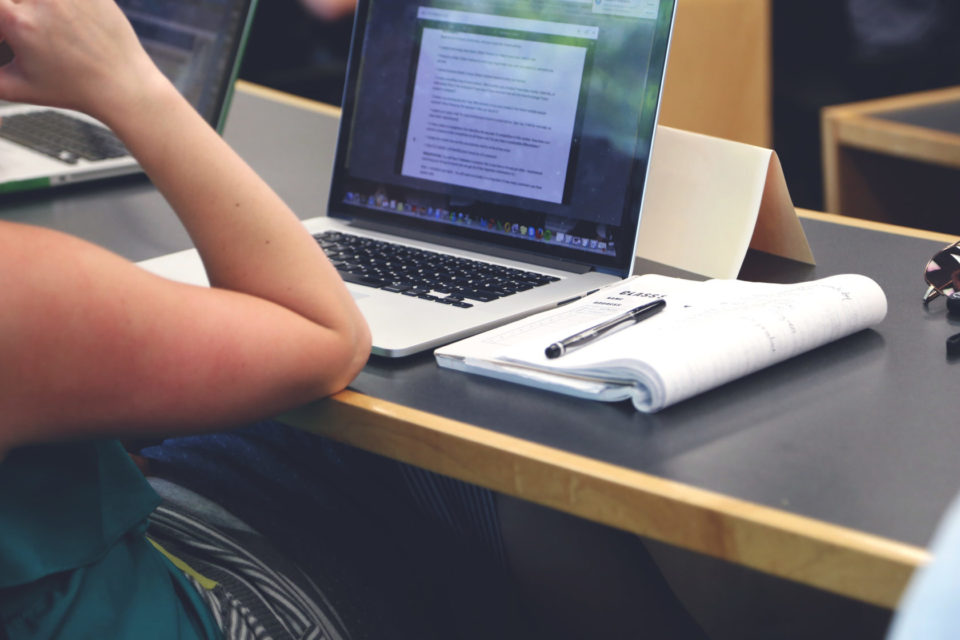 Avna Learning Center
At Avna Learning Center in Journal Square, adults can take courses for Human Resources, Customer Service, Business Analysis, Microsoft Excel, and ESL. Upon completion, individuals receive a certificate for the course(s) taken.
Other Learning Programs
JC Fab Lab
At JC Fab Lab (short for Fabrication Laboratory), you can use an array of tools and services to create practically anything. They have 3D printers, a vinyl cutter, a bench space, and plenty more. You can look at their Pricing chart to determine which classes work for you.
Spanish Black Belt
If you're interested in learning Spanish by native Spanish-speaking tutors, you can look into Spanish Black Belt and enjoy classes in a small group or one-on-one.
Jersey City Free Public Libraries
The Jersey City Public Library branches offer several programs for the community at no cost. The main library located on Jersey Ave offers a Literacy program for individuals 18+ and they offer tutoring in basic literacy, ESL, citizenship prep, and math.