A few weeks ago, we posted an interview with community leaders Chris Gadsden and Pamela Johnson where we talk about the long history in Jersey City, the affordable housing issues and the big G word – Gentrification. I'll be honest, even though I've been here for around 10 years and writing this blog for 5 years, I was admittedly very ignorant of the issues this city is facing when it comes to affordable housing. In the last 6 months, my eyes fully opened and I think it's so important to educate our readers on what's going on and what we can do to help.
A few months ago, we attended a press conference led by councilperson James Solomon about the rent control crisis in Jersey City and there I saw Emmy Tiderington holding up a sign. I asked her if I could take her photo.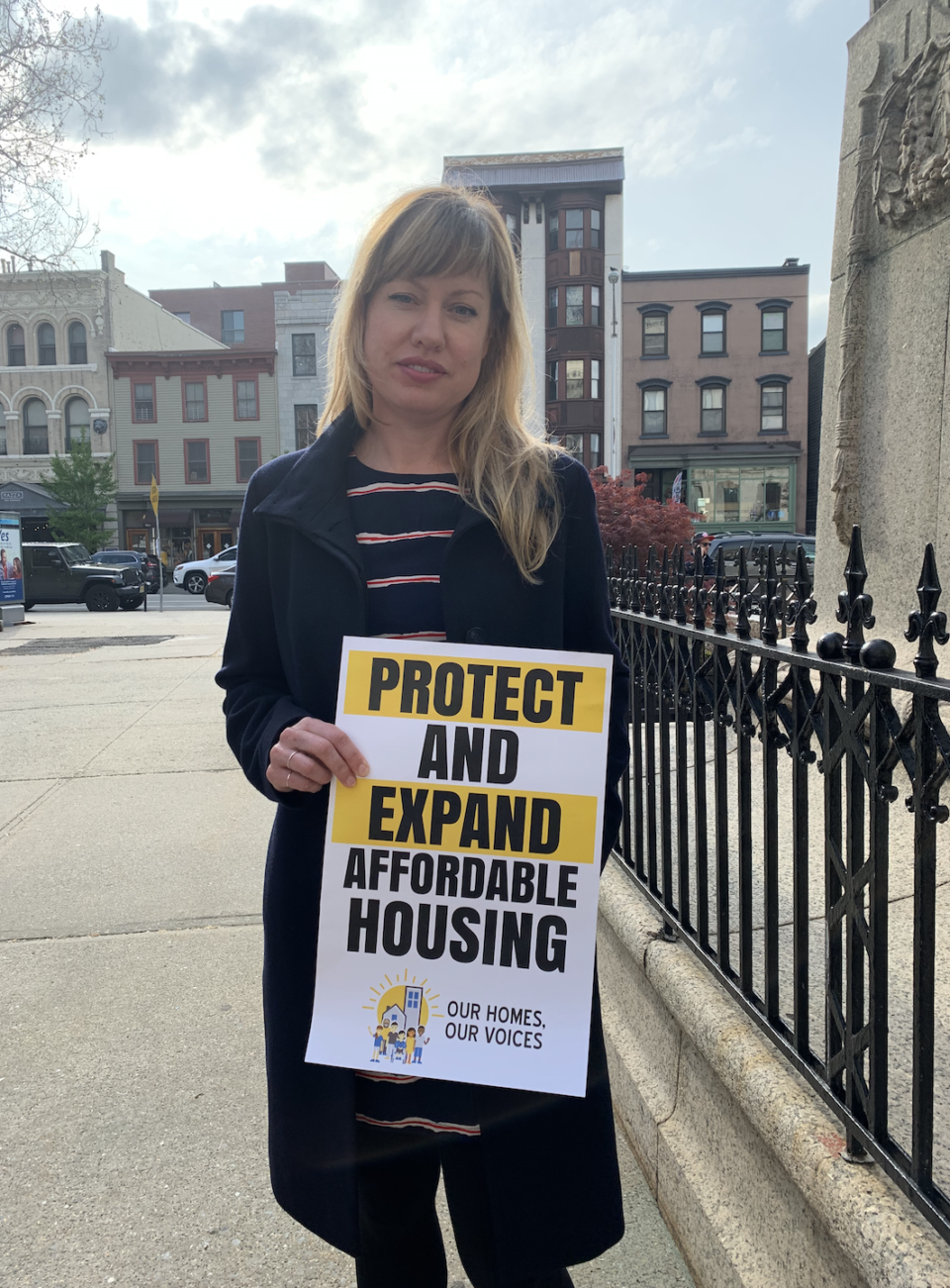 She went up to speak alongside James about her work as a researcher and shared some alarming statistics. As soon as the press conference was over I emailed James for her contact. I wanted to meet with her so she can educate me (and hopefully you) and what's going on and deeply rooted this issue is.
What's your name?
Emmy Tiderington
What do you do?
I'm a Professor of Social Work at local university. A big chunk of the job is doing research and my research focuses on homelessness and homeless services. Before I was a professor, I was working for Jersey City Medical Center as an Intensive Case Manager and my job was to help people discharged from the state or county psychiatric hospital get whatever they needed to stay out of the hospital. A good chunk of that work involved getting people housing, but even back then, it was really hard to find people permanent, affordable housing in Jersey City. I would help people get into St. Lucy's shelter but getting them from the shelter into permanent housing was nearly impossible. The Section 8 waitlist was almost always closed. The boarding houses were awful and usually full. The few supportive housing beds were almost always taken. Back then, there was an affordable housing problem in Jersey City and now, as luxury development increases the cost of housing exponentially, the problem is being magnified tenfold. So I'm interested in working on housing issues just because I've seen how it's impacted people firsthand.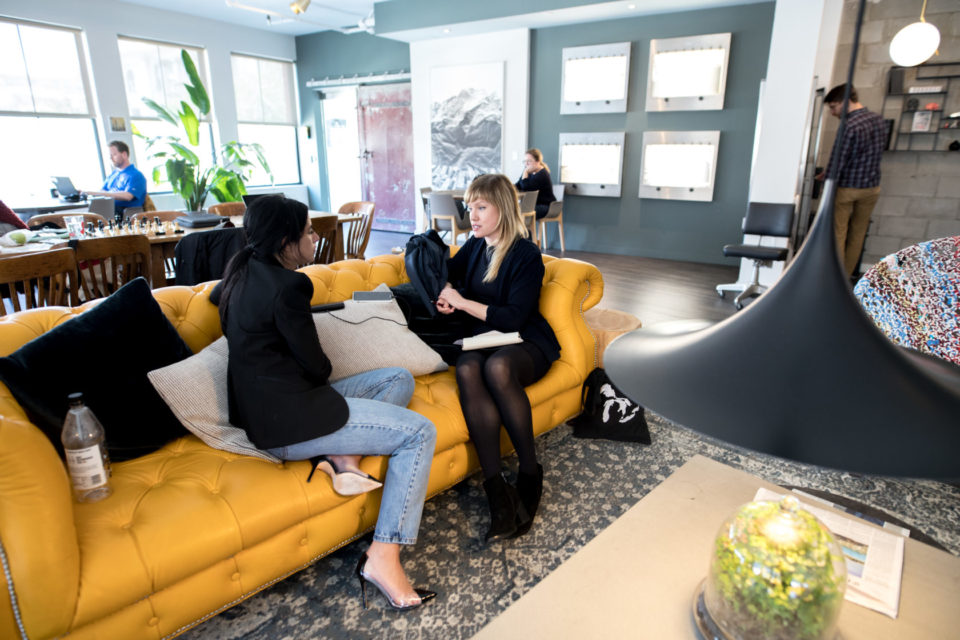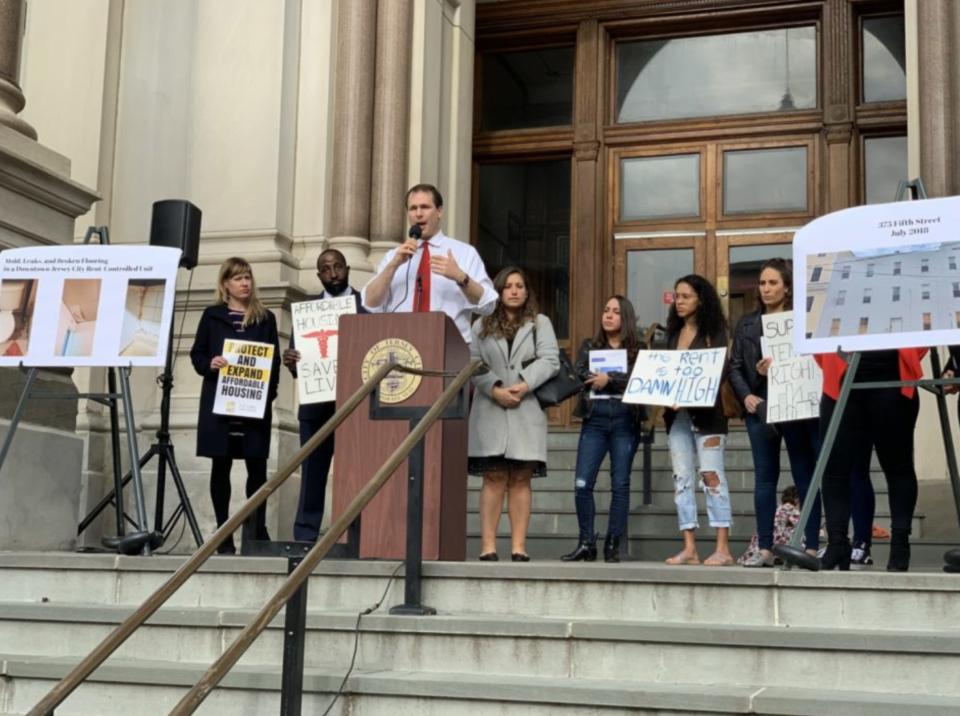 How did you start getting into the research area of all this?
After Jersey City, I was a clinical supervisor at a supportive housing building in New York City. This was the second largest supportive housing building in the country. We housed 416 people who needed affordable housing and had a variety of special needs. After working there and encountering certain obstacles in providing these services, I decided to get a PhD to figure out how to improve supportive housing and other types of homeless services. And that's how I got into doing this type of research.
Let's say for people reading this, maybe they just moved to Jersey City, they don't really know much about affordable housing and may have heard about it in the news. Can you break it down – what does it mean, the history, and its particular history in Hudson County?
So, I brought some stats. In James' rent control survey, he quotes statistics from the American Community Survey that look at Ward E specifically. About half of all Ward E residents are cost-burdened when it comes to rent. They are paying more than 30% of their income on rent. So, the crisis is clear. You've got almost half of folks living Downtown paying more than they should on rent. That means there's less for food, education, and transportation. And that's just in Downtown. St Lucy's is building more emergency shelter beds because they don't have enough as-is to serve everyone that needs shelter. So, there's less emergency stock and not enough affordable housing. The Mayor and Council have done some good work to build more affordable housing. There are a couple new buildings that include affordable housing. Bayfront is off the ground. But what the City is putting forward as "affordable" should always be the question people are asking when they see affordable housing initiatives like these. People often assume it's for very low-income individuals when, in fact, it's often for moderate income folks. In Jersey City, that's about 50 to 80 percent AMI (area median income), so one person making $52K a year would be who qualifies for these "affordable" units. The stock for very low income is small here, and that's where we need to see a big push. One example of the "affordable" housing that's gone up is the 80-20 building at 485 Marin Blvd. It's a 17-story building. There are 397 apartments in that building, but only 20% of those are held as "affordable housing" and it is for moderate income. And this is only for 10 years. Then the affordability requirement ends. There's been a lot of commitments to so-called "affordable" housing here that, in the end, are not targeted to folks most in need. That's where the gaps are, I think. There are some things that could be done, that should've been done. The passing of the Inclusionary Zoning ordinance, which mandates inclusion of affordable housing in new developments, is still on Council's agenda and it's been sitting there for over 8 months now. It should have been in place a long time ago. Because, by now, almost all of the redevelopment plans in Ward E have been settled and given abatements. So, all those opportunities that were available to create more affordable housing have been lost over time.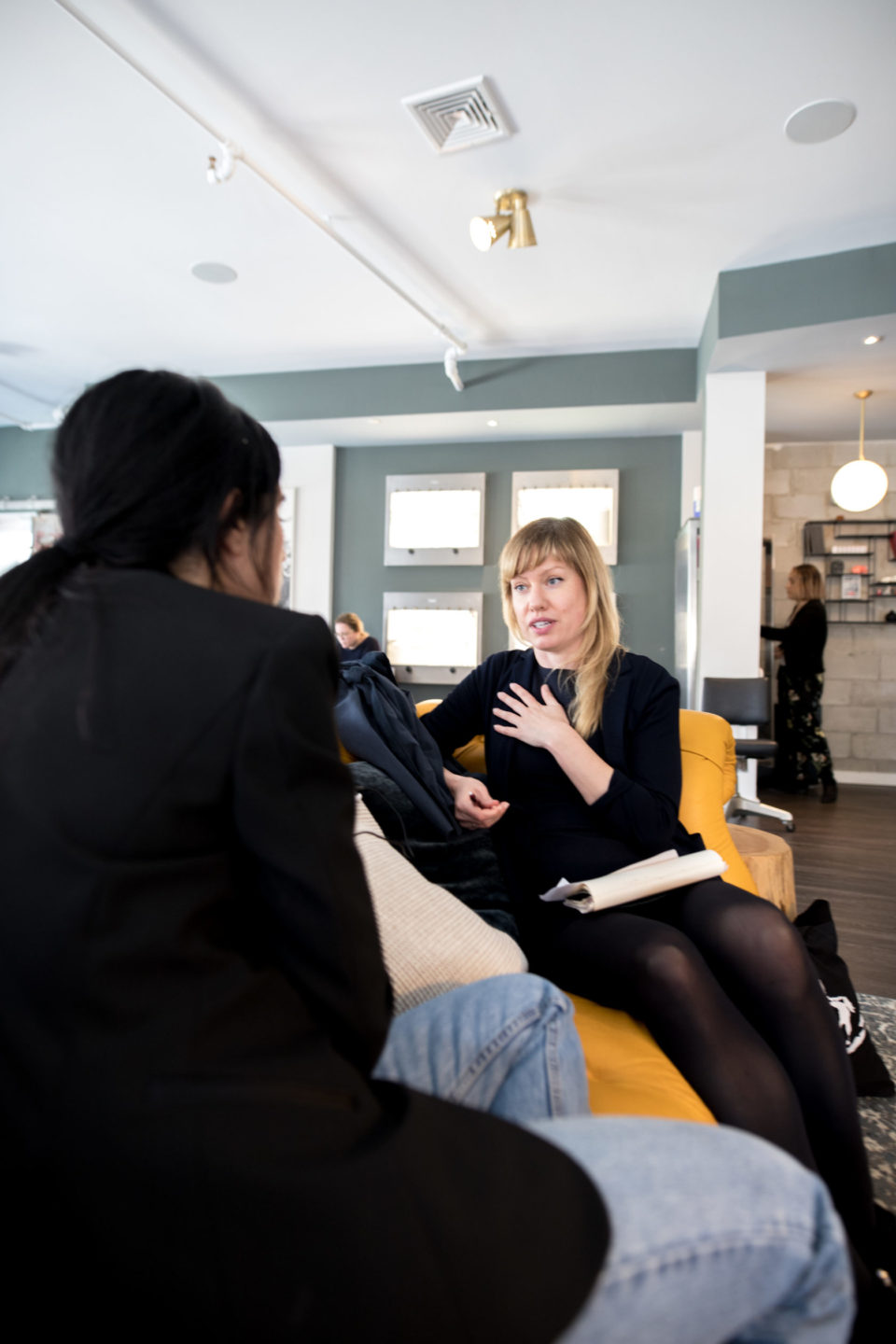 So when did all of these issues begin? I feel like people assume it's only been the last couple of years, but I think it takes over a decade. It's kind of like a ripple effect.
I think if you talk to a lot of Jersey City residents, they would say it's been around for a very long time. But I think it's getting increasingly worse. As you see development happening here in an irresponsible way, not in a thoughtful way where we're thinking about down the line. We should be taking the preventative approach and making sure there's affordable housing within all this new development.
Like you said, even if they're saying it's affordable housing, it's not really affordable. What's going on with people who can't even afford "affordable housing," where would they go?
People are getting pushed out. I've got neighbors coming to me who've lived here forever saying, "What am I gonna do?" or "Even as an elderly person, I've tried to get on the waitlist and it's really hard to get into the senior building." The affordable housing crisis is here and it's going to get much worse as rental costs go up across the city. We're already seeing people out on the streets. It's here, and before too long it'll be like New York City where people are out sleeping on the sidewalks.
So it's only going to get worse.
Yeah .I feel helpless, and I'm sure a lot of people do. What can we do, what can the community do? I think putting pressure on elected officials, the City Council and the Mayor, who have the ability to pass things like the Inclusionary Zoning ordinance. I think it's been delayed because there were hesitations about implementation. But all of that time lost and with all these abatements already negotiated, the developments were brought in without affordable housing included and that's a huge loss.
When were these developments brought in?
From my personal experience, I remember when I was working at Medical Center 15 years ago, the big giant blue building down by the waterfront was the first one that I noticed go up. I had not seen anything that big go up prior to that time. Since then, development like that has just rippled across the waterfront, similar to Williamsburg in Brooklyn. Basically, what's happening in Jersey City with development is what happened in New York.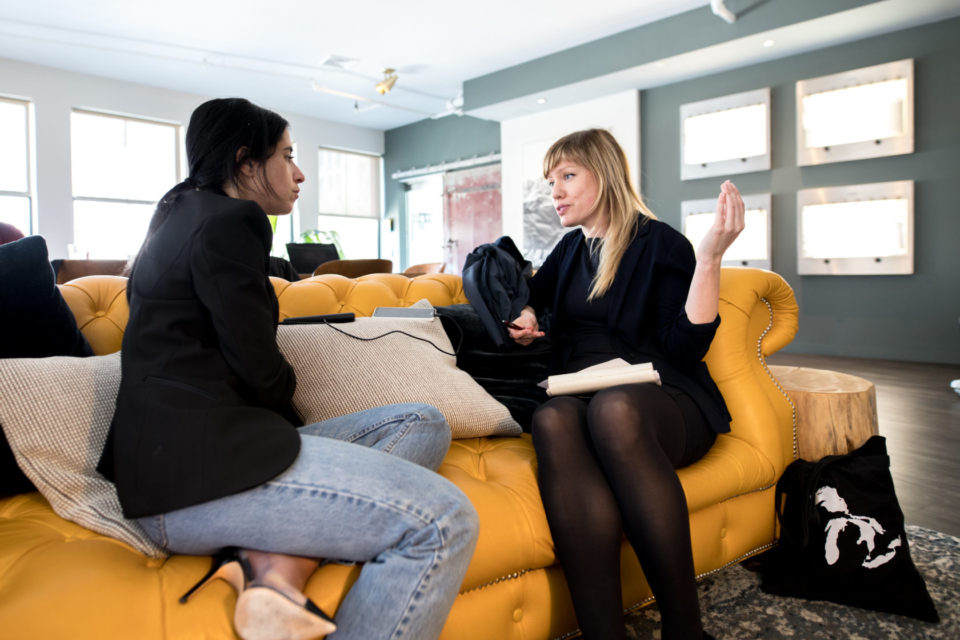 What about Greenville, Bergen-Lafayette, the Hill?
I think what the Mayor intended is, by developing downtown, the benefits of that development will trickle down. But like Reagonomics, we know that "trickle down" doesn't always work the way you want it to. If we're expecting development in Ward E to benefit people in Greenville, if any benefits come, I think it'll take a while.
What is your personal feeling about all this?
I feel frustrated when people stall on these things, but I feel hopeful because we know how to address the affordable housing crisis, it's just getting the political will to do it.
Let's say you were the mayor. What would you do?
I would get the Inclusionary Zoning ordinance in front of the City Council and passed. I would have done a cost study prior to this to figure out the appropriate percentage of affordable housing to include. I would strictly enforce rent control to preserve the affordable housing we already have here. Right now, the City doesn't even have a complete list of all the rent-controlled units across the city so they can't hold those landlords accountable. We need to locate all of units across the city that should be under rent control, like Councilman Solomon did for Ward E in his rent control report, so we can properly enforce rent control on those units. I would create a Right to Counsel, which is free legal representation for low-income people in eviction court. We currently have a handful of people providing this to people through the Waterfront Project, but that is not nearly enough staff to cover all the people experiencing evictions in the city. If people aren't able to get proper representation in eviction court, this can lead to homelessness. So, there are plenty of things we can do to address the affordability crisis. We're just not doing them fast enough.
If people want to change this, they should attend City Council meetings. Speak in front of the council. Write to your councilpeople, write to the Mayor. Tell them that responsible development is the only type of development Jersey City wants. Tell them to pass Inclusionary Zoning. Tell them to create a publicly searchable database of rent control units and strictly enforce rent control. Tell them to pass and fund a Right to Counsel with the help of the County. There are just too many consequences if we don't do these things.
Have you ever thought of running for city council?
I'm a committee member for the Democratic County Committee. I ran and won off the line two years ago. And I'm running again this year. I decided to run for committee and to start the Hudson County Progressive Alliance because I want voters to have a say in who gets "the line". Right now, the party bosses make those decisions. Instead, I think voters should decide who gets the party's money and support. So, we're working to get the County Democratic Organization to amend their by-laws and support this change. 
That's amazing. If people want to help, who can they contact other than going to City Hall?
I think Jersey City Together does some amazing work advocating to the City on housing. If people want to get involved and hold the City accountable on these issues, join Jersey City Together. Fulop really hasn't done enough; he's talked a lot of game, but at the end of the day, what he's created as far as affordable housing is few and far between. And it's really concerning that there's so much developer money in Hudson County campaigns. If Fulop wants to prove that he's not beholden to developers, he should be more aggressive with getting this stuff passed. If he doesn't, I feel like his legacy will be the Mayor who Brought Inequality to Jersey City, not the Mayor who Made Jersey City a Place for Everyone.
What's next for you?
I'll continue to push on this stuff. I'm advocating to my councilperson, James Solomon, and providing advice to him on housing-related issues. I'll keep bothering Fulop about this. I'm not going to stop talking about this. I think there's a common misperception that homelessness is caused by individual issues like substance use. People assume people on the street have done something wrong or have something wrong with them. The reason you see people on the street is because there's a lack of affordable housing. With the right supports in place and enough affordable housing, homelessness is preventable. And there are plenty of ways to address the lack of affordable housing. We're just not doing enough of that in Jersey City to prevent the crisis from getting worse.
It's the system's fault. Basically, if we don't put a stop to this, there'll be all these shiny buildings, white people everywhere, and homeless people.
If you go to Union Square, you'll see what Downtown Jersey City will look like in 5, 10 years – lots of luxury housing and a whole lot of homeless people. We need to do something about this yesterday.