ChicpeaJC started as an arts & culture blog in 2014 when Lynn Hazan was looking for a creative outlet. After realizing her potential in the community and wanting to be an entrepreneur, she turned her hobby into a career and started ChicpeaJC, a blog about all things Jersey City. 
Through time, ChicpeaJC grew larger than she ever thought it could. The site started gaining an audience, and ChicpeaJC became a site for events, reviews, news, and more. As of 2018, the ChicpeaJC site receives 40K to 60K views per month and the social media accounts aggregate tens of thousands of followers (Instagram over 20K, Twitter over 3K, and Facebook over 7K.)
Since its inception, ChicpeaJC has grown into a multimedia business. ChicpeaJC has thrown several events and worked with local organizations to bring events to Jersey City – LSC After Dark events with Liberty Science Center since 2016, quiet events brought into Jersey City since 2016, and the annual Halloween party, Terminal of Terror, which brings in over 3,000 attendees per event.
ChicpeaJC is also responsible for managing social media accounts for businesses and creating content for each business. Photo and video content is produced and tailored to each business' aesthetic and overall mission. The accounts are then personally managed by ChicpeaJC for organic and effective results.
ChicpeaJC has a team behind it that helps it run smoothly:
Lynn Hazan is the founder of all things ChicpeaJC.
Alexandria Perez is Director of Operations, ensuring everything runs smoothly on the blog and acting as second-in-command when needed.
Tarol Jackson is our in-house writer, creating a lot of the creative content for the blog.
Laura Galarza is a ChicpeaJC photographer, organizing photo and video content for social media accounts and for Lynn herself.
Working with ChicpeaJC are also several content creators, especially photographers and videographers in Jersey City, who helped produce and organize content used for ChicpeaJC and its clients.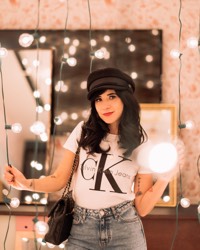 Lynn Hazan, also known as "Chicpea", is the founder of ChicpeaJC. After finding herself quickly climbing up the corporate ladder, she realized she wasn't satisfied. She created a blog to serve as a hobby and be a creative outlet, meant to work hand-in-hand with her corporate job. 
Two days before the blog's launch, she realized she wanted to explore the city, meet new people, try new restaurants, and immerse herself into the community. Lynn called her web developer, changed the URL from "ChicpeaLife" to "ChicpeaJC," and the rest is history. 
Now, 4 years in, ChicpeaJC has grown from a blog to a multimedia business.
Not only does Lynn run ChicpeaJC, but she is also a mom to a beautiful daughter (often called "Mini Chicpea"), and pup Harvey who was adopted from Liberty Humane Society after Hurricane Harvey in 2017. 
Lynn founded the non-profit organization Content Creators Academy Jersey City for youth interested in digital media. She runs a hip hop class every Wednesday at Base Gym, and she has worked with several local businesses to organize events. She also dabbles into the fashion world, volunteers at community events, and teaches the occasional social media workshop.